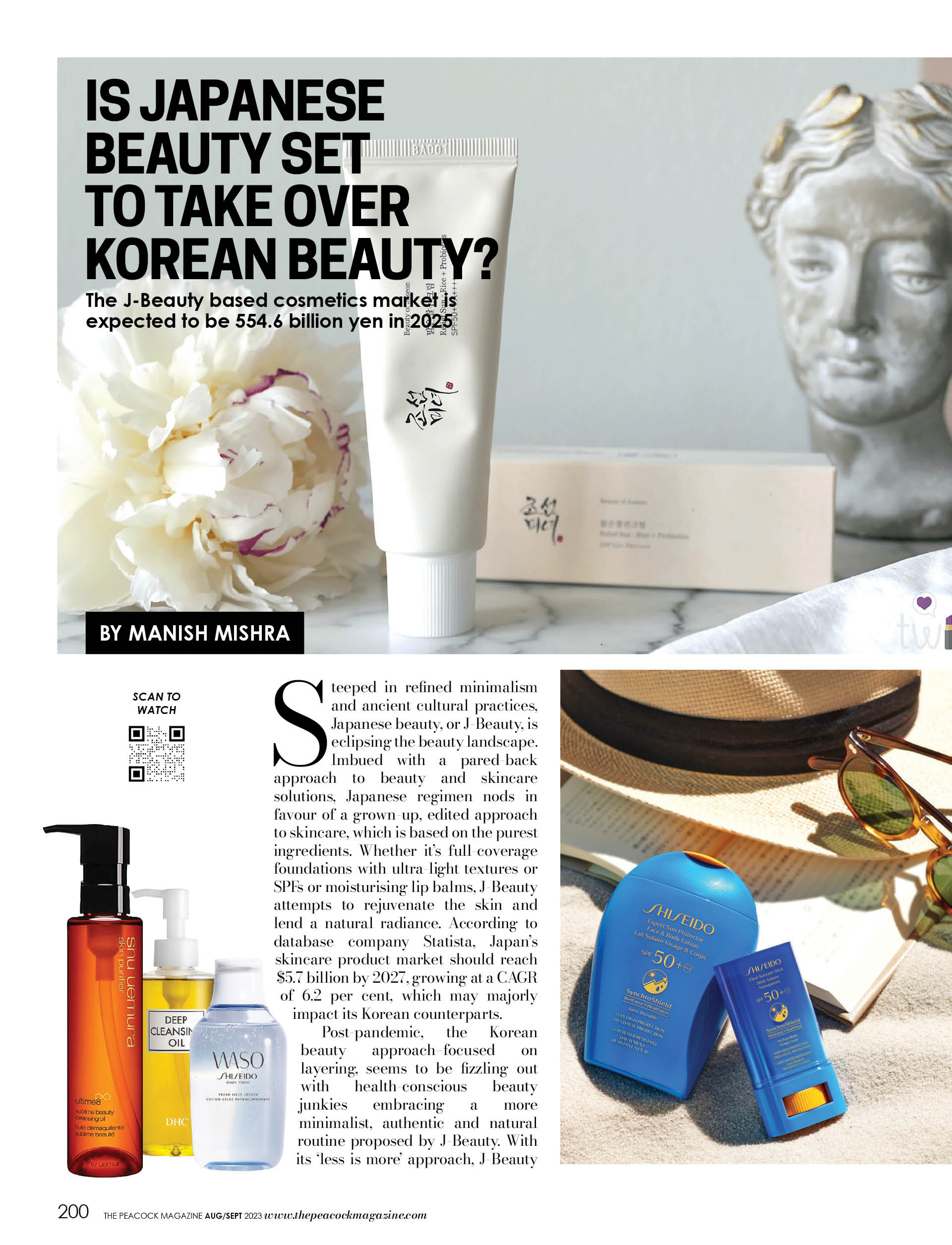 The J-Beauty based cosmetics market is expected to be 554.6 billion yen in 2025
-By Manish Mishra

Steeped in refined minimalism and ancient cultural practices, Japanese beauty, or J-Beauty, is eclipsing the beauty landscape. Imbued with a pared-back approach to beauty and skincare solutions, Japanese regimen nods in favour of a grown-up, edited approach to skincare, which is based on the purest ingredients. Whether it's full-coverage foundations with ultra-light textures or SPFs or moisturising lip balms, J-Beauty attempts to rejuvenate the skin and lend a natural radiance. According to database company Statista, Japan's skincare product market should reach $5.7 billion by 2027, growing at a CAGR of 6.2 per cent, which may majorly impact its Korean counterparts.
Post-pandemic, the Korean beauty approach—focused on layering, seems to be fizzling out with health-conscious beauty junkies embracing a more minimalist, authentic and natural routine proposed by J-Beauty. With its 'less is more' approach, J-Beauty advocates consistency and seeing long-term results. A typical J-Beauty routine comprises double cleansing using an oil-based cleanser, followed by a foaming cleanser. Next step is double moisturisation, where a lotion is applied first, followed by a moisturiser and sunscreen. On the other hand, K-Beauty has a cumbersome 10-step process that can sometimes even go up to 17 steps. The key is to layer products in a light to heavy formulation to catalyse absorption and heighten nourishment. The beauty routine includes: double cleanse, exfoliation, toner, essence, treatment serum, sheet mask, eye cream, moisturiser and SPF.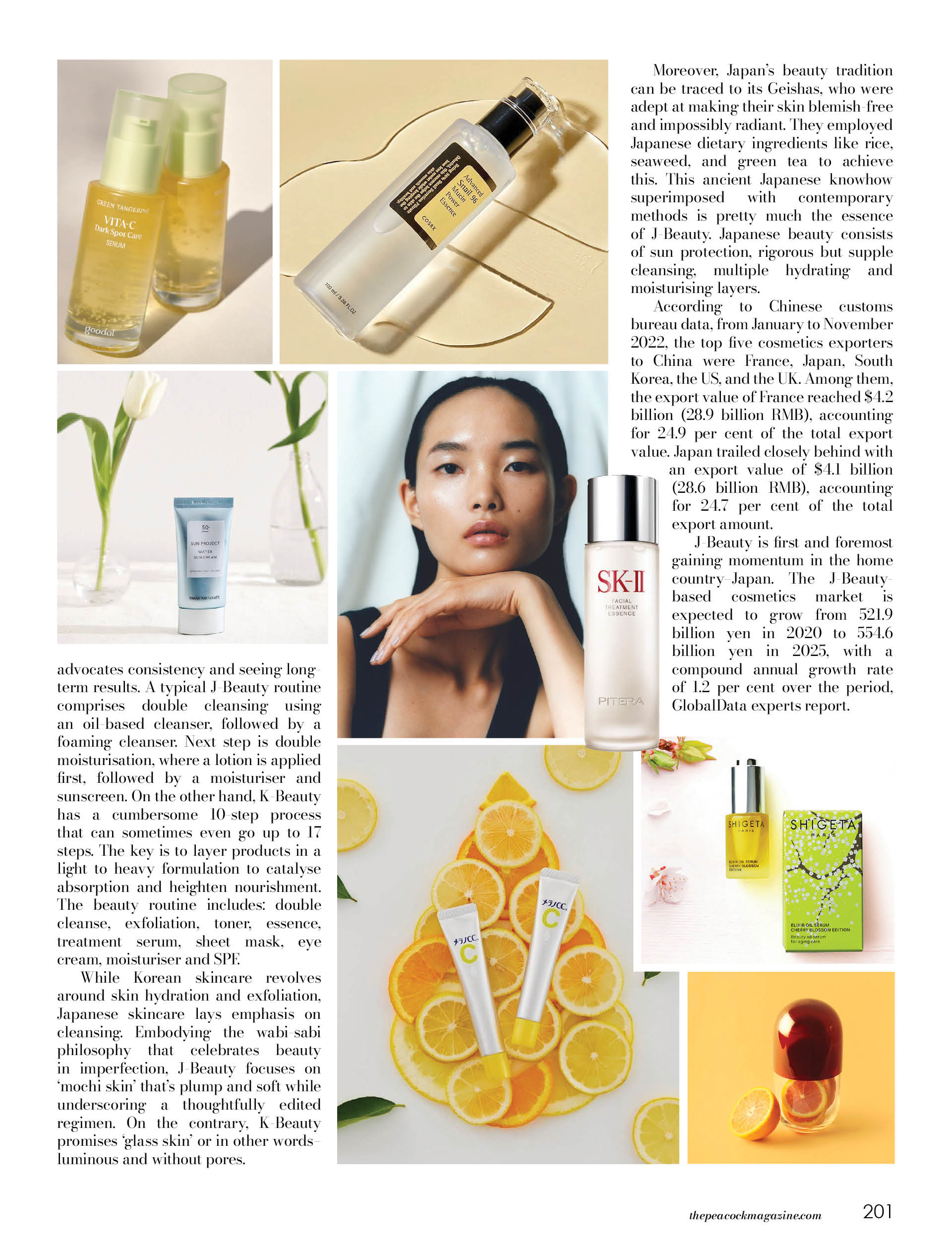 While Korean skincare revolves around skin hydration and exfoliation, Japanese skincare lays emphasis on cleansing. Embodying the wabi-sabi philosophy that celebrates beauty in imperfection, J-Beauty focuses on 'mochi skin' that's plump and soft while underscoring a thoughtfully edited regimen. On the contrary, K-Beauty promises 'glass skin' or in other words—luminous and without pores.
Moreover, Japan's beauty tradition can be traced to its Geishas, who were adept at making their skin blemish-free and impossibly radiant. They employed Japanese dietary ingredients like rice, seaweed, and green tea to achieve this. This ancient Japanese knowhow superimposed with contemporary methods is pretty much the essence of J-Beauty. Japanese beauty consists of sun protection, rigorous but supple cleansing, multiple hydrating and moisturising layers.
According to Chinese customs bureau data, from January to November 2022, the top five cosmetics exporters to China were France, Japan, South Korea, the US, and the UK. Among them, the export value of France reached $4.2 billion (28.9 billion RMB), accounting for 24.9 per cent of the total export value. Japan trailed closely behind with an export value of $4.1 billion (28.6 billion RMB), accounting for 24.7 per cent of the total export amount.
J-Beauty is first and foremost gaining momentum in the home country—Japan. The J-Beauty-based cosmetics market is expected to grow from 521.9 billion yen in 2020 to 554.6 billion yen in 2025, with a compound annual growth rate of 1.2 per cent over the period, GlobalData experts report.