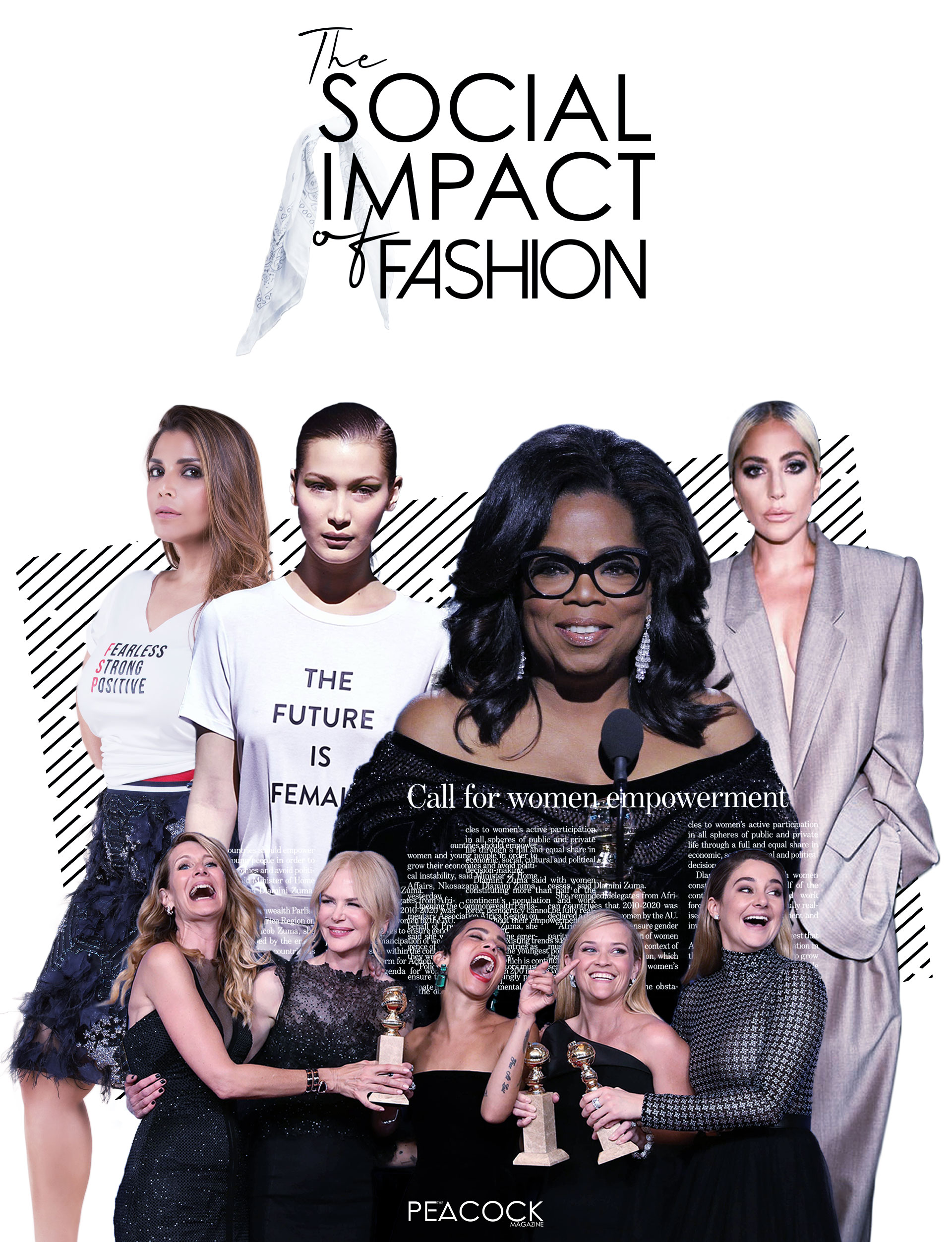 Fashion has been an instrumental advocate in putting forward the voice of women when faced with atrocities. The visual communication through fashion sends across a powerful message for the issue in relevance, and with its large social scope, it has been a big ally for the women who play a pivotal role in bringing change. It is a tool that has helped translate the agenda of women without them voicing it out loud. Whether it was Hilary Clinton wearing pantsuit as a power move during her election campaign while she was running for the presidential post of The United States Of America, or recently when Alexandria Ocasio-Cortez wore all white to her swearing-in ceremony as an ode to the women who were there before her. Sartorial statements like these go down in history as poignant punches on the ignorant authorities. The wave for social change brought by fashion isn't new, but with the rise of social media in the last few years, the impact of it has consistently skyrocketed. Designers have started to use it as a platform to convey their fashion stories, subjected with deeper meaning by showcasing it through their campaigns and runway shows that are easily accessible for their large number of followers. Not only is it documented, but it also symbolizes for inclusivity and unity amongst women across the globe. Over the decades, fashion has been a constructive tool of expression for various generations, and a current lot of digitally connected audiences utilizes the power of fashion in the right way. As we look back, let's talk about the moment when women made powerful political statements with their fashion choices.
1) CELEBRITIES DRESSED IN ALL BLACK TO HONOUR THE #METOO AND #TIMESUP MOVEMENT FOR THE 2018 GOLDEN GLOBES AWARD CEREMONY.
When the biggest names in Hollywood like Oprah Winfrey, Meryl Streep and Reese Witherspoon graced the red carpet cladding all-black ensembles, it showcased a wave of solidarity against the dark side of the industry that has been tormenting and sexually harassing women for years. The stance taken was also a movement towards equality for women and a step towards bridging the monetary gap between the two genders.
2) DESIGNERS DISPLAYED COLLECTIONS PRO-FEMINISM AND INCLUSIVITY
Fashion industry leaves no stone unturned when it comes to sending a message across. Designers use their platforms mindfully, and convey their stance on the problematic issue through their clothes, designers like Prabal Gurung and Maria Grazia Chiuri sent down slog t-shirts down the catwalk stating slogans like, ''Feminist AF'', "We should all be feminists", "future is female" and " Girls just want to have fundamental rights". Not only did these slogan-bearing outfits resonate with the fashion mongers, but it also received instant acceptance on social media.
3) LADY GAGA DRESSED IN A MEN'S PANTSUIT TO THE ELLE ANNUAL WOMEN IN HOLLYWOOD CELEBRATION
Lady Gaga is the generation next icon for more than one reason when she's not hypnotizing the crowd with her powerfully melodious chords; she is making power moves with fashion. One such statement was when she opted for an over-sized pantsuit for a black-tie event instead of a trailed tulle dress, her reasoning behind her choice made it even more rational. "I tried on dress after dress today getting ready for this event, one tight corset after another, one heel after another, a diamond, a feather, thousands of beaded fabrics and the most beautiful silks in the world," "To be honest, I felt sick to my stomach." "This was an oversized men's suit made for a woman. Not a gown. And then I began to cry," she said. "In this suit, I felt like me today. In this suit, I felt the truth of who I am well up in my gut. And then wondering what I wanted to say tonight becomes very clear to me." "As a sexual assault survivor by someone in the entertainment industry, as a woman who is still not brave enough to say his name, as a woman who lives with chronic pain, as a woman who was conditioned at a very young age to listen to what men told me to do, I decided today I wanted to take the power back. Today I wear the pants." Breaking stereotype and shattering beauty standard with her every move, Lady Gaga is a force to be reckoned with.
4) WOMEN IN POLITICS MAKING A STATEMENT WITH THEIR STYLE
The new era for women in politics has them in the driving seat calling the shots; they no longer accept a peak from the rear view. Women over the last few years have not only demanded a seat at the table but have proven their mettle with constant conviction. They definitely walk the talk. While doing the best of what they do, they are also creating a social impact on fashion. When Hillary Clinton was in the running for President, she was the first woman to wear a pantsuit during her election campaign. Recently, Alexandria Ocasio-Cortez wore all-white to her swearing-in ceremony as an ode to the women who paved the path for her. Her sartorial statement made in an all-white suit proves exactly how instrumental fashion is.