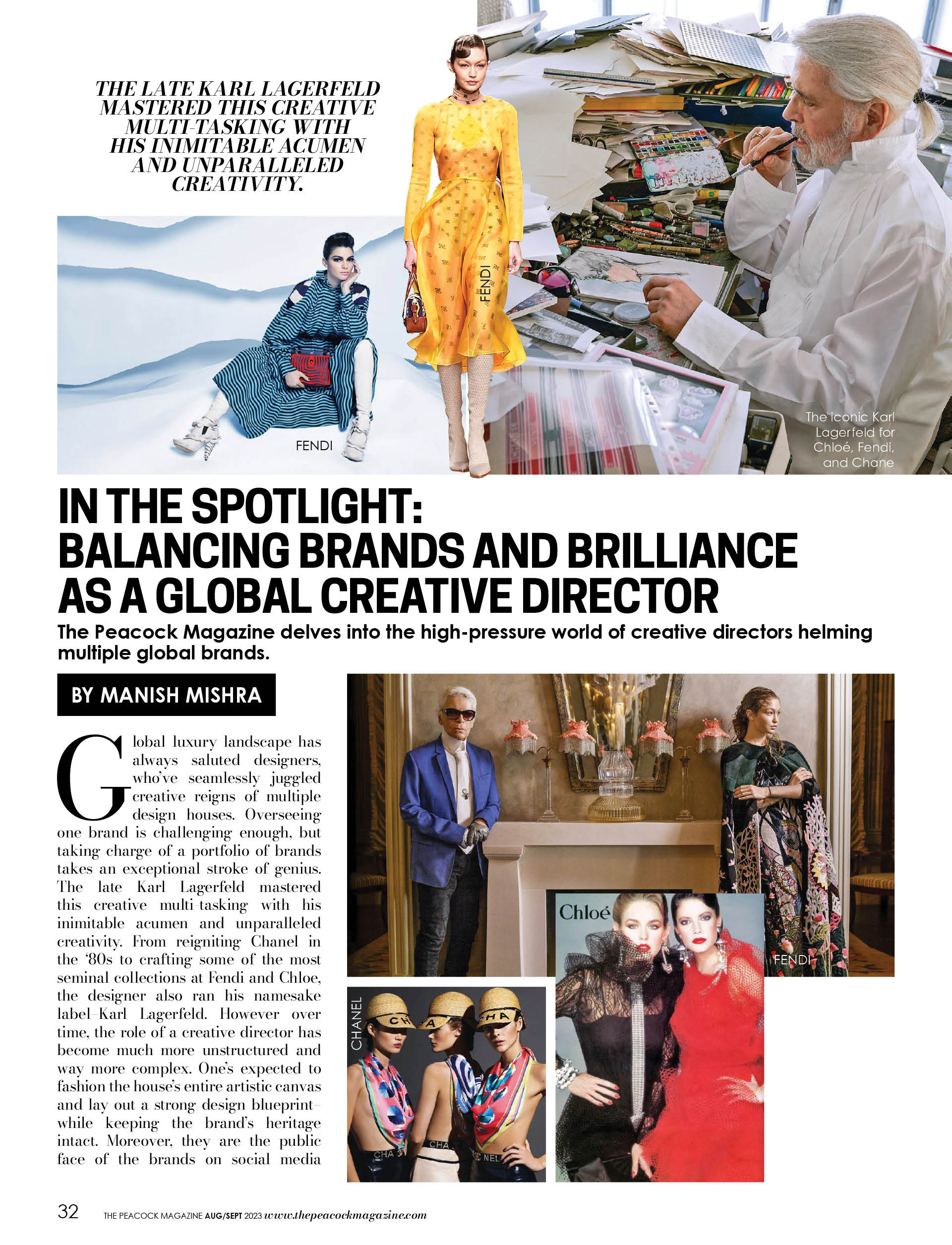 The Peacock Magazine delves into the high-pressure world of creative directors helming multiple global brands.
-By Manish Mishra

Global luxury landscape has always saluted designers, who've seamlessly juggled creative reigns of multiple design houses. Overseeing one brand is challenging enough, but taking charge of a portfolio of brands takes an exceptional stroke of genius. The late Karl Lagerfeld mastered this creative multi-tasking with his inimitable acumen and unparalleled creativity. From reigniting Chanel in the '80s to crafting some of the most seminal collections at Fendi and Chloe, the designer also ran his namesake label—Karl Lagerfeld. However over time, the role of a creative director has become much more unstructured and way more complex. One's expected to fashion the house's entire artistic canvas and lay out a strong design blueprint—while keeping the brand's heritage intact. Moreover, they are the public face of the brands on social media hence their persona also impacts how the campaigns and the merchandise are perceived. Needless to say the role is endless—from forging collaborations to embarking on an initiatory journey of artistic dialogues to engaging with artisans from different parts of the world. Also, they channel their creative juices in areas outside of fashion, like music, design, art and architecture.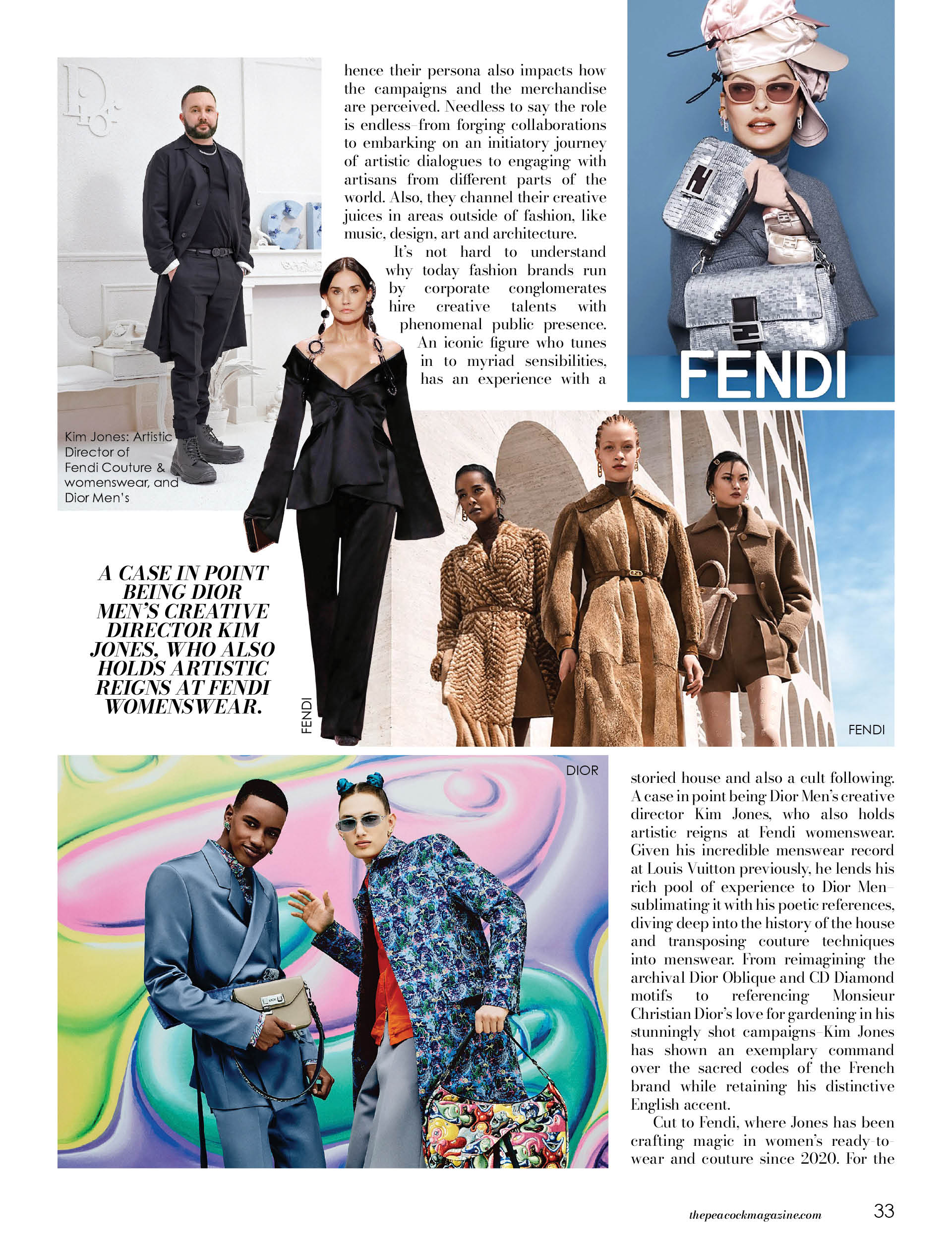 It's not hard to understand why today fashion brands run by corporate conglomerates hire creative talents with phenomenal public presence. An iconic figure who tunes in to myriad sensibilities, has an experience with a storied house and also a cult following. A case in point being Dior Men's creative director Kim Jones, who also holds artistic reigns at Fendi womenswear. Given his incredible menswear record at Louis Vuitton previously, he lends his rich pool of experience to Dior Men—sublimating it with his poetic references, diving deep into the history of the house and transposing couture techniques into menswear. From reimagining the archival Dior Oblique and CD Diamond motifs to referencing Monsieur Christian Dior's love for gardening in his stunningly shot campaigns—Kim Jones has shown an exemplary command over the sacred codes of the French brand while retaining his distinctive English accent.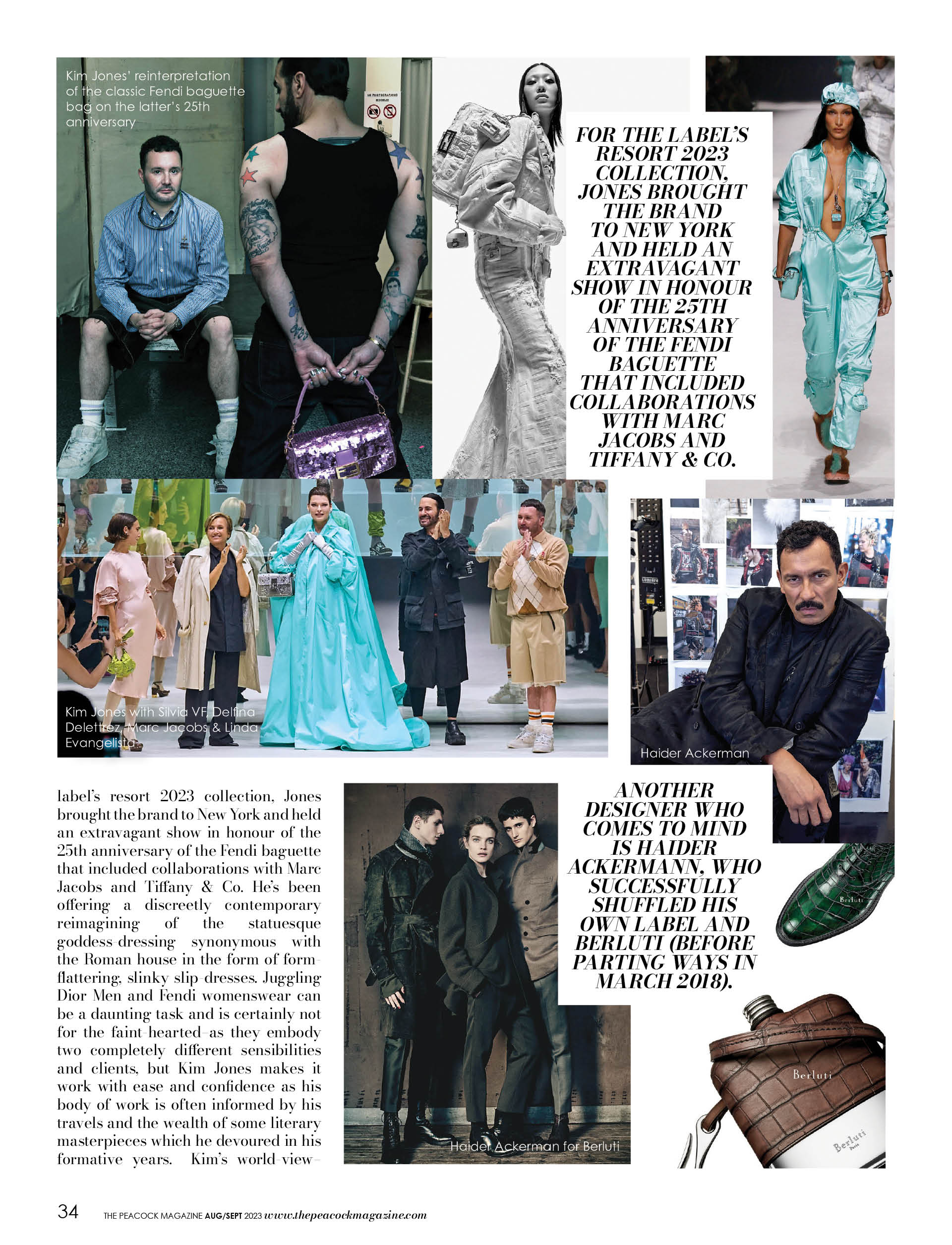 Cut to Fendi, where Jones has been crafting magic in women's ready-to-wear and couture since 2020. For the label's resort 2023 collection, Jones brought the brand to New York and held an extravagant show in honour of the 25th anniversary of the Fendi baguette that included collaborations with Marc Jacobs and Tiffany & Co. He's been offering a discreetly contemporary reimagining of the statuesque goddess-dressing synonymous with the Roman house in the form of form-flattering, slinky slip-dresses. Juggling Dior Men and Fendi womenswear can be a daunting task and is certainly not for the faint-hearted—as they embody two completely different sensibilities and clients, but Kim Jones makes it work with ease and confidence as his body of work is often informed by his travels and the wealth of some literary masterpieces which he devoured in his formative years. Kim's world-view—where he's referenced Beat generation authors like Jack Kerouac for Dior Men, staged a Supreme collaboration for Louis Vuitton by delving into Orlando, Virginia Woolf's time-travelling tale of androgyny—enriches every house he heads.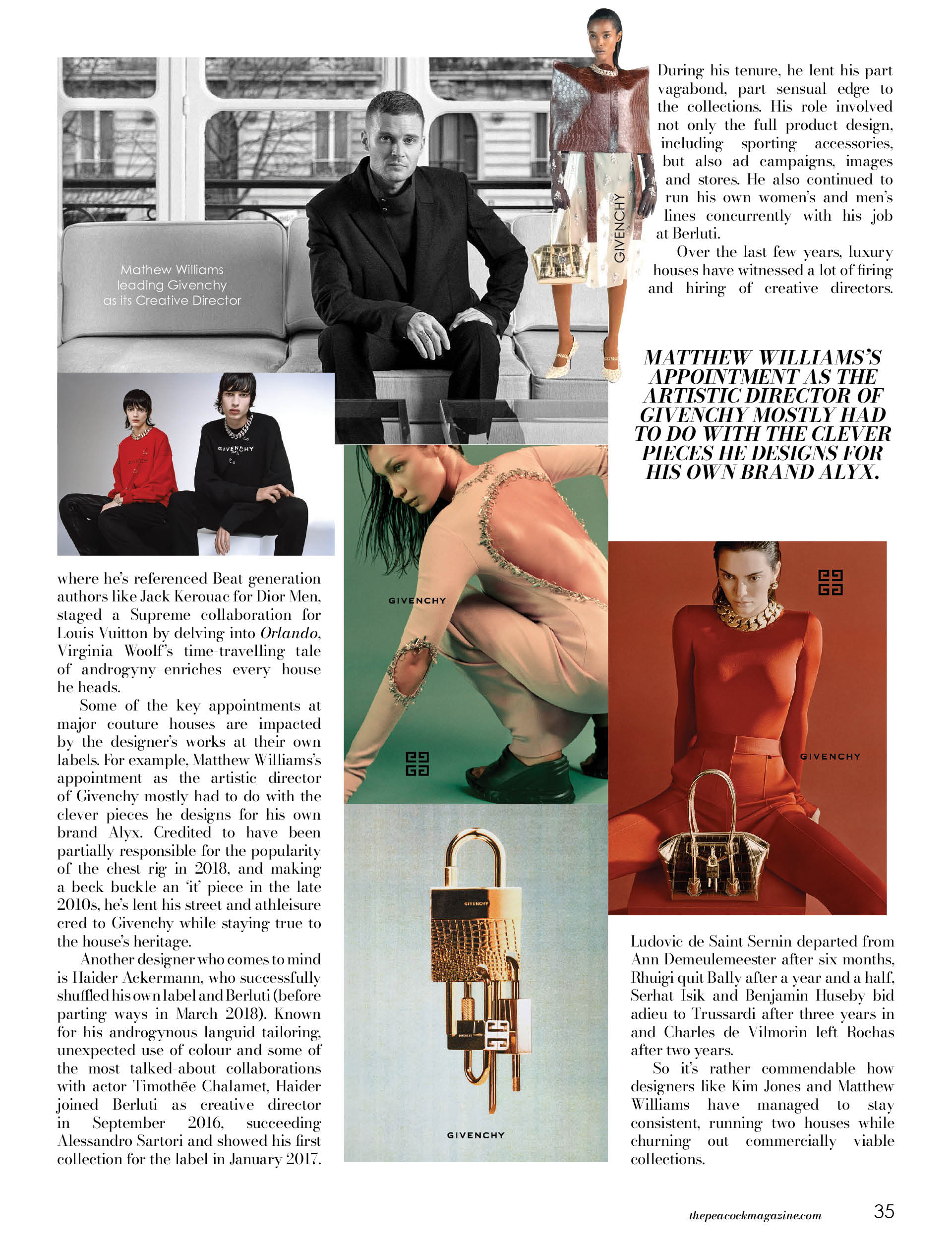 Some of the key appointments at major couture houses are impacted by the designer's works at their own labels. For example, Matthew Williams's appointment as the artistic director of Givenchy mostly had to do with the clever pieces he designs for his own brand Alyx. Credited to have been partially responsible for the popularity of the chest rig in 2018, and making a beck buckle an 'it' piece in the late 2010s, he's lent his street and athleisure cred to Givenchy while staying true to the house's heritage.
Another designer who comes to mind is Haider Ackermann, who successfully shuffled his own label and Berluti (before parting ways in March 2018). Known for his androgynous languid tailoring, unexpected use of colour and some of the most talked-about collaborations with actor Timothée Chalamet, Haider joined Berluti as creative director in September 2016, succeeding Alessandro Sartori and showed his first collection for the label in January 2017. During his tenure, he lent his part vagabond, part sensual edge to the collections. His role involved not only the full product design, including sporting accessories, but also ad campaigns, images and stores. He also continued to run his own women's and men's lines concurrently with his job at Berluti.
Over the last few years, luxury houses have witnessed a lot of firing and hiring of creative directors. Ludovic de Saint Sernin departed from Ann Demeulemeester after six months, Rhuigi quit Bally after a year and a half, Serhat Isik and Benjamin Huseby bid adieu to Trussardi after three years in and Charles de Vilmorin left Rochas after two years.
So it's rather commendable how designers like Kim Jones and Matthew Williams have managed to stay consistent, running two houses while churning out commercially viable collections.