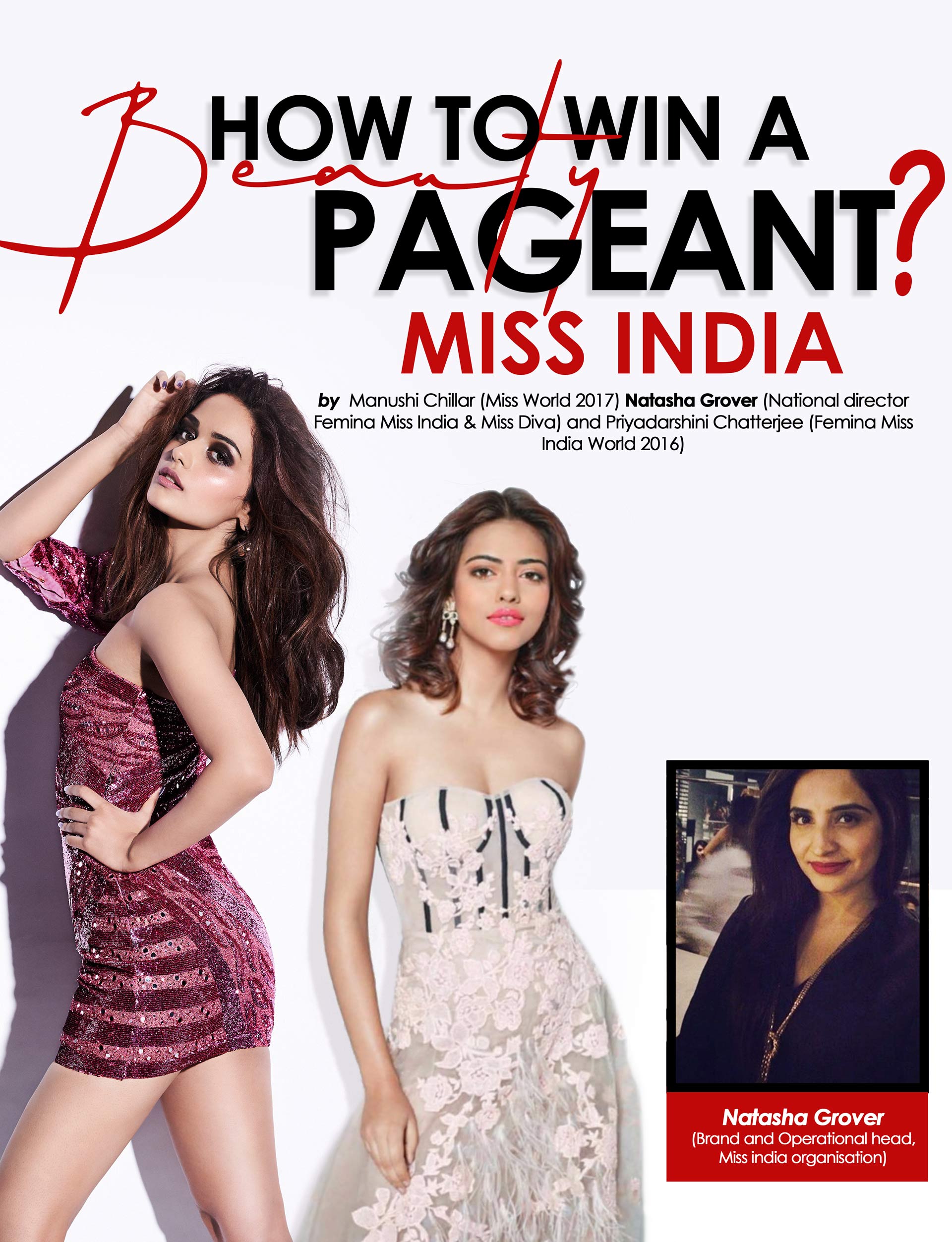 Winning beauty pageants may seem like the road map to the glamour world and instant stardom, but behind the glory of the crowning moment are months and months of precision, diligence and hard work. Becoming a beauty queen in today's world is not about having the perfect hair and smile; it's more to do with your vision for change once you're in the position of power. India has been fortunate enough to earn prestigious titles of Miss Universe and Miss World, several times over the decades, and the beauty queens who have represented our country across the world have went on to become some of the most renowned names in the entertainment and philanthropic industry. Whether it was Aishwarya Rai Bachchan, Sushmita Sen, Lara Dutta or the powerhouse Priyanka Chopra, who is now a global dominator, all these ladies have carved their own niche and paved their own paths. The most recent addition to these names was of Manushi Chillar, who brought back the title of Miss World home in 2017, as the most recent reigning beauty, she decoded her journey, the process, along with some personal anecdotes about participating and winning the world beauty title. Natasha Grover, National Director of Femina Miss India and Miss Diva shared her expertise on candidature evaluation, the changing narrative of beauty and what's in store for them after the pageant. Femina Miss India World 2016, Priyadarshini Chatterjee gave us an insight into the pageant process and on how her career shaped after winning the pageant.
[Q] What are the factors that are taken into consideration before selecting the pageant contestants?
Natasha Grover – There is a lot to be taken into consideration for a pageant. Miss India Organization firmly believes it to be a combination of natural beauty, confidence on stage, introducing you, walk to the judges, a personality that shines through. Besides, the qualities that we look for while selecting a girl doesn't not only consider the physical appearance, but also emphasises on personality traits, intelligence and talent as well. With Six Miss Worlds who have made India proud by marking their presence on the globe- Reita Faria (1966), Aishwarya Rai Bachchan (1994), Diana Hayden (1997), Yukta Mookhey (1999), Priyanka Chopra (2000) and Manushi Chhillar Miss World 2017, who brought the coveted crown back home after 17 years, Femina Miss India continues it's legacy of 55 years of conducting a nationwide hunt in all 30 states (including the Capital, Delhi). The Top 3 contestants from every state win a Golden Ticket to the State's Zonal crowning ceremony held in Bangalore (South Zone), Delhi (North Zone), Pune (West Zone) and Kolkata (East Zone) post which each state winner competes in the Grand Finale in Mumbai.
Contestants are shortlisted both on subjective and objective grounds. The former is based on their beauty quotient, sense of persona, and interpersonal skills. The latter revolves around physical features such as height, body fitness and other eligibility criteria such as Age, Nationality etc.
Priyadarshini Chatterjee – A lot of character traits combined together is considered to select the right candidate to represent a state/country. Discipline, integrity, clarity of vision, their goals are some of the important ones. For me, the most important factor is how well she knows herself and portrays her best version. Self-awareness and confidence are of utmost importance.
[Q] What is the training process like once they are in the competition?
Natasha Grover – After selecting the 30 state winners, each delegate undergoes a rigorous training from the industry experts from various fields like fashion, makeup, personality grooming, ramp walk etc for an indicative duration of 40 days. At Miss India, we have also developed a pageant coaching program that has a positive and effective approach for the state winners who would like to develop themselves mentally and physically. Besides not only do we teach delegates how to harness the excitement and nerves that accompany pageant competition, but we also imbibe the key to appear confident and knowledgeable. This year, state winners of fbb Colors Femina Miss India 2019 will undergo training and grooming sessions by their respective mentors. The gorgeous Neha Dhupia and Dia Mirza will be mentoring the girls; East and West Zone will be handled by Neha and Dia will take charge of the North and South Zone. The delegates are put through a rigorous training program, conceptualized to enhance their skill sets, develop them holistically and groom them across disciplines such as Skin, Hair, Makeup, Fitness, Communication, Ramp walk, Styling etc.
Priyadarshini Chatterjee –Training process is like a revelation to self and bringing out the best in oneself. It's intense and empowering. The whole journey makes each one know them better and strengthen their abilities making them beautifully confident beings.
[Q] How has the perception of beauty changed in the competition over the years?
Natasha Grover – There is no abstract beauty as such. Miss India Organization believes that beauty is a comparative concept of mind. The beauty of a flower, a bird, an animal, mountain, lake, or garden, is always described on comparative terms. The beauty is also based on many environmental concepts. A rare item will appear beautiful, then the items which we encounter daily or regularly. Similarly, the beautiful features of women emanate from their mind. But different people describe them in different ways. The concept of age and also, growth, constitute a major portion of women's beauty. Miss India Organization has never believed in a traditional concept of beauty that was restricted to fair complexions and height, however, have always encouraged self-discipline, self-confidence and self-competitiveness which transform them into better individuals.
Priyadarshini Chatterjee – Beauty is no longer just attached to a physical attribute anymore. Beauty is what a person reflects from within and even in the pageant industry, I don't think it's about the girl with good looks anymore. It's a girl with a beautiful soul and everything else just compliments ones true self.
[Q] What is the one stand-out quality that you look for in a contestant?
Natasha Grover – Every contestant is unique in her own way! They have a lot of potential in them and are very passionate about their dreams but what makes one particular contestant stand out is that one WOW factor as the first impression and that one last answer as the lasting impression.
Priyadarshini Chatterjee – One special trait that I love seeing in a candidate is her ability to balance all kinds of emotions when putting into a tough situation with grace and confidence balancing multiple emotions running through. Also awareness of the imperfections and embracing them to be their best and true self is a great attribute.
[Q] After winning the title, how is their career shaped because of it?
Natasha Grover – The winner of Miss India represents the country at Miss World pageant. The others too stand a chance to represent the country at International Pageants like Miss Grand International and Miss United Continents, besides there are various opportunities which he can choose as her career. Post the delegate wins the National pageant she prepares herself for her International contest. She undergoes intense training from the best Industry Experts to equip herself well for the showdown. Meanwhile, she is also represented by Times of India as an in house artist who is further pitched for commercial assignments and PR drives. TOI takes care of her brand building and positioning and ensures that her talent is realized to its best potential.
Priyadarshini Chatterjee – After winning the title, it's definitely a dream come true fantasy land for every girl but with that comes a lot of responsibility, discipline and a major self-boost. All the travel and exposure adds to a lot of knowledge and self-growth leading to success in any field they choose to post the reigning year.
[Q] What is the next career step for those who don't win the title and finish as finalists?
Natasha Grover – Reaching till the finale is a big achievement in itself, most contestants complete their education and pursues their career in their respective fields followed by the glamour world. Miss India as an opportunity takes a delegate through a journey of self-exploration and realization of their skills and talents. Once a delegate undergoes the journey she identifies her strengths and the areas where she fits the bill. From a career perspective, the pageant opens door to various fields in show business such as fashion, cinema, Web, Television, AD commercials and even anchoring and show presentation.
Priyadarshini Chatterjee – For those who don't make it, that's not the end of their stories. For one, the doors are always open for another try to bring their better self to the competition. Otherwise, there is a lot of other doors that open up for them to explore. Be it the entertainment industry, business, art or anything, the experience of being a Miss India contestant and going through the training sessions just bring in a lot of new aspects and helps to excel in one's field.