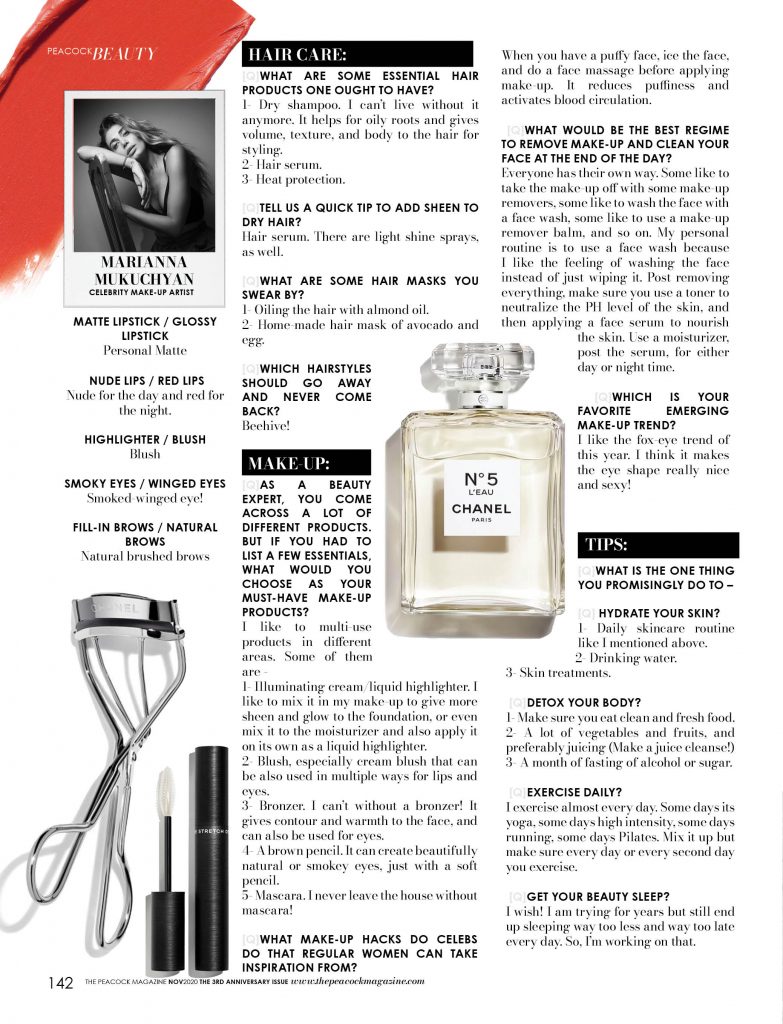 HAIR CARE:
[Q] What are some essential hair products one ought to have?
1. Dry shampoo. I can't live without it anymore. It helps for oily roots and gives volume, texture, and body to the hair for styling.
2. Hair serum.
3. Heat protection.
[Q] Tell us a quick tip to add sheen to dry hair?
Hair serum. There are light shine sprays, as well.
[Q] What are some hair masks you swear by?
1. Oiling the hair with almond oil.
2. Home-made hair mask of avocado and egg.
[Q] Which hairstyles should go away and never come back?
Beehive!
MAKE-UP:
[Q] As a beauty expert, you come across a lot of different products. But if you had to list a few essentials, what would you choose as your must-have make-up products?
I like to multi-use products in different areas. Some of them are –
1. Illuminating cream/liquid highlighter. I like to mix it in my make-up to give more sheen and glow to the foundation, or even mix it to the moisturizer and also apply it on its own as a liquid highlighter.
2. Blush, especially cream blush that can be also used in multiple ways for lips and eyes.
3. Bronzer. I can't without a bronzer! It gives contour and warmth to the face, and can also be used for eyes.
4. A brown pencil. It can create beautifully natural or smokey eyes, just with a soft pencil.
5. Mascara. I never leave the house without mascara!
[Q] What make-up hack do celebs do that regular women can take inspiration from?
When you have a puffy face, ice the face, and do a face massage before applying make-up. It reduces puffiness and activates blood circulation.
[Q] What would be the best regime to remove make-up and clean your face at the end of the day?
Everyone has their own way. Some like to take the make-up off with some make-up removers, some like to wash the face with a face wash, some like to use a make-up remover balm, and so on. My personal routine is to use a face wash because I like the feeling of washing the face instead of just wiping it. Post removing everything, make sure you use a toner to neutralize the PH level of the skin, and then applying a face serum to nourish the skin. Use a moisturizer, post the serum, for either day or night time.
[Q] Which is your favorite emerging make-up trend?
I like the fox eye trend of this year. I think it makes the eye shape really nice and sexy!
Choose one –
Matte lipstick / Glossy lipstick
Personal Matte
Nude lips / Red lips
Nude for the day and red for the night.
Highlighter / Blush
Blush
Smoky eyes / Winged eyes
Smoked-winged eye!
Fill-in brows / Natural brows
Natural brushed brows
TIPS:
[Q] What is the one thing you promisingly do to –
[Q] Hydrate your skin?
1. Daily skincare routine like I mentioned above.
2. Drinking water.
3. Skin treatments.
[Q]Detox your body?
1.Make sure you eat clean and fresh food.
2.A lot of vegetables and fruits, and preferably juicing (Make a juice cleanse!)
3.A month of fasting of alcohol or sugar.
[Q]Exercise daily?
I exercise almost every day. Some days its yoga, some days high intensity, some days running, some days Pilates. Mix it up but make sure every day or every second day you exercise.
[Q]Get your beauty sleep?
I wish! I am trying for years but still end up sleeping way too less and way too late every day. So, I'm working on that.