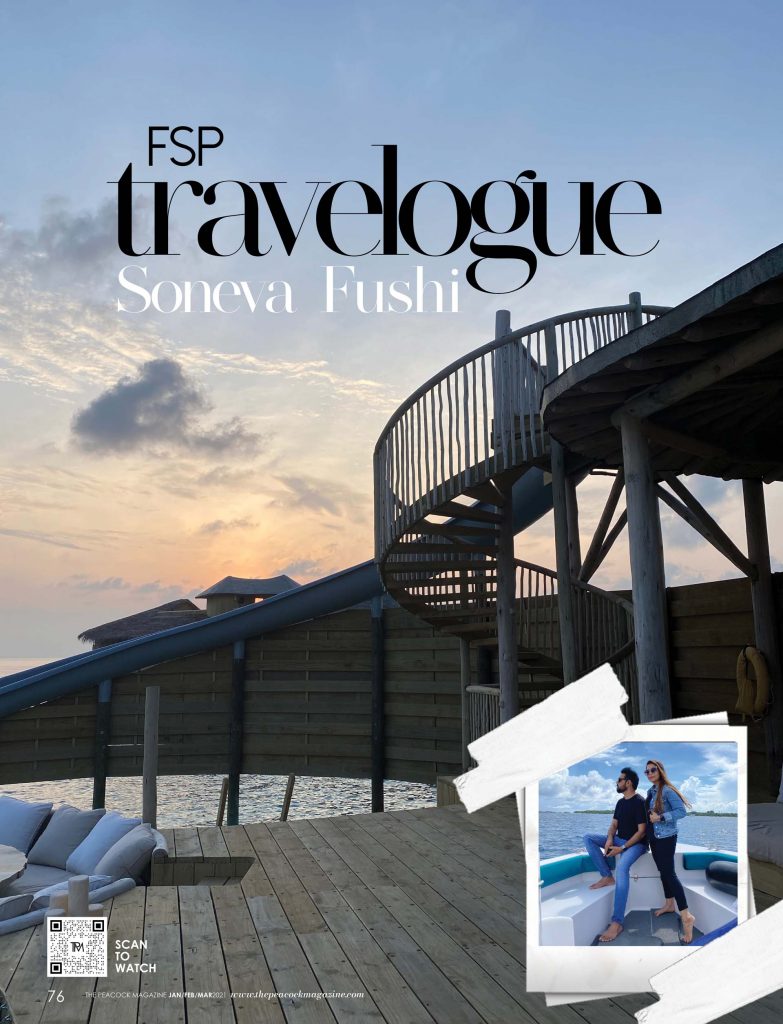 Your firsts are always special. So, when we packed our bags for the first time after being held up in our houses for months due to the lockdown, it was nothing but special. Nostalgia hit hard when we spotted the airport from a distance. The sight of the colossal structure was calming for our travel sore eyes. As we drew nearer to the airport, the excitement levels kept surging, and we were afraid it might hit the roof by the time we reached our destination – Maldives.
A quick flight to Male and we were in the land of beaches surrounded by the blues and greens of the ocean and the forests. As soon as we got out of the flight and cleared our mandatory checks, we were warmly welcomed by the most endearing staff of Soneva Fushi, our resort for the next three days. The team took care of our baggage (which might be a little too many, guilty as charged!) by tagging them and sending it to the seaplane that would've taken us to the gorgeous island. The seaplane ride was again one of our firsts, and we were beyond thrilled to experience it. On peeking out of the window, we were taken aback by how beautiful each of the tiny islands looked from several hundred feet atop. The team from Soneva Fushi made sure our little ride on the seaplane was an experience in itself by serving us a refreshing watermelon juice. We reached the Maldives' seaport in a quick span of half an hour. The team escorted us to our next adventure ride, which was the sea boat. We wouldn't lie when we say we had some cliched music video feels as we felt the wind in our hair and the sea moisture made our faces gleam and glow. On reaching the clean, white-sand shores of the Soneva island, we were welcomed yet again, this time, with much more warmth. The welcome was followed by a quick and important instruction, which was to move around the island barefoot. The signboards carved out of wood read 'No news, no shoes,' and we happily decided to abide by that. To us, we were already on our dream vacation when we ready the signage.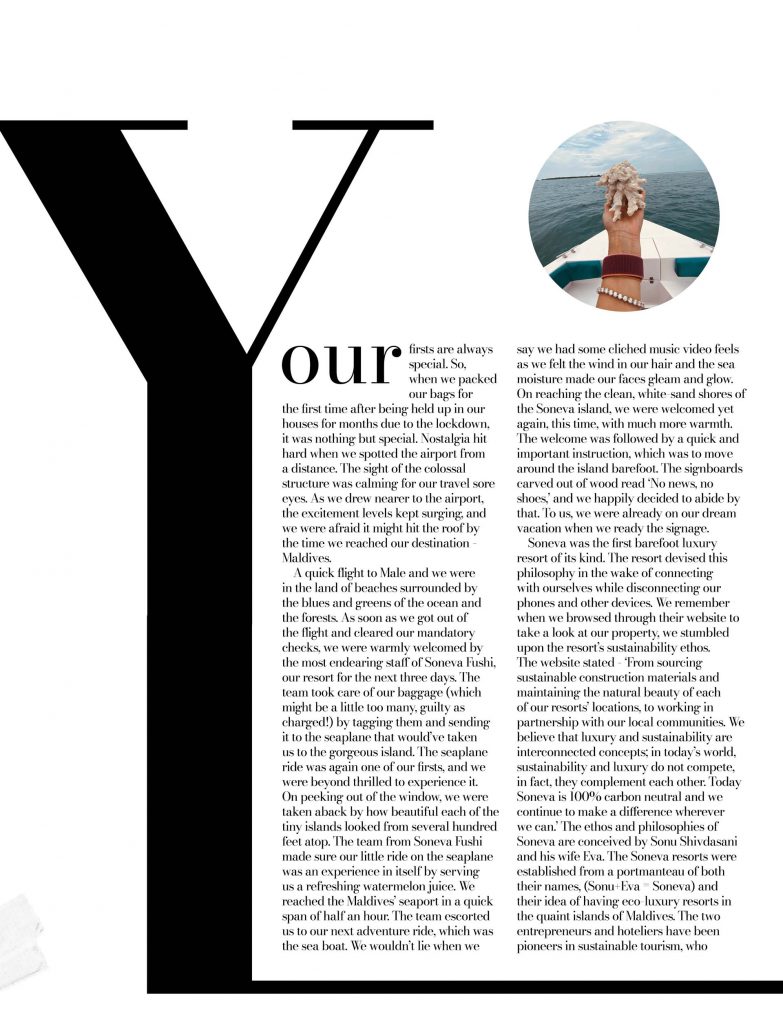 Soneva was the first barefoot luxury resort of its kind. The resort devised this philosophy in the wake of connecting with ourselves while disconnecting our phones and other devices. We remember when we browsed through their website to take a look at our property, we stumbled upon the resort's sustainability ethos. The website stated – 'From sourcing sustainable construction materials and maintaining the natural beauty of each of our resorts' locations, to working in partnership with our local communities. We believe that luxury and sustainability are interconnected concepts; in today's world, sustainability and luxury do not compete, in fact, they complement each other. Today Soneva is 100% carbon neutral and we continue to make a difference wherever we can.' The ethos and philosophies of Soneva are conceived by Sonu Shivdasani and his wife Eva. The Soneva resorts were established from a portmanteau of both their names, (Sonu+Eva = Soneva) and their idea of having eco-luxury resorts in the quaint islands of Maldives. The two entrepreneurs and hoteliers have been pioneers in sustainable tourism, who discovered the philosophy that 'less is more' about 25 years ago.
Ah! Maldives does make you trail off your path and take a route never taken before to explore the beauty of the island, just like how this travelogue trailed off.
On reaching our villas, we were left spellbound by the beauty of it. We were put up in one of the ten luxurious water retreats that was grandeur personified. Our one-bedroom villa came with a water slide that ended right into the ocean. Along the slide was the buoyant hammock with the comfiest cushions thrown in and an infinity pool to take a dip into! Made out of six different types of woods, the retreat had an out-and-out organic feel to it. A look inside our splendid retreat and we found a huge bedroom that gave an ocean-view-to-die-for! Next to it was our mini office, where we actually worked from, for the next three days and ample area around it to lounge by. A little outside was the jacuzzi with the ocean-view, of course! The cherry on the cake was the ceiling that could open and give us a sky view. The retreat turned out to be a treat retreat not just to the eyes and mind, but even to every sensory of our bodies. After taking a mini-tour of our villas, we stay in as we were asked to quarantine for a day post our COVID-19 tests. Our quarantine couldn't have gotten any better as we spent the entire evening by the poolside in the hammock and called for room service, which was impeccable. A relaxing evening was just what we needed to enjoy our water retreat to its best!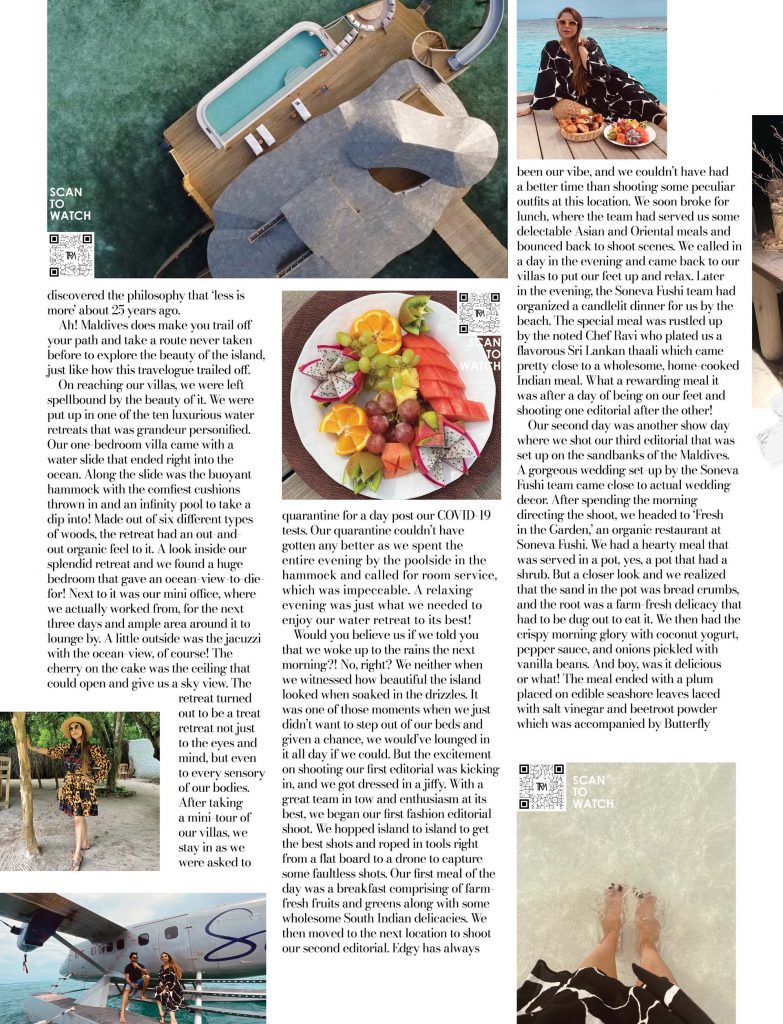 Would you believe us if we told you that we woke up to the rains the next morning?! No, right? We neither when we witnessed how beautiful the island looked when soaked in the drizzles. It was one of those moments when we just didn't want to step out of our beds and given a chance, we would've lounged in it all day if we could. But the excitement on shooting our first editorial was kicking in, and we got dressed in a jiffy. With a great team in tow and enthusiasm at its best, we began our first fashion editorial shoot. We hopped island to island to get the best shots and roped in tools right from a flat board to a drone to capture some faultless shots. Our first meal of the day was a breakfast comprising of farm-fresh fruits and greens along with some wholesome South Indian delicacies. We then moved to the next location to shoot our second editorial. Edgy has always been our vibe, and we couldn't have had a better time than shooting some peculiar outfits at this location. We soon broke for lunch, where the team had served us some delectable Asian and Oriental meals and bounced back to shoot scenes. We called in a day in the evening and came back to our villas to put our feet up and relax. Later in the evening, the Soneva Fushi team had organized a candlelit dinner for us by the beach. The special meal was rustled up by the noted Chef Ravi who plated us a flavorous Sri Lankan thaali which came pretty close to a wholesome, home-cooked Indian meal. What a rewarding meal it was after a day of being on our feet and shooting one editorial after the other!
Our second day was another show day where we shot our third editorial that was set up on the sandbanks of the Maldives. A gorgeous wedding set-up by the Soneva Fushi team came close to actual wedding decor. After spending the morning directing the shoot, we headed to 'Fresh in the Garden,' an organic restaurant at Soneva Fushi. We had a hearty meal that was served in a pot, yes, a pot that had a shrub. But a closer look and we realized that the sand in the pot was bread crumbs, and the root was a farm-fresh delicacy that had to be dug out to eat it. We then had the crispy morning glory with coconut yogurt, pepper sauce, and onions pickled with vanilla beans. And boy, was it delicious or what! The meal ended with a plum placed on edible seashore leaves laced with salt vinegar and beetroot powder which was accompanied by Butterfly Pea Kombucha. It was enough to induce us with a food coma for a while before we headed to our shoot! Post lunch was a shoot of a different kind where both of us got our editor's note pictures shot as we waded through the shallow waters by the entrance of Soneva Fushi. After two days of sticking by our work schedule, we needed to let our hair down, and what better way than sliding down into the waters from the lounging areas of our villa. The water slides brought back those carefree childhood days wherein all the world's worries were at the bay, quite literally! We then relaxed by the infinity pool and headed for a quiet candlelit dinner by the beach with the team, and we toasted to the good times!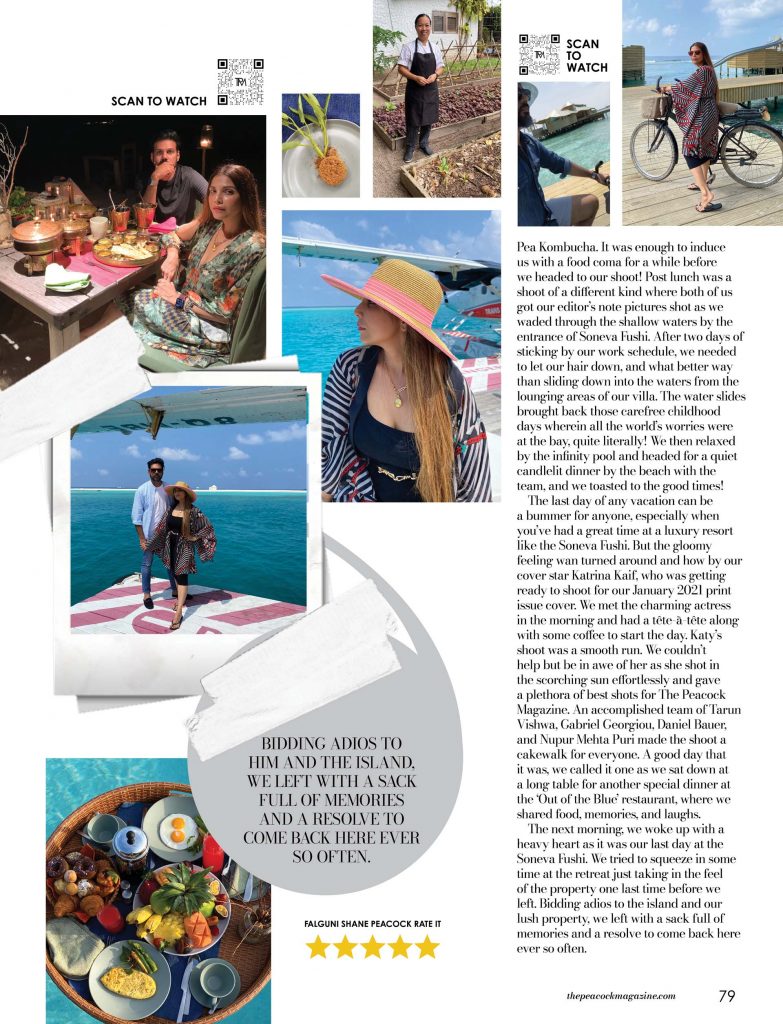 The last day of any vacation can be a bummer for anyone, especially when you've had a great time at a luxury resort like the Soneva Fushi. But the gloomy feeling wan turned around and how by our cover star Katrina Kaif, who was getting ready to shoot for our January 2021 print issue cover. We met the charming actress in the morning and had a tête-à-tête along with some coffee to start the day. Katy's shoot was a smooth run. We couldn't help but be in awe of her as she shot in the scorching sun effortlessly and gave a plethora of best shots for The Peacock Magazine. An accomplished team of Tarun Vishwa, Gabriel Georgiou, Daniel Bauer, and Nupur Mehta Puri made the shoot a cakewalk for everyone. A good day that it was, we called it one as we sat down at a long table for another special dinner at the 'Out of the Blue' restaurant, where we shared food, memories, and laughs.
The next morning, we woke up with a heavy heart as it was our last day at the Soneva Fushi. We tried to squeeze in some time at the retreat just taking in the feel of the property one last time before we left. Bidding adios to the island and our lush property, we left with a sack full of memories and a resolve to come back here ever so often.