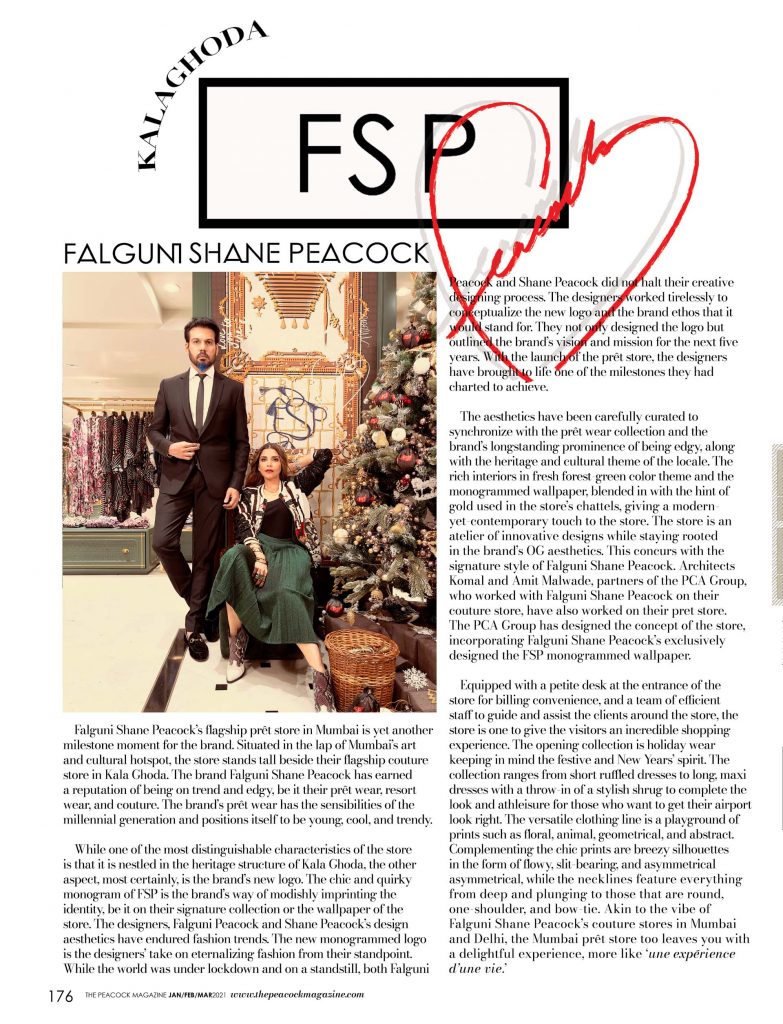 Falguni Shane Peacock's flagship pret store in Mumbai is yet another milestone moment for the brand. Situated in the lap of Mumbai's art and cultural hotspot, the store stands tall beside their flagship couture store in Kala Ghoda. The brand Falguni Shane Peacock has earned a reputation of being on-trend and edgy, be it their pret wear, resort wear, and couture. The pret wear collection of Falguni Shane Peacock has the sensibilities of the millennial generation and recognizes itself to be young, cool, and trendy.
While one of the most distinguishable characteristics of the store is that it is nestled in the heritage structure of Kala Ghoda, the other aspect, most certainly, is the brand's new logo. The chic and quirky monogram of FSP is the brand's way of modishly imprinting the identity, be it on their signature collection or the wallpaper of the store. The designers, Falguni Peacock and Shane Peacock's design aesthetics have endured fashion trends. The newly monogrammed logo is the designers' take on eternalizing fashion from their standpoint. While the world was under lockdown and on a standstill, both Falguni Peacock and Shane Peacock did not halt their creative designing process. The designers worked tirelessly to conceptualize the new logo and the brand ethos that it would stand for. They not only designed the logo but outlined the brand's vision and mission for the next five years. With the launch of the pret store, the designers have brought to life one of the milestones they had charted to achieve.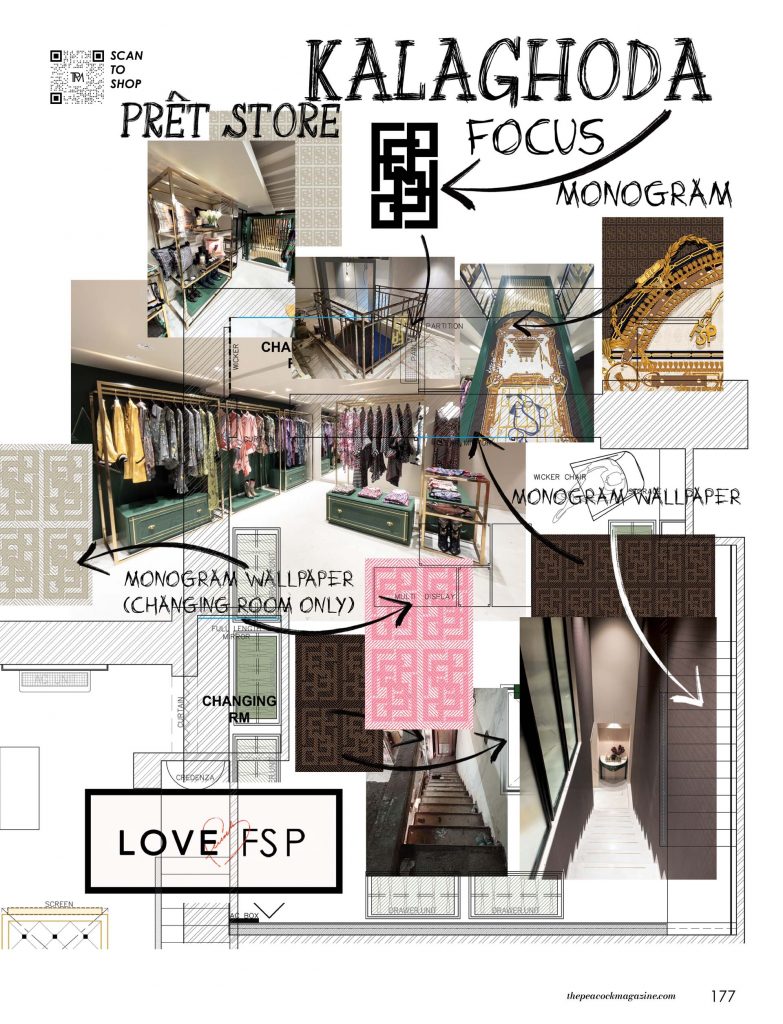 The aesthetics have been carefully curated to synchronize with the pret wear collection and the brand's longstanding prominence of being edgy, along with the heritage and cultural theme of the locale. The rich interiors in fresh forest green color theme, the monogrammed wallpaper, blended in with a hint of gold used in the store's chattels, give the store a touch of modern yet contemporary. The store is an atelier of innovative designs while staying rooted in the brand's OG aesthetics. This concurs with the signature style of Falguni Shane Peacock. Architects Komal and Amit Malwade, partners of the PCA Group, who worked with Falguni Shane Peacock on their couture store, have also worked on their pret store. The duo has designed the concept of the store, incorporating Falguni Shane Peacock's exclusively designed wallpaper of the FSP monogram and brought it to life with their designing insights.
Equipped with a petite desk at the entrance of the store for billing convenience, and a team of efficient staff to guide and assist the clients around the store, the store is one to give the visitors an incredible shopping experience. The opening collection is a holiday wear keeping in mind the festive and New Years' spirit. The collection ranges from short ruffled dresses to long, maxi dresses with a throw-in of a stylish shrug to complete the look and athleisure for those who want to get their airport look right. It is a playground of prints such as floral, animal, geometrical, and abstract. Complementing the chic prints are breezy silhouettes in the form of flowy, slit-bearing, and asymmetrical and neckline that everything from deep and plunging, to those that are round, one-shoulder, and bow tie. Akin to the vibe of Falguni Shane Peacock's couture stores in Mumbai and Delhi, the Mumbai pret store too leaves you with a delightful experience, more like 'une expérience d'une vie.'