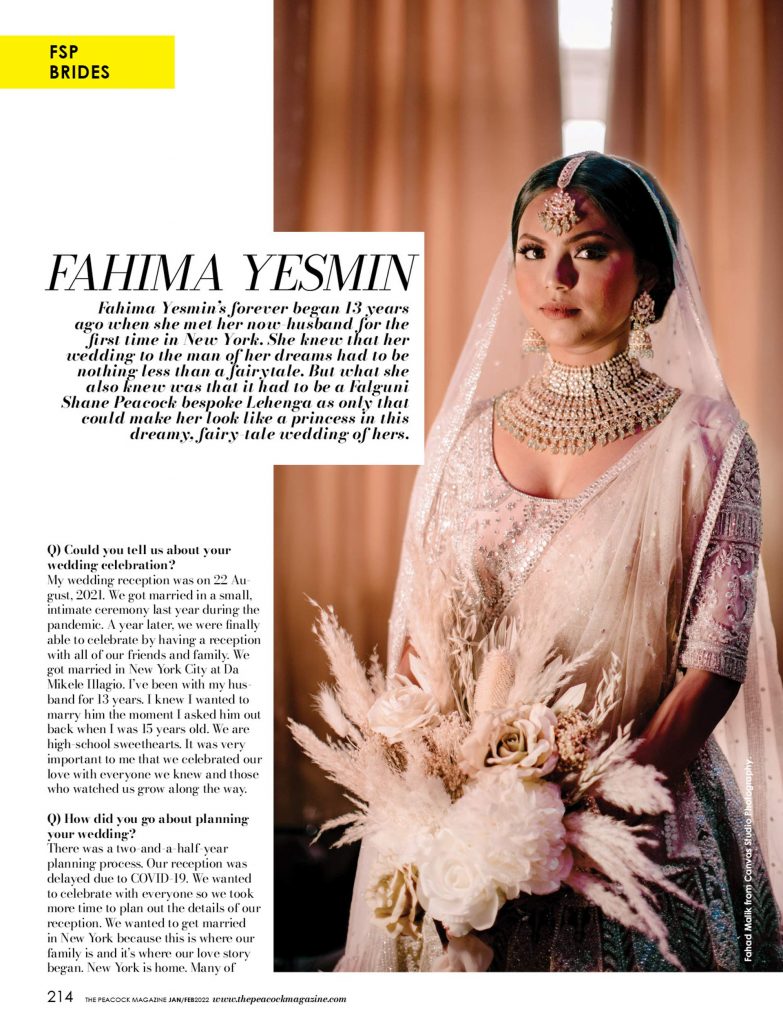 CREDITS: Fahad Malik from Canvas Studio Photography.
Fahima Yesmin's forever began 13 years ago when she met her now-husband for the first time in New York. She knew that her wedding to the man of her dreams had to be nothing less than a fairytale. But what she also knew was that it had to be a Falguni Shane Peacock bespoke Lehenga as only that could make her look like a princess in this dreamy, fairy-tale wedding of hers.

[Q] Could you tell us about your wedding celebration?
My wedding reception was on 22 August, 2021. We got married in a small, intimate ceremony last year during the pandemic. A year later, we were finally able to celebrate by having a reception with all of our friends and family. We got married in New York City at Da Mikele Illagio. I've been with my husband for 13 years. I knew I wanted to marry him the moment I asked him out back when I was 15 years old. We are high-school sweethearts. It was very important to me that we celebrated our love with everyone we knew and those who watched us grow along the way.
[Q] How did you go about planning your wedding?
There was a two-and-a-half-year planning process. Our reception was delayed due to COVID-19. We wanted to celebrate with everyone so we took more time to plan out the details of our reception. We wanted to get married in New York because this is where our family is and it's where our love story began. New York is home. Many of the vendors we worked with are our friends and family, so it was a large, yet intimate gathering.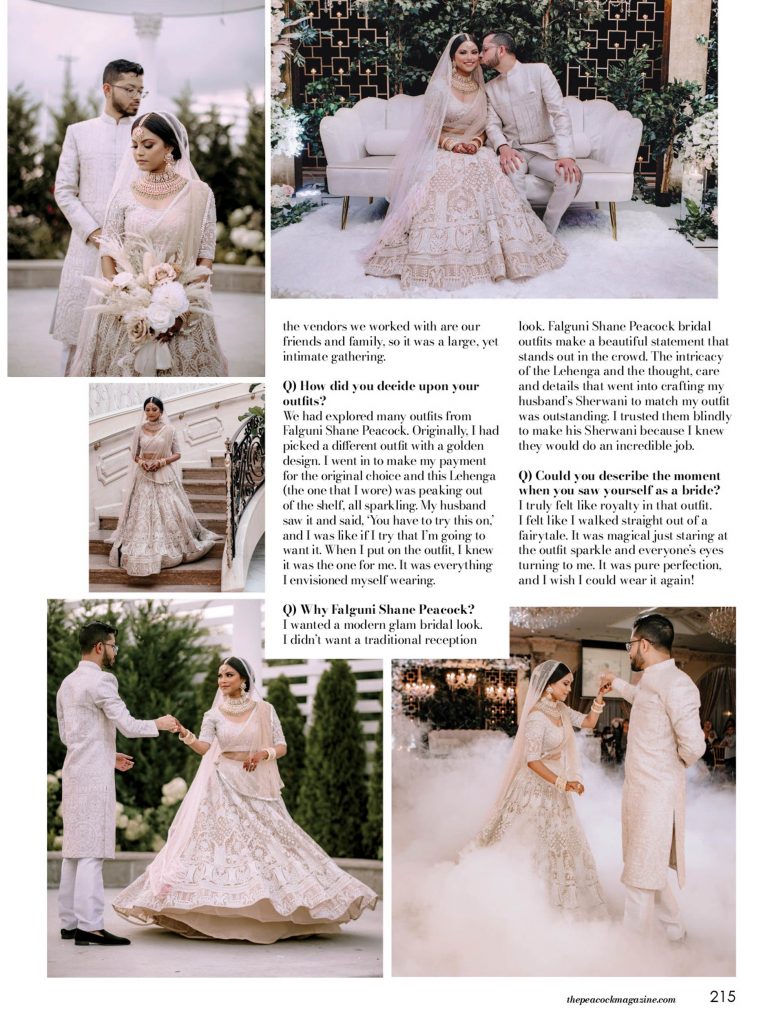 [Q] How did you decide upon your outfits?
We had explored many outfits from Falguni Shane Peacock. Originally, I had picked a different outfit with a golden design. I went in to make my payment for the original choice and this Lehenga (the one that I wore) was peaking out of the shelf, all sparkling. My husband saw it and said, 'You have to try this on,' and I was like if I try that I'm going to want it. When I put on the outfit, I knew it was the one for me. It was everything I envisioned myself wearing.
[Q] Why Falguni Shane Peacock?
I wanted a modern glam bridal look. I didn't want a traditional reception look. Falguni Shane Peacock bridal outfits make a beautiful statement that stands out in the crowd. The intricacy of the Lehenga and the thought, care and details that went into crafting my husband's Sherwani to match my outfit was outstanding. I trusted them blindly to make his Sherwani because I knew they would do an incredible job.
[Q] Could you describe the moment when you saw yourself as a bride?
I truly felt like royalty in that outfit. I felt like I walked straight out of a fairytale. It was magical just staring at the outfit sparkle and everyone's eyes turning to me. It was pure perfection, and I wish I could wear it again!