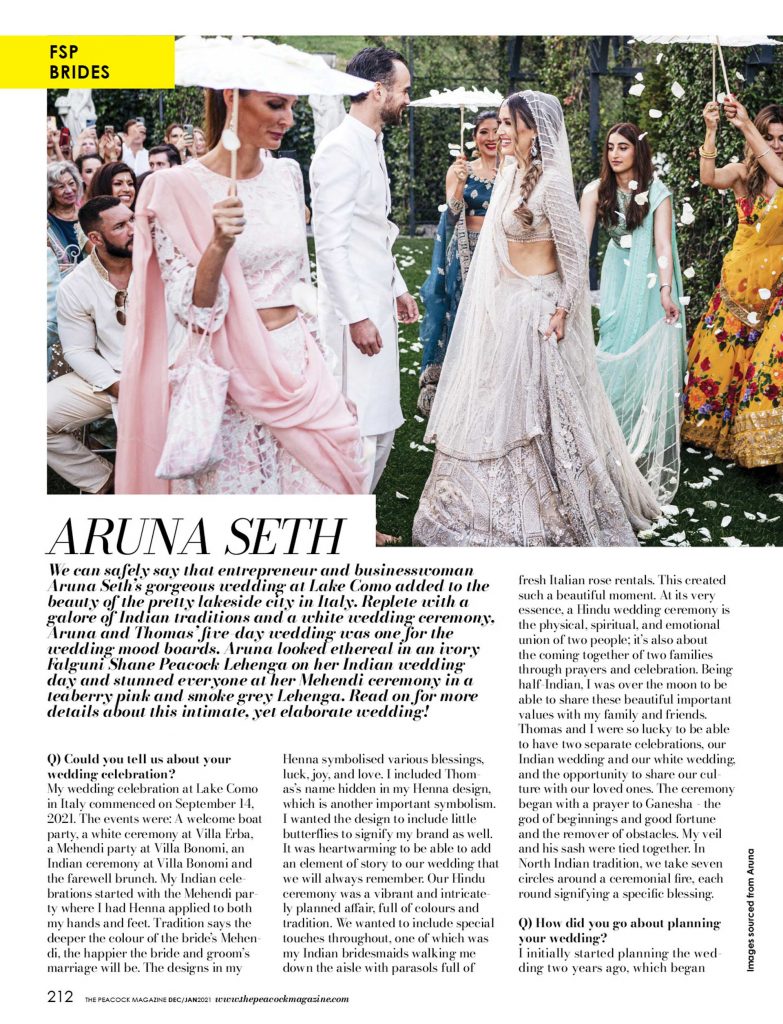 CREDITS: Images sourced from Aruna.

We can safely say that entrepreneur and businesswoman Aruna Seth's gorgeous wedding at Lake Como added to the beauty of the pretty lakeside city in Italy. Replete with a galore of Indian traditions and a white wedding ceremony, Aruna and Thomas' five-day wedding was one for the wedding mood boards. Aruna looked ethereal in an ivory Falguni Shane Peacock Lehenga on her Indian wedding day and stunned everyone at her Mehendi ceremony in a teaberry pink and smoke grey Lehenga. Read on for more details about this intimate, yet elaborate wedding!

[Q] Could you tell us about your wedding celebration?
My wedding celebration at Lake Como in Italy commenced on September 14, 2021. The events were: A welcome boat party, a white ceremony at Villa Erba, a Mehendi party at Villa Bonomi, an Indian ceremony at Villa Bonomi and the farewell brunch. My Indian celebrations started with the Mehendi party where I had Henna applied to both my hands and feet. Tradition says the deeper the colour of the bride's Mehendi, the happier the bride and groom's marriage will be. The designs in my Henna symbolised various blessings, luck, joy, and love. I included Thomas's name hidden in my Henna design, which is another important symbolism. I wanted the design to include little butterflies to signify my brand as well. It was heartwarming to be able to add an element of story to our wedding that we will always remember. Our Hindu ceremony was a vibrant and intricately planned affair, full of colours and tradition. We wanted to include special touches throughout, one of which was my Indian bridesmaids walking me down the aisle with parasols full of fresh Italian rose rentals. This created such a beautiful moment. At its very essence, a Hindu wedding ceremony is the physical, spiritual, and emotional union of two people; it's also about the coming together of two families through prayers and celebration. Being half-Indian, I was over the moon to be able to share these beautiful important values with my family and friends. Thomas and I were so lucky to be able to have two separate celebrations, our Indian wedding and our white wedding, and the opportunity to share our culture with our loved ones. The ceremony began with a prayer to Ganesha – the god of beginnings and good fortune and the remover of obstacles. My veil and his sash were tied together. In North Indian tradition, we take seven circles around a ceremonial fire, each round signifying a specific blessing.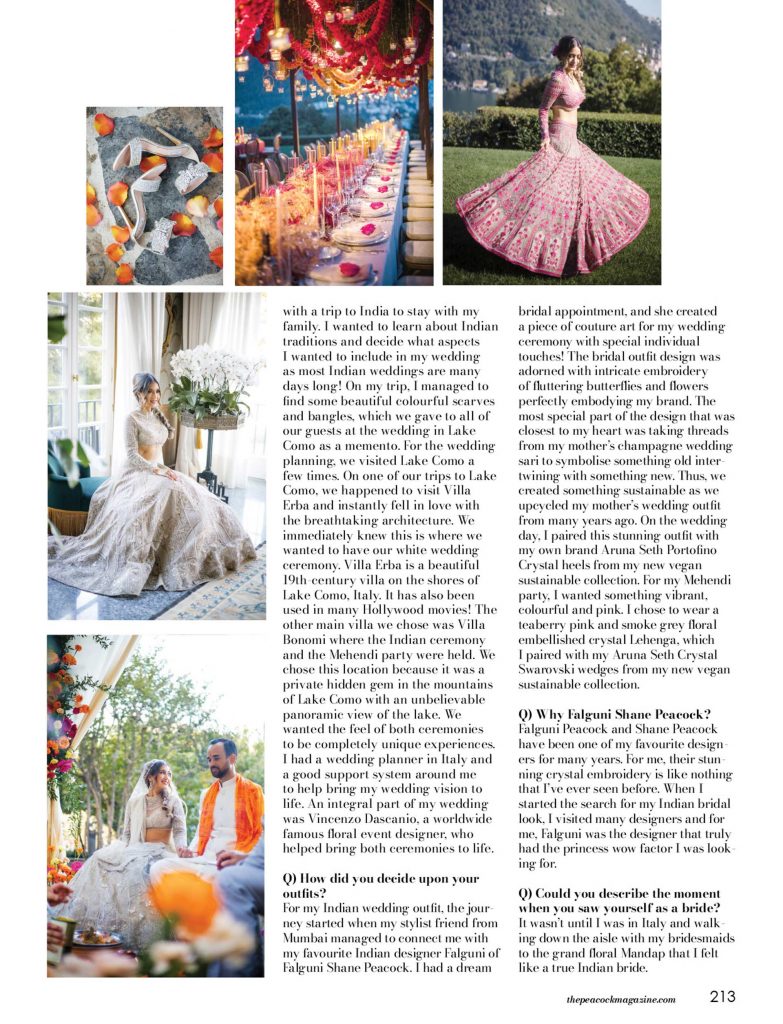 [Q] How did you go about planning your wedding?
I initially started planning the wedding two years ago, which began with a trip to India to stay with my family. I wanted to learn about Indian traditions and decide what aspects I wanted to include in my wedding as most Indian weddings are many days long! On my trip, I managed to find some beautiful colourful scarves and bangles, which we gave to all of our guests at the wedding in Lake Como as a memento. For the wedding planning, we visited Lake Como a few times. On one of our trips to Lake Como, we happened to visit Villa Erba and instantly fell in love with the breathtaking architecture. We immediately knew this is where we wanted to have our white wedding ceremony. Villa Erba is a beautiful 19th-century villa on the shores of Lake Como, Italy. It has also been used in many Hollywood movies! The other main villa we chose was Villa Bonomi where the Indian ceremony and the Mehendi party were held. We chose this location because it was a private hidden gem in the mountains of Lake Como with an unbelievable panoramic view of the lake. We wanted the feel of both ceremonies to be completely unique experiences. I had a wedding planner in Italy and a good support system around me to help bring my wedding vision to life. An integral part of my wedding was Vincenzo Dascanio, a worldwide famous floral event designer, who helped bring both ceremonies to life.
[Q] How did you decide upon your outfits?
For my Indian wedding outfit, the journey started when my stylist friend from Mumbai managed to connect me with my favourite Indian designer Falguni of Falguni Shane Peacock. I had a dream bridal appointment, and she created a piece of couture art for my wedding ceremony with special individual touches! The bridal outfit design was adorned with intricate embroidery of fluttering butterflies and flowers perfectly embodying my brand. The most special part of the design that was closest to my heart was taking threads from my mother's champagne wedding sari to symbolise something old intertwining with something new. Thus, we created something sustainable as we upcycled my mother's wedding outfit from many years ago. On the wedding day, I paired this stunning outfit with my own brand Aruna Seth Portofino Crystal heels from my new vegan sustainable collection. For my Mehendi party, I wanted something vibrant, colourful and pink. I chose to wear a teaberry pink and smoke grey floral embellished crystal Lehenga, which I paired with my Aruna Seth Crystal Swarovski wedges from my new vegan sustainable collection.
[Q] Why Falguni Shane Peacock?
Falguni Peacock and Shane Peacock have been one of my favourite designers for many years. For me, their stunning crystal embroidery is like nothing that I've ever seen before. When I started the search for my Indian bridal look, I visited many designers and for me, Falguni was the designer that truly had the princess wow factor I was looking for.
[Q] Could you describe the moment when you saw yourself as a bride?
It wasn't until I was in Italy and walking down the aisle with my bridesmaids to the grand floral Mandap that I felt like a true Indian bride.