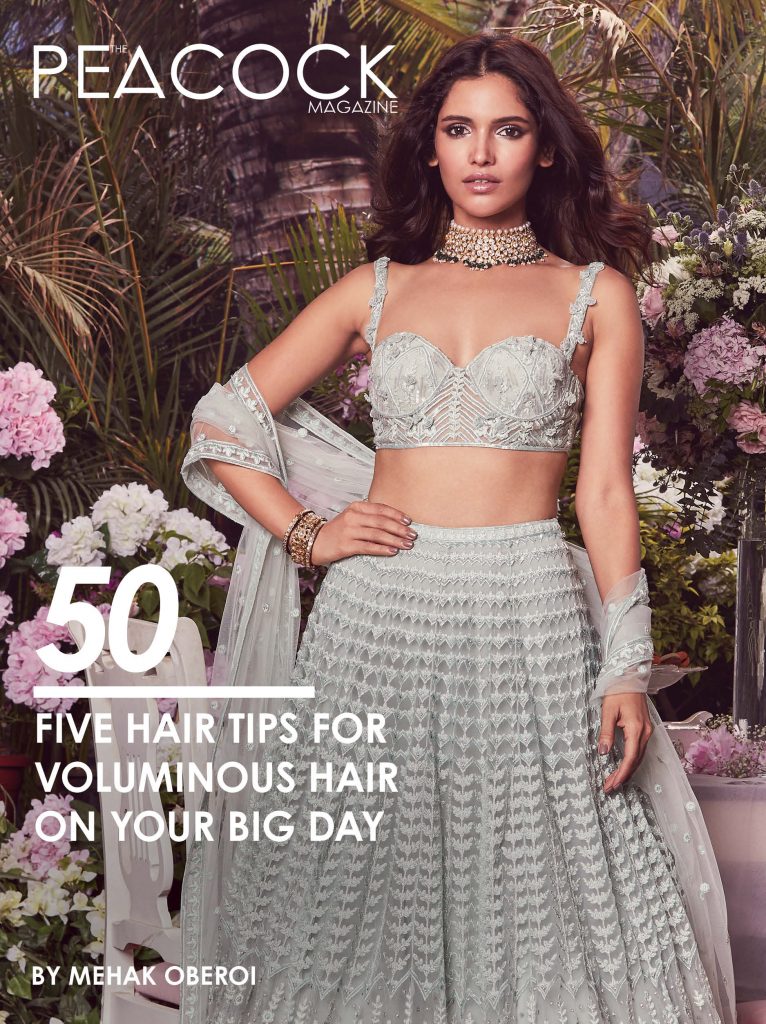 5 Hair Tips For Voluminous Hair On Your Big Day – Mehak Oberoi
1. If you want to have that extra volume on the D-day or the functions around it, I suggest you shampoo your hair with a clear shampoo and not a creamy one. Avoid using any hair mask for at least 3-4 days before the event and use a very light conditioner, don't go for anything that is intense.
2. Use a good root lift, say like Bumble and Bumble, Paul Mitchell, or any other root lift that suits you. After you washed your hair with a clear shampoo, you can use a thickening lotion or a light-weighted mousse or a constructor and add root lift to your roots. Then, turn your head upside down and dry your hair with air using your fingers. You will have instant volume at the roots and that extra body. Once you have that product in, you can style your hair the way you like it.
3. Velcro rollers on the crown of your head during the blow dry and keep it for a while. Until then you can finish your make-up and the rest of your hair. Once you open them and style it, it looks amazing, for the volume is real and it stays for longer.
4. If the hair is really thin, then try to use a micro-thin crimper especially at the roots, and then tweeze it. Make it sit with the help of your spray and you can freeze the hairstyle as is. It is not going barge, I promise!
5. Once my blow dry is done and I put my Velcro rollers on. After removing them, my favorite thing to do is to add a lot of dusting powder towards the roots so that the volume stays. You can then back-comb it that so nothing will move.
Some of the products that I really recommended are – A hair constructor by Loreal, Balmain Hair Texturizing Volume Spray, A root lift by Balmain, Paul Mitchell Extra Body Boost Root Lifter, and Bumble and Bumble Thickening Hair Spray. If you're looking for cheaper options, then you have a really nice root lifter by BBlunt.