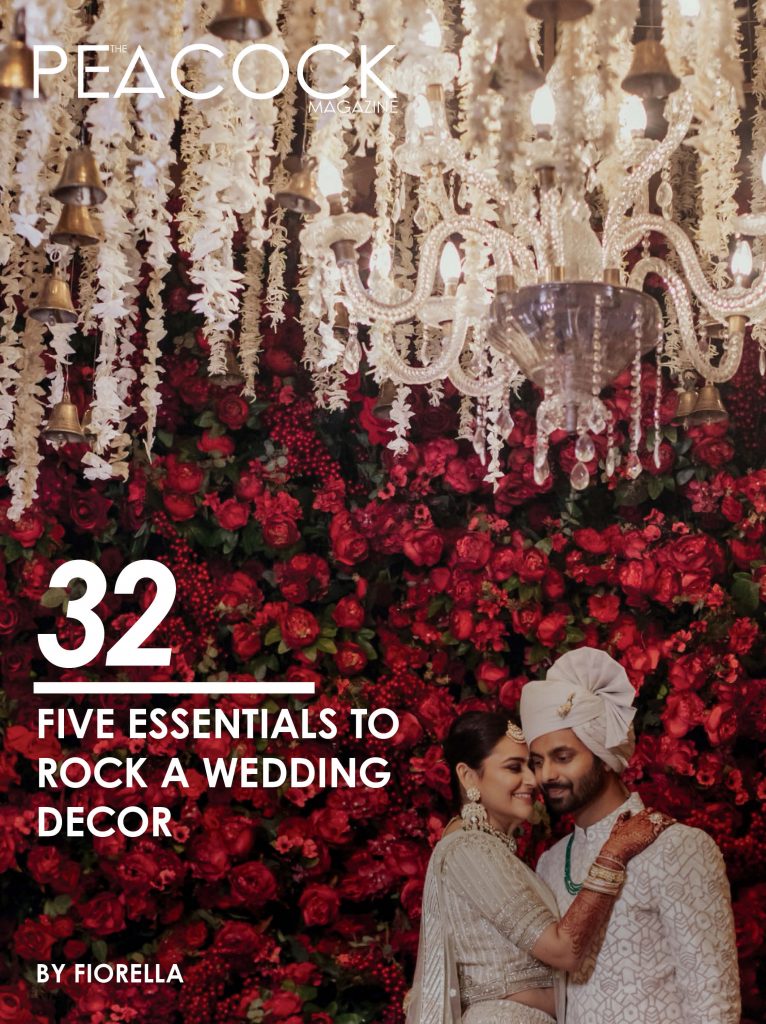 Flowers
Flowers—first and foremost—make the most essential item in any wedding decor. They not only portray the emotion behind a wedding, but also serve as the enhancer that binds the whole decor of the event. One can choose from a variety of flowers to match the time, venue, and theme of the wedding as well as the expectation and taste of the client.
Lighting
This aspect of the decor is surely an important one. Lighting in any venue—indoor or outdoor—can make or break the entire look and feel of the event. One has to be absolutely sure of what sort of lighting to use at which time of the day and in accordance to what the specific event demands. For example, using dim and warm lighting for a wedding versus a cocktail can completely ruin the mood of the ceremony! At Fiorella, we use a lot chandeliers at cocktail and reception parties to bring warmth to the venue; for weddings, we prefer sticking to ferry lights and brightly lit arrangements.
Personalisation
What lifts the mood of the entire wedding is personalising various elements at the wedding. It not only adds an emotional and personal touch but also looks quite appeasing. One can use hashtags, logos on photo booths, cushions, room cards, itineraries, etc., and add a personal touch to it. At Fiorella, we create hashtags and photo booths using our exclusive collection of Forever Roses.
Finishing
The most inevitable and imperative element in a wedding is the finishing of the decor. Oddly arranged props, haphazard and poor arrangement of the decor looks unpleasant and hideous. Fabric finishing, properly taped wires, clean vases, accessorising with detailed elements are some things to look out for to make the work look more finished and top notch.
Colour tone
Last but not the least, another essential element that binds the whole decor is using the correct colour tone. Choosing the right colour in accordance with the function and the type of wedding becomes vital for the entire venue to look attractive. So a royal wedding, for example, would essentially entail more reds and blues, whereas a wedding in Goa would have more of pastels and white to complement the aura of the surrounding; a cocktail or a reception would have dull fabrics, whereas a mehendi would have bright ones.