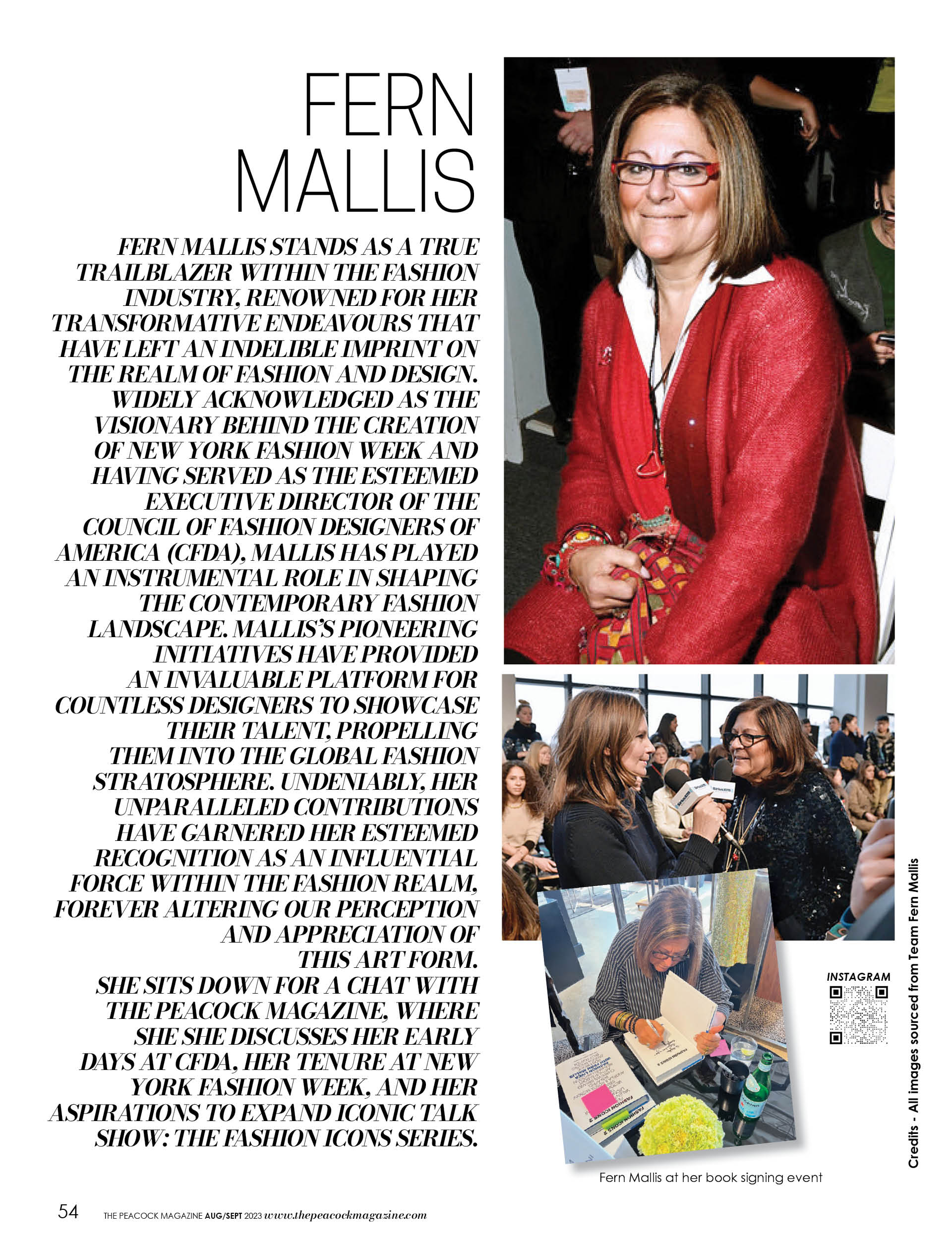 CREDITS – All images sourced from Team Fern Mallis
Fern Mallis stands as a true trailblazer within the fashion industry, renowned for her transformative endeavours that have left an indelible imprint on the realm of fashion and design. Widely acknowledged as the visionary behind the creation of New York Fashion Week and having served as the esteemed executive director of the Council of Fashion Designers of America (CFDA), Mallis has played an instrumental role in shaping the contemporary fashion landscape. Her visionary acumen and unwavering dedication to fostering the growth of emerging designers and facilitating industry-wide collaboration have ushered in a new era in the presentation and celebration of fashion. Mallis's pioneering initiatives have provided an invaluable platform for countless designers to showcase their talent, propelling them into the global fashion stratosphere. Undeniably, her unparalleled contributions have garnered esteemed recognition as an influential force within the fashion realm, forever altering our perception and appreciation of this art form.
She sits down for a chat with The Peacock Magazine, where she discusses her early days at CFDA, her tenure at New York Fashion Week, and her aspirations to expand her iconic talk show and release more books under the Fashion Icons series.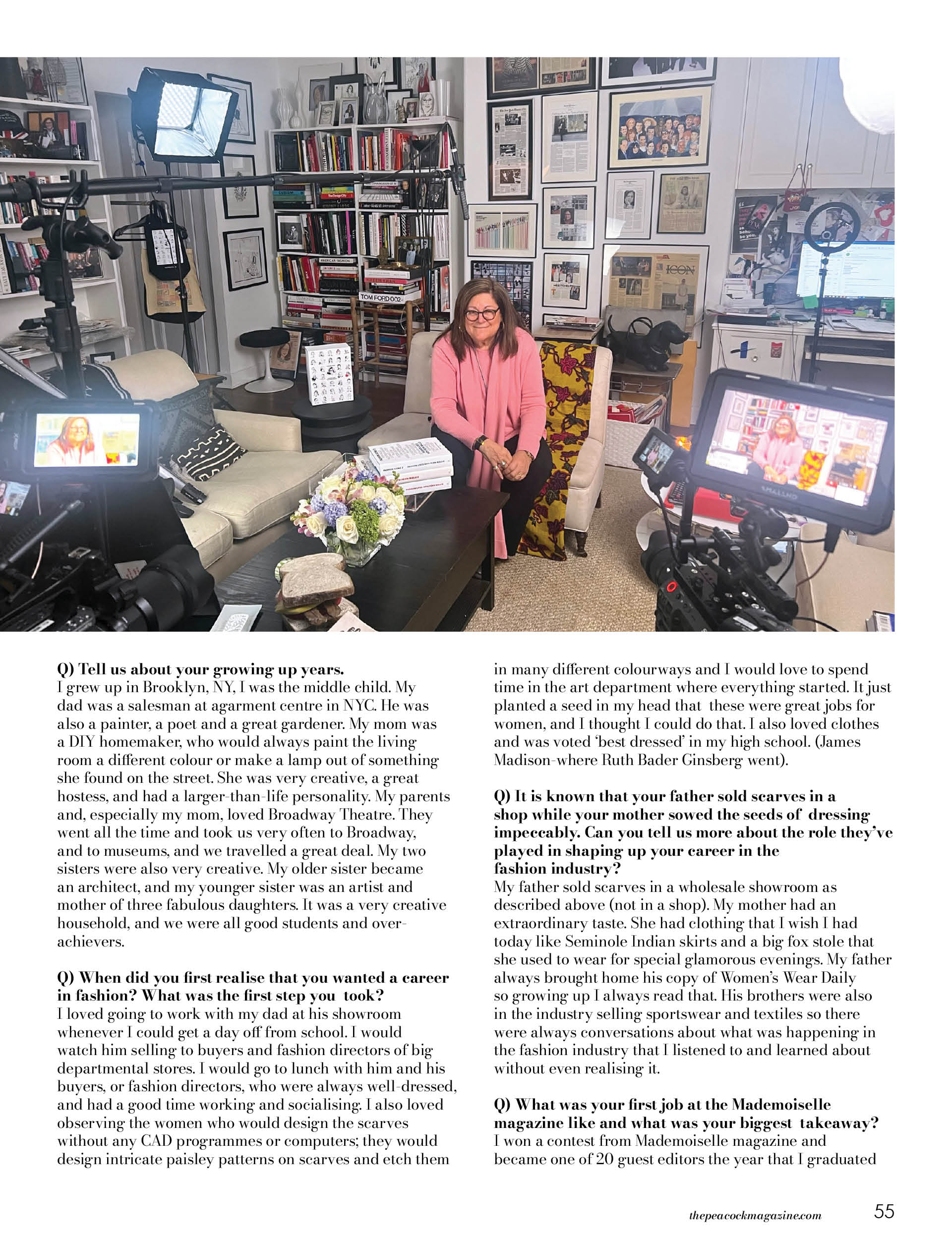 Q) Tell us about your growing up years.
I grew up in Brooklyn, NY, I was the middle child. My dad was a salesman at agarment centre in NYC. He was also a painter, a poet and a great gardener. My mom was a DIY homemaker, who would always paint the living room a different colour or make a lamp out of something she found on the street. She was very creative, a great hostess, and had a larger-than-life personality. My parents and, especially my mom, loved Broadway Theatre. They went all the time and took us very often to Broadway, and to museums, and we travelled a great deal. My two sisters were also very creative. My older sister became an architect, and my younger sister was an artist and mother of three fabulous daughters. It was a very creative household, and we were all good students and over-achievers.
Q) When did you first realise that you wanted a career in fashion? What was the first step you took?
I loved going to work with my dad at his showroom whenever I could get a day off from school. I would watch him selling to buyers and fashion directors of big departmental stores. I would go to lunch with him and his buyers, or fashion directors, who were always well-dressed, and had a good time working and socialising. I also loved observing the women who would design the scarves without any CAD programmes or computers; they would design intricate paisley patterns on scarves and etch them in many different colourways and I would love to spend time in the art department where everything started. It just planted a seed in my head that these were great jobs for women, and I thought I could do that. I also loved clothes and was voted 'best dressed' in my high school. (James Madison-where Ruth Bader Ginsberg went).
Q) It is known that your father sold scarves in a shop while your mother sowed the seeds of dressing impeccably. Can you tell us more about the role they've played in shaping up your career in the fashion industry?
My father sold scarves in a wholesale showroom as described above (not in a shop). My mother had an extraordinary taste. She had clothing that I wish I had today like Seminole Indian skirts and a big fox stole that she used to wear for special glamorous evenings. My father always brought home his copy of Women's Wear Daily so growing up I always read that. His brothers were also in the industry selling sportswear and textiles so there were always conversations about what was happening in the fashion industry that I listened to and learned about without even realising it.
Q) What was your first job at the Mademoiselle magazine like and what was your biggest takeaway?
I won a contest from Mademoiselle magazine and became one of 20 guest editors the year that I graduated from the University of Buffalo. This was a very coveted competition where winners got to spend a month in NY at the magazine's headquarters, and guest edit their August back-to-school issue. I was the guest art editor. Several months later Mademoiselle offered me a permanent job. I learned a great deal being at one of the leading Condé Nast magazines. Just observing the editors of MLLE and Vogue, House & Garden, Glamour and Vanity Fair in the elevators and common spaces was a lesson in what colour of nail polish to use and what to wear and what hairstyle to sport and so forth. Additionally, I had to travel across the US doing special events and meeting retailers, advertisers, college students, and customers, all of which was a learning curve.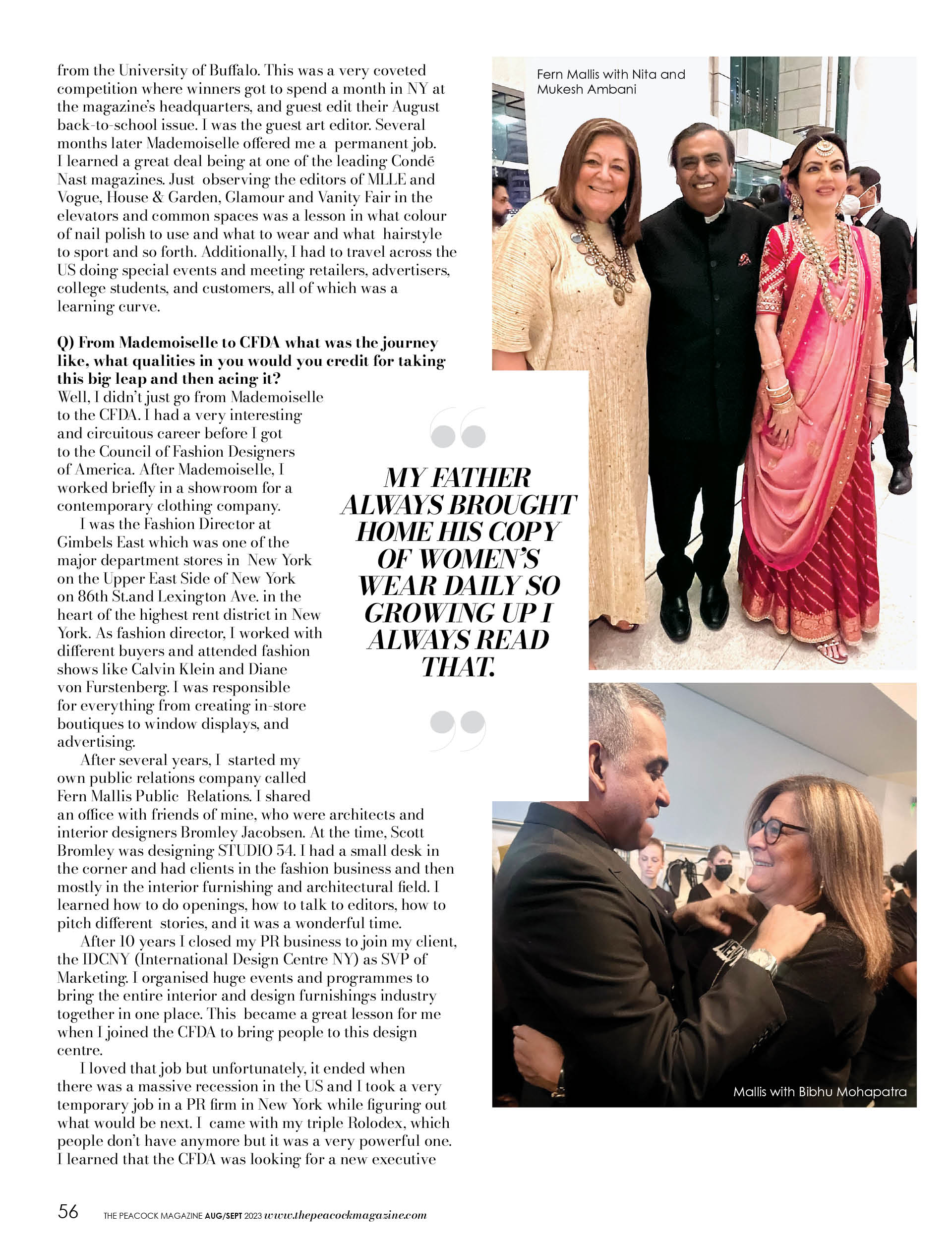 Q) From Mademoiselle to CFDA what was the journey like, what qualities in you would you credit for taking this big leap and then acing it?
Well, I didn't just go from Mademoiselle to the CFDA. I had a very interesting and circuitous career before I got to the Council of Fashion Designers of America. After Mademoiselle, I worked briefly in a showroom for a contemporary clothing company.
I was the Fashion Director at Gimbels East which was one of the major department stores in New York on the Upper East Side of New York on 86th St.and Lexington Ave. in the heart of the highest rent district in New York. As fashion director, I worked with different buyers and attended fashion shows like Calvin Klein and Diane von Furstenberg. I was responsible for everything from creating in-store boutiques to window displays, and advertising.
After several years, I started my own public relations company called Fern Mallis Public Relations. I shared an office with friends of mine, who were architects and interior designers Bromley Jacobsen. At the time, Scott Bromley was designing STUDIO 54. I had a small desk in the corner and had clients in the fashion business and then mostly in the interior furnishing and architectural field. I learned how to do openings, how to talk to editors, how to pitch different stories, and it was a wonderful time.
After 10 years I closed my PR business to join my client, the IDCNY (International Design Centre NY) as SVP of Marketing. I organised huge events and programmes to bring the entire interior and design furnishings industry together in one place. This became a great lesson for me when I joined the CFDA to bring people to this design centre.
I loved that job but unfortunately, it ended when there was a massive recession in the US and I took a very temporary job in a PR firm in New York while figuring out what would be next. I came with my triple Rolodex, which people don't have anymore but it was a very powerful one. I learned that the CFDA was looking for a new executive director. I spoke to a friend of mine and mentioned maybe I should throw my hat in the ring for the job and he told me to send a resume to designers, Stan Herman and Monica Tilly, and when they got it on a Friday they called, and asked me to come in on Monday. When I met Stan I reminded him that 20 years earlier I had interviewed him when I was a Mademoiselle guest editor. I was interviewed by them and a few days later came back to meet Calvin Klein, Bill Blass, and Carolyn Roehm, who was president of the CFDA. At that interview they asked me why they should hire me despite the fact that I haven't been in fashion in 10 years, and I said, "Well, I never stopped wearing clothing," and "I never stopped shopping or reading fashion magazines, the fashion industry is in my blood, it's in my DNA." The final meeting and interview was with the entire board of directors of the CFDA. That day happened to also be my birthday. I was escorted out of the room while they deliberated and when I came back the entire board of CFDA sang happy birthday to me and presented me with a birthday cake and I got the job.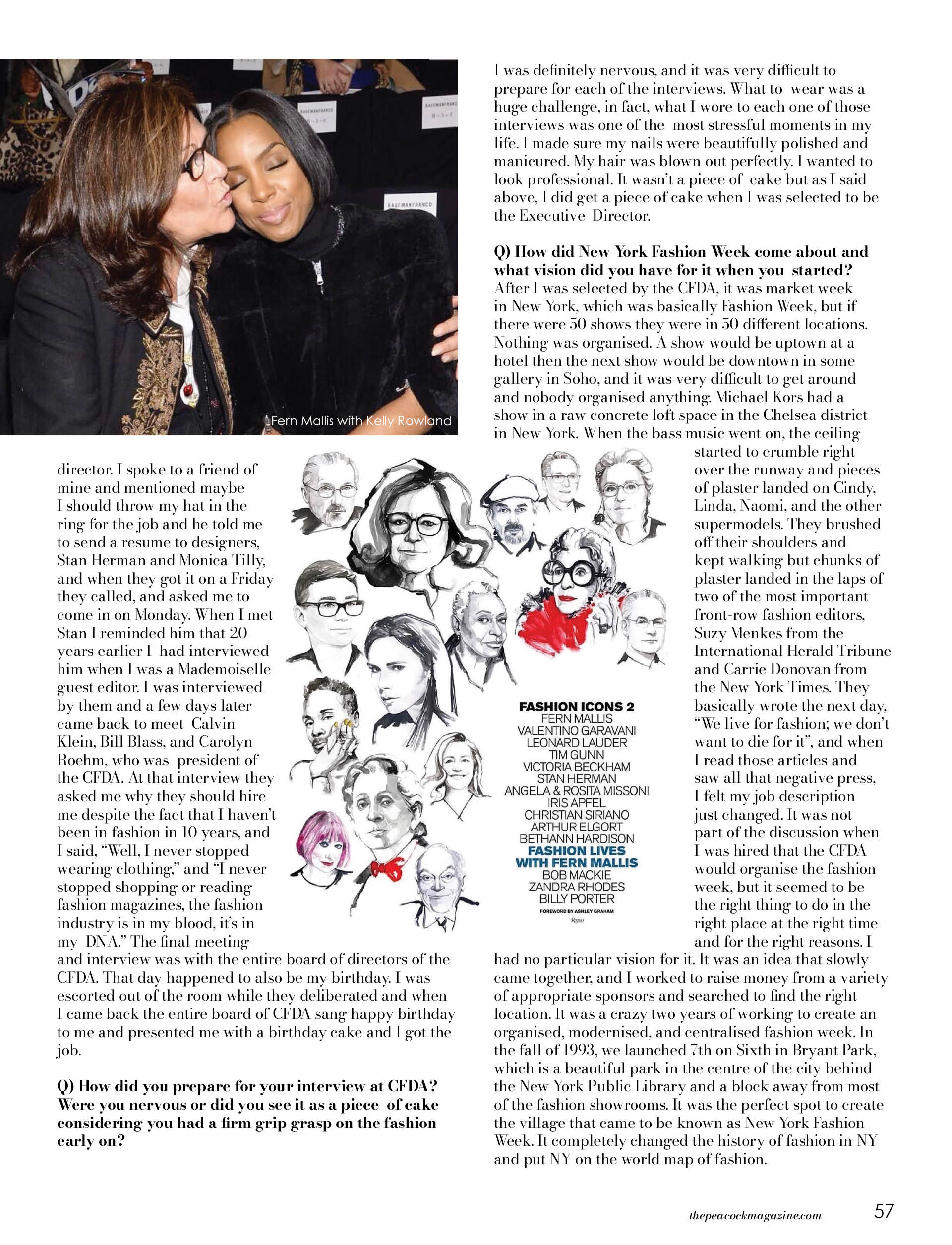 Q) How did you prepare for your interview at CFDA? Were you nervous or did you see it as a piece of cake considering you had a firm grip grasp on the fashion early on?
I was definitely nervous, and it was very difficult to prepare for each of the interviews. What to wear was a huge challenge, in fact, what I wore to each one of those interviews was one of the most stressful moments in my life. I made sure my nails were beautifully polished and manicured. My hair was blown out perfectly. I wanted to look professional. It wasn't a piece of cake but as I said above, I did get a piece of cake when I was selected to be the Executive Director.
Q) How did New York Fashion Week come about and what vision did you have for it when you started?
After I was selected by the CFDA, it was market week in New York, which was basically Fashion Week, but if there were 50 shows they were in 50 different locations. Nothing was organised. A show would be uptown at a hotel then the next show would be downtown in some gallery in Soho, and it was very difficult to get around and nobody organised anything. Michael Kors had a show in a raw concrete loft space in the Chelsea district in New York. When the bass music went on, the ceiling started to crumble right over the runway and pieces of plaster landed on Cindy, Linda, Naomi, and the other supermodels. They brushed off their shoulders and kept walking but chunks of plaster landed in the laps of two of the most important front-row fashion editors, Suzy Menkes from the International Herald Tribune and Carrie Donovan from the New York Times. They basically wrote the next day, "We live for fashion; we don't want to die for it", and when I read those articles and saw all that negative press, I felt my job description just changed. It was not part of the discussion when I was hired that the CFDA would organise the fashion week, but it seemed to be the right thing to do in the right place at the right time and for the right reasons. I had no particular vision for it. It was an idea that slowly came together, and I worked to raise money from a variety of appropriate sponsors and searched to find the right location. It was a crazy two years of working to create an organised, modernised, and centralised fashion week. In the fall of 1993, we launched 7th on Sixth in Bryant Park, which is a beautiful park in the centre of the city behind the New York Public Library and a block away from most of the fashion showrooms. It was the perfect spot to create the village that came to be known as New York Fashion Week. It completely changed the history of fashion in NY and put NY on the world map of fashion.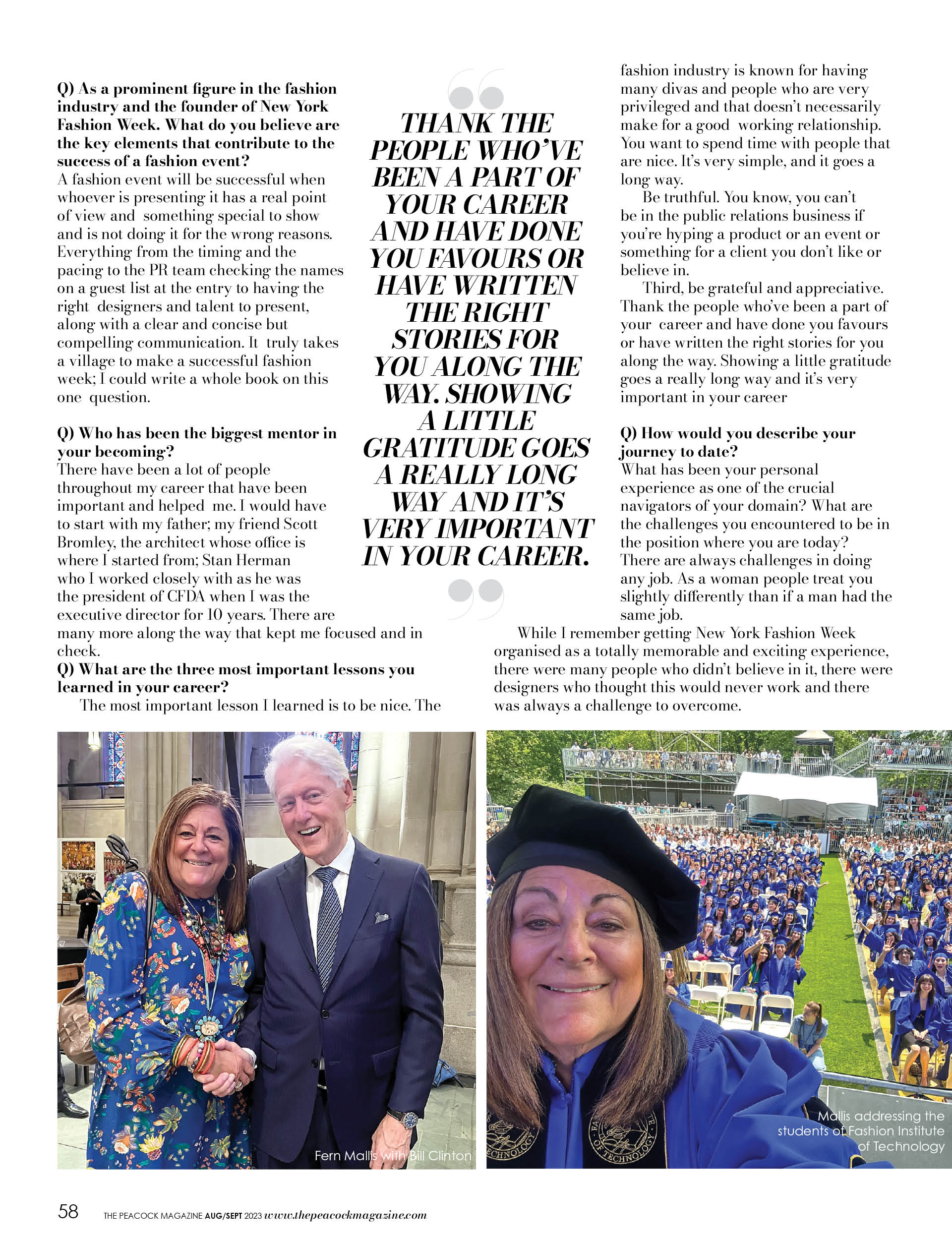 Q) As a prominent figure in the fashion industry and the founder of New York Fashion Week. What do you believe are the key elements that contribute to the success of a fashion event?
A fashion event will be successful when whoever is presenting it has a real point of view and something special to show and is not doing it for the wrong reasons. Everything from the timing and the pacing to the PR team checking the names on a guest list at the entry to having the right designers and talent to present, along with a clear and concise but compelling communication. It truly takes a village to make a successful fashion week; I could write a whole book on this one question.
Q) Who has been the biggest mentor in your becoming?
There have been a lot of people throughout my career that have been important and helped me. I would have to start with my father; my friend Scott Bromley, the architect whose office is where I started from; Stan Herman who I worked closely with as he was the president of CFDA when I was the executive director for 10 years. There are many more along the way that kept me focused and in check.
Q) What are the three most important lessons you learned in your career?
The most important lesson I learned is to be nice. The fashion industry is known for having many divas and people who are very privileged and that doesn't necessarily make for a good working relationship. You want to spend time with people that are nice. It's very simple, and it goes a long way.
Be truthful. You know, you can't be in the public relations business if you're hyping a product or an event or something for a client you don't like or believe in.
Third, be grateful and appreciative. Thank the people who've been a part of your career and have done you favours or have written the right stories for you along the way. Showing a little gratitude goes a really long way and it's very important in your career
Q) How would you describe your journey to date? What has been your personal experience as one of the crucial navigators of your domain? What are the challenges you encountered to be in the position where you are today?
There are always challenges in doing any job. As a woman people treat you slightly differently than if a man had the same job.
While I remember getting New York Fashion Week organised as a totally memorable and exciting experience, there were many people who didn't believe in it, there were designers who thought this would never work and there was always a challenge to overcome.
You just need to work harder to prove to people that this idea is good, and right for the time. There are people who give you a hard time and you get negative press and you feel beaten up but you have to just let it pass and know that as Suzy Menkes once said to me, 'Tonight they throw out that paper with the fish wrapped in it. Tomorrow there is another newspaper, you have to stay truthful and stay the course.'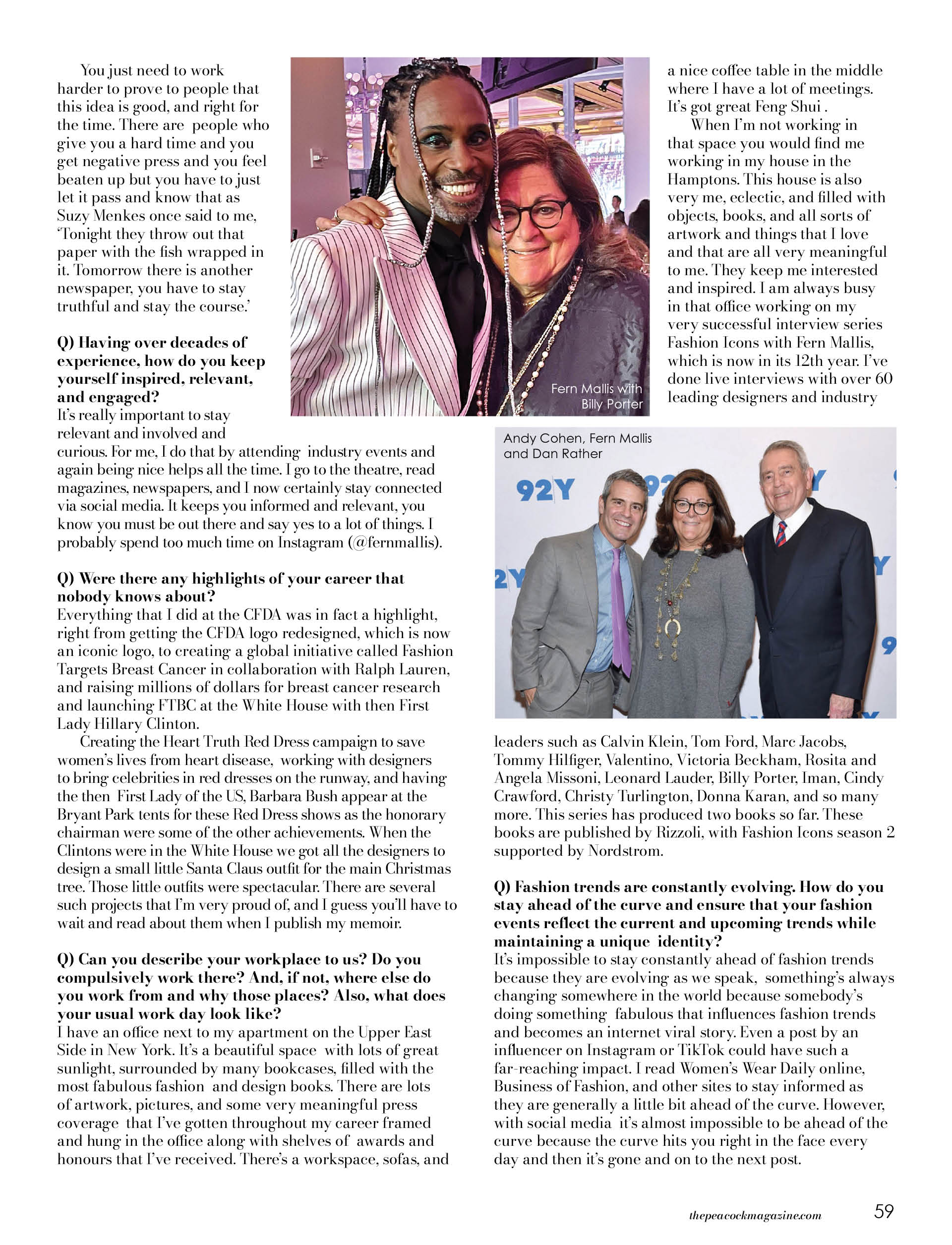 Q) Having over decades of experience, how do you keep yourself inspired, relevant, and engaged?
It's really important to stay relevant and involved and curious. For me, I do that by attending industry events and again being nice helps all the time. I go to the theatre, read magazines, newspapers, and I now certainly stay connected via social media. It keeps you informed and relevant, you know you must be out there and say yes to a lot of things. I probably spend too much time on Instagram (@fernmallis).
Q) Were there any highlights of your career that nobody knows about?
Everything that I did at the CFDA was in fact a highlight, right from getting the CFDA logo redesigned, which is now an iconic logo, to creating a global initiative called Fashion Targets Breast Cancer in collaboration with Ralph Lauren, and raising millions of dollars for breast cancer research and launching FTBC at the White House with then First Lady Hillary Clinton.
Creating the Heart Truth Red Dress campaign to save women's lives from heart disease, working with designers to bring celebrities in red dresses on the runway, and having the then First Lady of the US, Barbara Bush appear at the Bryant Park tents for these Red Dress shows as the honorary chairman were some of the other achievements. When the Clintons were in the White House we got all the designers to design a small little Santa Claus outfit for the main Christmas tree. Those little outfits were spectacular. There are several such projects that I'm very proud of, and I guess you'll have to wait and read about them when I publish my memoir.
Q) Can you describe your workplace to us? Do you compulsively work there? And, if not, where else do you work from and why those places? Also, what does your usual work day look like?
I have an office next to my apartment on the Upper East Side in New York. It's a beautiful space with lots of great sunlight, surrounded by many bookcases, filled with the most fabulous fashion and design books. There are lots of artwork, pictures, and some very meaningful press coverage that I've gotten throughout my career framed and hung in the office along with shelves of awards and honours that I've received. There's a workspace, sofas, and a nice coffee table in the middle where I have a lot of meetings. It's got great Feng Shui.
When I'm not working in that space you would find me working in my house in the Hamptons. This house is also very me, eclectic, and filled with objects, books, and all sorts of artwork and things that I love and that are all very meaningful to me. They keep me interested and inspired. I am always busy in that office working on my very successful interview series Fashion Icons with Fern Mallis, which is now in its 12th year. I've done live interviews with over 60 leading designers and industry leaders such as Calvin Klein, Tom Ford, Marc Jacobs, Tommy Hilfiger, Valentino, Victoria Beckham, Rosita and Angela Missoni, Leonard Lauder, Billy Porter, Iman, Cindy Crawford, Christy Turlington, Donna Karan, and so many more. This series has produced two books so far. These books are published by Rizzoli, with Fashion Icons season 2 supported by Nordstrom.
Q) Fashion trends are constantly evolving. How do you stay ahead of the curve and ensure that your fashion events reflect the current and upcoming trends while maintaining a unique identity?
It's impossible to stay constantly ahead of fashion trends because they are evolving as we speak, something's always changing somewhere in the world because somebody's doing something fabulous that influences fashion trends and becomes an internet viral story. Even a post by an influencer on Instagram or TikTok could have such a far-reaching impact. I read Women's Wear Daily online, Business of Fashion, and other sites to stay informed as they are generally a little bit ahead of the curve. However, with social media it's almost impossible to be ahead of the curve because the curve hits you right in the face every day and then it's gone and on to the next post.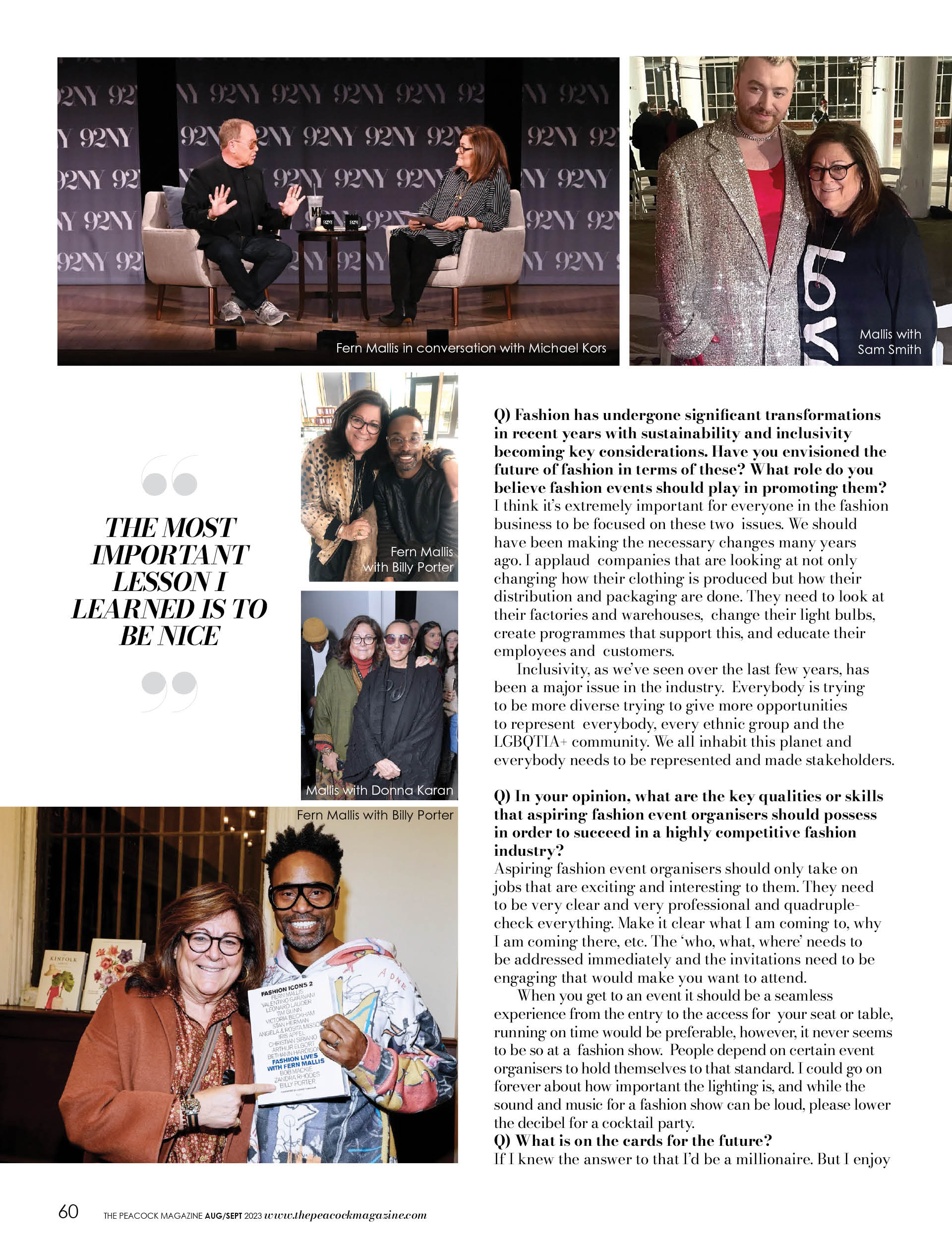 Q) Fashion has undergone significant transformations in recent years with sustainability and inclusivity becoming key considerations. Have you envisioned the future of fashion in terms of these? What role do you believe fashion events should play in promoting them?
I think it's extremely important for everyone in the fashion business to be focused on these two issues. We should have been making the necessary changes many years ago. I applaud companies that are looking at not only changing how their clothing is produced but how their distribution and packaging are done. They need to look at their factories and warehouses, change their light bulbs, create programmes that support this, and educate their employees and customers.
Inclusivity, as we've seen over the last few years, has been a major issue in the industry. Everybody is trying to be more diverse trying to give more opportunities to represent everybody, every ethnic group and the LGBQTIA+ community. We all inhabit this planet and everybody needs to be represented and made stakeholders.
Q) In your opinion, what are the key qualities or skills that aspiring fashion event organisers should possess in order to succeed in a highly competitive fashion industry?
Aspiring fashion event organisers should only take on jobs that are exciting and interesting to them. They need to be very clear and very professional and quadruple-check everything. Make it clear what I am coming to, why I am coming there, etc. The 'who, what, where' needs to be addressed immediately and the invitations need to be engaging that would make you want to attend.
When you get to an event it should be a seamless experience from the entry to the access for your seat or table, running on time would be preferable, however, it never seems to be so at a fashion show. People depend on certain event organisers to hold themselves to that standard. I could go on forever about how important the lighting is, and while the sound and music for a fashion show can be loud, please lower the decibel for a cocktail party.
Q) What is on the cards for the future?
If I knew the answer to that I'd be a millionaire. But I enjoy being a consultant now as every day there is a phone call or an email asking for my help on an interesting project and creating new opportunities. But the future includes more Fashion Icon talks and books, and let's wait and see what else is on the table.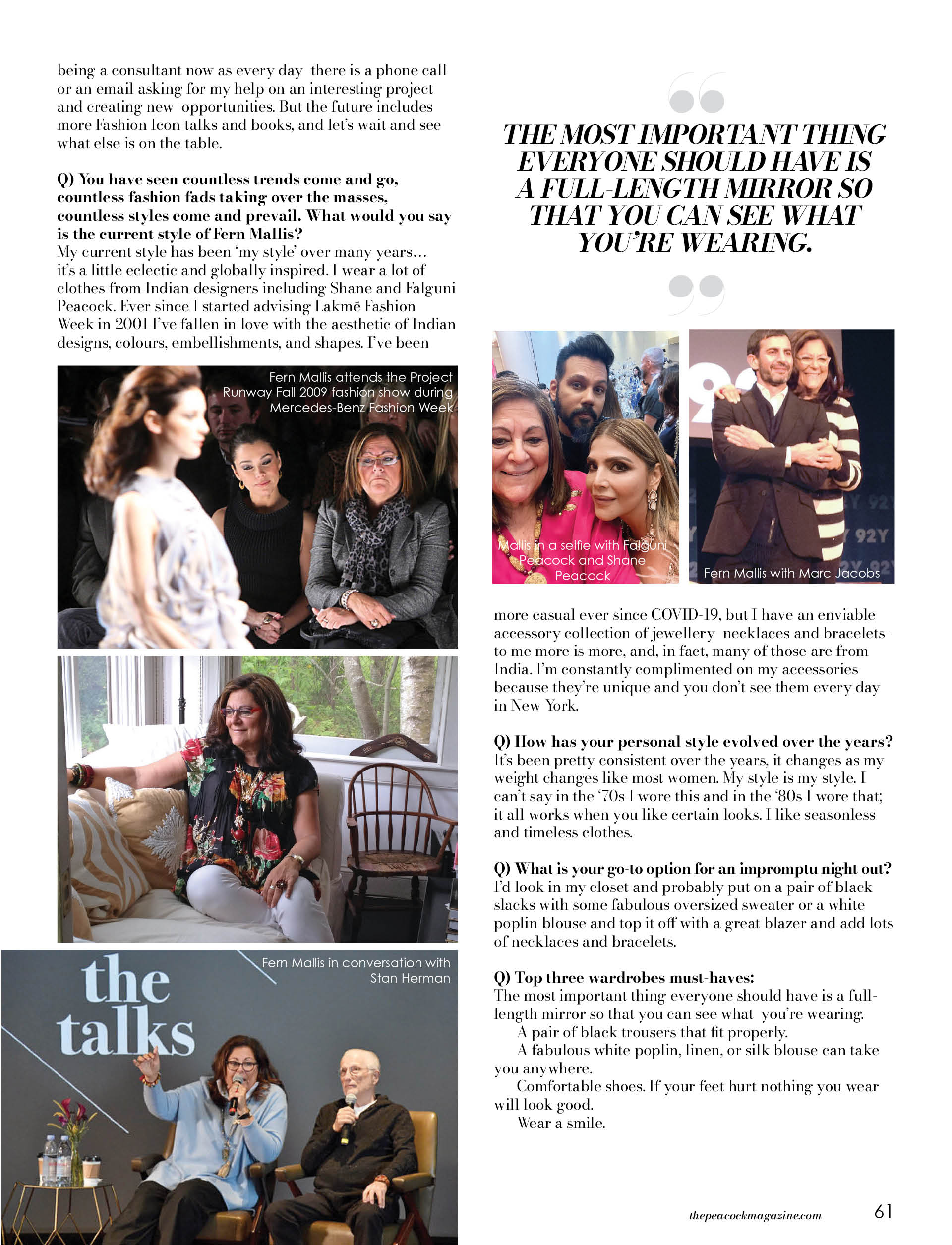 Q) You have seen countless trends come and go, countless fashion fads taking over the masses, countless styles come and prevail. What would you say is the current style of Fern Mallis?
My current style has been 'my style' over many years…it's a little eclectic and globally inspired. I wear a lot of clothes from Indian designers including Shane and Falguni Peacock. Ever since I started advising Lakmé Fashion Week in 2001 I've fallen in love with the aesthetic of Indian designs, colours, embellishments, and shapes. I've been more casual ever since COVID-19, but I have an enviable accessory collection of jewellery—necklaces and bracelets—to me more is more, and, in fact, many of those are from India. I'm constantly complimented on my accessories because they're unique and you don't see them every day in New York.
Q) How has your personal style evolved over the years?
It's been pretty consistent over the years, it changes as my weight changes like most women. My style is my style. I can't say in the '70s I wore this and in the '80s I wore that; it all works when you like certain looks. I like seasonless and timeless clothes.
Q) What is your go-to option for an impromptu night out?
I'd look in my closet and probably put on a pair of black slacks with some fabulous oversized sweater or a white poplin blouse and top it off with a great blazer and add lots of necklaces and bracelets.
Q) Top three wardrobes must-haves:
The most important thing everyone should have is a full-length mirror so that you can see what you're wearing.
A pair of black trousers that fit properly.
A fabulous white poplin, linen, or silk blouse can take you anywhere.
Comfortable shoes. If your feet hurt nothing you wear will look good.
Wear a smile.