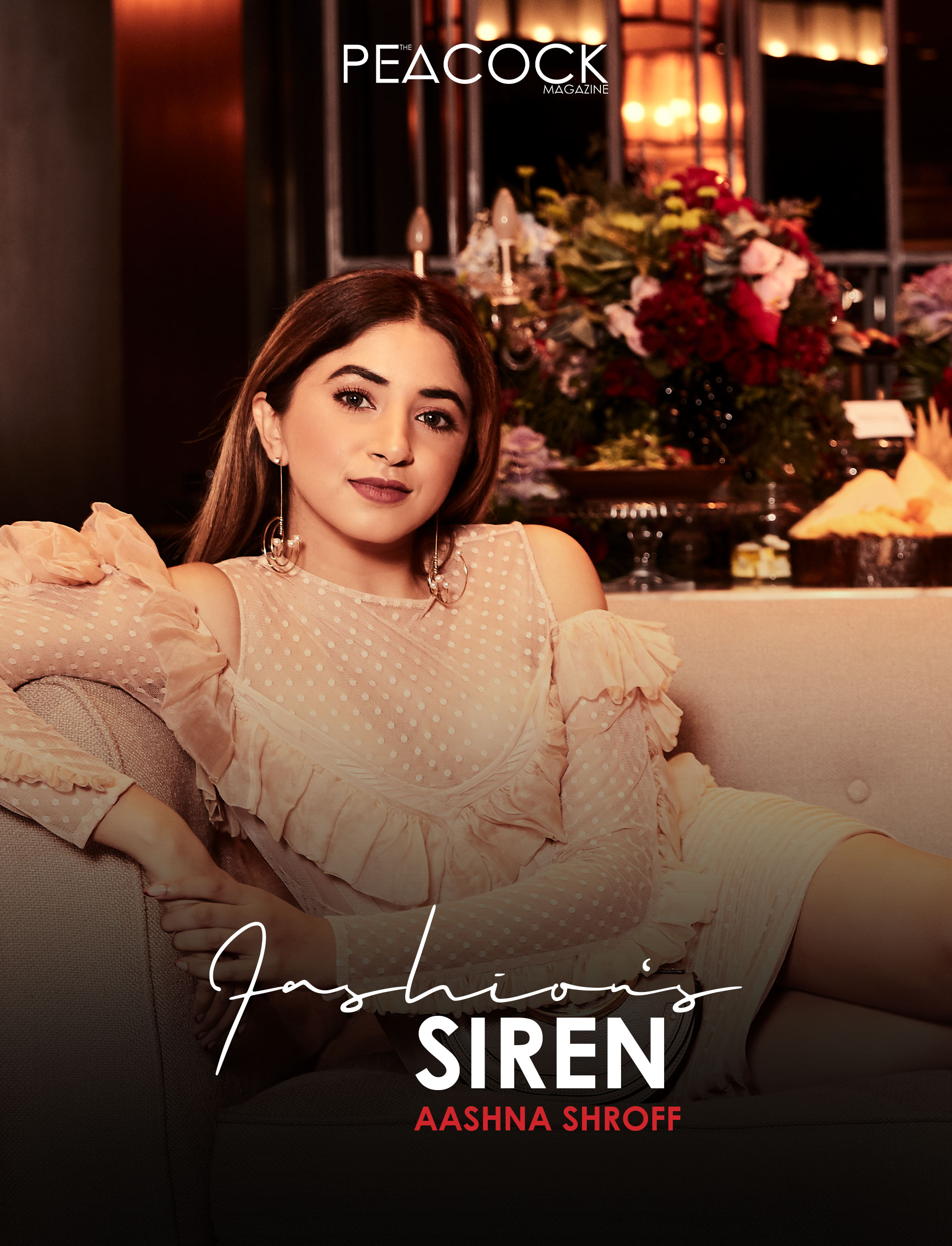 CREDITS-
PHOTOGRAPHY – ABHEET GIDWANI
CLOTHING – FALGUNI SHANE PEACOCK

'A degree does not dictate your destiny' – is not only the title of India's leading fashion blogger Aashna Shroff's TEDx Talks but also a line that she's proven right throughout her blogging journey. With no degree in blogging or any prior experience in fashion or even the mentor to her guide her, Aashna started her fashion blogging journey in her early tweens. Today, her strong following of 819k is an attestation of the fact that she made it big all by herself and how! Interestingly, Aashna was a pre-school teacher before she became of the biggest names in India for fashion blogging. She talks to us candidly about her journey and her biggest influence – her mom's role in supporting her, her blog, her learnings, amongst many other things. Here's an excerpt from the conversation –
[Q] From being a pre-school teacher to becoming one of the top bloggers of the country. What prompted you for this shift?
For me, teaching was something I never planned. I was working at the reception in a pre-school and spending time with the kids is what made me want to learn early childhood education and take up teaching. And as much as I enjoyed it, I decided to opt-out of teaching because I knew my heart belonged in fashion and a career in fashion is what I had always dreamt of.
[Q] You also gave interior designing and photography a go. What were the key takeaways from these phases?
Honestly, learning both interior design and photography actually came in super handy for me. Not only did they help me expand my creativity, but all that I learned about cameras, lenses, editing, etc. has also really helped me understand content creation a whole lot better, and my basic interiors knowledge has helped me design my entire home myself! I even have an Instagram account for my home and it makes me so happy when people like my aesthetic sense for my space.
[Q] How did your family react when you told them that your passion lied in blogging?
My mum's extremely creative and fiercely independent and she always told me that I should make sure I do what I love, which is why she allowed me to dip my toes in so many different pools, so she was completely open to me giving blogging a shot. At the time we didn't really know where blogging would go in the future, but I'm really glad that I took the plunge and that she supported me through it, cause in the end it all worked out.
[Q] You had mentioned once that your mom is an ardent supporter of vocational studies instead of formal theoretical studies. How has that shaped you as a person?
Yes. My mum's a film producer and writer, and she always told me that her degree was completely unrelated to her career and that if I wanted to study, she would rather have me pursue studies in the field that I want to work in, instead of having a degree that wouldn't really contribute to my job in the future. Hence, I took up several different courses over the years and almost a year into blogging, when I knew this was the field for me, I took a year-long course in fashion business. I'm so happy that my mother guided me in this direction because today I know so many different fields, right from interiors, to photography, to teaching, and now fashion!
[Q] What has been your career-defining moment so far?
I, honestly, don't have one particular moment, but the day I got awarded for my content creation, and the day I got to watch a live Wimbledon match between my 2 favorites, Federer and Nadal, in London (which I've ALWAYS dreamt of), were definitely two of many stand out moments for me so far.
[Q] How do you stay relevant in an industry where the dynamics of content change so often?
I have never given 'staying relevant' much thought. The only thing I've done is consistently just tried to create content that I love and I think my audience would enjoy, so I guess that does the trick! *laughs*
[Q] You have mentioned being really shy and introverted around groups of people. Where does then your spontaneity for blogging comes from? How do you open up about your ideas to people?
For me, sitting alone in a room and talking to a camera is so much easier than talking to a group of people. The moment I have more people in the room while I'm on camera, I suddenly start to cram up. Although I have made a lot of progress, and I am a lot more confident with people around, I've still always been shy, so I have a lot of progress to make in this aspect.
[Q] Who has been the biggest influence in your life been?
My mum. I've grown up watching her hustle every single day, between her work and family and it's definitely what has shaped me to be the person I am today.
[Q] Who do you think is your biggest competition? Are you the kind to thrive on healthy competition, or do you simply ignore it and focus on yourself?
I genuinely don't believe in any kind of competition. It's just not me. If there's an opportunity I want that I don't get, I know that I have to work harder to be able to deserve that. I'm all for creators supporting each other, and I believe that if we all work hard and do our best, there's room for everyone here.
[Q] What was something that you did not expect, in terms of change, after your blog took off?
None of this, to be honest! I didn't know anything about blogging and since we are the first generation of creators, none of us knew what to expect. The transition from photo to video content being consumed a lot more, for example, was something I didn't expect.
[Q] Is there a pressure to come up with novel content very frequently? And if so, how did you cope with it?
Some days, yes, you really feel the pressure. But I've started to take a lot of time off social media every day and focus on myself. It really helps me stay motivated to create content in the time that I actually do spend online. And if I'm absolutely not feeling it, I take a few days off Instagram and don't look at the content to try and get the pressure off, so I can come back more motivated than ever.
[Q] What is the one thing that the beauty and blogging industry has taught you?
I've learned so much in the last 6 years, but one thing I can say, for certain, is that I have learned that nothing pays off like hard work and consistency, no matter what it is that you're doing.
[Q] Does living in a world where you are subjected to constant scrutiny get tiring or distracting?
Oh yes, sometimes it does. Having assumptions made about your personal life online, being under pressure to look good in case people recognize you, can all get very overwhelming. But I've started to consciously try to let go of this pressure on myself because I decided to share this part of my life online, and I believe that as long as I am true to myself and my audience, I don't need to focus on anything else.
[Q] How do you deal with your vulnerabilities? Do you often put up a strong-front?
I actually am pretty vocal about my vulnerabilities online. Take my struggles with acne, for example. I was scared the first time I went on camera without make-up and that was probably the only time I had to put up a strong front, because I got so much strength and confidence from my audience and since then, I've always spoken about my skin, always encouraged people to not feel pressured to constantly have makeup or filters on if it's the main purpose is to hide their acne.
[Q] What are some of your personal beliefs you stand by firmly?
I strongly believe that everything can be said kindly and that nothing in life comes without consistently working hard.
[Q] What is that one advice or suggestion from someone that you still apply in your life?
As a kid, I heard the quote 'Patience is a virtue' somewhere, and it really stuck on. I didn't believe it was true initially, but it's something I constantly tell myself time and again, and it has definitely got me through some rough days.
[Q] Who is Aashna Shroff when not creating content?
She's someone who loves her coffee, her crime movies, and TV shows, and is absolutely smitten by her dogs!
[Q] What about when you're in love? What is love to you?
I guess for me, love is about having a partner, a best friend for life. It's about mutual adoration and respect for one another, but obviously, there's no one way for me to define love.
[Q] Would you ever date a fan?
*laughs* I don't know how to answer this, but I don't think I would.
[Q] What are your upcoming projects?
I just launched a capsule collection of 15 shoes with The CAI Store and this was in the making for over 6 months, so I'm currently just focusing on the collection before I think of the next step.