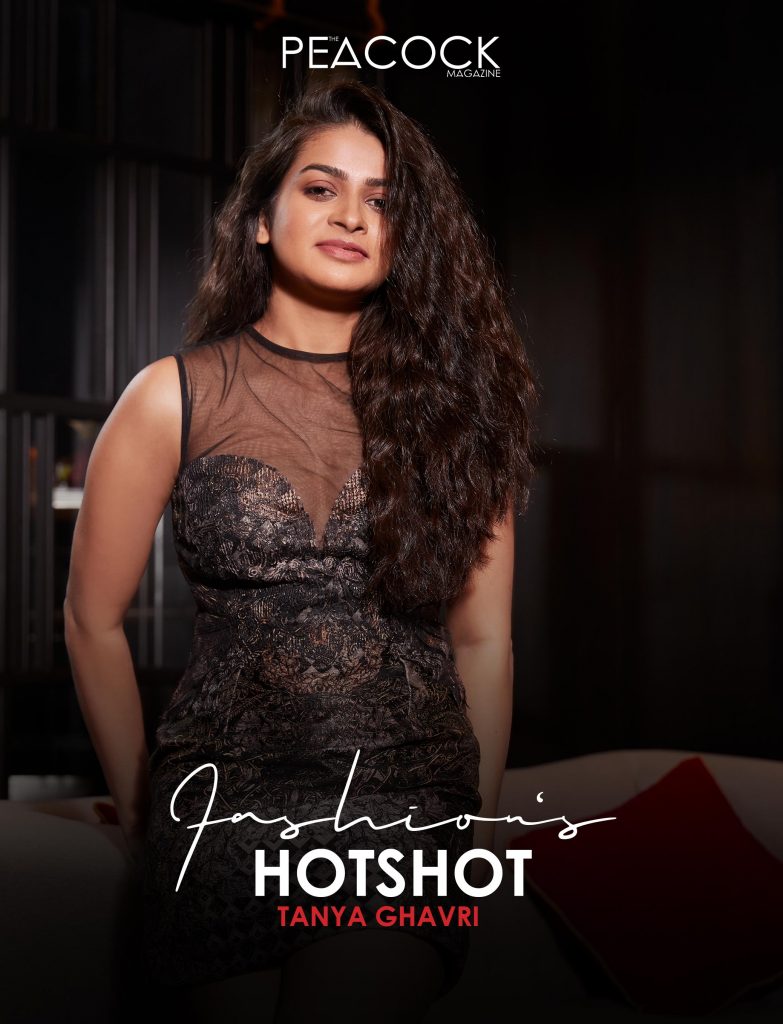 CREDITS-
PHOTOGRAPHY – ABHEET GIDWANI
CLOTHING – FALGUNI SHANE PEACOCK

She's the one who takes care of the dress-stress of Bollywood's A-listers without sweating it out even a bit. Meet Tanya Ghavri, Bollywood's celebrated fashion stylist who creates spectacular looks for Kareena Kapoor, Katrina Kaif, Malaika Arora, Ananya Panday, and the likes. It doesn't take much to remember the sunshine yellow gown supermodel and actor Malaika Arora dazzled in or the silver Falguni Shane Peacock cape-gown that Katrina Kaif wore for one of the top awards shows in India. All these and other striking looks of the Bollywood celebrities can be accredited to Tanya. Known for having an eye for the detail of garments and having a knack to understand a celebrity's persona in and out, Tanya blends in the two effortlessly to create some memorable looks that will be pinned up on every fashionista's mood board. We caught up with the stylish stylist, who adds the wow-factor to the celebrities' sartorial quotient, in a quick conversation as she opens up about her favorite looks, her styling process, and her wedding venture. Read on –

[Q] How old were you when you realized fashion would be the industry you'd like to work in? Was it always your dream to work in fashion?
It was when I was 17-years-old. I was in New York at Parsons School of Design where I was studying fundamentals in Design and that's when I realized that I wanted to pursue fashion.
[Q] What, originally, attracted you to the creative side of the fashion industry?
From the very beginning, right from the time when I was small, I was always into everything artistic, whether it was the spaces or the clothes or jewellery. I think it was something that happened over time, over many years while I was growing up. And then I went to New York City, which kept me creatively alive and kept me inspired. When I came back to India, I worked in a movie with Sonam Kapoor called 'Aisha' and it was really fun. It was a lot of us girls who were playing dress-up. It was then that I started getting attracted to the idea of fashion and putting things together for styling. My creative awakening happened at that time and thus began my journey.
[Q] What was your first breakthrough moment as a stylist?
It was when I styled Kareena Kapoor for the first time. I remember looking up to her throughout my teenage years. Kareena has always been the ultimate diva, the ultimate beauty and so much more. Getting the opportunity to style her was my turnaround moment. Of course, I had the jitters but it was an amazing experience.
[Q] You're also the stylist to many celebrities right from newbies like Alaya F. to A-listers like Katrina Kaif, Kareena Kapoor Khan, etc. How is it styling them?
To begin with, they are all very different from each other and everyone has a different styling experience. It's also a different learning experience with each one of them because today I'm styling an Alaya, who is so young and has just started her career and is very different to as opposed to say a Katrina, who is super experienced and knows exactly what looks good on her, what angles and silhouettes work for her. I was learning with Katrina 10 years ago, and I'm still learning with her. I'm learning with Alaya today and I know I will learn with her even after 10 years. The creative styling process is always a learning process where you are constantly learning and creating. I gave a TEDx talk recently where I said, 'The core of any creative person is constant creation'. I firmly believe this.
[Q] Could you describe your styling aesthetics?
There is always this one kind of story that runs through my aesthetics when I style. My aesthetics have never been too over the top, I don't understand it. I like to play around but its always more towards clean than maximal. I will throw in one statement thing instead of five in my story. A lot of people tell me that when we see someone styled, they can say it is styled by me. Having said that, everyone has a different, individualistic style but then I bring my own elements into it when I'm styling them.
[Q] What does your usual workday look like?
Hectic! To the level that coming to an event is like, 'Oh God, I have to get dressed up,' because I'm always running around in my track pants or shorts or day dresses. There are a lot of meetings and fittings in the day. There's a lot of research work and meetings with my team members, as well. I have a company called 'Dhoom Dhaam', so I have to go and meet my team at my office and prep them for the next season or the next couple of months. When I have promotions, there are the fittings, getting the actor ready, getting their pictures clicked and their selection for Instagram. But in the middle of all this, I somehow find an hour for myself to workout, which is the most important part of my day.
[Q] Do you ever switch off?
I switch off a lot when I'm on a holiday and I do take a lot of holidays. I wouldn't be able to work if I didn't take that time of.
[Q] How do you decide what kind of look works for each of the Bollywood stars you style?
Everyone experiments a little bit in their own capacity but I never push someone too much outside their comfort zone because since I started styling, I believe that the minute you put someone into something they are absolutely not comfortable in, it comes across on their face. I will always work within a person's comfort level and I will push the envelope a little bit but I will not push them to the edge. It's really important to feel good, comfortable, and confident in what you're wearing because it will come across on your face.
[Q] What happens when a designer thinks that a particular actor/actress is not right for their brand? How do you tackle the situation as a stylist?
That does happen a lot! Every designer has a celebrity wish list they work with and they stick to that, after all, it's their language, it's their brand that they have created and founded. They have all the right to decide which actors works for them and I get that. A lot of times I do get replies from designers saying, 'Oh they don't work in our list', and sometimes even the most unpredictable celebrity works for them. I feel there is enough place for everyone, so I always find other designers for whom the actor works. It's about replacing what is not working out with what is working out. Everyone has a set of designers that work with them regularly, so I never get worried about things like that. I feel there are so many creative, amazing, and talented designers in the world that we will always find a couple of them who work for a certain actor.
[Q] What has been your personal experience as one of the crucial navigators of the fashion industry?
That's the thing about loving what you do – you don't really think of it as a journey. It just becomes one. You just work. You wake up every day and do what you love and you don't realize it has been 12 years. I don't think I have thought so deeply into it. I just take each day as it comes. Whatever projects I get, I do the best I can with my best ability. I think it has been a huge learning curve for me and that curve is kind of taking me to the next curve. It has been interesting and I think I have navigated pretty well.
[Q] Do you have an absolute favorite styling project or look in your career so far?
I do have a couple of them. There was this one look that I did with Kareena a couple of years ago which was a really cool corset vintage jacket teamed with a saree. It was like couture meets Indian designers. Then there was the silver cape gown of Falguni Shane Peacock's that we did for Katrina for an event last year. There's also a sunshine yellow gown that Malaika wore and nailed the look. These are the top 3 that I can think of right now.
[Q] Who do you look up to when it comes to styling?
Elizabeth Stewart is someone I look up to. She is iconic. She has created looks that have gone down in history, be it with Cate Blanchett or Julia Roberts. Leslie Fremer, who does a lot of work with Charlize Theron, she's amazing. Rob and Mariel do an amazing job with JLo. Every time she comes out, its always something new, always something exciting and iconic. Back home, Anaita (Shroff Adajania), of course!
[Q] How do you handle any styling criticism that comes your way?
You take it with a pinch of salt. When you are creating something and you're in the styling industry, you are putting your work out there, of which people will have an opinion about it. You have to understand that if 10 people are saying something is not looking good, maybe it isn't looking good. So, I don't take it badly, I take it in the positive light and I incorporate it as well.
[Q] What is next on cards for you?
The styling journey will continue with all the young and seasoned actors. My trunk show company is getting bigger and there's a lot of new and exciting stuff on that front. To grow that company and make it bigger, is the next big thing that I want to do for the next five years. And eventually, maybe have my own brand. (smiles)