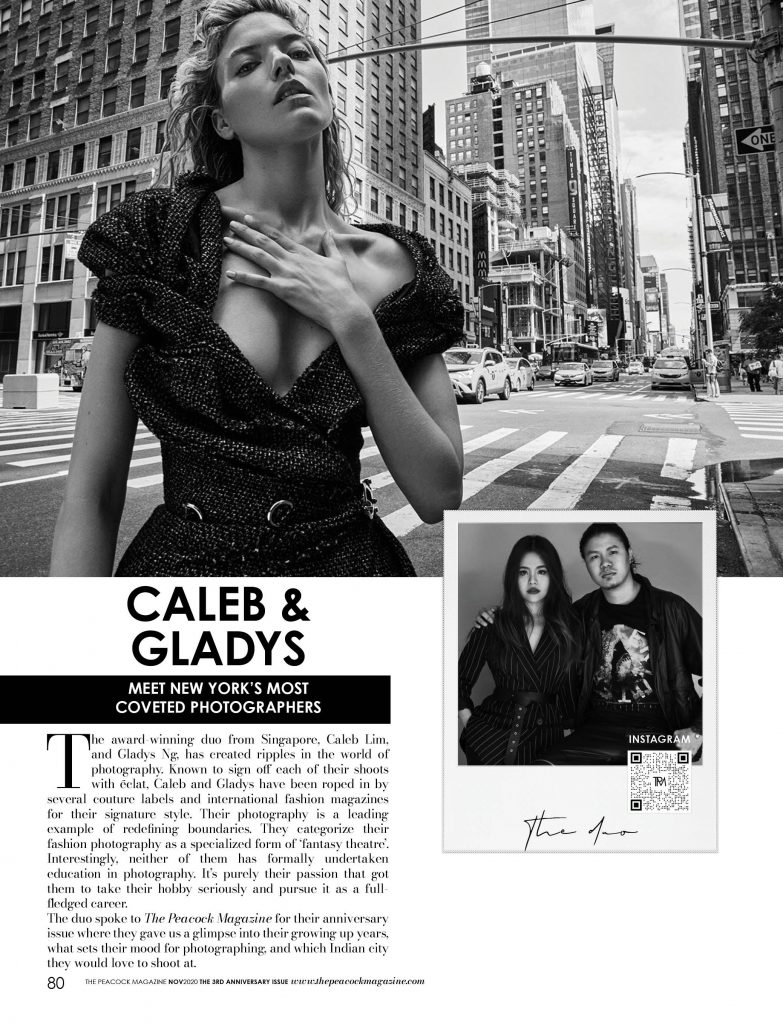 CREDITS-
IMAGES ARTIST'S OWN.

The award-winning duo from Singapore, Caleb Lim, and Gladys Ng, has created ripples in the world of photography. Known to sign off each of their shoots with éclat, Caleb and Gladys have been roped in by many couture labels and international fashion magazines for their signature style. Their photography is a leading example of redefining boundaries. They categorize their fashion photography as a specialized form of 'fantasy theatre'. Interestingly, neither of them has formally undertaken education in photography. It's purely their passion that got them to take their hobby seriously and pursue it as a full-fledged career.
The duo spoke to 'The Peacock Magazine' for their anniversary issue where they gave us a glimpse into their growing up years, what sets their mood for photographing, and which Indian city they would love to shoot at.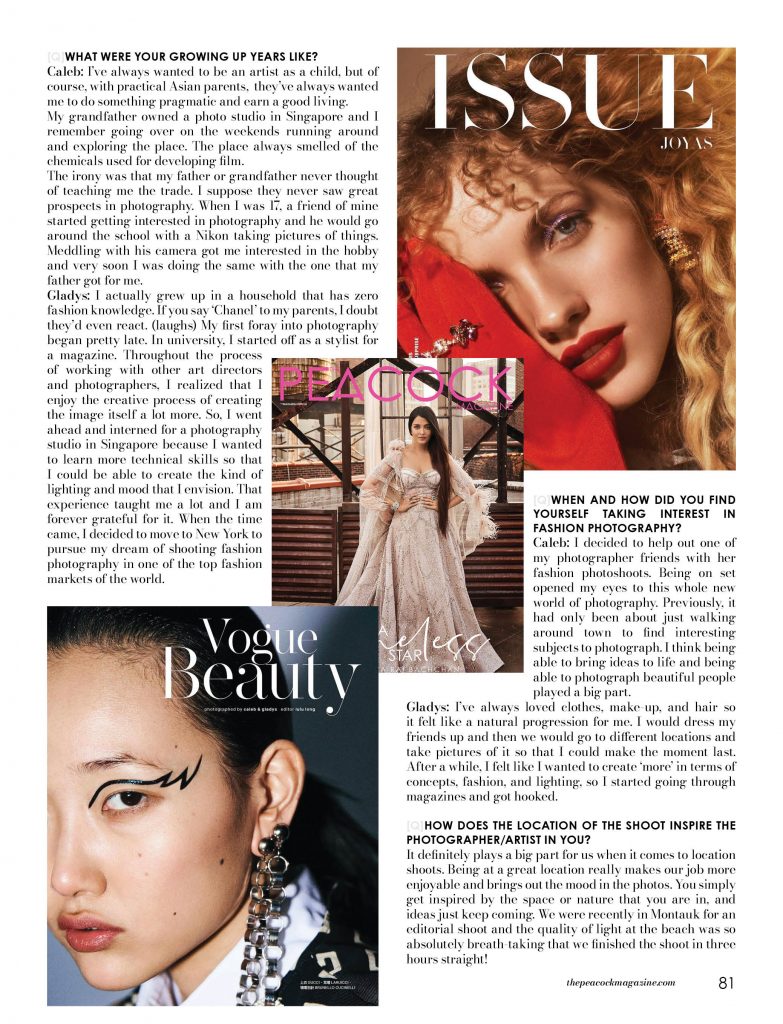 [Q] What were your growing up years like?
Caleb: I've always wanted to be an artist as a child, but of course, with practical Asian parents – they've always wanted me to do something pragmatic and earn a good living.
My grandfather owned a photo studio in Singapore and I remember going over on the weekends running around and exploring the place. the place always smelled of the chemicals used for developing film.
The irony was that my father or grandfather never thought of teaching me the trade. I suppose they never saw great prospects in photography. When I was 17, a friend of mine started getting interested in photography and he would go around the school with a Nikon taking pictures of things. Meddling with his camera got me interested in the hobby and very soon I was doing the same with the one that my father got for me.
Gladys: I actually grew up in a household that has zero fashion knowledge. If you say 'Chanel' to my parents, I doubt they'd even react. (laughs) My first foray into photography began pretty late. In university, I started off as a stylist for a magazine. Throughout the process of working with other art directors and photographers, I realized that I enjoy the creative process of creating the image itself a lot more. So, I went ahead and interned for a photography studio in Singapore because I wanted to learn more technical skills so that I could be able to create the kind of lighting and mood that I envision. That experience taught me a lot and I am forever grateful for it. When the time came, I decided to move to New York to pursue my dream of shooting fashion photography in one of the top fashion markets of the world.
[Q] When and how did you find yourself taking interest in fashion photography?
Caleb: I decided to help out one of my photographer friends with her fashion photoshoots. Being on set opened my eyes to this whole new world of photography. Previously, it had only been about just walking around town to find interesting subjects to photograph. I think being able to bring ideas to life and being able to photograph beautiful people played a big part.
Gladys: I've always loved clothes, make-up, and hair so it felt like a natural progression for me. I would dress my friends up and then we would go to different locations and take pictures of it so that I could make the moment last. After a while, I felt like I wanted to create 'more' in terms of concepts, fashion, and lighting, so I started going through magazines and got hooked.
[Q] How does the location of the shoot inspire the photographer/artist in you?
It definitely plays a big part for us when it comes to location shoots. Being at a great location really makes our job more enjoyable and brings out the mood in the photos. You simply get inspired by the space or nature that you are in and ideas just keep coming. We were recently in Montauk for an editorial shoot and the quality of light at the beach was so absolutely breath-taking. We finished the shoot in three hours straight!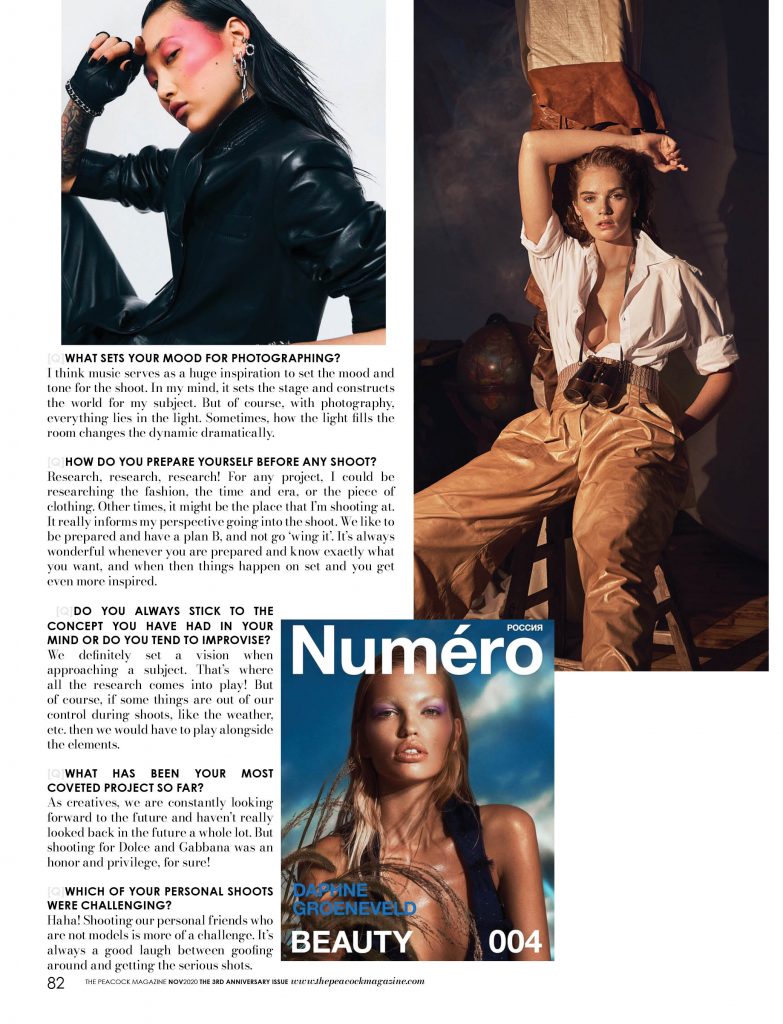 [Q] What sets your mood for photographing?
I think music serves as a huge inspiration to set the mood and tone for the shoot. In my mind, it sets the stage and constructs the world for my subject. But of course, with photography, everything lies in the light. Sometimes, how the light fills the room changes the dynamic dramatically.
[Q] How do you prepare yourself before any shoot?
Research, research, research! For any project, I could be researching the fashion, the time and era, or the piece of clothing. Other times, it might be the place that I'm shooting at. It really informs my perspective going into the shoot. We like to be prepared and have a plan B, and not go 'wing it'. It's always wonderful whenever you are prepared and know exactly what you want, and when then things happen on set and you get even more inspired.
[Q] Do you always stick to the concept you have had in your mind or do you tend to improvise?
We definitely set a vision when approaching a subject. That's where all the research comes into play! But of course, if some things are out of our control during shoots, like the weather, etc. then we would have to play alongside the elements.
[Q] What has been your most coveted project so far?
As creatives, we are constantly looking forward to the future and haven't really looked back in the future a whole lot. But shooting for Dolce and Gabbana was an honor and privilege, for sure!
[Q] Which of your personal shoots were challenging?
Haha! Shooting our personal friends who are not models is more of a challenge. It's always a good laugh between goofing around and getting the serious shots.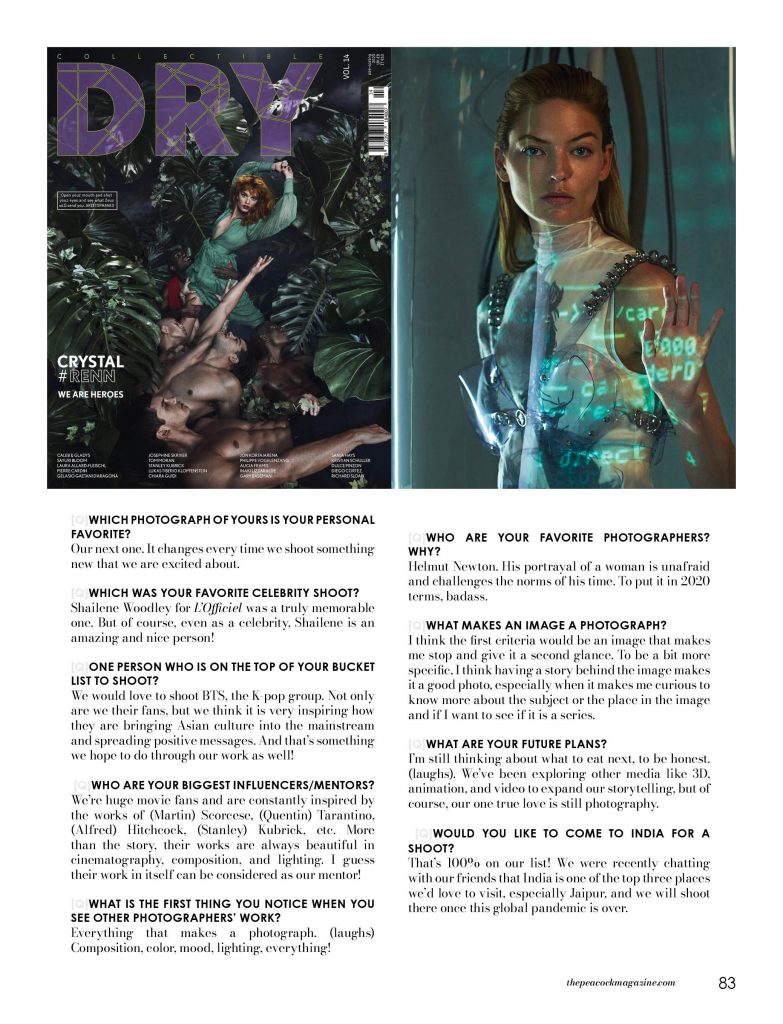 [Q] Which photograph of yours is your personal favorite?
Our next one. It changes every time we shoot something new that we are excited about.
[Q] Which was your favorite celebrity shoot?
Shailene Woodley for L'Officiel was a truly memorable one. But of course, even as a celebrity, Shailene is an amazing and nice person!
[Q] One person who is on the top of your bucket list to shoot?
We would love to shoot BTS, the K-pop group. Not only are we their fans, but we think it is very inspiring how they are bringing Asian culture into the mainstream and spreading positive messages. And that's something I hope to do through my work as well!
[Q] Who are your biggest influencers/mentors?
We're huge movie fans and are constantly inspired by the works of Scorcese, Tarantino, Hitchcock, Kubrick, etc. More than the story, their works are always beautiful in cinematography, composition, and lighting. I guess their work in itself can be considered as our mentor!
[Q] What is the first thing you notice when you see other photographers' work?
Everything that makes a photograph. (laughs) Composition, color, mood, lighting, everything!
[Q] Who are your favorite photographers? Why?
Helmut Newton. His portrayal of a woman is unafraid and challenges the norms of his time. To put it in 2020 terms, badass.
[Q] What makes an image a photograph?
I think the first criteria would be an image that makes me stop and give it a second glance. To be a bit more specific, I think having a story behind the image makes it a good photo, especially when it makes me curious to know more about the subject or the place in the image and if I want to see if it is a series.
[Q] What are your future plans?
I'm still thinking about what to eat next, to be honest. (laughs) We've been exploring other media like 3D, animation, and video to expand our storytelling – but of course, our one true love is still photography.
[Q] Would you like to come to India for a shoot?
That's 100% on our list! We were recently chatting with our friends that India is one of the top three places we'd love to visit, especially Jaipur, and we will shoot once this global pandemic is over.