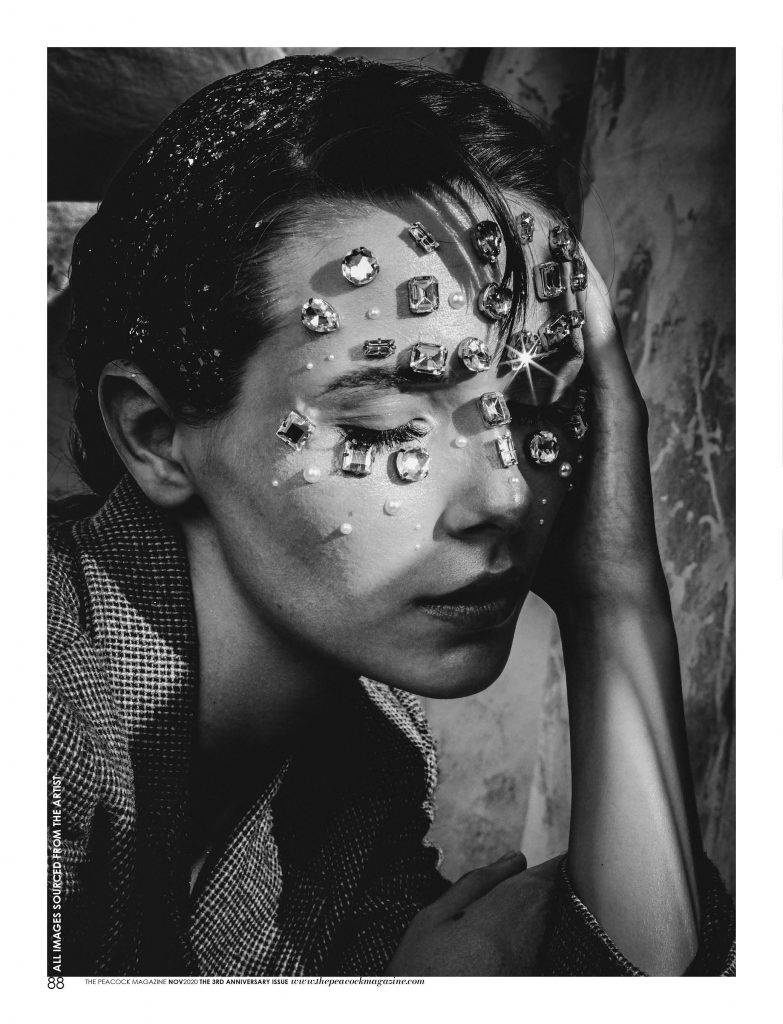 CREDITS-
IMAGES ARTIST'S OWN.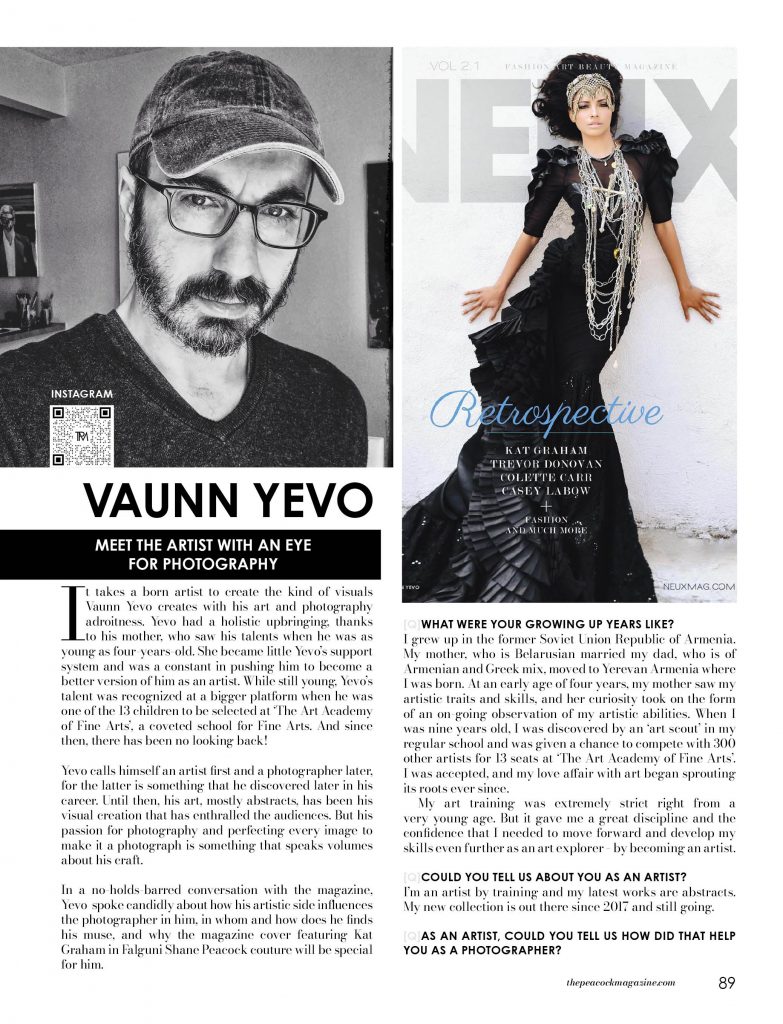 It takes a born artist to create the kind of visuals Vaunn Yevo creates with his art and photography adroitness. Vaunn had a holistic upbringing, thanks to his mother, who saw his talents when he was as young as four-years-old. She became little Vaunn's support system and was a constant in pushing him to become a better version of him as an artist. While still young, Vaunn talent was recognized at a bigger platform when he was one of the thirteen children to be selected at 'The Art Academy of Fine Arts' – a coveted school for Fine Arts. And since then, there has been no looking back!
Vaunn calls himself an artist first and a photographer later, for the latter is something that he discovered later in his career. Until then, his art – mostly abstracts, has been his visual creation that has enthralled the audiences. But his passion for photography and perfecting every image to make it a photograph is something that speaks volumes about his craft.
In a no-holds-barred conversation with the magazine, Vaunn spoke candidly about how his artistic side influences the photographer in him, in whom and how does he find his muse, and why the magazine cover featuring Kat Graham in Falguni Shane Peacock couture will be special for him.

[Q] What were your growing up years like?
I grew up in the former Soviet Union Republic of Armenia. My mother, who is Belarusian married my dad, who is Armenian and Greek mix, moved to Yerevan Armenia where I was born. At an early age of four years, my mother saw my Artistic traits and skills, and her curiosity became an on-going observation of my artistic abilities. When I was nine years old, I was discovered by an 'Art Scout' in my regular school and was given a chance to compete with 300 other artists for thirteen seats at 'The Art Academy of Fine Arts'. I was accepted, and my love affair with Art began sprouting its roots ever since.
My Art training was extremely strict right from a very young age. But it gave me a great discipline and the confidence that I needed to move forward and develop my skills even further as an Art explorer – by becoming an Artist.
[Q] Could you tell us about you as an artist?
I'm a Fine Artist by training and my latest works are abstracts. My new collection is out there since 2017 and still going.
[Q] As an artist, could you tell us how did that help you as a photographer?
My photography is definitely influenced by me being an artist. I think it opened my eyes to possibilities. I saw that I wasn't just interested in photographic images, I was curious about how to make it different. Art is about chaos and the feeling of it all. The disruption and the image is that one cold moment you snap in time. I wanted to combine both and make it my own.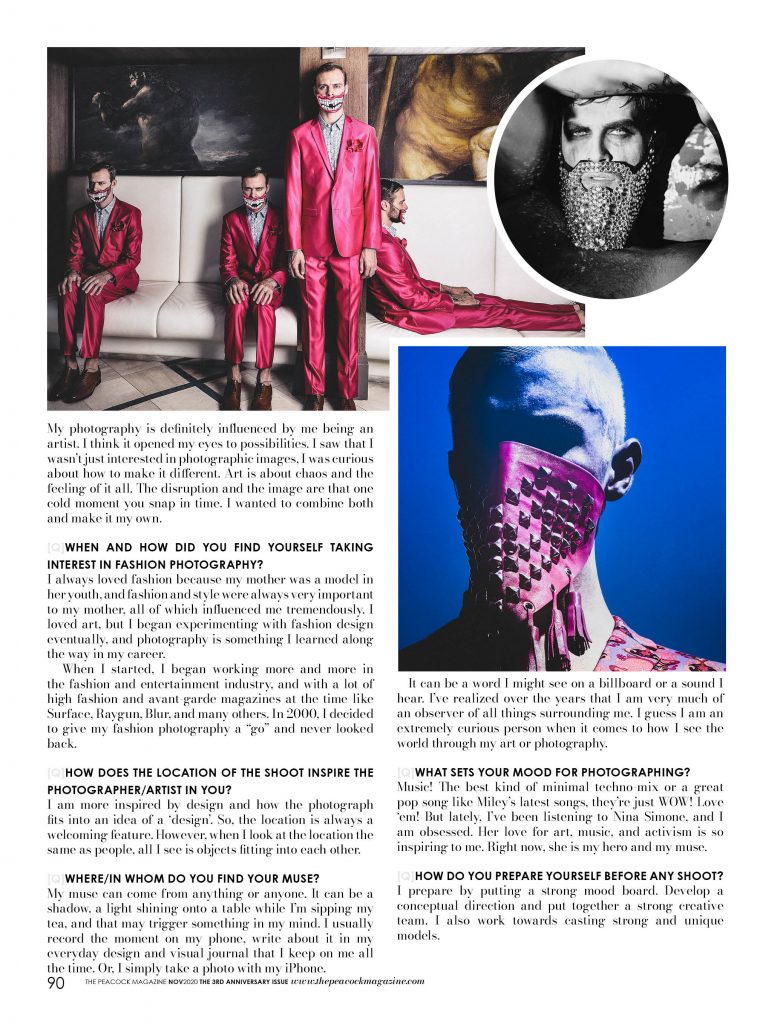 [Q] When and how did you find yourself taking interest in fashion photography?
I always loved fashion because my mother was a model in her youth, and fashion and style were always very important to my mother – all of which influenced me tremendously. I loved Art, but I began experimenting with fashion design eventually, and photography is something I learned along the way in my career.
When I started, I began working more and more in the fashion and entertainment industry, and with a lot of high fashion and Avant-Garde magazines at the time like Surface, Raygun, Blur, and many others. In 2000, I decided to give my fashion photography a "go" and never looked back.
[Q] How does the location of the shoot inspire the photographer/artist in you?
I am more inspired by design and how the photograph fits into an idea of a 'design'. So, the location is always a welcoming feature. However, when I look at the location the same as people – all I see is objects fitting into each other.
[Q] Where/in whom do you find your muse?
My muse can come from anything or anyone.
It can be a shadow, a light shining onto a table while I'm sipping my tea, and that may trigger something in my mind. I usually record the moment on my phone, write about it in my everyday design and visual journal that I keep on me all the time. Or, I simply take a photo with my iPhone.
It can be a word I might see on a billboard or a sound I hear. I've realized over the years that I am very much of an observer of all things surrounding me. I guess I am an extremely curious person when it comes to how I see the world through my art or photography.
[Q] What sets your mood for photographing?
Music! The best kind of minimal techno-mix or a great pop song like Miley's latest songs, they're just WOW! Love 'em! But lately, I've been listening to Nina Simone, and I am obsessed. Her love for art, music, and activism is so inspiring to me. Right now, she is my hero and my muse.
[Q] How do you prepare yourself before any shoot?
I prepare by putting a strong mood board. Develop a conceptual direction and put together a strong creative team. I also work towards casting strong and unique models.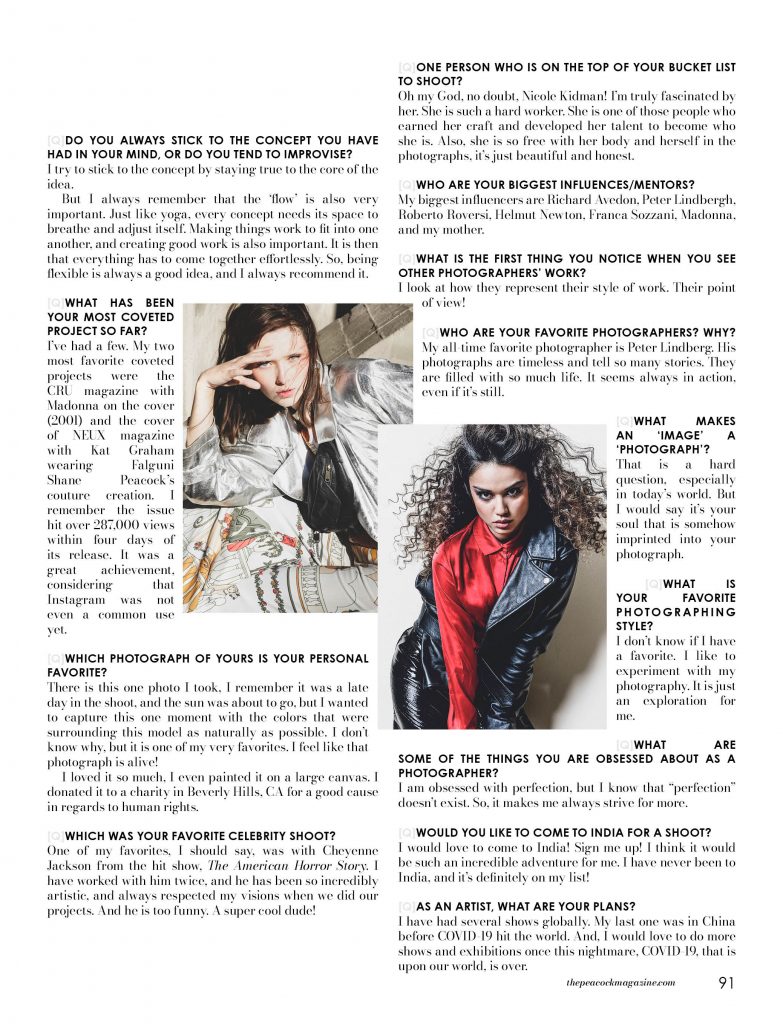 [Q] Do you always stick to the concept you have had in your mind, or do you tend to improvise?
I try to stick to the concept by staying true to the core of the idea.
But I always remember that the 'flow' is also very important. Just like yoga, every concept needs its space to breathe and adjust itself. Making things work to fit into one another, and creating good work is also important. It is then that everything has to come together effortlessly. So, being flexible is always a good idea, and I always recommend it.
[Q] What has been your most coveted project so far?
I've had a few. My two most favorite coveted projects were the CRU magazine with Madonna on the cover (2001) and the cover of NEUX magazine with Kat Graham wearing Falguni Shane Peacock's couture creation. I remember the issue hit over 287,000 views within four days of its release. It was a great achievement, considering that Instagram was not even a common use yet.
[Q] Which photograph of yours is your personal favorite?
There is this one photo I took – I remember it was a late day in the shoot, and the sun was about to go away, but I wanted to capture this one moment with the colors that were surrounding this model as naturally as possible. I don't know why, but it is one of my very favorites. I feel like that photograph is alive!
I loved it so much, I even painted it on a large canvas. I donated it to a charity in Beverly Hills, CA for a good cause in regards to human rights.
[Q] Which was your favorite celebrity shoot?
One of my favorites, I should say, was with Cheyenne Jackson from the hit show, The American Horror Story. I have worked with him twice, and he has been so incredibly artistic, and always respected my visions when we did our projects. And he is too funny. A super cool dude!
[Q] One person who is on the top of your bucket list to shoot?
Oh my God, no doubt – Nicole Kidman! I'm truly fascinated by her. She is such a hard worker. She is one of those people who earned her craft and developed her talent to become who she is. Also, she is so free with her body and herself in the photographs, it's just beautiful and honest.
[Q] Who are your biggest influences/mentors?
My biggest influencers are Richard Avedon, Peter Lindbergh, Roberto Roversi, Helmut Newton, Franca Sozzani, Madonna, and my mother.
[Q] What is the first thing you notice when you see other photographers' work?
I look at how they represent their style of work. Their point of view!
[Q] Who are your favorite photographers? Why?
My all-time favorite photographer is Peter Lindberg. His photographs are timeless and tell so many stories. They are filled with so much life. It seems always in action, even if it's still.
[Q] What makes an 'image' a 'photograph'?
That is a hard question, especially in today's world. But I would say it's your soul that is somehow imprinted into your photograph.
[Q] What is your favorite photographing style?
I don't know if I have a favorite. I like to experiment with my photography. It is just an exploration for me.
[Q] What are some of the things you are obsessed about as a photographer?
I am obsessed with perfection, but I know that "perfection" doesn't exist. So, it makes me always strive for more.
[Q] Would you like to come to India for a shoot?
I would love to come to India! Sign me up! I think it would be such an incredible adventure for me. I have never been to India, and it's definitely on my list!
[Q] As an artist, what are your plans?
I have had several shows globally. My last one was in China before COVID-19 hit the world. And, I would love to do more shows and exhibitions once this nightmare, COVID-19, that is upon our world, is over.