It's like the butterfly effect, the actions may seem minuscule when they're done, but the impact is large. Tech has lately been showing its adverse importance in fashion, and the merger between the two has been effortless so far. Evolution in both streams have been rapid and mutually benefiting. The memory of fashion transfusing into the digital spectrum may be vague, but its significance has only grown over time. On the contrary, even tech has tapped into fashion for inspiration, because as functional it may be, the appearance of a gadget still earns it the brownie points. Gadgets today are available in colours like steel grey, rosé gold with gilded rims, far ahead from the rock-weight, dull coloured laptops and desktops of the early 2000s. Millennials today are accommodated to fast fashion and digital portals play a big part in it. Retail spaces are co-dependent on e-commerce sites for sales – the consumer now has the ball in its court. Although, the authentic shoppers may still protest the idea of not being able to physically examine the outfit they're going to purchase, but that's just a little price to pay for shopping in the vicinity of your home while sipping down your glass of vine.
Model wearing Apple watch series 4
Fashion and technology have always inherited traits from the other while creating trailblazing products individually. For Falguni Shane Peacock's couture collection they portrayed a contemporary bride, who is unconventional and avant-garde. The state-of-the-art pieces were styled with the Apple watches, making it a fashion-forward move to blend tech with couture seamlessly. While the apple watch is redefining the functionalities of a gadget, when paired with a couture gown, it looks sleek and exquisite. This one-of-a-kind revelation was showcased on the runway for the first time, which made the fashion and tech merger a path breaking one.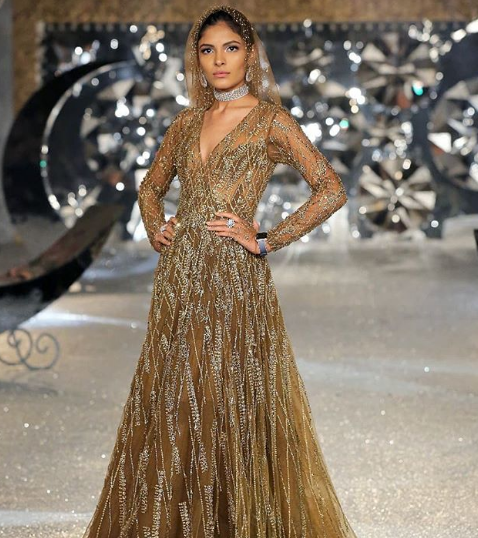 Model wearing Apple watch series 4
Fashion trends are technologically driven today, even its popularity amongst the consumers depends on how it has been marketed to them. Sites like Pinterest and Instagram have given tailor made answers to viewers with fashion queries. The correlation between the two determines when the consumer receives what, the timings plays the most pivotal role here. Fashion is always seeking to get ahead of its time and with technology it only becomes a smooth ride.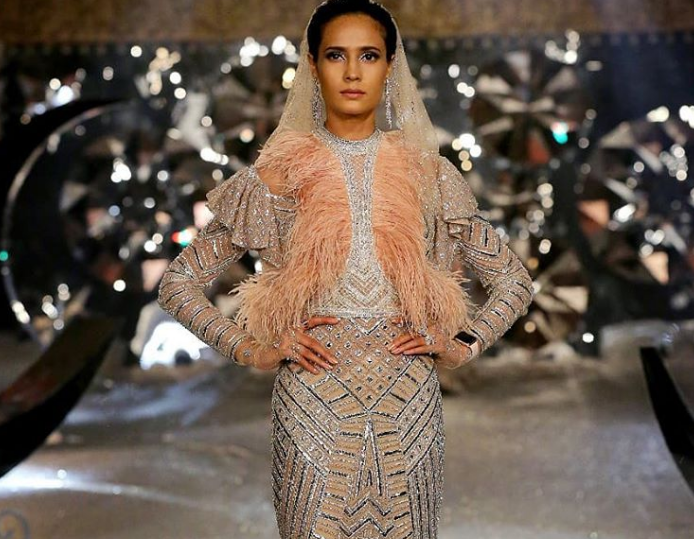 Model wearing Apple watch series 4
At atelier FSP technology was imbibed in a futuristic demeanor last year, when the concept of cognitive couture was introduced. Collaboration with IBM provided a larger insight, by broadening the horizon of information through modern tools. Working on elaborated inspirations became easier through various mediums designed for it. Apart from that, FSP's ahead of the time vision in fashion coincides with the pace of today's technology – from revolutionary silhouettes to cutting edge styles are all conceived through advancement in technology.