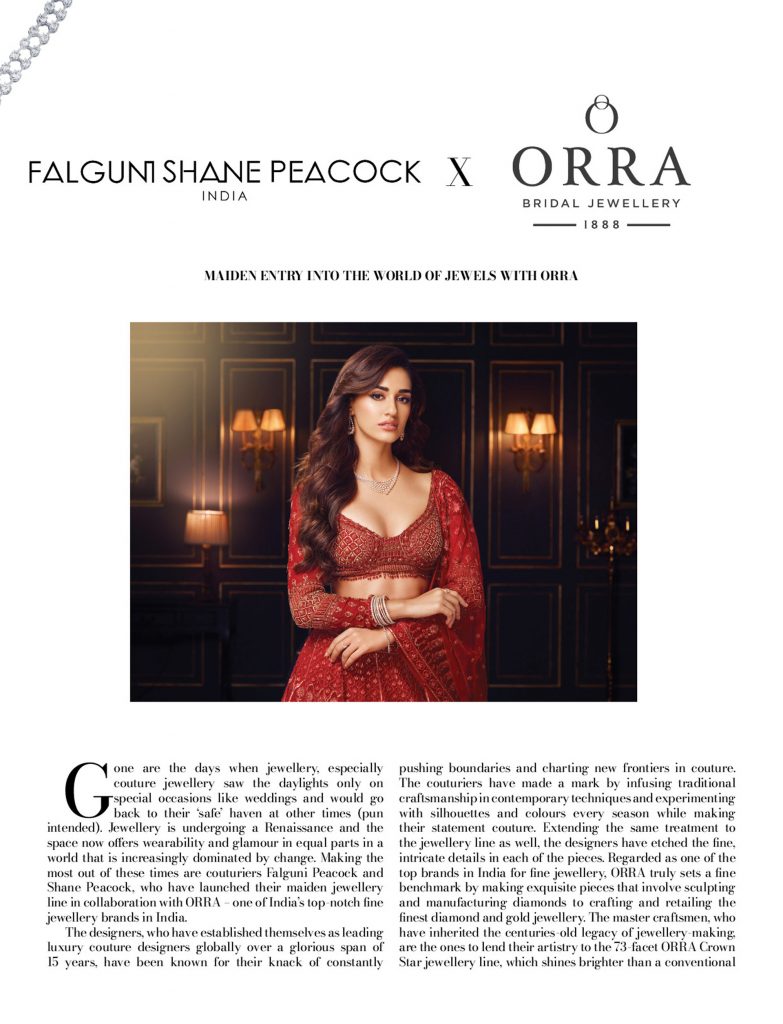 Gone are the days when jewellery, especially couture jewellery saw the daylights only on special occasions like weddings and would go back to their 'safe' haven at other times (pun intended). Jewellery is undergoing a Renaissance and the space now offers wearability and glamour in equal parts in a world that is increasingly dominated by change. Making the most out of these times are couturiers Falguni Peacock and Shane Peacock, who have launched their maiden jewellery line in collaboration with ORRA — one of India's top-notch fine jewellery brands in India.
The designers, who have established themselves as leading luxury couture designers globally over a glorious span of 15 years, have been known for their knack of constantly pushing boundaries and charting new frontiers in couture. The couturiers have made a mark by infusing traditional craftsmanship in contemporary techniques and experimenting with silhouettes and colours every season while making their statement couture. Extending the same treatment to the jewellery line as well, the designers have etched the fine, intricate details in each of the pieces. Regarded as one of the top brands in India for fine jewellery, ORRA truly sets a fine benchmark by making exquisite pieces that involve sculpting and manufacturing diamonds to crafting and retailing the finest diamond and gold jewellery. The master craftsmen, who have inherited the centuries-old legacy of jewellery-making, are the ones to lend their artistry to the 73-facet ORRA Crown Star jewellery line, which shines brighter than a conventional diamond.





The ORRA x Falguni Shane Peacock line of jewellery was envisioned with an intent of celebrating a woman and her penchant for everything elegant. While her romance with diamond jewellery is eternal, the magnificence of 22-k gold surely spells modern elegance. The inherent designs of both the brands, especially the technical expertise of ORRA, were used to create this bespoke line of jewellery drawing from the rooted ethos in craftsmanship. The jewellery line is a beautiful amalgamation of elegant and contemporary, traditional classics with a contemporary twist, while the designs echo modernism without sacrificing the classic values of precious metal and stone.
Versatility as Vision
"When we set out to collaborate, we knew we wanted to create something classic and worthy of being passed down to generations to come, yet something that would be versatile enough. We believe jewellery needs to be adorned and played with stylishly instead of being tucked away in the lockers. We created a line that the wearer can team up with any outfit and style it accordingly. This line has turned out to be truly unique and one-of-a-kind because of ORRA's precision and dedication towards delivering quality that aligns very well with our design sensibilities, thus creating a perfect marriage of both brands via this collaboration," Falguni Shane Peacock said while speaking about how the vision of the collaboration was set and brought to life with ORRA. Dipu Mehta, the managing director of ORRA Jewellery, in a statement about the collaboration, said, "This is our first-ever designer engagement that brings a distinct creative flair to the world of bridal jewellery. Our partnership with Falguni Shane Peacock is a testimony of celebrating every bride of India who must outshine on her special day with diamonds."
Shine On!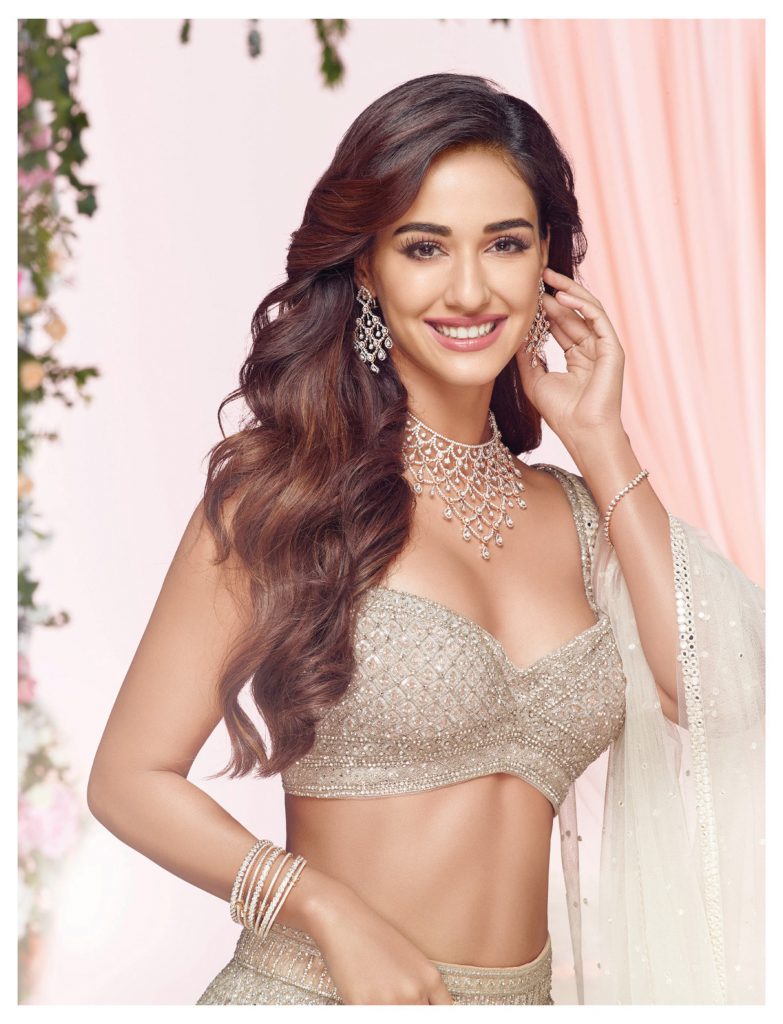 Designing couture and designing jewellery is almost the same, feel the designers as it's both demand channeling of creative energies into creating something exquisite and beautiful. And when the process of creation is imbued with honesty and authenticity, it isn't daunting at all, feel the designers who thoroughly enjoyed the entire process of making the pieces come alive.
While all the pieces are made of diamonds and gold, the chandelier pieces incorporate designs of the couture brand's hallmark embroideries. "It's like our intricate embroidery has been spectacularly sculpted on the bespoke jewel pieces by ORRA. They have made our imagination and vision come true with meticulous craftsmanship. The other lighter pieces are extremely versatile that complement every look be it that of a jacket or a couture ensemble or even a Saree. We love how fluid the bijoux pieces are, just like Falguni Shane Peacock outfits," the duo said while taking us through the entire line of jewellery. Falguni adds, "My personal favourite from the collection is the diamond set with a touch of emerald green. Every time I see it, I cannot help but think how well they would go with all my jackets and every other ensemble in my wardrobe!"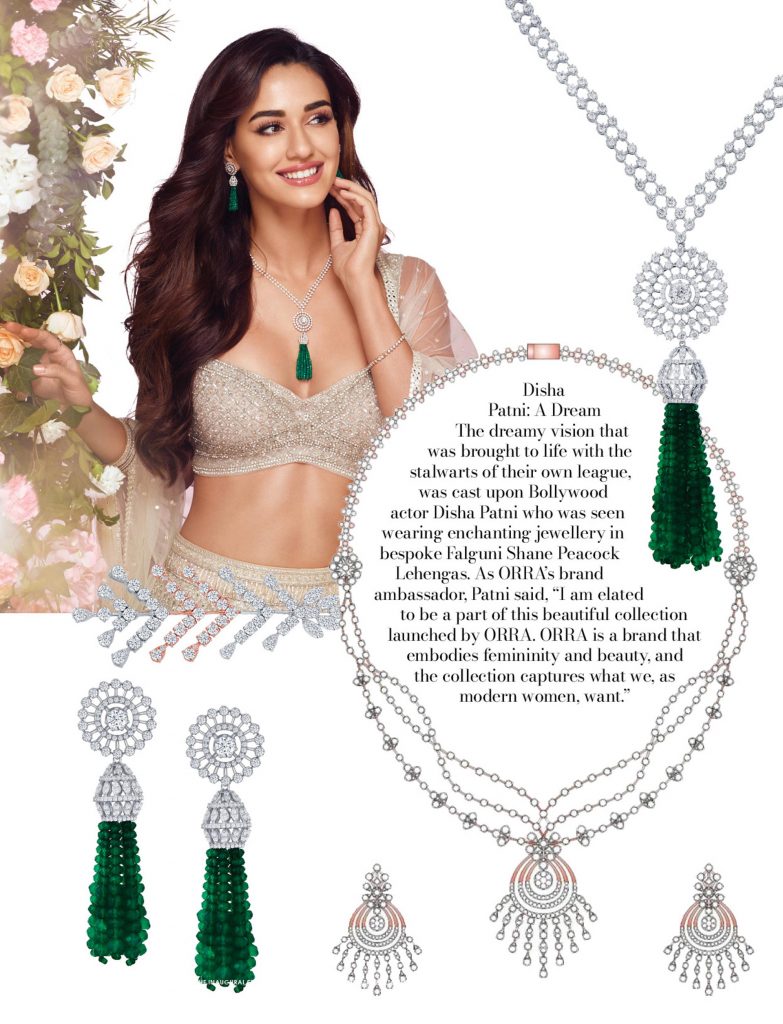 Disha Patani: A Dream
As Bollywood actor Disha Patani was seen wearing enchanting jewellery in bespoke Falguni Shane Peacock Lehengas, she surely set the dream of beauty and brilliance rolling for one and all. As ORRA's brand ambassador, Patani said, "I am elated to be a part of this beautiful collection launched by ORRA. ORRA is a brand that embodies femininity and beauty, and the collection captures what we, as modern women, want."