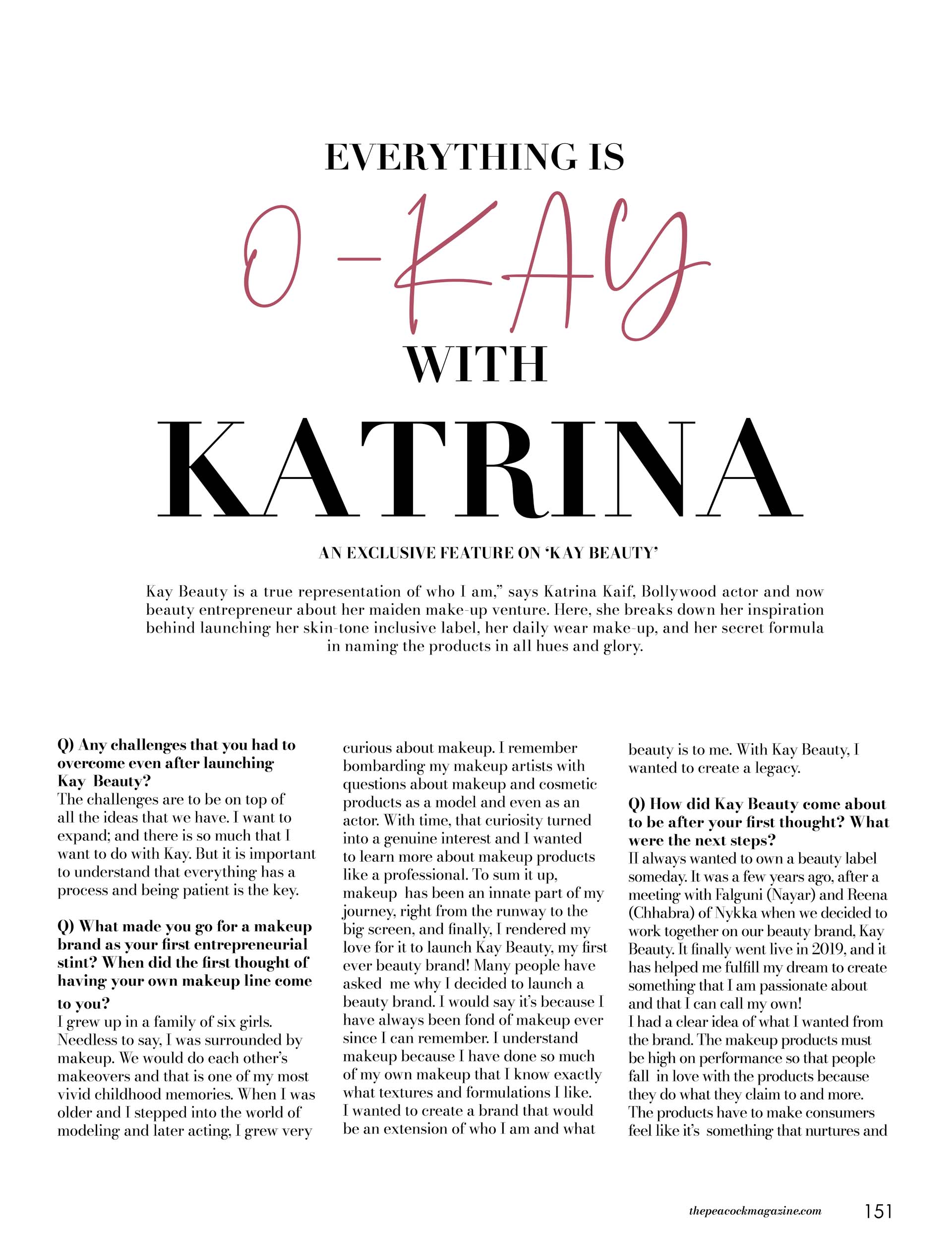 AN EXCLUSIVE FEATURE ON 'KAY BEAUTY'

"Kay Beauty is a true representation of who I am," says Katrina Kaif, Bollywood actor and now beauty entrepreneur about her maiden make-up venture. Here, she breaks down her inspiration behind launching her skin-tone inclusive label, her daily wear make-up, and her secret formula in naming the products in all hues and glory.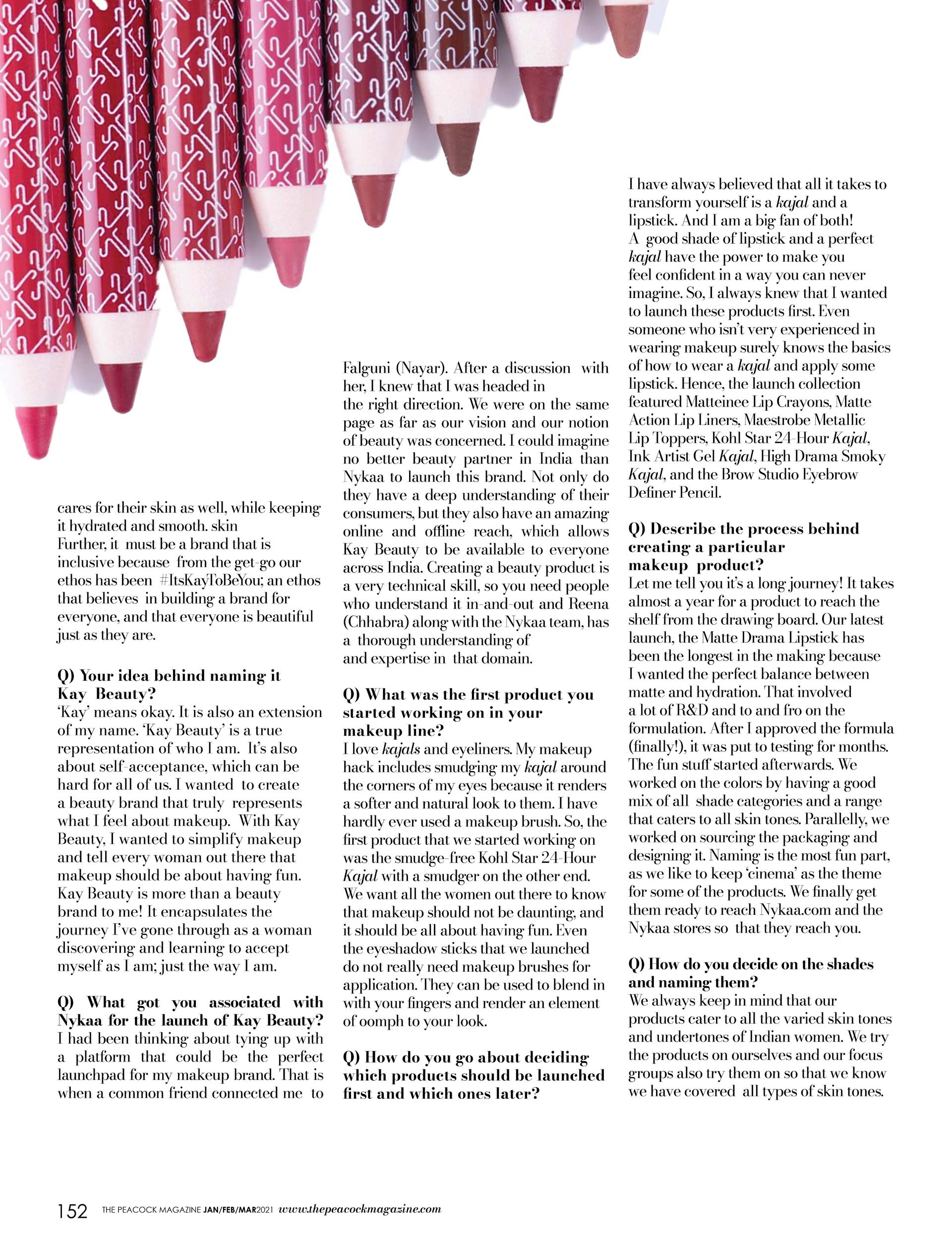 [Q] Any challenges you had to overcome even after launching 'Kay Beauty'?
The challenges are to keep on top of all the ideas that we have. I want to expand, and there is so much that I want to do with Kay. But it is important to understand that everything has a process and being patient is the key.
[Q] What made you go for a makeup brand as your first entrepreneurial stint? When did the first thought of having your own make-up line come to you?
I grew up in a family of six girls. Needless to say, I was surrounded by makeup. We would do each other's makeovers and that is one of my most vivid childhood memories. When I was older and I stepped into the world of modeling and later acting. I grew very curious about makeup. I remember bombarding my makeup artists with questions about makeup and cosmetic products as a model and even as an actor. With time, that curiosity turned into genuine interest and I wanted to learn more about makeup products as a professional. To sum it up, makeup has been an innate part of my journey, right from the runway to the big screen, and finally, I rendered my love for it to launch 'Kay Beauty', my first ever beauty brand!
Many people have asked me why I decided to launch a beauty brand. I would say it's because I have always been fond of makeup ever since I can remember. I understand makeup because I have done so much of my own makeup that I know exactly what textures and formulations I like. I wanted to create a brand that would be an extension of who I am and what beauty is to me. With Kay Beauty, I wanted to create a legacy.
[Q] How did 'Kay Beauty' come about to be after your first thought? What were the next steps?
I always wanted to own a beauty label someday. It was a few years ago, after a meeting with Falguni (Nayar) and Reena (Chhabra) of Nykka when we decided to work together on our beauty brand, 'Kay Beauty.' It finally went live in 2019, and it has helped me fulfill my dream to create something that I am passionate about and that I can call my own!
I had a clear idea of what I wanted from the brand. The makeup products must be high-performing so that people fall in love with the products because it does what it claims to and more. The products have to make consumers feel like it's something that is nurturing to their skin and cares for their skin as well. Further, it must be a brand that is inclusive because from the get-go our ethos has been #ItsKayToBeYou – an ethos that believes in building a brand for everyone, and that everyone is beautiful just as they are.
[Q] Your idea behind naming it 'Kay Beauty'?
'Kay' means okay. It is also an extension of my name. 'Kay Beauty' is a true representation of who I am. It's also about self-acceptance, which can be hard for all of us. I wanted to create a beauty brand that truly represents what I feel about makeup. With 'Kay Beauty,' I wanted to simplify makeup and tell every woman out there that makeup should be about having fun. 'Kay Beauty' is more than a beauty brand to me! It's also the journey I've gone through as a woman discovering and learning to accept myself as I am, just the way I am.
[Q] What got you associated with Nykka for the launch of 'Kay Beauty'?
I had been thinking about tying up with a platform that could be the perfect launchpad for my makeup brand. That is when a common friend connected me to Falguni (Nayar). After a discussion with her, I knew that I was headed in the right direction. We were on the same page as far as our vision and our notion of beauty was concerned. I could imagine no better beauty partner in India than Nykaa to launch this brand. Not only do they have a deep understanding of their consumers, but they also have an amazing reach online and offline, which allows 'Kay Beauty' to be available to everyone across India. Creating a beauty product is a very technical skill, so you need people who understand it in-and-out and Reena Chhabra along with the Nykaa team, has a thorough understanding and expertise in that domain.
[Q] What was the first product you started working on in your make-up line?
I love Kajals and eyeliners. My makeup hack includes smudging my kajal around the corners of my eyes because it renders a softer and natural look to them. I have hardly ever used a makeup brush. So, the first product that we started working on was the smudge-free Kohl Star 24-Hour Kajal with a smudger on the other end. We want all the women out there to know that makeup should not be daunting, and it should be all about having fun. Even the eyeshadow sticks that we launched do not really need makeup brushes for application. They can be blended with your fingers and render an element of oomph to your look.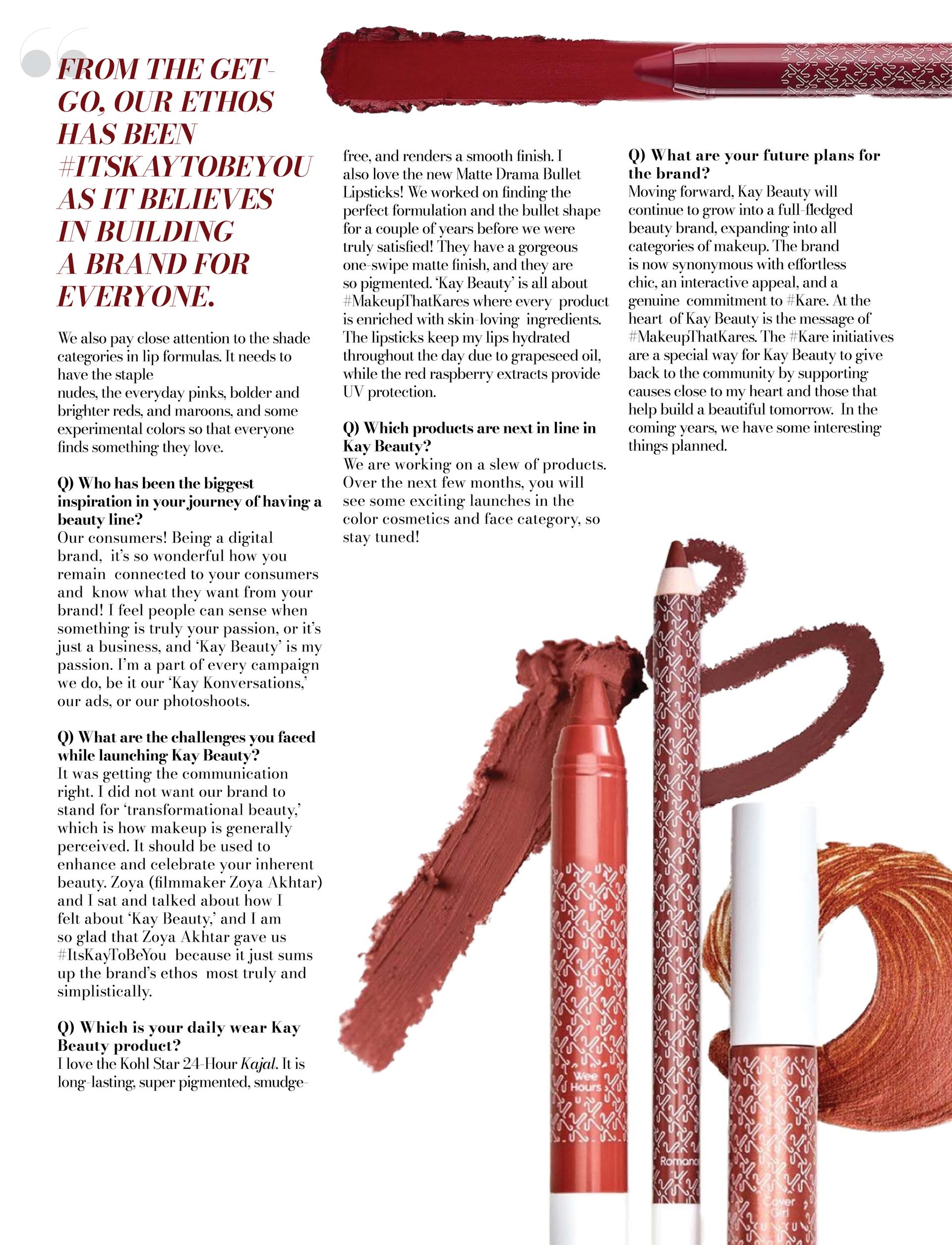 [Q] How do you go about deciding which products should be launched first and which ones later?
I have always believed that all it takes to transform yourself is a Kajal and a lipstick. And I am a big fan of both! A good shade of lipstick and a perfect Kajal have the power to make you feel confident in a way you can never imagine. So, I always knew that I wanted to launch these products first. Even someone who isn't very experienced with wearing makeup surely knows the basics of how to wear a Kajal and apply some lipstick. Hence, the launch collection featured Matteinee Lip Crayons, Matte Action Lip Liners, Maestrobe Metallic Lip Toppers, Kohl Star 24-Hour Kajal, Ink Artist Gel Kajal, High Drama Smoky Kajal, and the Brow Studio Eyebrow Definer Pencil.
[Q] Describe the process behind creating a particular makeup product?
Let me tell you it's a long journey! It takes almost a year for a product to reach the shelf from the drawing board. Our latest launch, the Matte Drama lipstick has been the longest in the making because I wanted the perfect balance between matte and hydration. That involved a lot of R&D and to-and-fro on the formulation. After I approved the formula (finally!) it was put to testing for months. The fun stuff started after. We worked on the colors by having a good mix of all shade categories and a range that caters to all skin tones. Parallelly, we worked on sourcing the packaging and designing it. Naming is the most fun part, as we like to keep 'cinema' as the theme for some of the products. We finally get them ready to reach Nykaa.com and the Nykaa stores so that they reach you.
[Q] How do you decide on the shades and naming them?
We always keep in mind that our products cater to all the varied skin tones and undertones of Indian women. We try the product on ourselves and our focus groups so that we know we have covered all types of skin tones. We also pay close attention to the shade categories in lip formulas. It needs to have the staple nudes, the everyday pinks, bolder and brighter reds, and maroons, and some experimental colors so that everyone finds something they love.
[Q] Who has been the biggest inspiration in your journey of having a beauty line?
Our consumers! Being a digital brand, it's so wonderful how you remain connected to your consumers and know what they want from your brand! I feel people can sense when something is truly your passion, or it's just a business, and 'Kay Beauty' is my passion. I'm a part of every campaign we do, be it our 'Kay Konversations,' our ads, or our photoshoots.
[Q] What are the challenges you faced while launching 'Kay Beauty'?
It was getting the communication right. I did not want our brand to stand for 'transformational beauty,' which is how makeup can be generally perceived. It should be used to enhance and celebrate your inherent beauty. Zoya and I sat and talked about how I felt about 'Kay Beauty,' and I am so glad that Zoya Akhtar gave us #ItsKayToBeYou because it just put the brand's ethos most truly and simplistically.
[Q] Which is your daily wear 'Kay Beauty' product?
I love the Kohl Star 24-Hour Kajal. It is long-lasting, super pigmented, smudge-free, and renders a smooth finish. I also love the new Matte Drama Bullet lipsticks! We worked on finding the perfect formulation and the bullet shape for a couple of years before we were truly satisfied! They have a gorgeous one-swipe matte finish, and they are so pigmented. 'Kay Beauty' is all about #MakeupThatKares, and our every product is enriched with skin-loving ingredients. The lipsticks keep my lips hydrated throughout the day due to grapeseed oil, and it has UV protection from the red raspberry extracts.
[Q] Which products are next-in-line in 'Kay Beauty'?
We are working on a slew of products. Over the next few months, you will see some exciting launches in the color cosmetics and face category, so stay tuned!
[Q] What are your future plans for the brand?
Moving forward, 'Kay Beauty' will continue to grow into a full-fledged beauty brand, expanding into all categories of makeup. The brand is now synonymous with effortless chic, an interactive appeal, and a genuine commitment to #Kare. At the heart of 'Kay Beauty' is the message of #MakeupThatKares. The #Kare initiatives are a special way for Kay Beauty to give back to the community by supporting causes close to my heart and those that help build for a beautiful tomorrow. In the coming year, we have some interesting things planned.