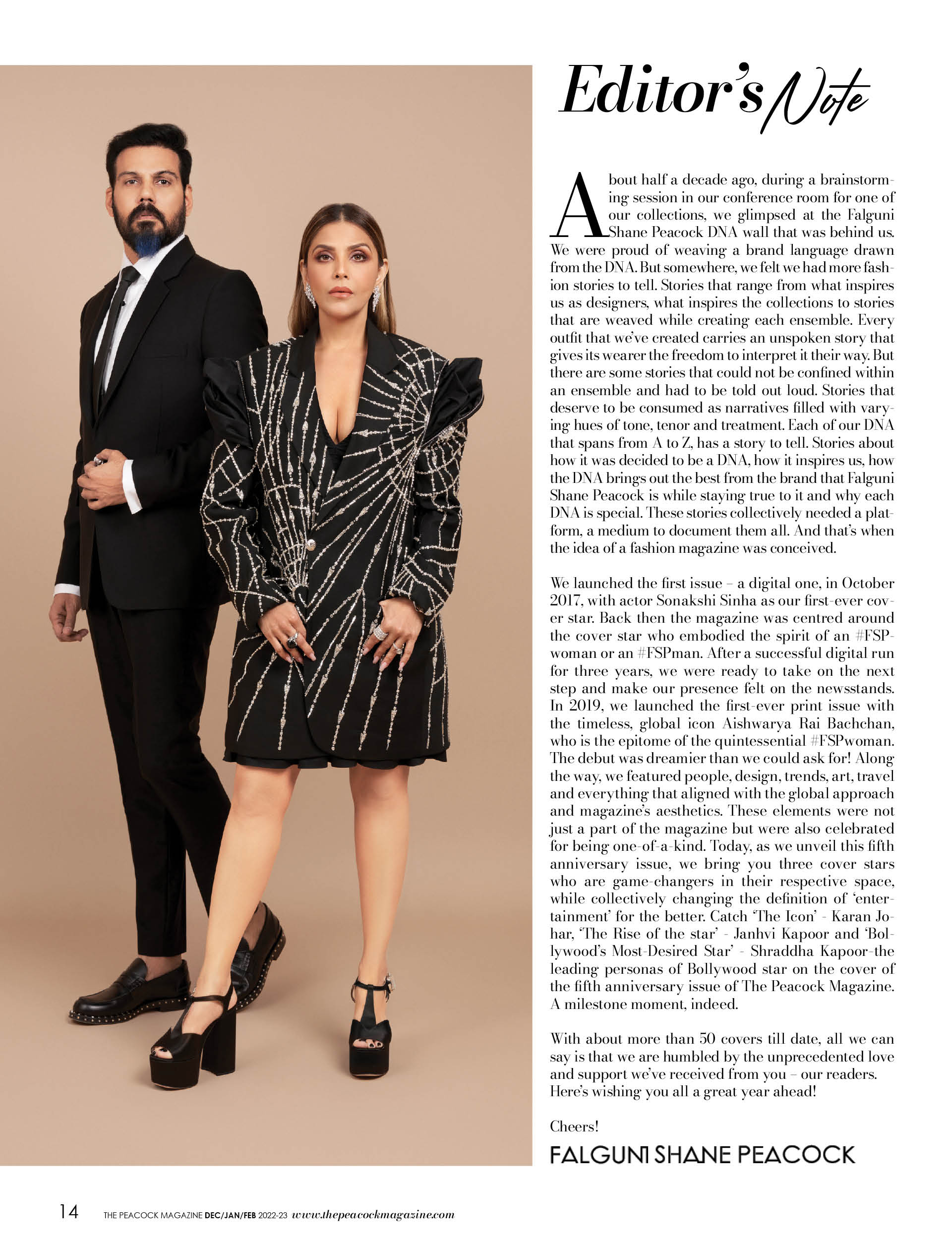 DEC / JAN/ FEB 2022-23 | EDITORS NOTE
About half a decade ago, during a brainstorming session in our conference room for one of our collections, we glimpsed at the Falguni Shane Peacock DNA wall that was behind us. We were proud of weaving a brand language drawn from the DNA. But somewhere, we felt we had more fashion stories to tell. Stories that range from what inspires us as designers, what inspires the collections to stories that are weaved while creating each ensemble. Every outfit that we've created carries an unspoken story that gives its wearer the freedom to interpret it their way. But there are some stories that could not be confined within an ensemble and had to be told out loud. Stories that deserve to be consumed as narratives filled with varying hues of tone, tenor and treatment. Each of our DNA that spans from A to Z, has a story to tell. Stories about how it was decided to be a DNA, how it inspires us, how the DNA brings out the best from the brand that Falguni Shane Peacock is while staying true to it and why each DNA is special. These stories collectively needed a platform, a medium to document them all. And that's when the idea of a fashion magazine was conceived.
We launched the first issue — a digital one, in October 2017, with actor Sonakshi Sinha as our first-ever cover star. Back then the magazine was centred around the cover star who embodied the spirit of an #FSPwoman or an #FSPman. After a successful digital run for three years, we were ready to take on the next step and make our presence felt on the newsstands. In 2019, we launched the first-ever print issue with the timeless, global icon Aishwarya Rai Bachchan, who is the epitome of the quintessential #FSPwoman. The debut was dreamier than we could ask for! Along the way, we featured people, design, trends, art, travel and everything that aligned with the global approach and magazine's aesthetics. These elements were not just a part of the magazine but were also celebrated for being one-of-a-kind. Today, as we unveil this fifth anniversary issue, we bring you three cover stars who are game-changers in their respective space, while collectively changing the definition of 'entertainment' for the better. Catch 'The Icon' – Karan Johar, 'The Rise of the star' – Janhvi Kapoor and 'Bollywood's Most-Desired Star' – Shraddha Kapoor–the leading personas of Bollywood star on the cover of the fifth anniversary issue of The Peacock Magazine. A milestone moment, indeed.
With about more than 50 covers till date, all we can say is that we are humbled by the unprecedented love and support we've received from you — our readers. Here's wishing you all a great year ahead!
Cheers!