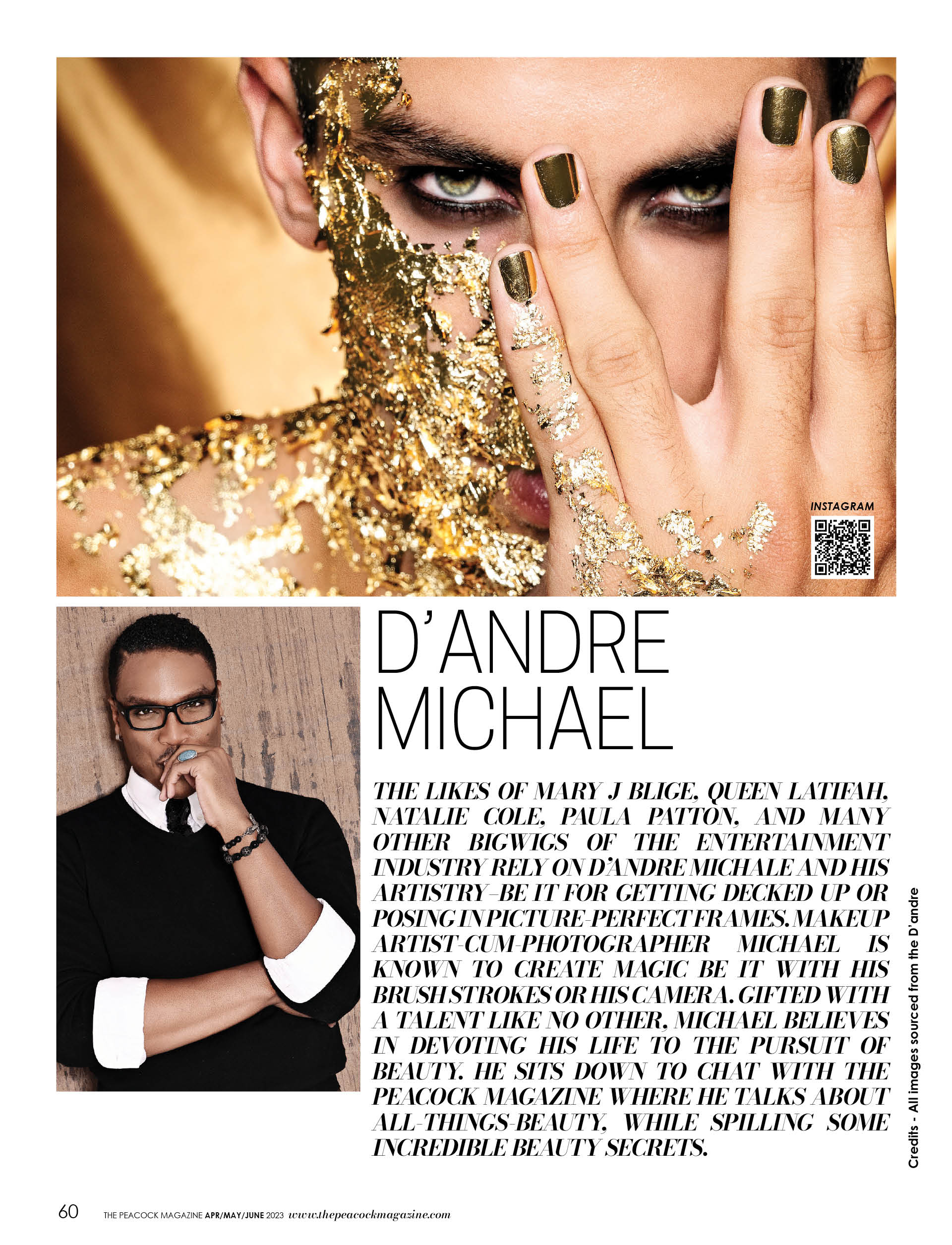 CREDITS: All images sourced from the artist
The likes of Mary J Blige, Queen Latifah, Natalie Cole, Paula Patton, and many other bigwigs of the entertainment industry rely on D'Andre Michale and his artistry—be it for getting decked up or posing in picture-perfect frames. Makeup artist-cum-photographer Michael is known to create magic be it with his brush strokes or his camera. Gifted with a talent like no other, Michael believes in devoting his life to the pursuit of beauty. He sits down to chat with The Peacock Magazine where he talks about all-things-beauty, while spilling some incredible beauty secrets.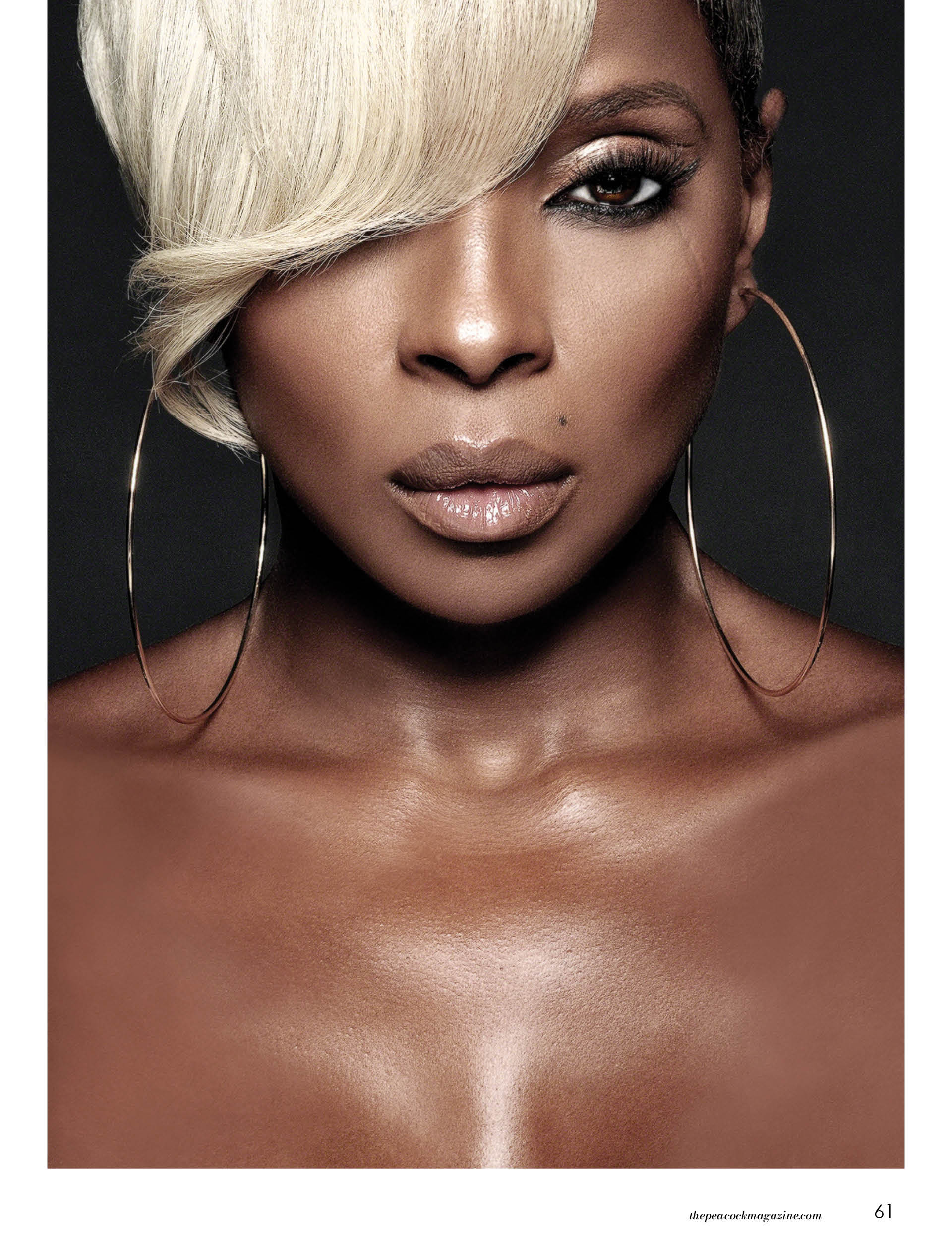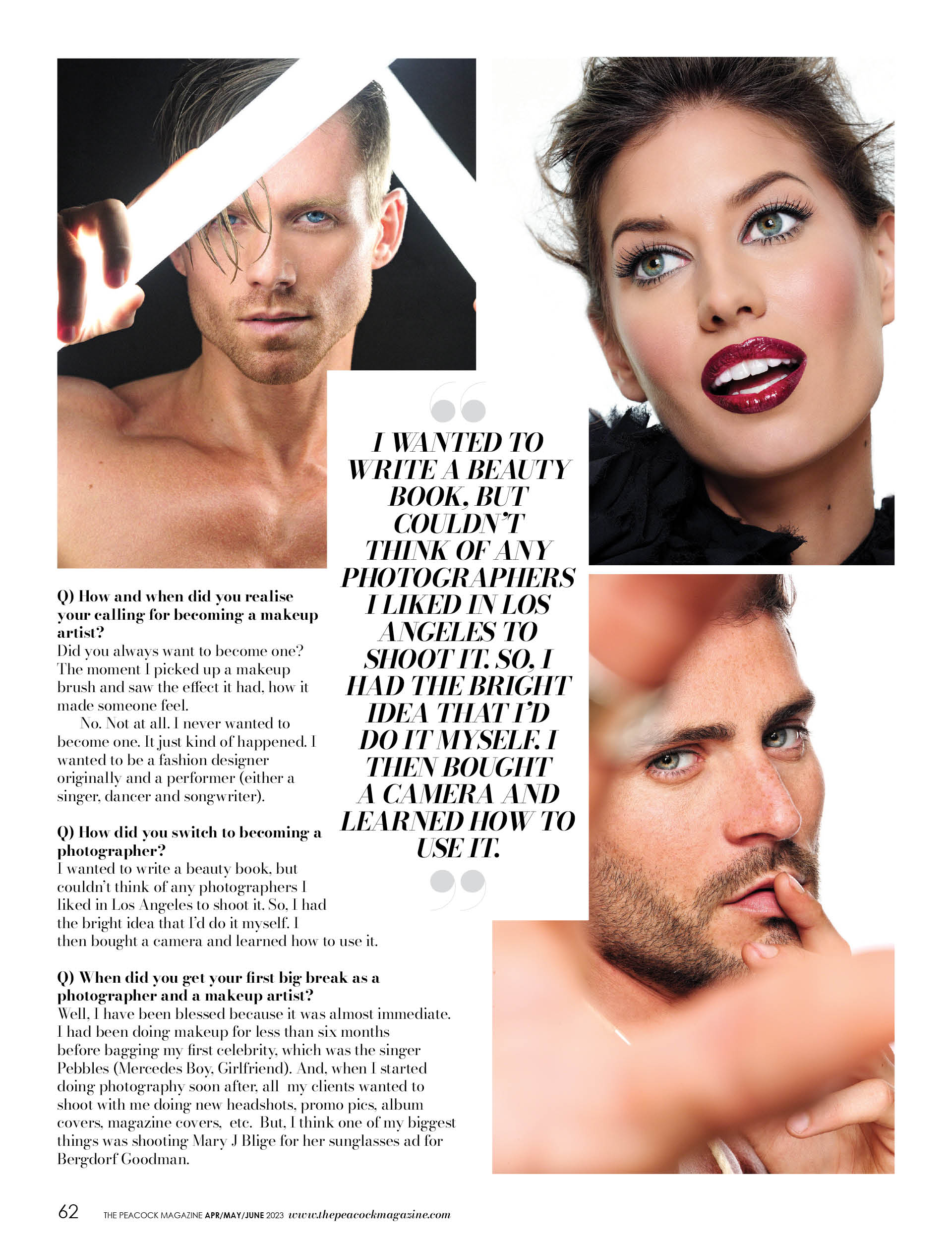 Q) How and when did you realise your calling for becoming a makeup artist? Did you always want to become one?
The moment I picked up a makeup brush and saw the effect it had, how it made someone feel.
No. Not at all. I never wanted to become one. It just kind of happened. I wanted to be a fashion designer originally and a performer (either a singer, dancer and songwriter).
Q) How did you switch to becoming a photographer?
I wanted to write a beauty book, but couldn't think of any photographers I liked in Los Angeles to shoot it. So, I had the bright idea that I'd do it myself. I then bought a camera and learned how to use it.
Q) When did you get your first big break as a photographer and a makeup artist?
Well, I have been blessed because it was almost immediate. I had been doing makeup for less than six months before bagging my first celebrity, which was the singer Pebbles (Mercedes Boy, Girlfriend). And, when I started doing photography soon after, all my clients wanted to shoot with me doing new headshots, promo pics, album covers, magazine covers, etc. But, I think one of my biggest things was shooting Mary J Blige for her sunglasses ad for Bergdorf Goodman.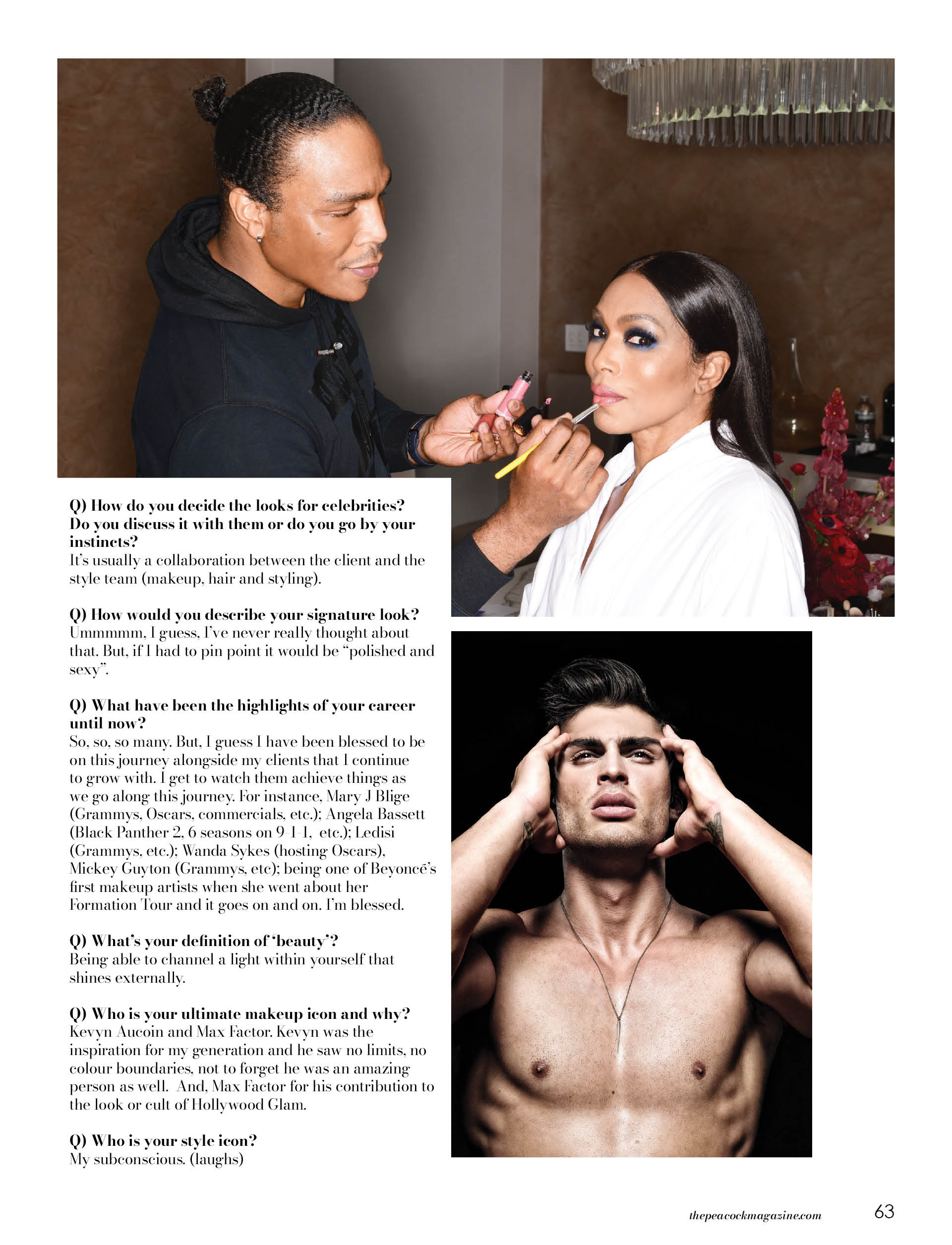 Q) How do you decide the looks for celebrities? Do you discuss it with them or do you go by your instincts?
It's usually a collaboration between the client and the style team (makeup, hair and styling).
Q) How would you describe your signature look?
Ummmmm, I guess, I've never really thought about that. But, if I had to pin point it would be "polished and sexy".
Q) What have been the highlights of your career until now?
So, so, so many. But, I guess I have been blessed to be on this journey alongside my clients that I continue to grow with. I get to watch them achieve things as we go along this journey. For instance, Mary J Blige (Grammys, Oscars, commercials, etc.); Angela Bassett (Black Panther 2, 6 seasons on 9-1-1, etc.); Ledisi (Grammys, etc.); Wanda Sykes (hosting Oscars), Mickey Guyton (Grammys, etc); being one of Beyoncé's first makeup artists when she went about her Formation Tour and it goes on and on. I'm blessed.
Q) What's your definition of 'beauty'?
Being able to channel a light within yourself that shines externally.
Q) Who is your ultimate makeup icon and why?
Kevyn Aucoin and Max Factor. Kevyn was the inspiration for my generation and he saw no limits, no colour boundaries, not to forget he was an amazing person as well. And, Max Factor for his contribution to the look or cult of Hollywood Glam.
Q) Who is your style icon?
My subconscious. (laughs)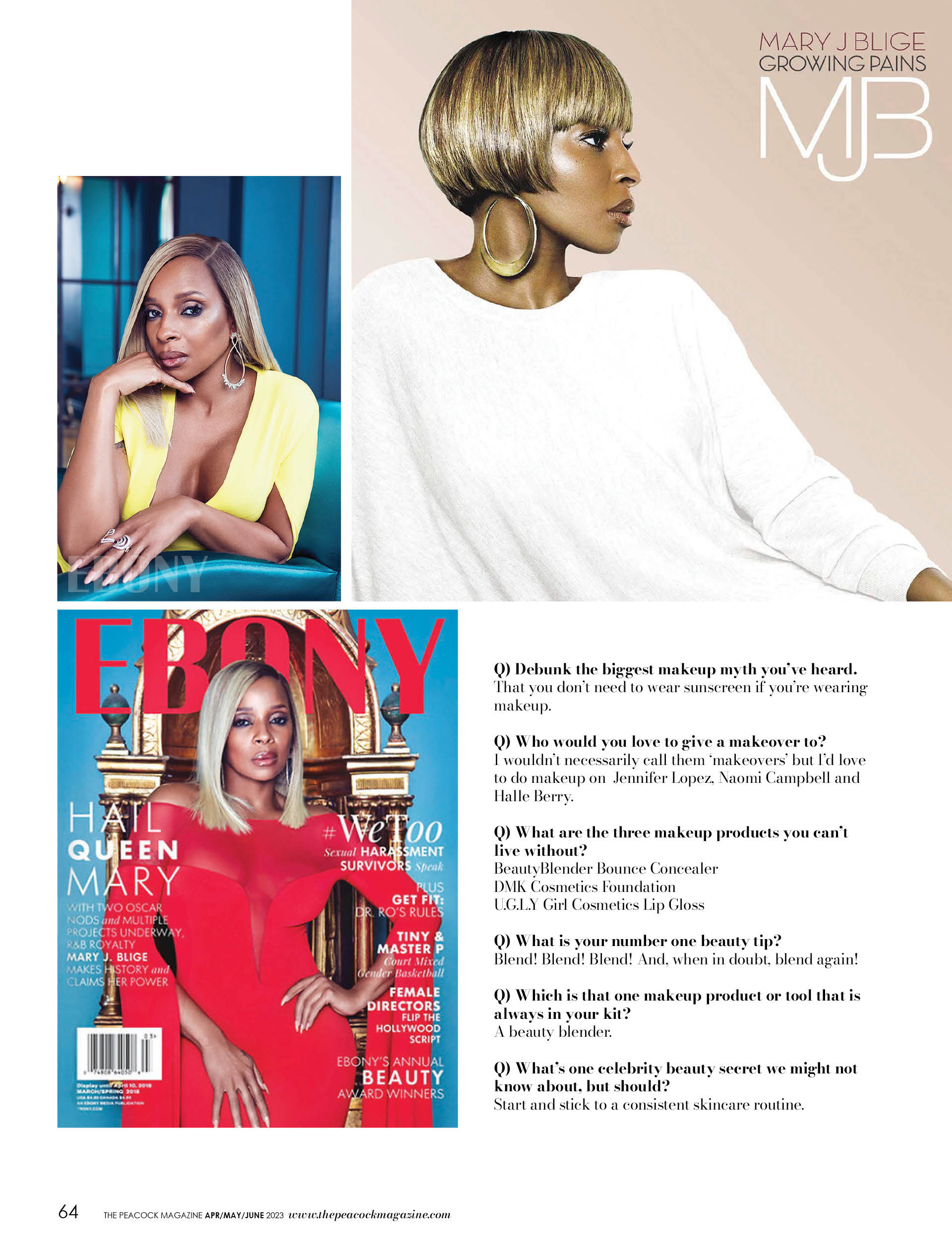 Q) Debunk the biggest makeup myth you've heard.
That you don't need to wear sunscreen if you're wearing makeup.
Q) Who would you love to give a makeover to?
I wouldn't necessarily call them 'makeovers' but I'd love to do makeup on Jennifer Lopez, Naomi Campbell and Halle Berry.
Q) What are the three makeup products you can't live without?
BeautyBlender Bounce Concealer
DMK Cosmetics Foundation
U.G.L.Y Girl Cosmetics Lip Gloss
Q) What is your number one beauty tip?
Blend! Blend! Blend! And, when in doubt, blend again!
Q) Which is that one makeup product or tool that is always in your kit?
A beauty blender.
Q) What's one celebrity beauty secret we might not know about, but should?
Start and stick to a consistent skincare routine.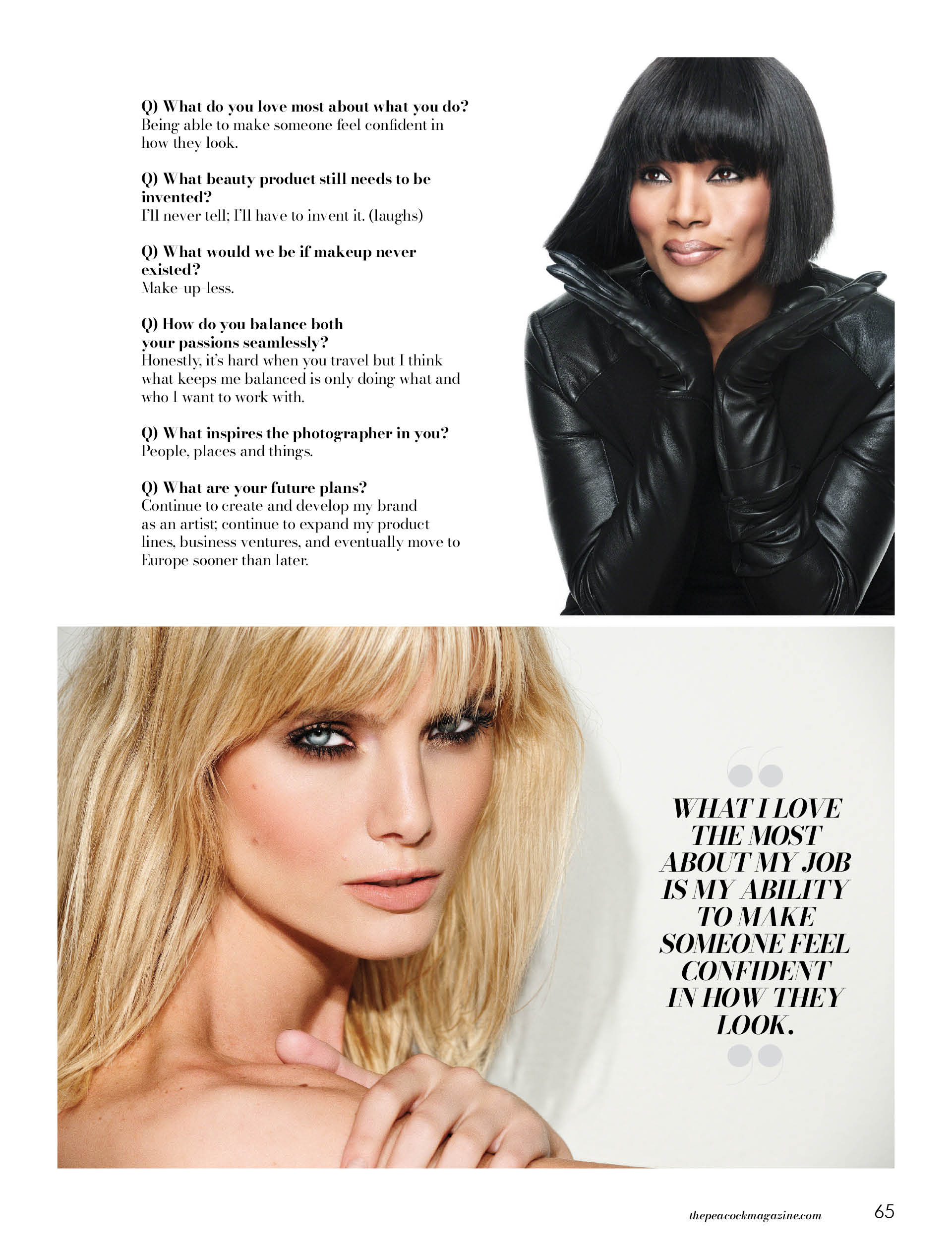 Q) What do you love most about what you do?
Being able to make someone feel confident in how they look.
Q) What beauty product still needs to be invented?
I'll never tell; I'll have to invent it. (laughs)
Q) What would we be if makeup never existed?
Make-up-less.
Q) How do you balance both your passions seamlessly?
Honestly, it's hard when you travel but I think what keeps me balanced is only doing what and who I want to work with.
Q) What inspires the photographer in you?
People, places and things.
Q) What are your future plans?
Continue to create and develop my brand as an artist; continue to expand my product lines, business ventures, and eventually move to Europe sooner than later.