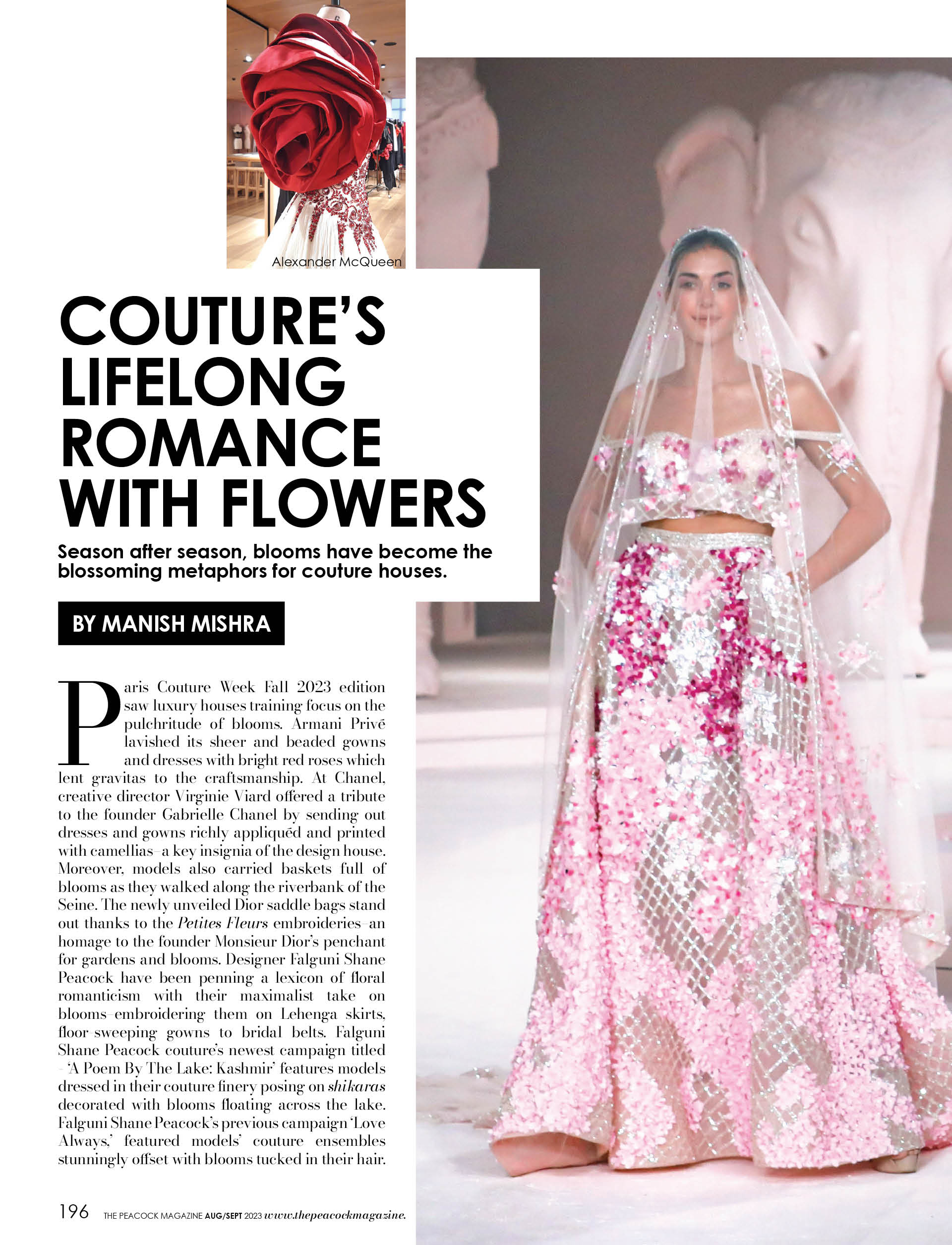 Season after season, blooms have become the blossoming metaphors for couture houses.
-By Manish Mishra

Paris Couture Week Fall 2023 edition saw luxury houses training focus on the pulchritude of blooms. Armani Privé lavished its sheer and beaded gowns and dresses with bright red roses which lent gravitas to the craftsmanship. At Chanel, creative director Virginie Viard offered a tribute to the founder Gabrielle Chanel by sending out dresses and gowns richly appliquéd and printed with camellias—a key insignia of the design house. Moreover, models also carried baskets full of blooms as they walked along the riverbank of the Seine. The newly unveiled Dior saddle bags stand out thanks to the Petites Fleurs embroideries—an homage to the founder Monsieur Dior's penchant for gardens and blooms. Designer Falguni Shane Peacock have been penning a lexicon of floral romanticism with their maximalist take on blooms—embroidering them on Lehenga skirts, floor-sweeping gowns to bridal belts. Falguni Shane Peacock couture's newest campaign titled – 'A Poem By The Lake: Kashmir' features models dressed in their couture finery posing on shikaras decorated with blooms floating across the lake. Falguni Shane Peacock's previous campaign 'Love Always,' featured models' couture ensembles stunningly offset with blooms tucked in their hair.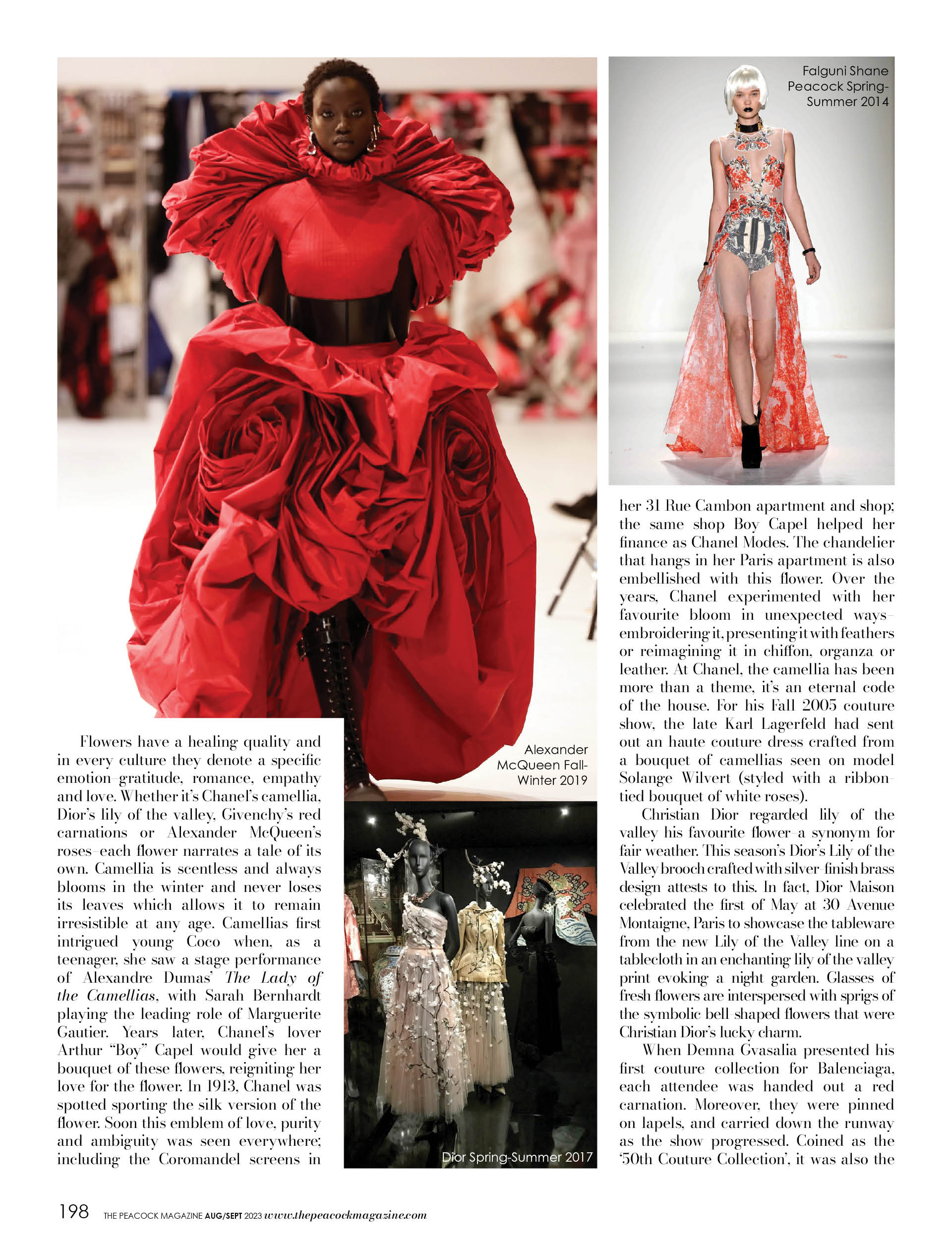 Flowers have a healing quality and in every culture they denote a specific emotion—gratitude, romance, empathy and love. Whether it's Chanel's camellia, Dior's lily of the valley, Givenchy's red carnations or Alexander McQueen's roses—each flower narrates a tale of its own. Camellia is scentless and always blooms in the winter and never loses its leaves which allows it to remain irresistible at any age. Camellias first intrigued young Coco when, as a teenager, she saw a stage performance of Alexandre Dumas' The Lady of the Camellias, with Sarah Bernhardt playing the leading role of Marguerite Gautier. Years later, Chanel's lover Arthur "Boy" Capel would give her a bouquet of these flowers, reigniting her love for the flower. In 1913, Chanel was spotted sporting the silk version of the flower. Soon this emblem of love, purity and ambiguity was seen everywhere; including the Coromandel screens in her 31 Rue Cambon apartment and shop; the same shop Boy Capel helped her finance as Chanel Modes. The chandelier that hangs in her Paris apartment is also embellished with this flower. Over the years, Chanel experimented with her favourite bloom in unexpected ways—embroidering it, presenting it with feathers or reimagining it in chiffon, organza or leather. At Chanel, the camellia has been more than a theme, it's an eternal code of the house. For his Fall 2005 couture show, the late Karl Lagerfeld had sent out an haute couture dress crafted from a bouquet of camellias seen on model Solange Wilvert (styled with a ribbon-tied bouquet of white roses).
Christian Dior regarded lily of the valley his favourite flower—a synonym for fair weather. This season's Dior's Lily of the Valley brooch crafted with silver-finish brass design attests to this. In fact, Dior Maison celebrated the first of May at 30 Avenue Montaigne, Paris to showcase the tableware from the new Lily of the Valley line on a tablecloth in an enchanting lily of the valley print evoking a night garden. Glasses of fresh flowers are interspersed with sprigs of the symbolic bell-shaped flowers that were Christian Dior's lucky charm.
When Demna Gvasalia presented his first couture collection for Balenciaga, each attendee was handed out a red carnation. Moreover, they were pinned on lapels, and carried down the runway as the show progressed. Coined as the '50th Couture Collection', it was also the maison's first couture show since Cristóbal Balenciaga retired in 1968.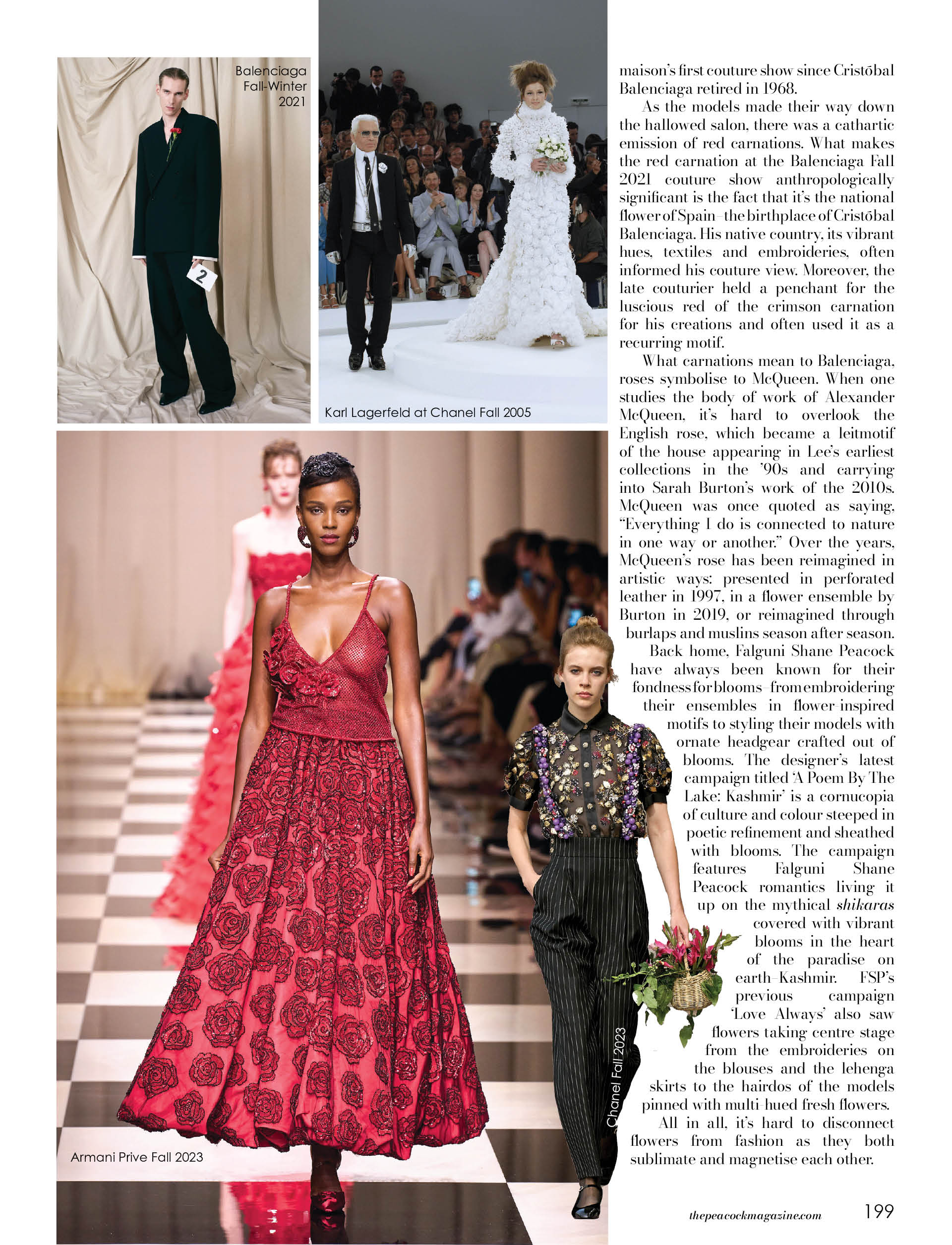 As the models made their way down the hallowed salon, there was a cathartic emission of red carnations. What makes the red carnation at the Balenciaga Fall 2021 couture show anthropologically significant is the fact that it's the national flower of Spain—the birthplace of Cristóbal Balenciaga. His native country, its vibrant hues, textiles and embroideries, often informed his couture view. Moreover, the late couturier held a penchant for the luscious red of the crimson carnation for his creations and often used it as a recurring motif.
What carnations mean to Balenciaga, roses symbolise to McQueen. When one studies the body of work of Alexander McQueen, it's hard to overlook the English rose, which became a leitmotif of the house appearing in Lee's earliest collections in the '90s and carrying into Sarah Burton's work of the 2010s. McQueen was once quoted as saying, "Everything I do is connected to nature in one way or another." Over the years, McQueen's rose has been reimagined in artistic ways: presented in perforated leather in 1997, in a flower ensemble by Burton in 2019, or reimagined through burlaps and muslins season after season.
Back home, Falguni Shane Peacock have always been known for their fondness for blooms—from embroidering their ensembles in flower-inspired motifs to styling their models with ornate headgear crafted out of blooms. The designer's latest campaign titled 'A Poem By The Lake: Kashmir' is a cornucopia of culture and colour steeped in poetic refinement and sheathed with blooms. The campaign features Falguni Shane Peacock romantics living it up on the mythical shikaras covered with vibrant blooms in the heart of the paradise on earth—Kashmir. FSP's previous campaign 'Love Always' also saw flowers taking centre stage – from the embroideries on the blouses and the lehenga skirts to the hairdos of the models pinned with multi-hued fresh flowers.
All in all, it's hard to disconnect flowers from fashion as they both sublimate and magnetise each other.