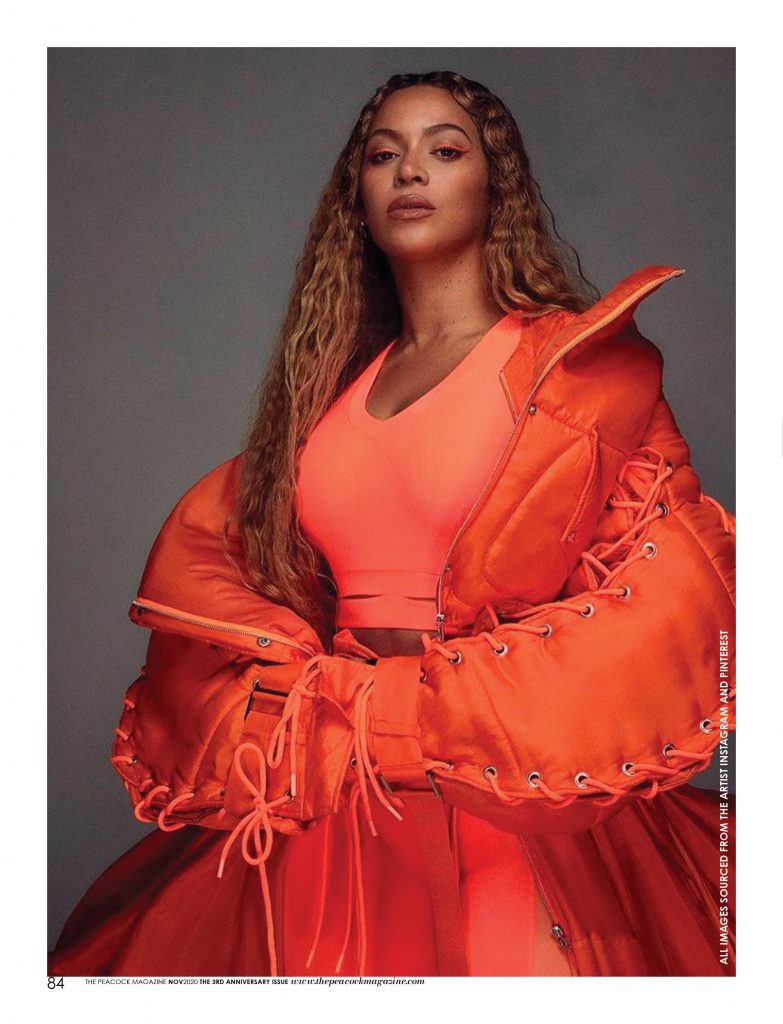 CREDITS-
IMAGES ARTIST'S OWN.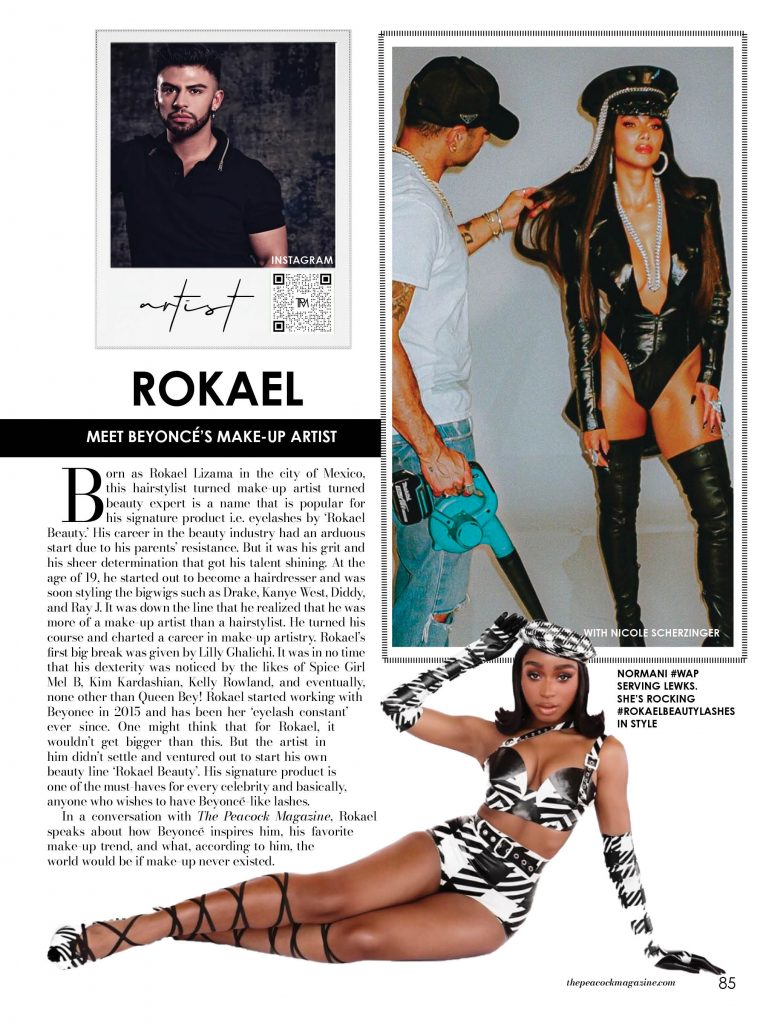 Born as Rokael Lizama in the city of Mexico, this hairstylist turned make-up artist turned beauty expert is a name that is popular for his signature product i.e. eyelashes by 'Rokael Beauty.' His career in the beauty industry had an arduous start due to his parents' resistance. But it was his grit and his sheer determination that got his talent shining. At the age of 19, Rokael started out to become a hairdresser and was soon styling the bigwigs such as Drake, Kanye West, Diddy, and Ray J. It was down the line that he realized that he was more of a make-up artist than a hairstylist. He turned his course and charted a career in make-up artistry. Rokael's first big break was given by Lilly Ghalichi. It was in no time that his dexterity was noticed by the likes of Spice Girl Mel B, Kim Kardashian, Kelly Rowland, and eventually, none other than Queen Bey! Rokael started working with Beyonce in 2015 and has been her 'eyelash constant' ever since. One might think that for Rokael, it wouldn't get bigger than this. But the artist in him didn't settle and ventured out to start his own beauty line 'Rokael Beauty'. His signature product is one of the must-haves for every celebrity and basically, anyone who wishes to have Beyonce like lashes.
In a conversation with 'The Peacock Magazine,' Rokael speaks about how Beyonce inspires him, his favorite make-up trend, and what, according to him, the world would be if make-up never existed.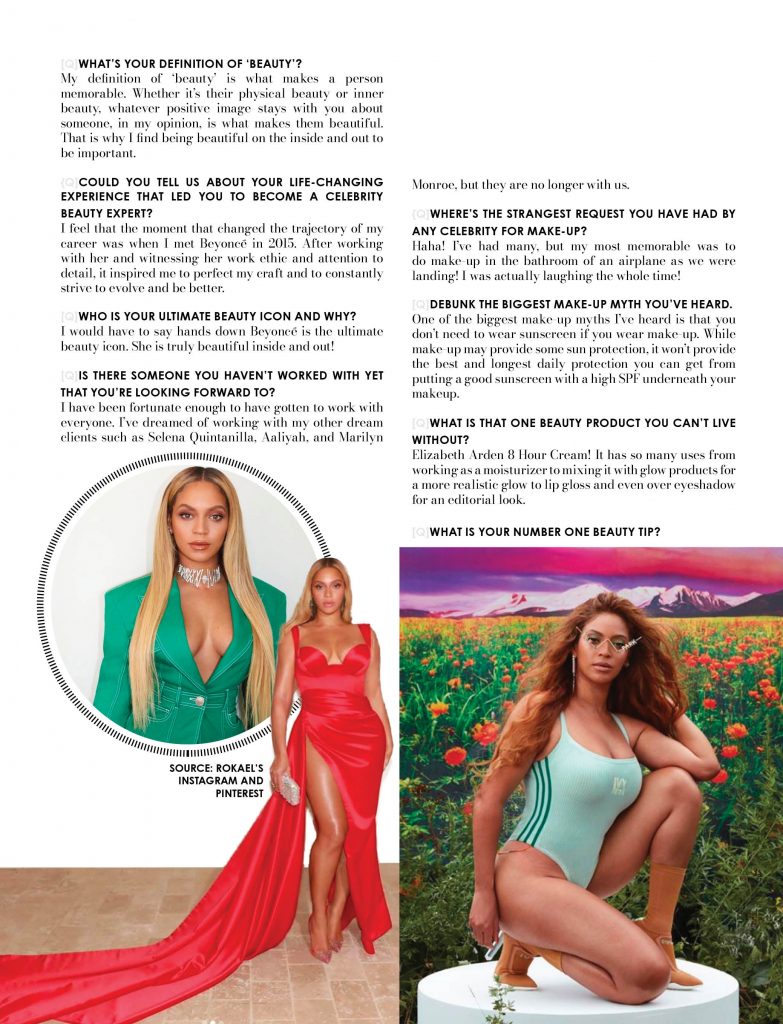 [Q] What's your definition of 'Beauty'?
My definition of 'Beauty' is what makes a person memorable. Whether it's their physical beauty or inner beauty, whatever positive image stays with you about someone, in my opinion, is what makes them beautiful. That is why I find being beautiful on the inside and out to be important.
[Q] Tell us about your life-changing experience that led you to become a celebrity beauty expert.
I feel that the moment that changed the trajectory of my career was when I met Beyonce in 2015. After working with her and witnessing her work ethic and attention to detail, it inspired me to perfect my craft and to constantly strive to evolve and be better.
[Q] Who is your ultimate beauty icon and why?
I would have to say hands down Beyonce is the ultimate beauty icon. She is truly beautiful inside and out!
[Q] Is there someone you haven't worked with yet that you're looking forward to?
I have been fortunate enough to have gotten to work with everyone. I've dreamed of working with my other dream clients such as Selena Quintanilla, Aaliyah, and Marilyn Monroe, but they are no longer with us.
[Q] Where's the strangest request you have had by any celebrity for make-up?
Haha! I've had many, but my most memorable was to do make-up in the bathroom of an airplane as we were landing! I was actually laughing the whole time!
[Q] Debunk the biggest make-up myth you've heard.
One of the biggest make-up myths I've heard is that you don't need to wear sunscreen if you wear make-up. While make-up may provide some sun protection, it won't provide the best and longest daily protection you can get from putting a good sunscreen with a high SPF underneath your makeup.
[Q] What is that one beauty product you can't live without?
Elizabeth Arden 8 Hour Cream! It has so many uses from working as a moisturizer to mixing it with glow products for a more realistic glow to lip gloss and even over eyeshadow for an editorial look.
[Q] What is your number one beauty tip?
Drink lots of water! Our bodies are made up of almost 60% water. So, when you lack hydration in your body, it usually shows through your skin, and that means you would need more make-up to hide it. So, for a more beautiful make-up look, hydrated skin is a must!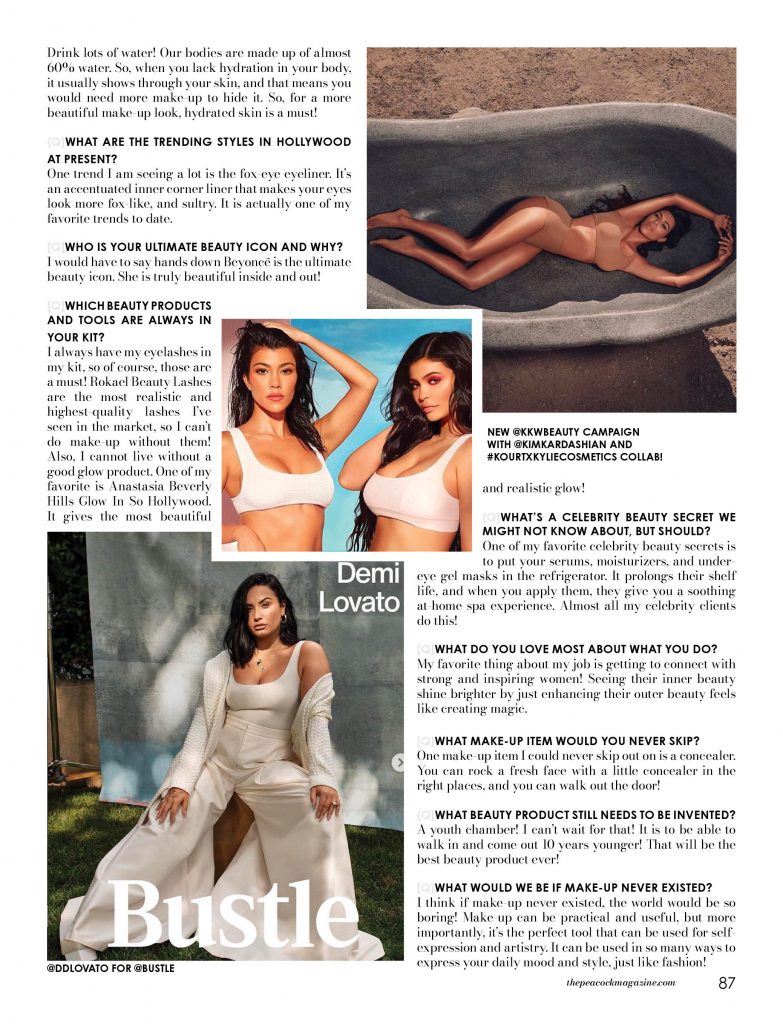 [Q] What are the trending styles in Hollywood at present?
One trend I am seeing a lot is the Fox-Eye eyeliner. It's an accentuated inner corner liner that makes your eyes look more fox-like, and sultry. It is actually one of my favorite trends to date.
[Q] Which beauty products and tools are always in your kit?
I always have my eyelashes in my kit, so of course, those are a must! Rokael Beauty Lashes are the most realistic and highest quality lashes I've seen in the market, so I can't do make-up without them! Also, I cannot live without a good glow product. One of my favorite is Anastasia Beverly Hills Glow In So Hollywood. It gives the most beautiful and realistic glow!
[Q] What's a celebrity beauty secret we might not know about, but should?
One of my favorite celebrity beauty secrets is to put your serums, moisturizers, and under-eye gel masks in the refrigerator. It prolongs their shelf life, and when you apply them, they give you a soothing at-home spa experience. Almost all my celebrity clients do this!
[Q] What do you love most about what you do?
My favorite thing about my job is getting to connect with strong and inspiring women! Seeing their inner beauty shine brighter by just enhancing their outer beauty feels like creating magic.
[Q] What make-up item would you never skip?
One make-up item I could never skip out on is concealer. You can rock a fresh face with a little concealer in the right places, and you can walk out the door!
[Q] What beauty product still needs to be invented?
A youth chamber! I can't wait for that! It is to be able to walk in and come out ten years younger! That will be the best beauty product ever!
[Q] What would we be if make-up never existed?
I think if make-up never existed, the world would be so boring! Make-up can be practical and useful, but more importantly, it's the perfect tool that can be used for self-expression and artistry. It can be used in so many ways to express your daily mood and style, just like fashion!