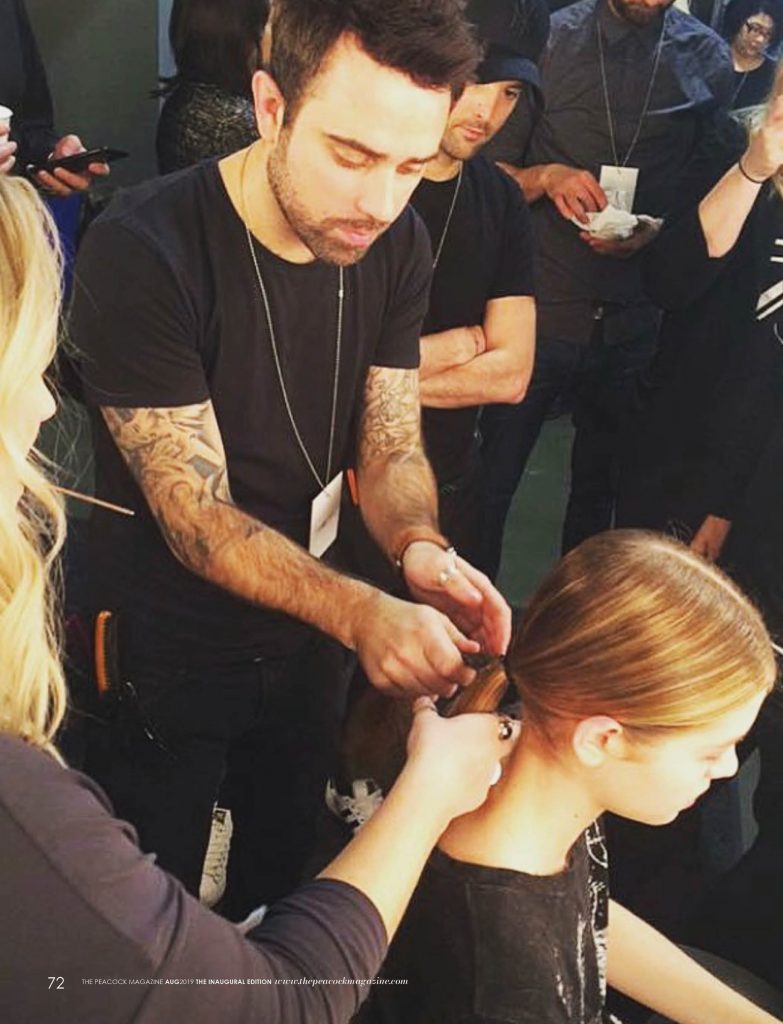 CREDITS-
IMAGES ARTIST'S OWN.

Renowned hair artist Mathew Curtis is a beauty industry veteran with a professional experience of many, many years. Mathew's profile doesn't just limit him to a hair artist but expands even to runway and celebrity stylist. Nicknamed as the 'mane man' for most of the high-profile events globally, Mathew's magic with hair is a wide written about. Matthew is the go-to choice for many 'A' list celebrities across fashion, films, and television. He has worked with several brands in his career so far, but his forte lies with runway shows and fashion films. A known name in the New York Fashion Week circuit, Curtis has given hair makeovers that are some of the best-seen looks at the fashion week.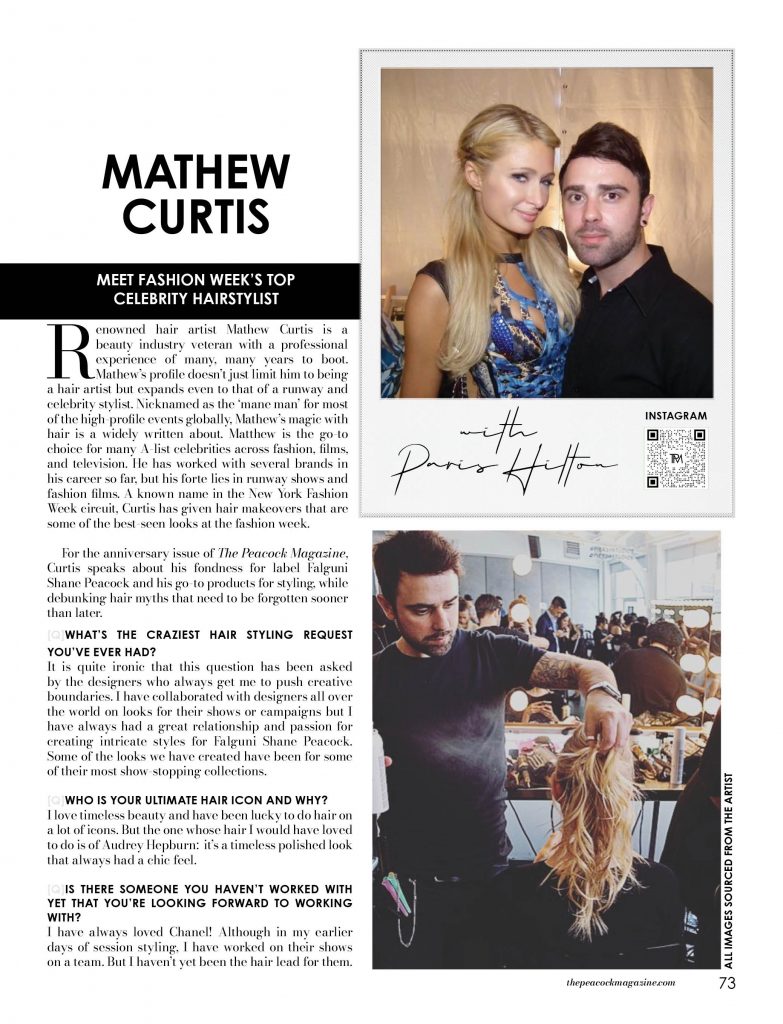 For the anniversary issue of 'The Peacock Magazine,' Curtis speaks about his fondness for label Falguni Shane Peacock, his go-to products for styling and debunking hair myths that need to be forgotten sooner than later.

[Q] What's the craziest hair styling request you've ever had?
It is quite ironic that this question has been asked by the designers who always get me to push creative boundaries. I have collaborated with designers all over the world on looks for their shows or campaigns but I have always had a great relationship and passion for creating intricate styles for Falguni Shane Peacock. Some of the looks we have created have been on some of their most show-stopping collections.
[Q] Who is your ultimate hair icon and why?
I love timeless beauty and have been lucky to do hair on a lot of icons. But the one whose hair I would have loved to do is of Audrey Hepburn – it's a timeless polished look that always had a chic feel.
[Q] Is there someone you haven't worked with yet that you're looking forward to working with?
I have always loved Chanel! Although in my earlier days of session styling, I have worked on their shows on a team. But I haven't yet been the hair lead for them.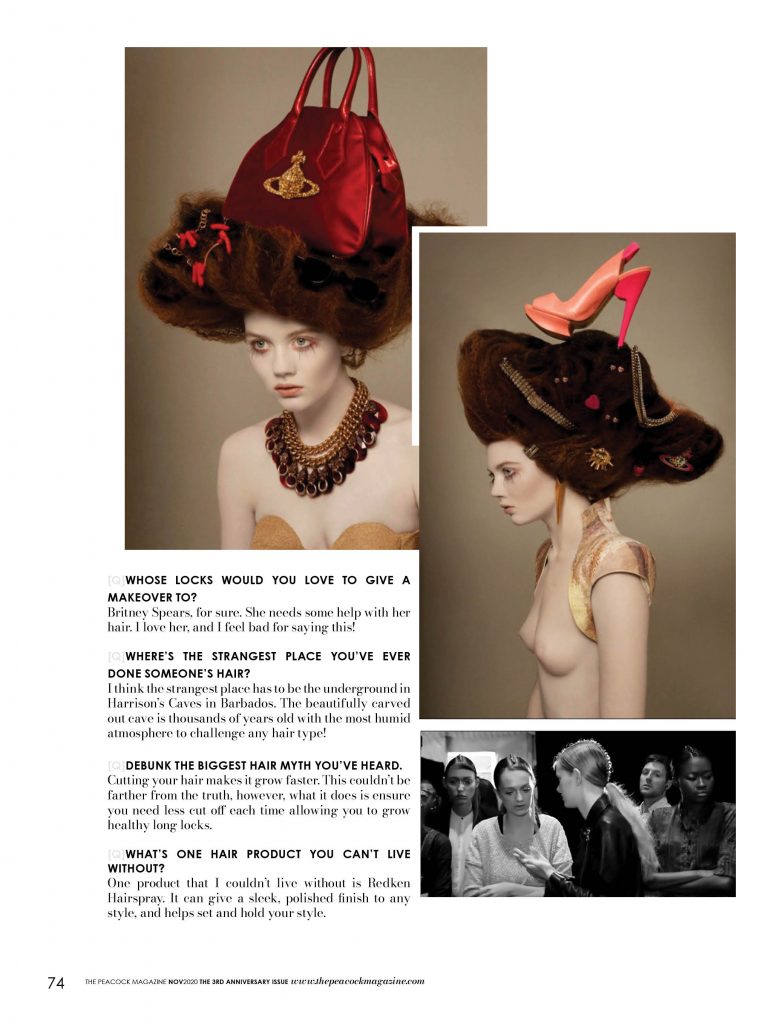 [Q] Whose locks would you love to give a makeover to?
Britney Spears, for sure. She needs some help with her hair. I love her, though I feel bad saying this!
[Q] Where's the strangest place you've ever done someone's hair?
I think the strangest place has to be the underground in Harrison's Caves in Barbados. The beautifully carved out cave is thousands of years old with the most humid atmosphere to challenge any hair type!
[Q] Debunk the biggest hair myth you've heard.
Cutting your hair makes it grow faster. This couldn't be further from the truth, however, what it does is ensure you need less cut off each time allowing you to grow healthy long locks.
[Q] What's one hair product you can't live without?
One product that I couldn't live without is Redken Hairspray. It can give a sleek, polished finish to any style, and helps set and hold your style.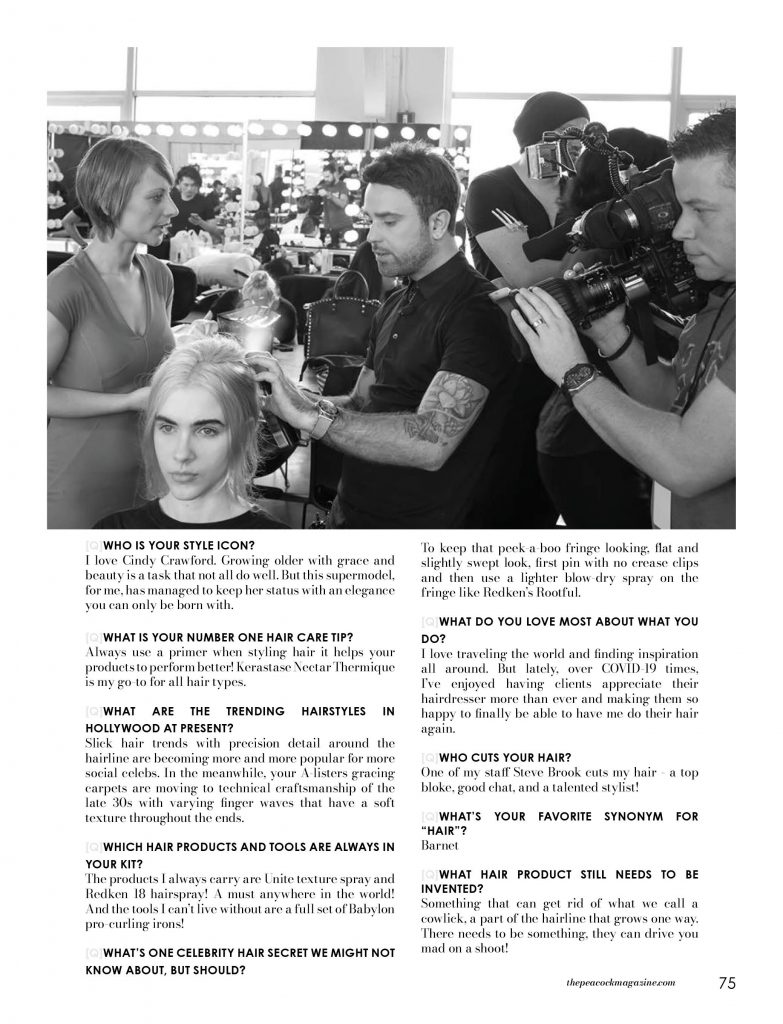 [Q] Who is your style icon?
I love Cindy Crawford. Growing older with grace and beauty is a task that not all do well. But this supermodel, for me, has managed to keep her status with an elegance you can only be born with.
[Q] What is your number one hair care tip?
Always use a primer when styling hair it helps your products to perform better! Kerastase Nectar Thermique is my go-to for all hair types.
[Q] What are the trending hairstyles in Hollywood at present?
Slick hair trends with precision detail around the hairline are becoming more and more popular for more social celebs. In the meanwhile, your A-listers gracing carpets are moving to technical craftsmanship of the late 30s with varying finger waves that have a soft texture throughout the ends.
[Q] Which hair products and tools are always in your kit?
The products I always carry are – Unite texture spray and Redken 18 hairspray! A must anywhere in the world! And the tools I can't live without are a full set of Babylon pro-curling irons!
[Q] What's one celebrity hair secret we might not know about, but should?
To keep that peek-a-boo fringe looking, flat and slightly swept look, first pin with no crease clips and then use a lighter blow-dry spray on the fringe like Redken's Rootful.
[Q] What do you love most about what you do?
I love traveling the world and finding inspiration all around. But lately, over COVID-19 times, I've enjoyed having clients appreciate their hairdresser more than ever and making them so happy to finally be able to have me do their hair again.
[Q] Who cuts your hair?
One of my staff Steve Brook cuts my hair – a top bloke, good chat, and a talented stylist!
[Q] What's your favorite synonym for "hair"?
Barnet
[Q] What hair product still needs to be invented?
Something that can get rid of what we call a cowlick – a part of the hairline that grows one way. There needs to be something, they can drive you mad on a shoot!