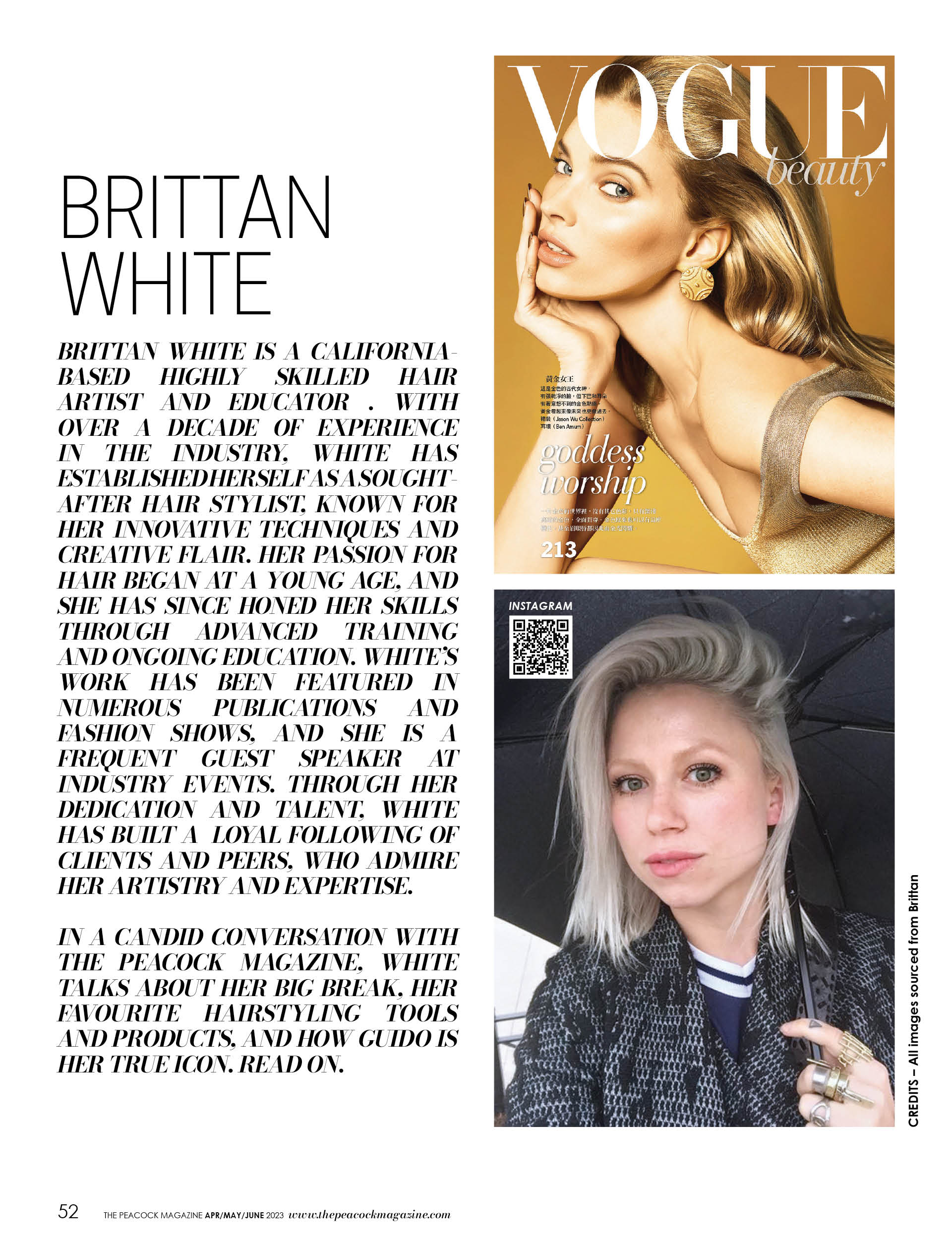 CREDITS: All images sourced from Brittan
Brittan White is a California-based highly skilled hair artist and educator . With over a decade of experience in the industry, White has established herself as a sought-after hair stylist, known for her innovative techniques and creative flair. Her passion for hair began at a young age, and she has since honed her skills through advanced training and ongoing education. White's work has been featured in numerous publications and fashion shows, and she is a frequent guest speaker at industry events. Through her dedication and talent, White has built a loyal following of clients and peers, who admire her artistry and expertise.
In a candid conversation with The Peacock Magazine, White talks about her big break, her favourite hairstyling tools and products, and how Guido is her true icon. Read on.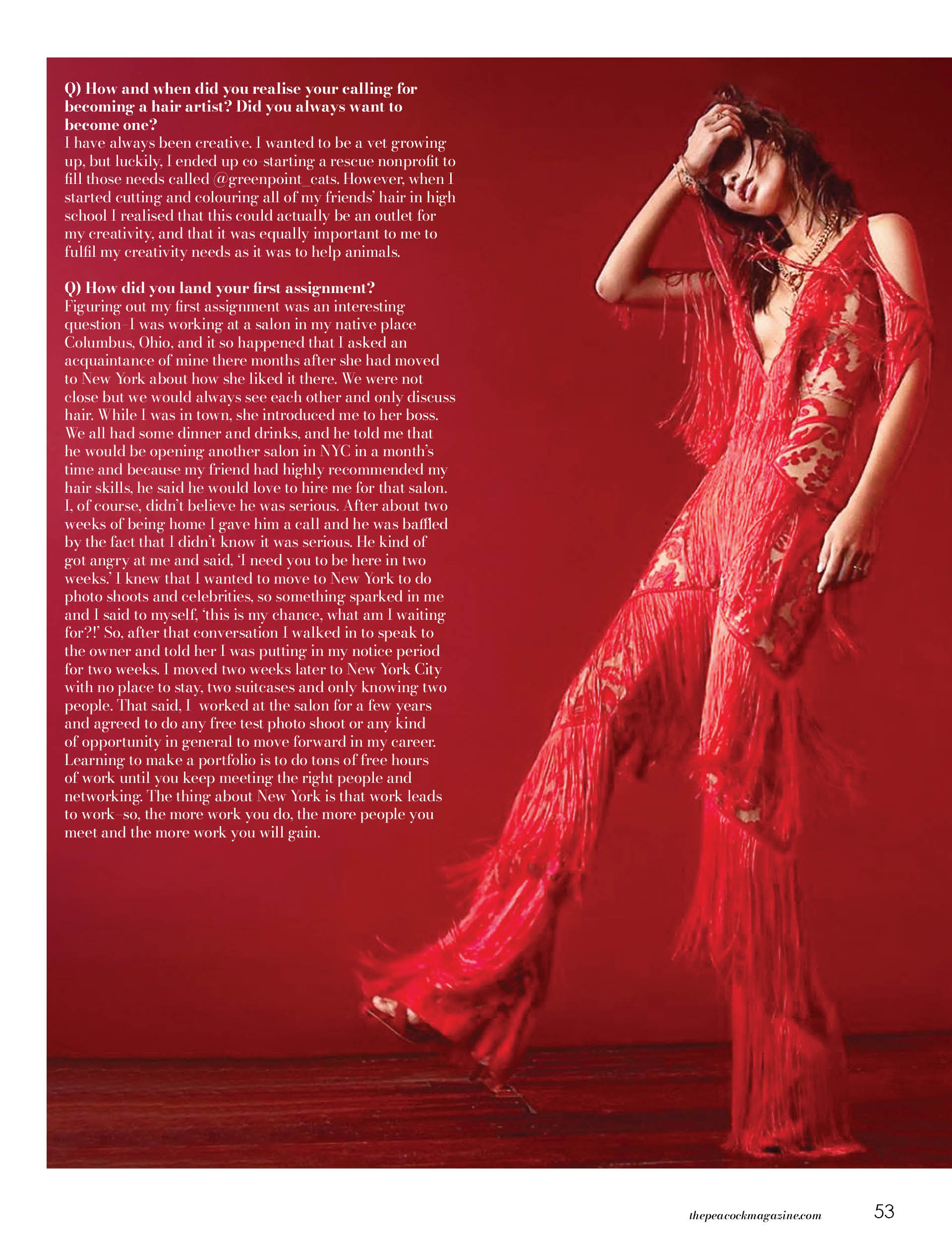 Q) How and when did you realise your calling for becoming a hair artist? Did you always want to become one?
I have always been creative. I wanted to be a vet growing up, but luckily, I ended up co-starting a rescue nonprofit to fill those needs called @greenpoint_cats. However, when I started cutting and colouring all of my friends' hair in high school I realised that this could actually be an outlet for my creativity, and that it was equally important to me to fulfil my creativity needs as it was to help animals.
Q) How did you land your first assignment?
Figuring out my first assignment was an interesting question—I was working at a salon in my native place Columbus, Ohio, and it so happened that I asked an acquaintance of mine there months after she had moved to New York about how she liked it there. We were not close but we would always see each other and only discuss hair. While I was in town, she introduced me to her boss. We all had some dinner and drinks, and he told me that he would be opening another salon in NYC in a month's time and because my friend had highly recommended my hair skills, he said he would love to hire me for that salon. I, of course, didn't believe he was serious. After about two weeks of being home I gave him a call and he was baffled by the fact that I didn't know it was serious. He kind of got angry at me and said, 'I need you to be here in two weeks.' I knew that I wanted to move to New York to do photo shoots and celebrities, so something sparked in me and I said to myself, 'this is my chance, what am I waiting for?!' So, after that conversation I walked in to speak to the owner and told her I was putting in my notice period for two weeks. I moved two weeks later to New York City with no place to stay, two suitcases and only knowing two people. That said, I worked at the salon for a few years and agreed to do any free test photo shoot or any kind of opportunity in general to move forward in my career. Learning to make a portfolio is to do tons of free hours of work until you keep meeting the right people and networking. The thing about New York is that work leads to work—so, the more work you do, the more people you meet and the more work you will gain.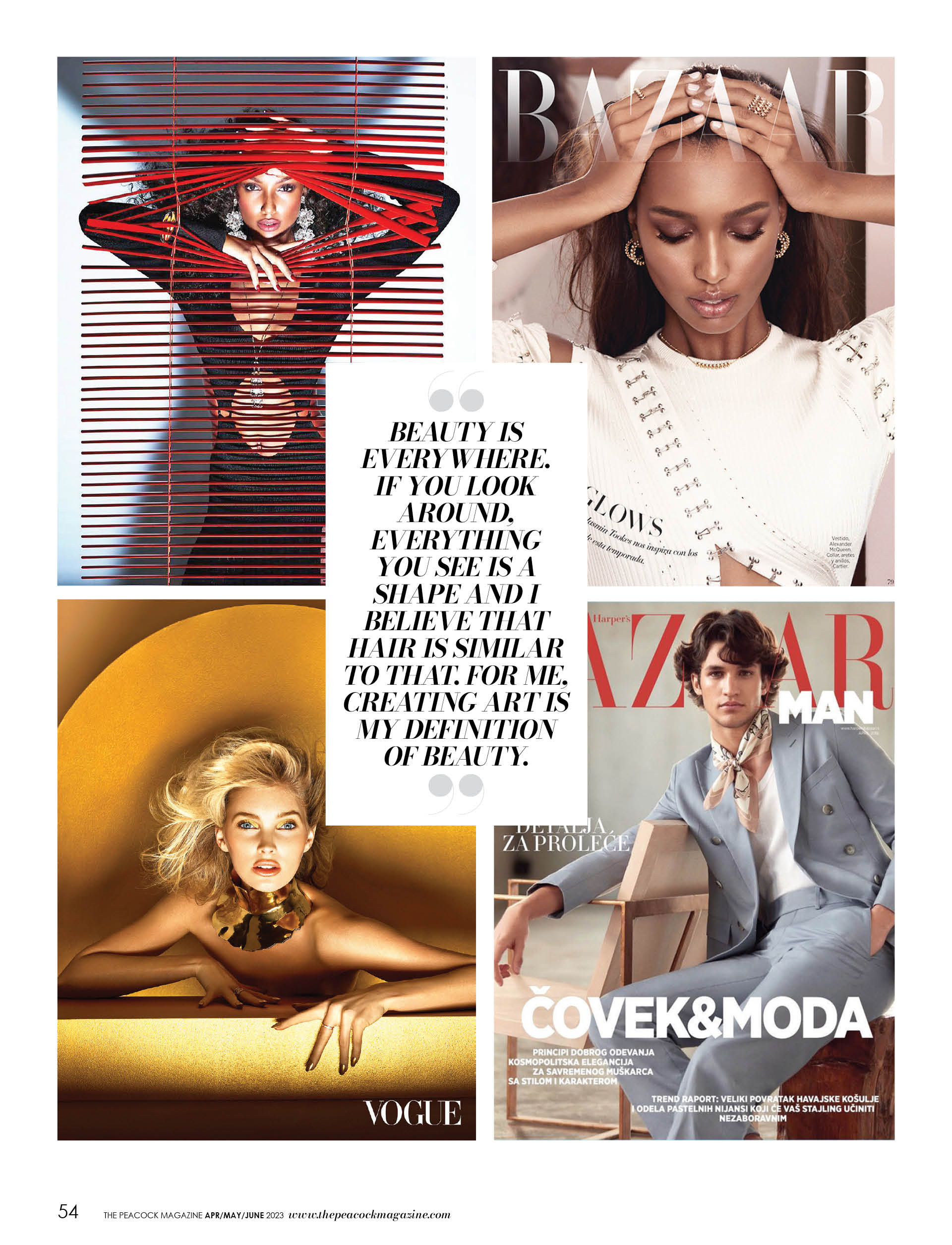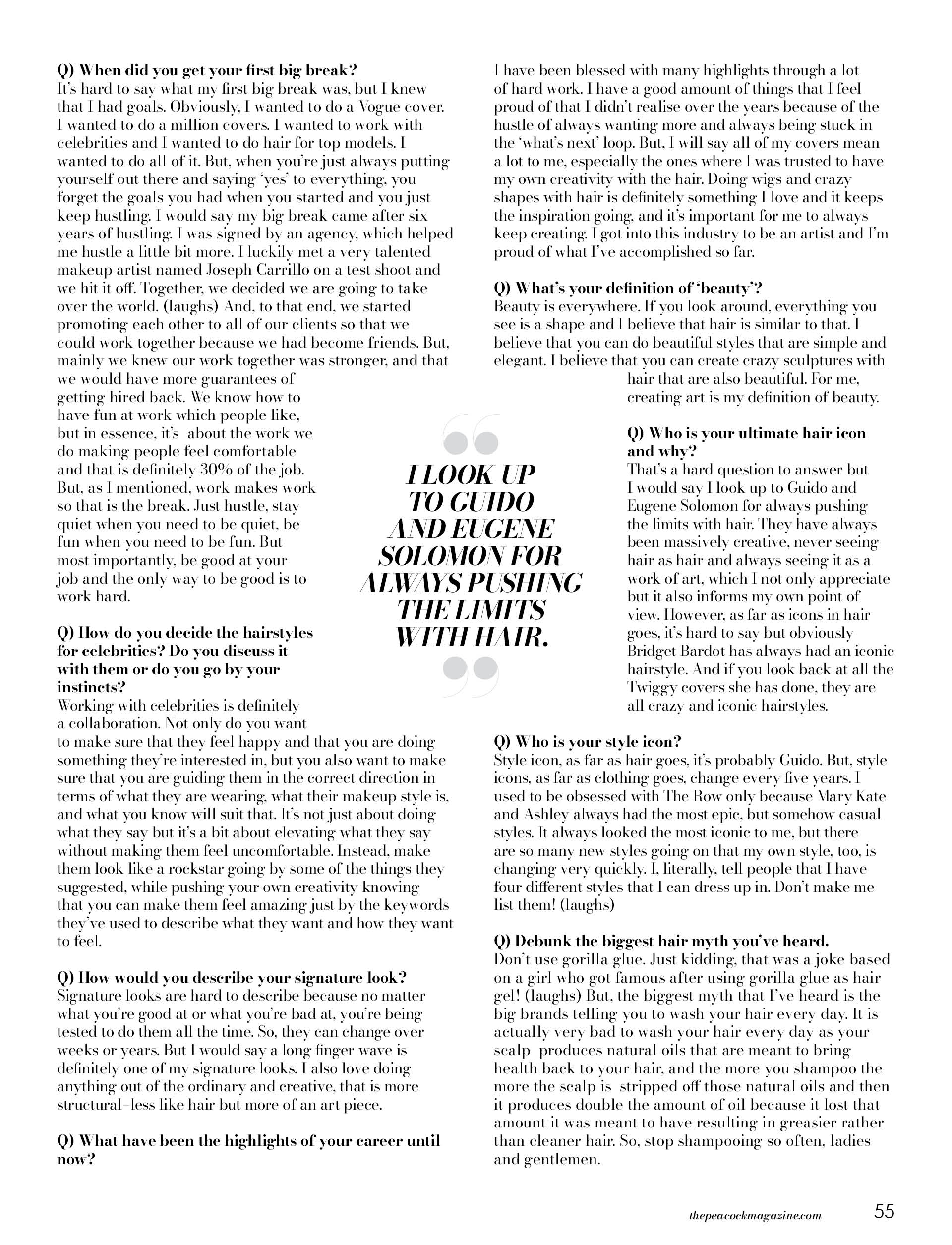 Q) When did you get your first big break?
It's hard to say what my first big break was, but I knew that I had goals. Obviously, I wanted to do a Vogue cover. I wanted to do a million covers. I wanted to work with celebrities and I wanted to do hair for top models. I wanted to do all of it. But, when you're just always putting yourself out there and saying 'yes' to everything, you forget the goals you had when you started and you just keep hustling. I would say my big break came after six years of hustling. I was signed by an agency, which helped me hustle a little bit more. I luckily met a very talented makeup artist named Joseph Carrillo on a test shoot and we hit it off. Together, we decided we are going to take over the world. (laughs) And, to that end, we started promoting each other to all of our clients so that we could work together because we had become friends. But, mainly we knew our work together was stronger, and that we would have more guarantees of getting hired back. We know how to have fun at work which people like, but in essence, it's about the work we do making people feel comfortable and that is definitely 30% of the job. But, as I mentioned, work makes work so that is the break. Just hustle, stay quiet when you need to be quiet, be fun when you need to be fun. But most importantly, be good at your job and the only way to be good is to work hard.
Q) How do you decide the hairstyles for celebrities? Do you discuss it with them or do you go by your instincts?
Working with celebrities is definitely a collaboration. Not only do you want to make sure that they feel happy and that you are doing something they're interested in, but you also want to make sure that you are guiding them in the correct direction in terms of what they are wearing, what their makeup style is, and what you know will suit that. It's not just about doing what they say but it's a bit about elevating what they say without making them feel uncomfortable. Instead, make them look like a rockstar going by some of the things they suggested, while pushing your own creativity knowing that you can make them feel amazing just by the keywords they've used to describe what they want and how they want to feel.
Q) How would you describe your signature look?
Signature looks are hard to describe because no matter what you're good at or what you're bad at, you're being tested to do them all the time. So, they can change over weeks or years. But I would say a long finger wave is definitely one of my signature looks. I also love doing anything out of the ordinary and creative, that is more structural—less like hair but more of an art piece.
Q) What have been the highlights of your career until now?
I have been blessed with many highlights through a lot of hard work. I have a good amount of things that I feel proud of that I didn't realise over the years because of the hustle of always wanting more and always being stuck in the 'what's next' loop. But, I will say all of my covers mean a lot to me, especially the ones where I was trusted to have my own creativity with the hair. Doing wigs and crazy shapes with hair is definitely something I love and it keeps the inspiration going, and it's important for me to always keep creating. I got into this industry to be an artist and I'm proud of what I've accomplished so far.
Q) What's your definition of 'beauty'?
Beauty is everywhere. If you look around, everything you see is a shape and I believe that hair is similar to that. I believe that you can do beautiful styles that are simple and elegant. I believe that you can create crazy sculptures with hair that are also beautiful. For me, creating art is my definition of beauty.
Q) Who is your ultimate hair icon and why?
That's a hard question to answer but I would say I look up to Guido and Eugene Solomon for always pushing the limits with hair. They have always been massively creative, never seeing hair as hair and always seeing it as a work of art, which I not only appreciate but it also informs my own point of view. However, as far as icons in hair goes, it's hard to say but obviously Bridget Bardot has always had an iconic hairstyle. And if you look back at all the Twiggy covers she has done, they are all crazy and iconic hairstyles.
Q) Who is your style icon?
Style icon, as far as hair goes, it's probably Guido. But, style icons, as far as clothing goes, change every five years. I used to be obsessed with The Row only because Mary Kate and Ashley always had the most epic, but somehow casual styles. It always looked the most iconic to me, but there are so many new styles going on that my own style, too, is changing very quickly. I, literally, tell people that I have four different styles that I can dress up in. Don't make me list them! (laughs)
Q) Debunk the biggest hair myth you've heard.
Don't use gorilla glue. Just kidding, that was a joke based on a girl who got famous after using gorilla glue as hair gel! (laughs) But, the biggest myth that I've heard is the big brands telling you to wash your hair every day. It is actually very bad to wash your hair every day as your scalp produces natural oils that are meant to bring health back to your hair, and the more you shampoo the more the scalp is stripped off those natural oils and then it produces double the amount of oil because it lost that amount it was meant to have resulting in greasier rather than cleaner hair. So, stop shampooing so often, ladies and gentlemen.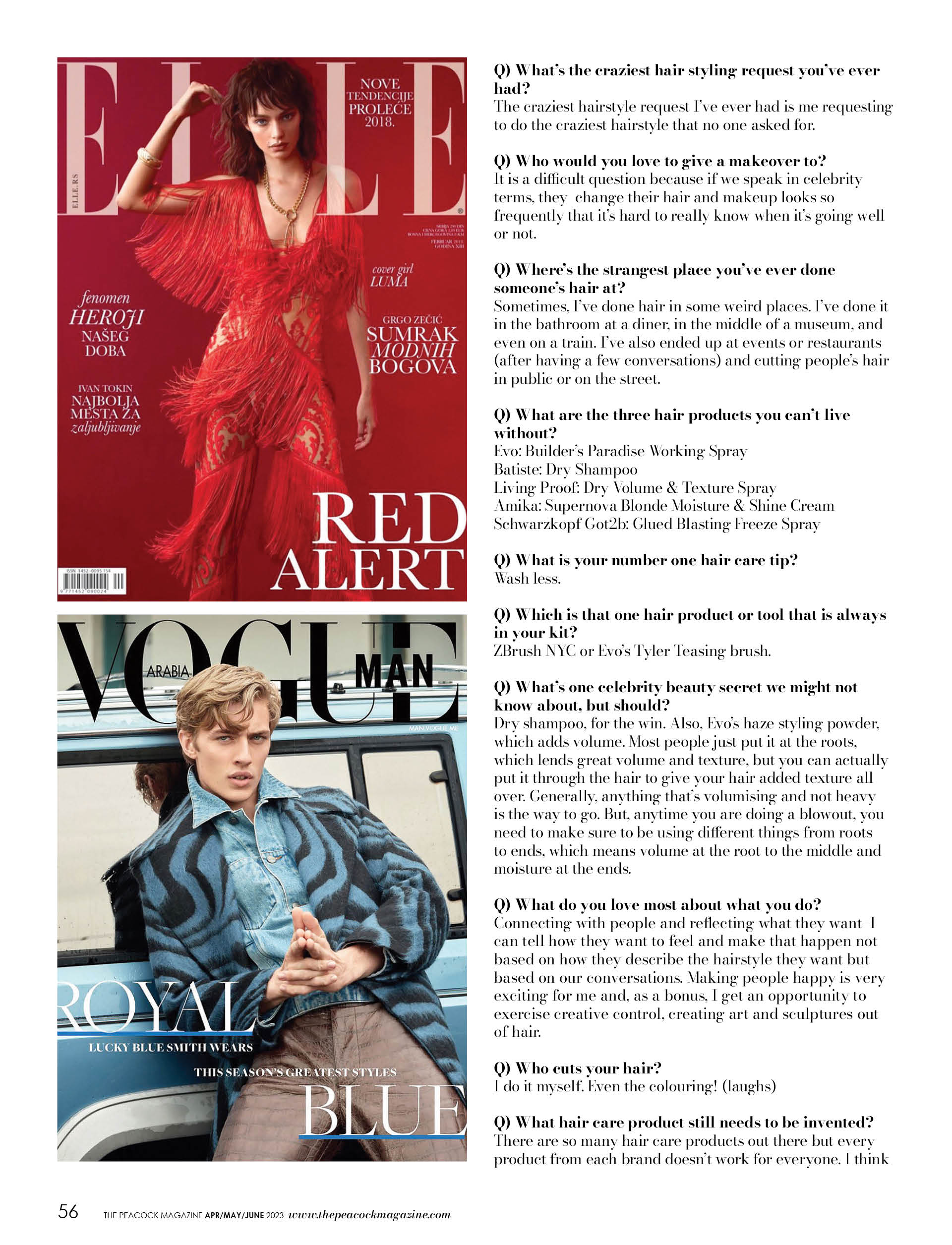 Q) What's the craziest hair styling request you've ever had?
The craziest hairstyle request I've ever had is me requesting to do the craziest hairstyle that no one asked for.
Q) Who would you love to give a makeover to?
It is a difficult question because if we speak in celebrity terms, they change their hair and makeup looks so frequently that it's hard to really know when it's going well or not.
Q) Where's the strangest place you've ever done someone's hair at?
Sometimes, I've done hair in some weird places. I've done it in the bathroom at a diner, in the middle of a museum, and even on a train. I've also ended up at events or restaurants (after having a few conversations) and cutting people's hair in public or on the street.
Q) What are the three hair products you can't live without?
Evo: Builder's Paradise Working Spray
Batiste: Dry Shampoo
Living Proof: Dry Volume & Texture Spray
Amika: Supernova Blonde Moisture & Shine Cream
Schwarzkopf Got2b: Glued Blasting Freeze Spray
Q) What is your number one hair care tip?
Wash less.
Q) Which is that one hair product or tool that is always in your kit?
ZBrush NYC or Evo's Tyler Teasing brush.
Q) What's one celebrity beauty secret we might not know about, but should?
Dry shampoo, for the win. Also, Evo's haze styling powder, which adds volume. Most people just put it at the roots, which lends great volume and texture, but you can actually put it through the hair to give your hair added texture all over. Generally, anything that's volumising and not heavy is the way to go. But, anytime you are doing a blowout, you need to make sure to be using different things from roots to ends, which means volume at the root to the middle and moisture at the ends.
Q) What do you love most about what you do?
Connecting with people and reflecting what they want—I can tell how they want to feel and make that happen not based on how they describe the hairstyle they want but based on our conversations. Making people happy is very exciting for me and, as a bonus, I get an opportunity to exercise creative control, creating art and sculptures out of hair.
Q) Who cuts your hair?
I do it myself. Even the colouring! (laughs)
Q) What hair care product still needs to be invented?
There are so many hair care products out there but every product from each brand doesn't work for everyone. I think that it's not really about a hair care product that needs to be invented, it's about making sure that you're not sticking with one brand and really finding what's right for your hair.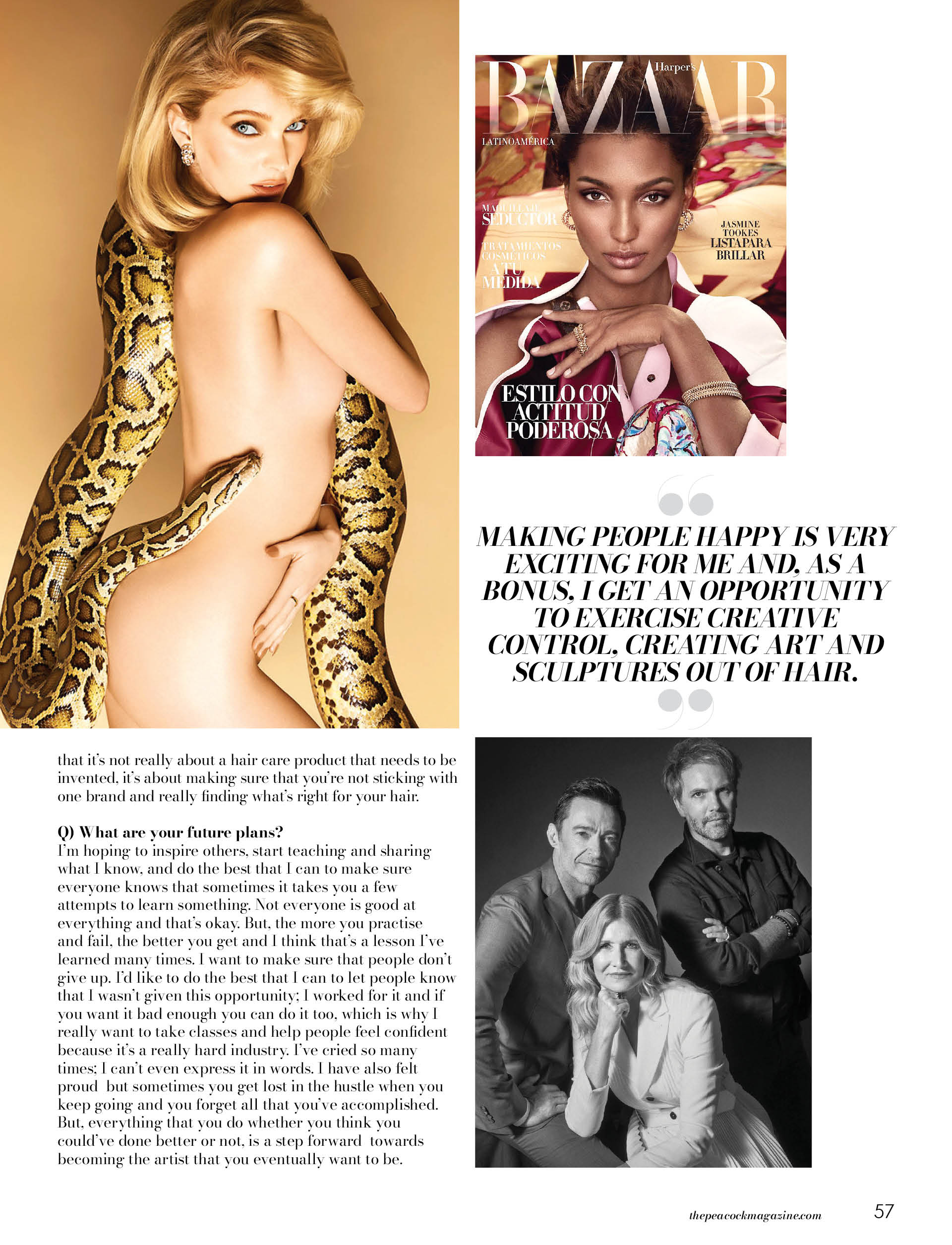 Q) What are your future plans?
I'm hoping to inspire others, start teaching and sharing what I know, and do the best that I can to make sure everyone knows that sometimes it takes you a few attempts to learn something. Not everyone is good at everything and that's okay. But, the more you practise and fail, the better you get and I think that's a lesson I've learned many times. I want to make sure that people don't give up. I'd like to do the best that I can to let people know that I wasn't given this opportunity; I worked for it and if you want it bad enough you can do it too, which is why I really want to take classes and help people feel confident because it's a really hard industry. I've cried so many times; I can't even express it in words. I have also felt proud but sometimes you get lost in the hustle when you keep going and you forget all that you've accomplished. But, everything that you do whether you think you could've done better or not, is a step forward towards becoming the artist that you eventually want to be.