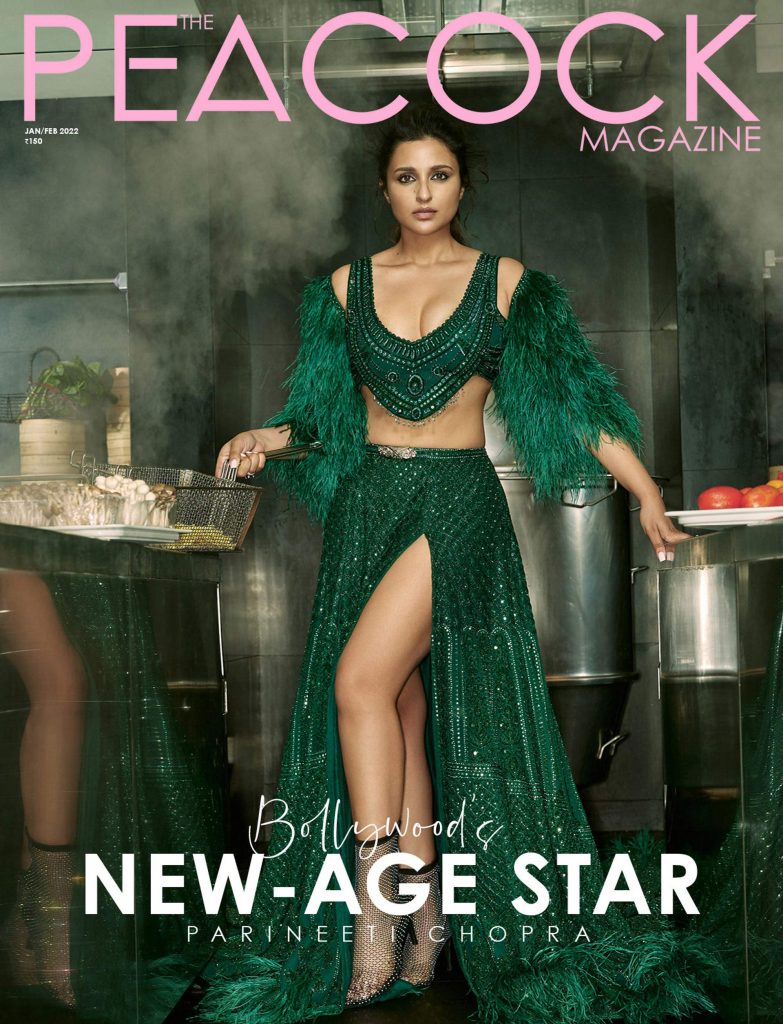 CREDITS –
PHOTOGRAPHER – ABHEET GIDWANI
STYLING – AASTHA SHARMA
ASSISTED BY – REANN MORADIAN AND NIDA SHAH
MAKEUP – MANIASHA
HAIR – GABRIEL GEORGIOU
JEWELLERY – THE HOUSE OF ROSE
SHOES – CHRISTIAN LOUBOUTIN
LOCATION – THE RITZ-CARLTON, PUNE
PRODUCTION – FSP PRODUCTION
WARDROBE – FALGUNI SHANE PEACOCK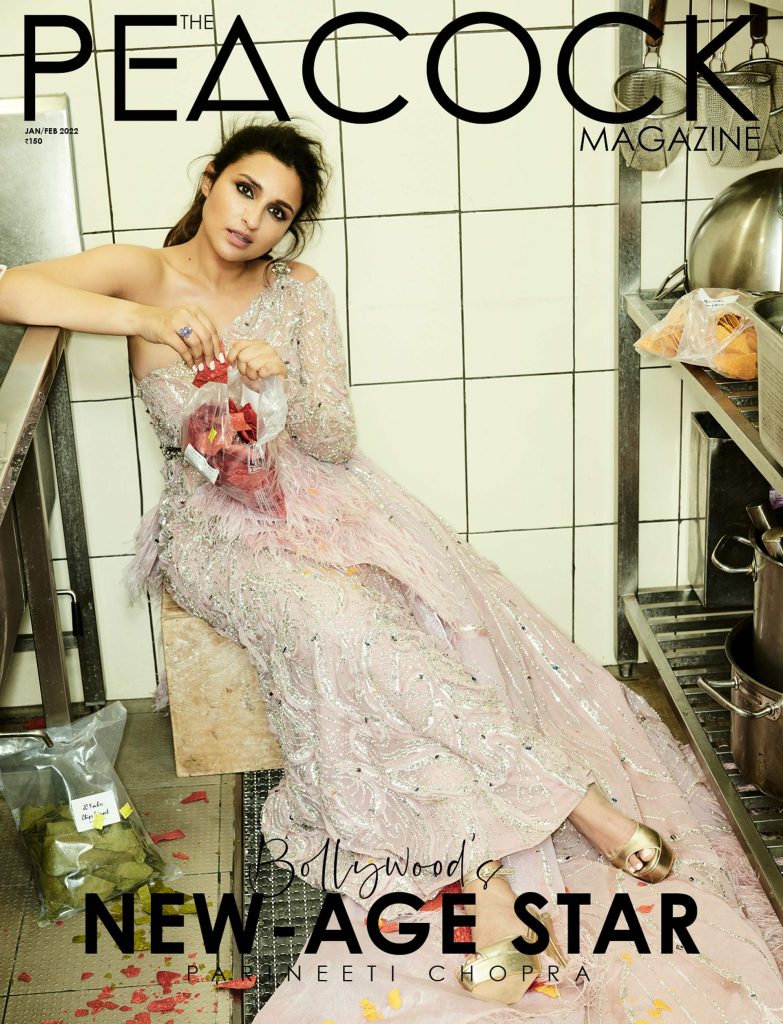 Who gets to be an investment banker, a PR consultant, a successful actor and a new-age star? Well, no other than Parineeti Chopra. Chopra, who has proudly donned multiple hats successfully in the past, is now comfortable in acing experimental roles as an actor. If you run an eye through Chopra's filmography, you'll know that the actor is all about picking roles that are one-of-a-kind. A closer look will tell you that Chopra may have played the girl-next-door in a handful of films, but she has the knack to add an unforgettable element to each of these roles be it in Ladies v/s Ricky Bahl, Hasee Toh Phasee or even Meri Pyaari Bindu. Her choices of movies usually leave you saying 'And she strikes again!'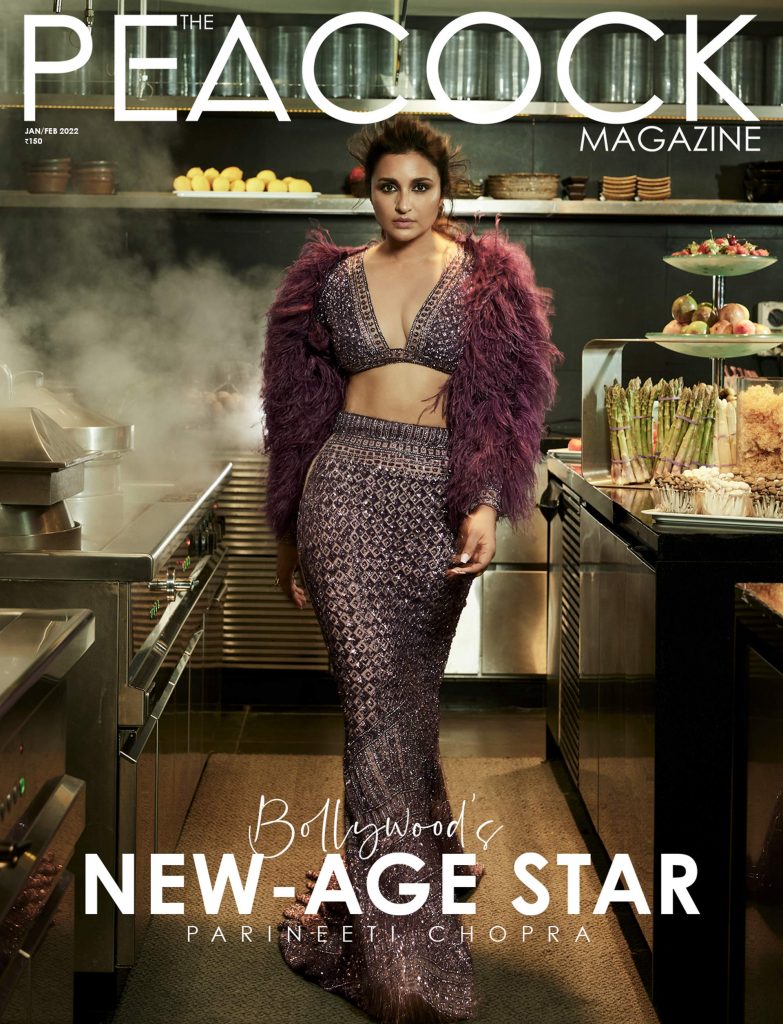 Chopra brings a fresh perspective towards Indian cinema right from the way she perceives the industry to the way she defines her identity as an actor. She unflinchingly explains how actors today are a product in themselves. No, she doesn't objectify or commoditise the profession or the professional, but simply sees it all through the lens of an investment banker. Needless to say, Chopra's every move is calculated and thoroughly thought through, even though she claims to be a person who is all about instincts and impulse. She also adds that though her calculations about her choice of films have sometimes gotten her career trajectory to slump, she is back to being on the bullish mode making the right choices. The Shuddh Desi Romance star has bounced back with three back-to-back hits at the box office. The steady success adds to her firmness of purpose to do her best work with every interesting film she chooses.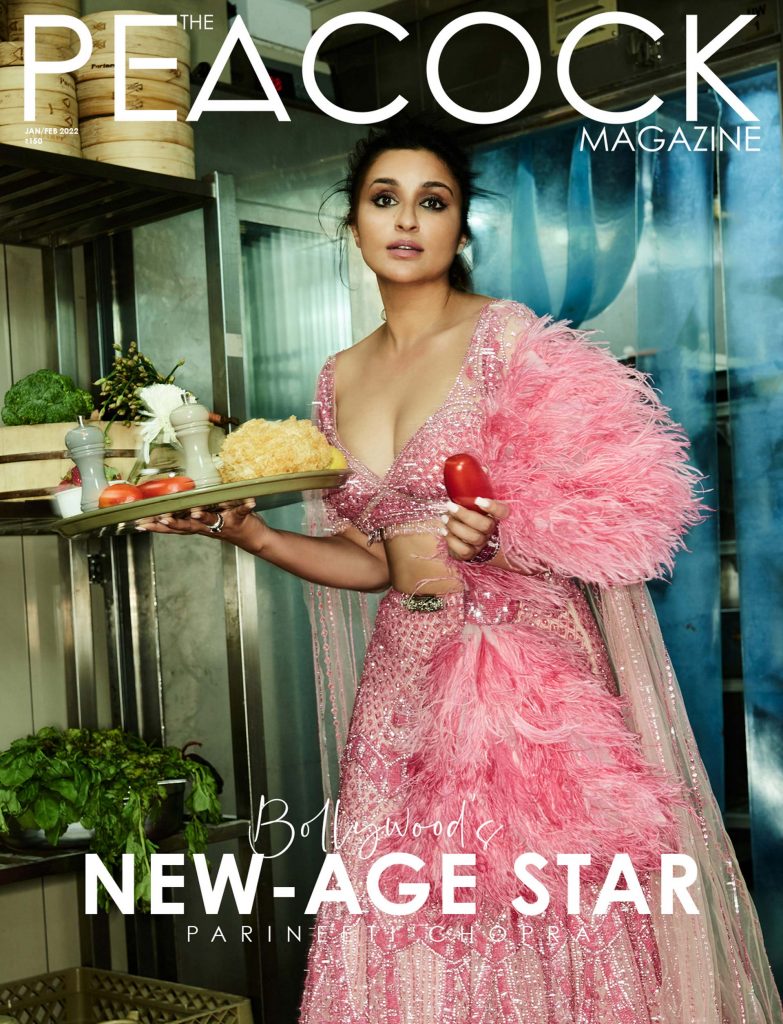 For the November-December 2021 anniversary issue, Chopra lets the guard down as she tells us how she barely watched films till she moved to Mumbai, how the day she stopped being a PR consultant was the day she became and actor and why her audiences' reaction, response and love towards her films will always be factored in while signing a film and how.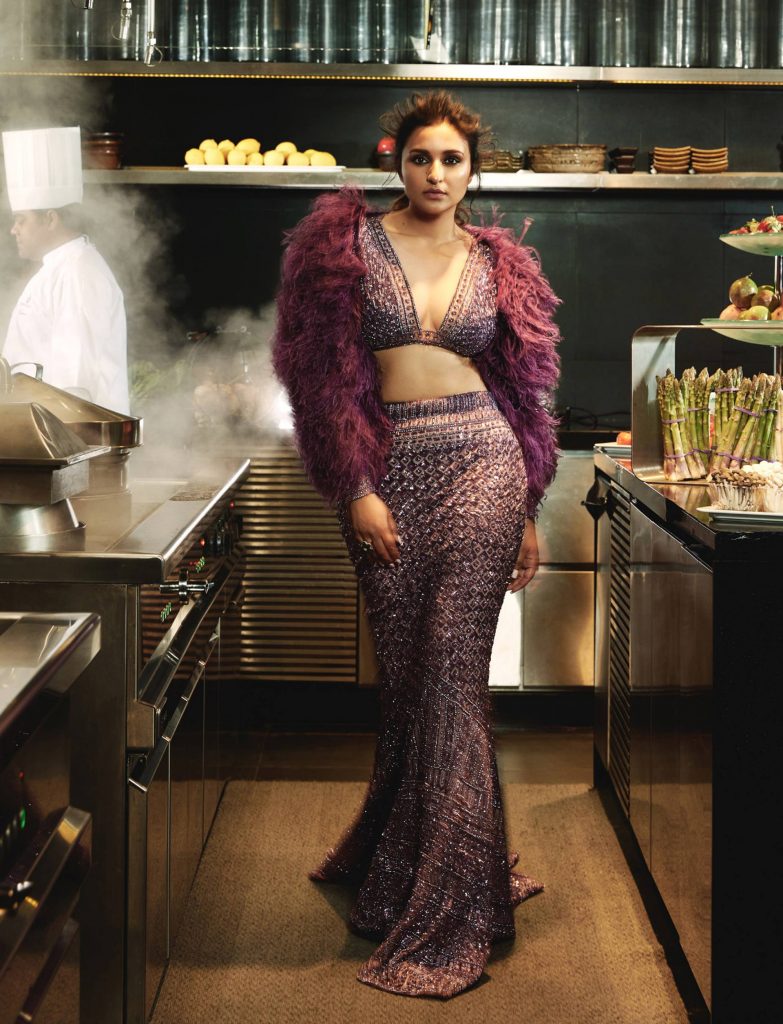 [Q] From a triple honours from the Manchester Business School to being a PR assistant at Yash Raj Films to being one of the most promising actors, how has the journey been?
My journey has been nothing short of an exciting story. When I was in different phases of life, I never thought that the next phase would be that different or that exciting. When I was a banker, I never thought I would be an actor. It's such a huge, vast difference that it can only be attributed to destiny. There is no other reason why something like this would happen to one person in one lifetime. So, I'm extremely thankful and blessed that I am where I am today. It is a very blessed profession to be in. The love that I receive from people all over the world is something that very few people can boast of and I'm proud to be in that small group of blessed individuals.
[Q] What kind of movies did you grow up watching?
I actually never watched films while growing up. I must've watched five or six films on a special treat but otherwise I was a very academically inclined and recreational activity inclined student and so I never grew up in a culture of watching movies at home or at the cinemas. I'm as new to the world of Bollywood and the world of Mumbai and films as an actor as I am as an audience.
[Q] Can you tell us about your first day as an actor when you were in front of the camera after being behind it for a while before?
I've never been behind the camera before per se, I worked in an office which is Yash Raj Films in Bombay and the day I quit, I became an actor and I went straight to the set for Day 1 of my shooting and that day was one of the most naturally-fit days for me in my life. I didn't feel like I was stepping into an alien world. I felt like I was coming home. 'Action' and 'Cut' and hair and makeup and call times, everything became a part of my life within that one day and I never felt like I was new to it. I was excited as a new actor but I just felt like it was as familiar as home and that's when I realised that I really found my calling, so I'm always going to be thankful to Maneesh Sharma and Aditya Chopra for giving me that.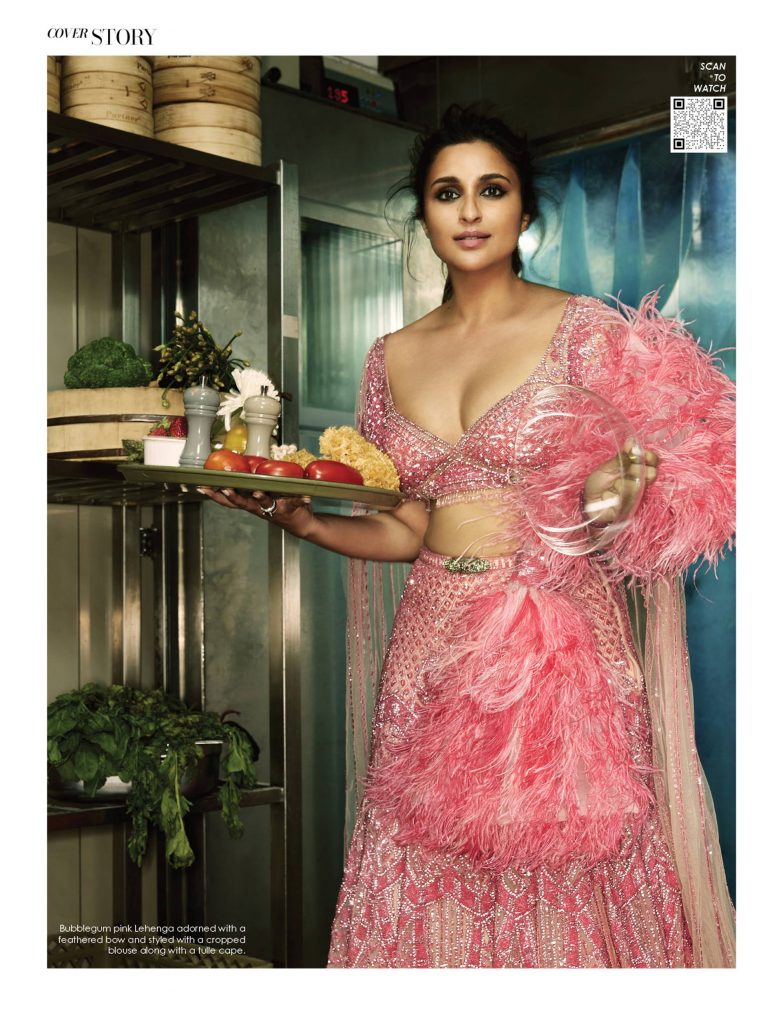 [Q] Most of your performances have been critically acclaimed as top-notch. Do you carefully select roles that are interesting enough or do you look at the film in its entirety right from the makers to the cast and the screenplay, etc.?
I would be lying if I said I had such a perfect procedure to choose a film. I've gone wrong many, many times but yes, I have gone right most of the time and that's why thankfully the audience is still giving me love. But overall, of course I have gone with my gut instinct when I was not in the right frame of mind in life, I made the wrong choices because my instinct was wrong and today I'm happy that the choices that I've made are right again and the audiences are loving me again just like the way they did when I started off. The procedure is now just simple. I do what I feel is going to show a new side of me, is going to impress the audiences because they expect so much out of me now, so I just make sure that I'm doing a role in a film that will surprise them every time.
[Q] What is your favourite genre of films as an actor? What attracts you to it?
As an actor, I now get attracted to roles that I feel scared of. If I feel like this film or this world is something that I've never explored before, it excites me and I make sure that I get into it and start the preparation and the homework for it. I feel like I'm more involved and I feel prouder as an actor when I have a lot of homework to do for a role.
[Q] What characteristics do you think are necessary to be a good actor in today's time?
I think today actors are not just performers, they are an entire business, they are a product in their own business, so there is so much that the actors have to think about. They have to think about PR, they have to think about imaging, they have to think about marketing, they have to think about box office, they have to think about fashion, etc. I think that they are not unidimensional. I would say one of the most important things for an actor is to be mentally prepared to be an actor. A lot of people look at actors who make it look very easy and they think it's easy. But actually, when you're an actor, it is one of the toughest careers out there and that is why they are so well-protected, compensated fairly and they have the life that they have because they do something that others can't do.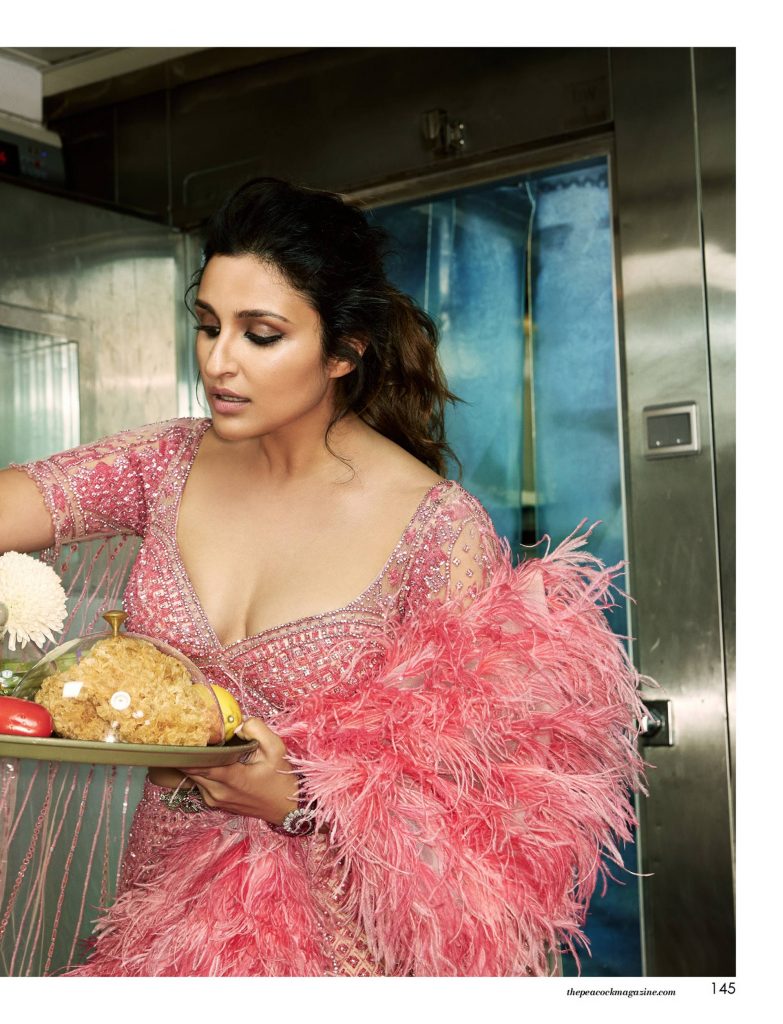 [Q] What, according to you, is the highest form of recognition or appreciation as an actor?
I think the highest appreciation is when you become a household name, like when somebody is sitting in Bhopal or New York or Tokyo, they all know your name and they all know who you are and they appreciate your work. That's the highest appreciation an actor can get from strangers all over the world.
[Q] Are you working towards creating or leaving behind a legacy, or are you taking one day/film at a time?
I'm actually quite a spontaneous person and a one day at a time person. I'm spontaneous, impulsive and patient at the same time. I work very hard but I do not want to take the pressure of what could happen in the future or in my legacy. I just want to do the best work that makes me happy, work with the people who make me happy today and live the best life that I can.
[Q] How important is it for you that your work be global? Or do you feel it's all about giving your best, irrespective of what segment of audience it caters to?
Like I said before, actors cannot be selfish when it comes to choosing films. They cannot only do the work they like to, they have to strike a balance because ultimately it is the audiences that choose them or choose their work as their entertainment and so you have to think about who you're serving your product to. You might like spicy food but your guests might not, that doesn't mean that you keep serving them spicy food because you like it, so you have to think about the audiences because they are ultimately the people who are going to choose whether or not to buy a ticket for your film.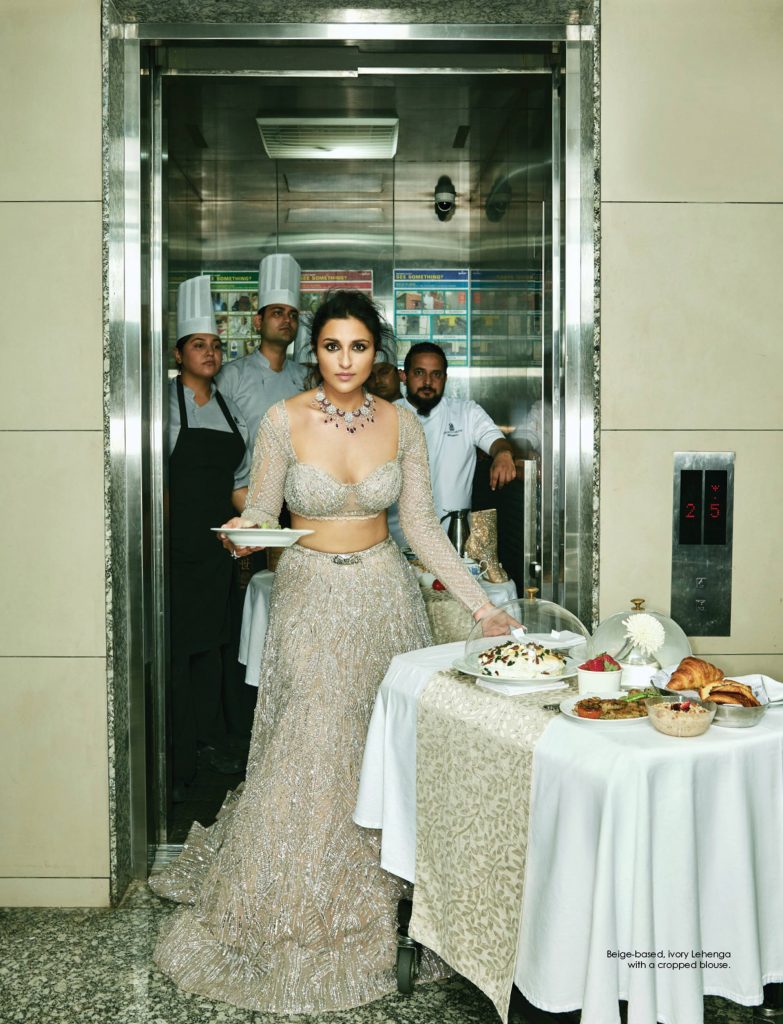 [Q] Do you feel you're being too hard on yourself some days when you're sifting through the number of movies that come your way?
I think another reason that the actors are such vulnerable and emotional human beings is that they do not get to switch off, they do not get time off, they do not get to disappear. Having said that, it is very important that they take it that seriously and they be a little hard on themselves. Of course, like everything else in life, it has to be in moderation and you can't beat yourself up when you have a bad day or you know you misstep into something. But actors have to be charged up, excited and focused 100 percent of the time. However, I think a lot of us are now learning how to balance, to keep ourselves emotionally sane and not to go overboard. I think a lot of us have learnt the art of balancing our personal and professional lives and I think that's beautiful because all of us can be happier at work and can do better.
[Q] How do you deal with your moments of doubt and vulnerabilities, especially you know when it's a rat race out there?
I'm very dependent on the people that are close to me. I'm very dependent on my family, my close friends to help me out on my days off. I don't like to be alone or try to solve problems by myself. I like to discuss with my people and I like to take advice from those who I know have the best interests so those are the people I immediately reach out to and I'm blessed to have amazing people in my life who help me out all the time and who really, really understand and get me.
[Q] Who has been your mentor all along? How have they shaped you as a better actor/person?
I think my brother Sahaj (Chopra) is a big constant in my life because he gets me, he understands the person that I am, even though he is very different from me, in fact we have personalities that are poles apart, but he has a very, very, very great understanding of me as a person. So, when I'm faltering or when I'm succeeding in both ways, he is my voice of reason and he is my anchor who keeps me steady in life.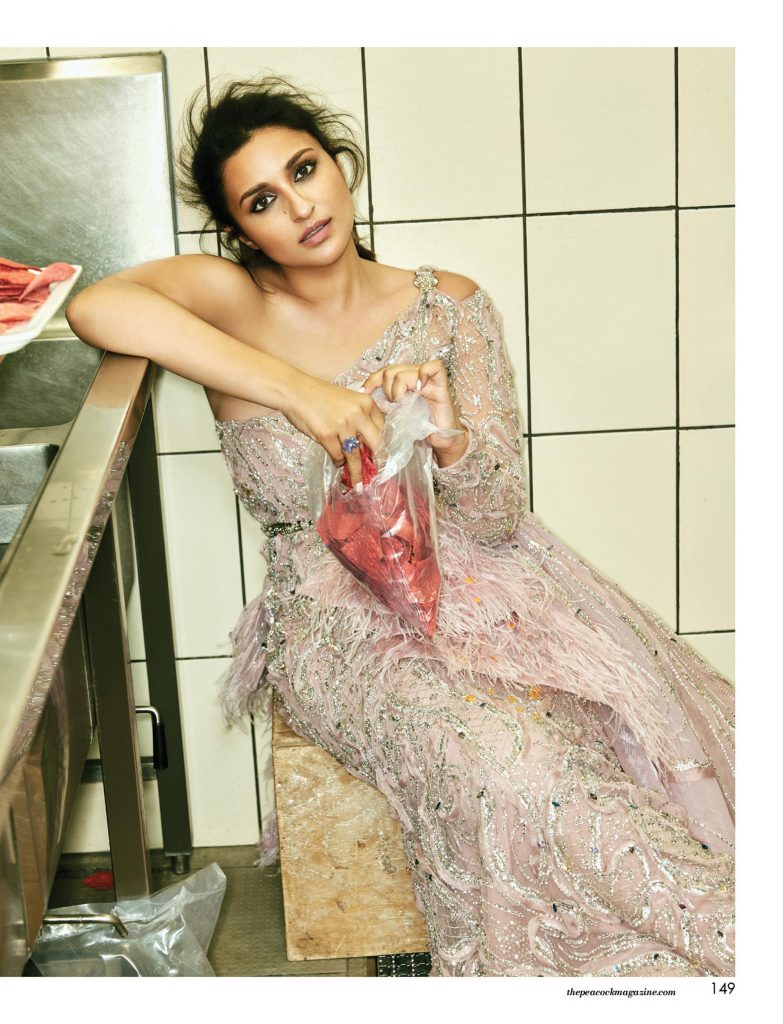 [Q] You were all set to go to an acting school when director Maneesh Sharma asked you to audition for a film that landed you your debut role. Would you want to go back in time and still go to an acting school? How do you think formal education adds to an actor's growth? Is it necessary in today's time?
If you asked Parineeti she would say absolutely no, never! Only because I was blessed with this journey even without going to an acting school. I think that you must depend on people who know their craft to tell you whether you need training or not. But for some people, I think formal training works very well. There are some brilliant actors who have enhanced their skills, performances and their knowledge of cinema just because they went to a good school. So honestly, to each their own. You need to be the judge yourself of whether you want to or need to go to an acting school or not.
[Q] How can a young and successful actor like you make a difference in the film industry?
Honestly, that would be an amazing, amazing legacy. That would be a great thing to have in your legacy that you made a difference and you made a change and you not only in the industry but in the world. I think that me and a lot of actresses of my generation have been lucky and have also fought for driving films on our shoulders. We have done films where our roles and characters were equal or even better at times than the male actors of the film which many, many years ago was non-existent. So, I think in the last 10-15 years a lot of us have been a part of these films and it is a very nice and pleasant change to see audiences accepting those kinds of films.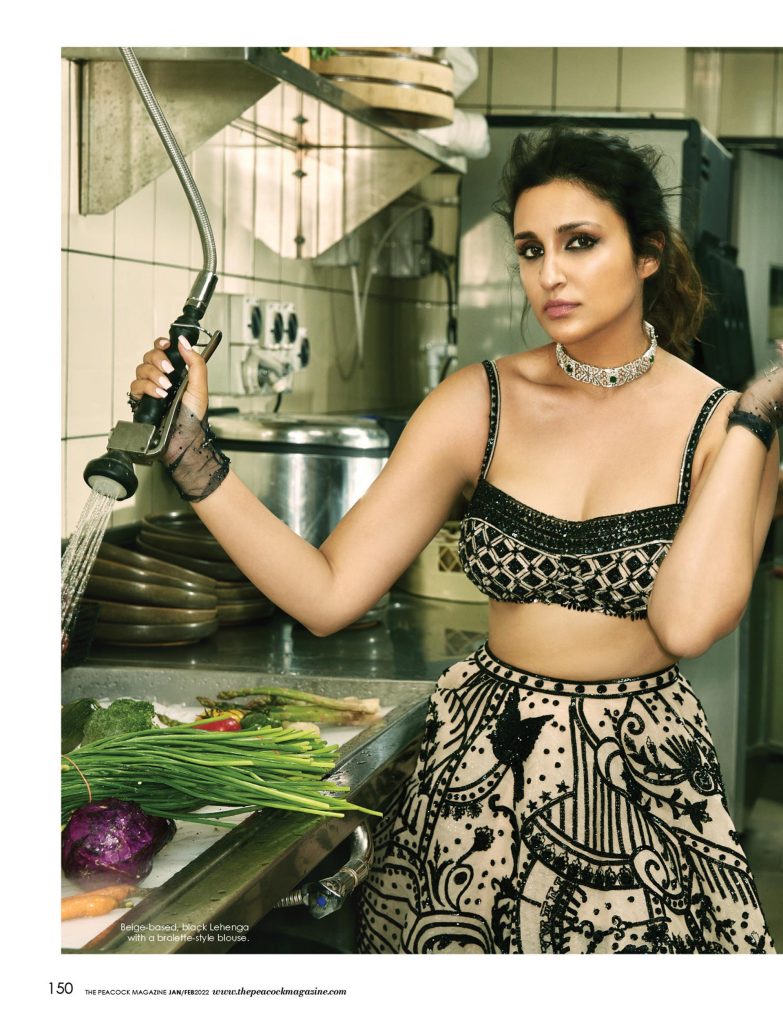 [Q] You've championed many social causes and continue to do so at any opportunity given. Why do you think philanthropy is necessary for today's time?
Life is of no use if you don't help others. You may be born and you may die alone, but you live along with other human beings and if you can, you should help anybody who is lower than you in any strata of life, whether it's financially, medically, educationally, etc. in anything, if there is another person who can get more from life and you can help that, why would you not do that?
[Q] What are your future projects and plans?
Right now, I'm in the middle of shooting Uunchai, which is directed by Soorja Barjatya – a dream-come-true film for me. It is truly a dream come true to work with Sooraj Sir, he is such a legend so I'm very, very happy and I'm proud that I'm getting to work with him. And then I will move on to Sandeep Reddy Vanga's film, which is with Ranbir (Kapoor) and another film I'm really, really proud of being a part of. So, I'm really thankful with the kind of work I'm doing. And it has all happened due to The Girl on the Train, Saina and Sandeep Aur Pinky Faraar, which have been my three successes this year. To be honest, I'm really, really humbled and thankful that the kind of feedback and love that I wanted from the audience has all come back and because of that I'm getting to work with all these directors who I wanted to for such a long time.