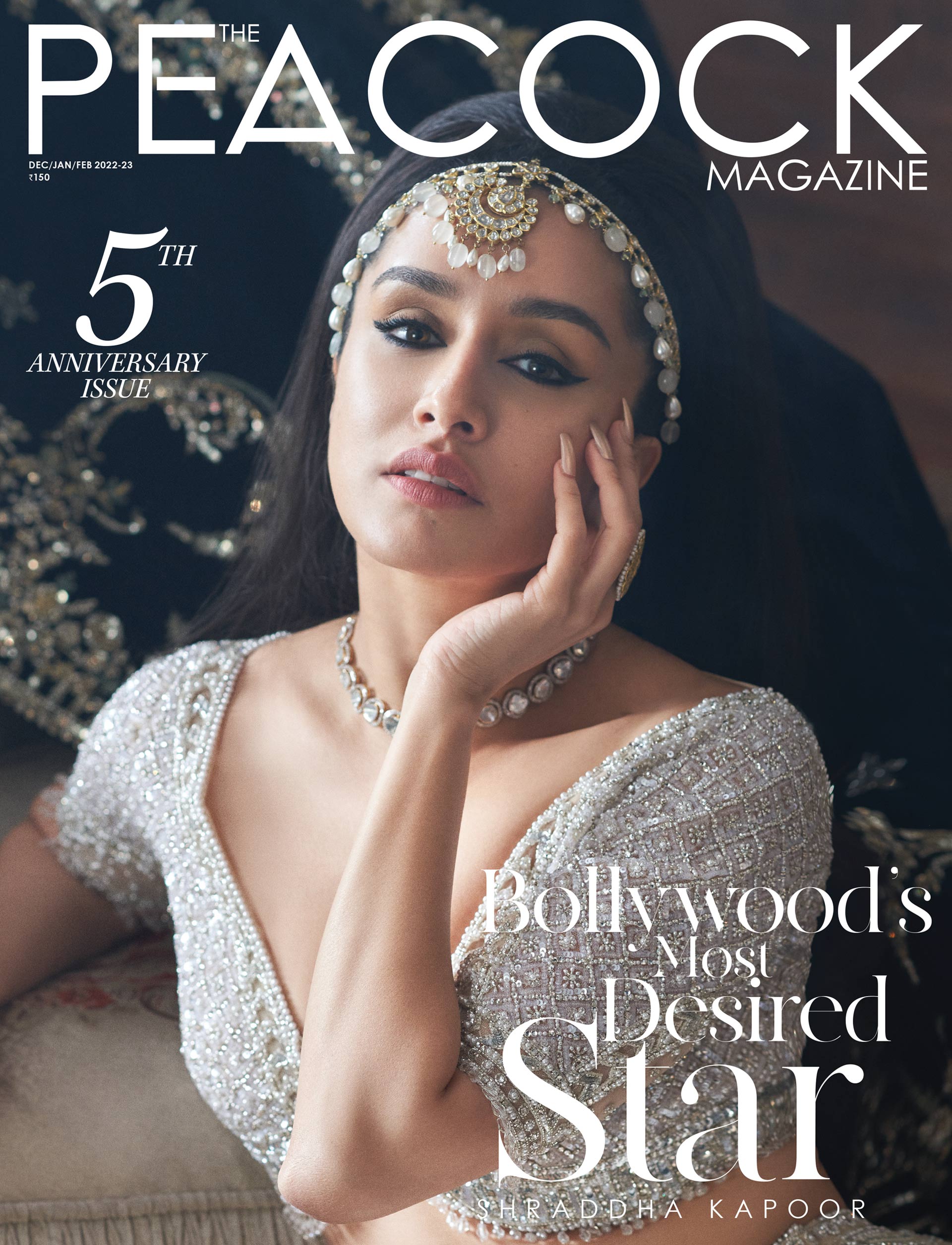 CREDITS –
PHOTOGRAPHER – TARUN VISHWA
STYLIST – MOHIT RAI
ASSISTED BY – TARANG AGARWAL
MAKEUP – SHRADDHA NAIK
HAIRSTYLIST – NIKITA MENON
JEWELLERY – THE HOUSE OF RAMBHAJO
PRODUCTION – NIHARIKA SINGH OF STUDIO LITTLE DUMPLING
WARDROBE – FALGUNI SHANE PEACOCK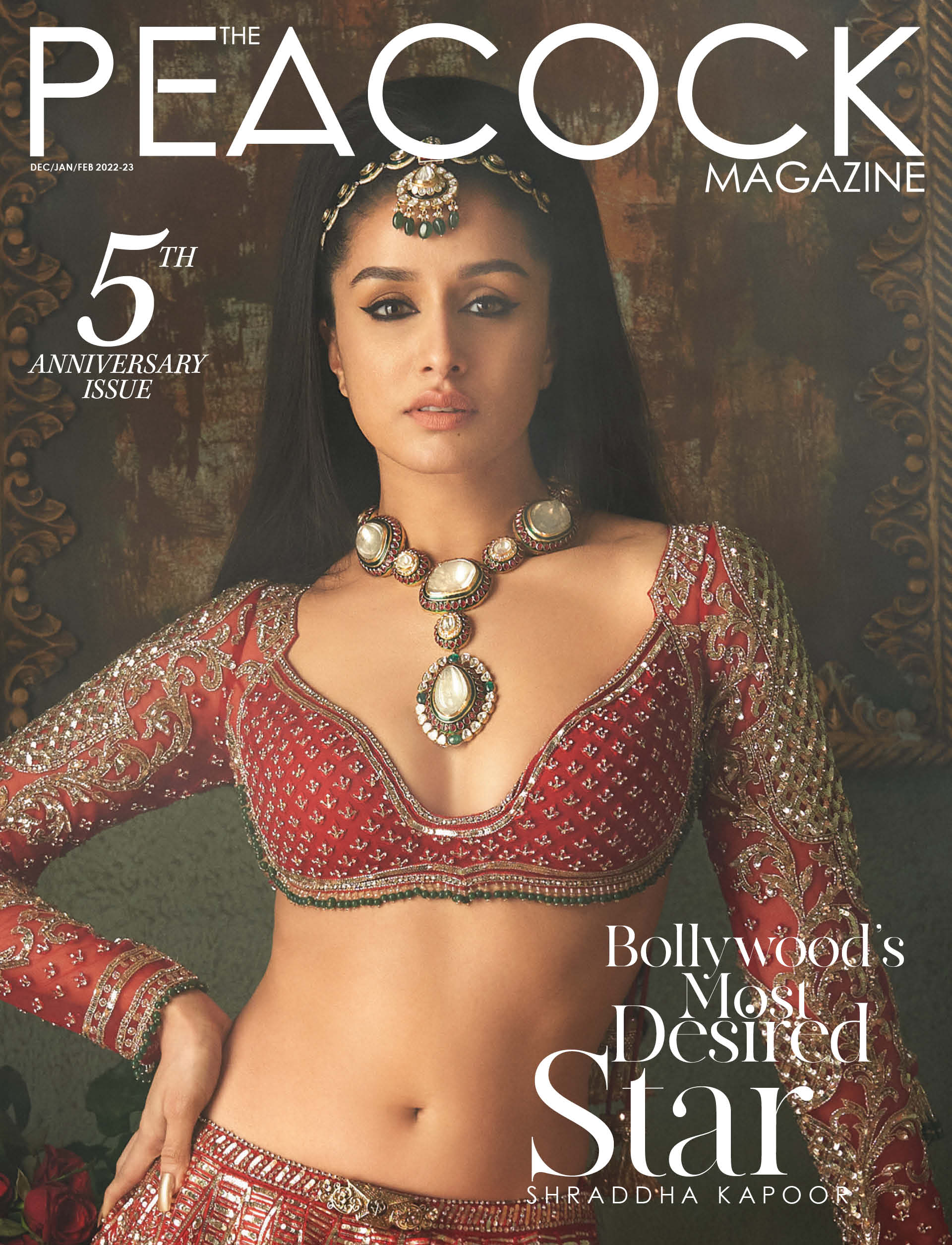 On a fine afternoon in November when actor Shraddha Kapoor walked into the set in Mehboob studio, she lit up the space with her warm smile and her infectious charm. Wearing a casual-chic combination of oversized T-shirt and shorts, she sported her nerdy glasses and tote bag — giving us the 'geek alert' sign. That down-to-earth demeanour and her tote bag was all Kapoor carried with her, conveniently ditching the starry air one might expect from one of the most successful actors of the Hindi film industry. Kapoor's image of her being the ever-smiling, chirpy, and no-fuss actor can be attested by all those who've worked and interacted with her. She doesn't make anybody on the set wait, and darts off quickly to the vanity van to get dressed, where stylists are waiting to get her dressed into the showstopper avatar. There is a fun riot there! We could vouch for the bouts of laughter and noises making way outside to the set. It is certain that the actor makes it a ball of time for those around her wherever she goes. 'Ethereal' is the first word that struck us when we saw her in the first of the total six outfits that she wore for the exclusive shoot for The Peacock Magazine's fifth anniversary cover. The handcrafted Lehenga was one from Falguni Shane Peacock's latest collection 'Love Forever' that is crafted for the modern bride, who likes to strike a balance between traditional and contemporary aesthetic. Kapoor slipped into muse mode as soon as she set foot on the set. She carried the multicoloured, handcrafted Lehenga imbued with metal thread work details and styled with a handcrafted blouse featuring grid work and tassel details with utmost grace and elan. She embraced the spirit of the bridal Lehenga and looked quite like a demure bride holding a glimmer of excitement in her eyes for what's to unfold thereafter. The lensman for the special shoot was Tarun Vishwa — an eminent photographer who holds his own in the arena of fashion photography. Vishwa being the ace lensman that he is, beautifully captured the Stree actor in the bridal spirit.
Kapoor started her career about a decade ago, winning rave reviews and accolades for her debut performance alongside some of the bigwigs of Bollywood. The actor has been unstoppable ever since and how. Not the one to shy away from venturing out and experimenting, the Aashiqui 2 actor has explored genres right from drama to comedy to even horror — a genre she confesses to not enjoy watching as an audience but being a part of. It's not just the kind of films where she has attempted to break the mould but she has even experimented among industries. Starring alongside Telugu superstar Prabhas, Kapoor made her debut in the southern landscape of cinema. Taking her endeavour to try out different aspects of films, Kapoor has also left a lightning streak in a string of dance numbers bringing her best game to fore. Although movies bring out the best in her, the actor is now looking for other avenues to explore and excel. Her recent partnerships with a host of brands are a nod to her desire to don the entrepreneur's hat and be a part of remarkable products. It came as no surprise that her multifaceted persona has a fan base of almost 77 million on Instagram alone, breaking the internet by posting-reposting, sharing-resharing, tagging tirelessly, and flooding the social-media platform with likes and comments — on each and every post of hers.
Kapoor became Falguni Shane Peacock's bridal muse for the rest of the day as she shot the remaining five outfits, making each one look better than the last one. She was poetry in motion. The photographer and his muse were definitely up to creating magic and that too in a dedicated timeframe. Towards the end, we decided to have a round of fun question-and-answers with the star, as she reminisced about her childhood days and took us all on a little trip down the memory lane. Unleashing a candid avatar, she shared little stories about how clingy she was to her mother, her love for tom-boy dressing, and other fond anecdotes. Time zipped along, and we called it a wrap.
Seamlessly, Kapoor transformed back into the nerd look and stepped out to leave, but not without thanking the entire crew and throwing her arms open to give a big groupfie from a distance. Excited and nervous to sink her teeth into the persona behind the star, this reporter started delving into the multifaceted actor's life with a set of questions. What was supposed to be a quick interview, turned out to be an endless conversation as Kapoor spoke about — the actor that she is (she corrects me when I call her a 'star'), the daughter, the entrepreneur, the learner and many more facets of hers. Read on.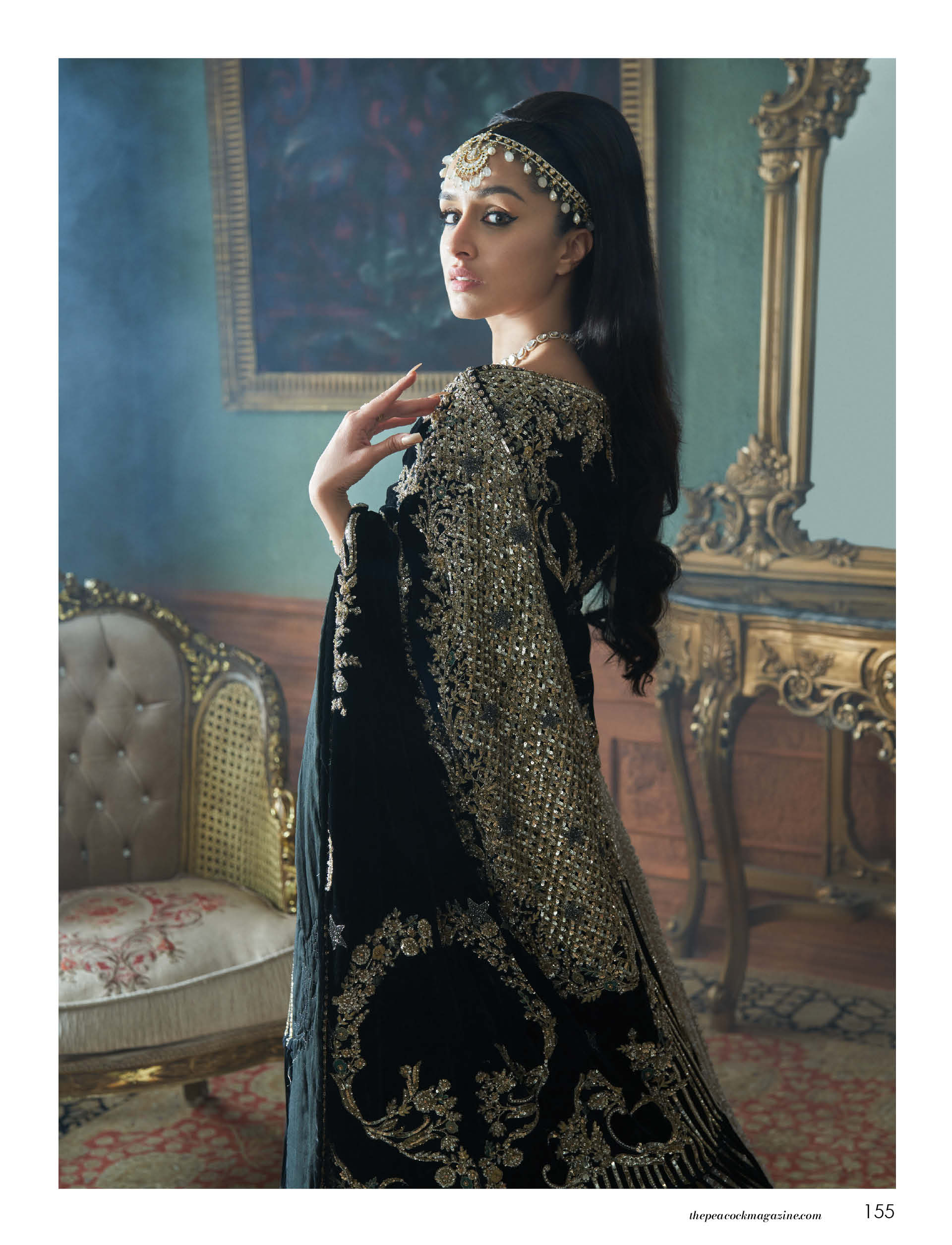 Q) Has your process as an actor changed with time?
Yes, it has. The craving to be a part of an amazing film is increasing day by day. I am putting a lot of thought into the films I'm working on and the characters and their preparations. I want to be a part of a great story and my directors have always been my guiding light on each film that I work on.
Q) Do you do a lot of preparation before each project?
For me, it's always important to learn and grow; and I see these preparations for my roles as an opportunity for growth and learning. I attempt to get under the skin of my character and be in the correct headspace for the role, whether it's the dialect, the look or the mannerisms — I try my best to imbibe the qualities of the character. I'm a complete director's actor and when I'm on set I try to bring life to the director's vision, for which I need my preparation in place to make that happen.
Q) How do you decide when to say 'yes' to a film project, and when it might be too stressful for you?
For me, it's the role and the script. Whether it's a small or a large part, it has to be significant and one that excites me as an actor. I also look at the story from the perspective of the audience – whether it excites me as an audience, whether it's something I would enjoy watching, and then take an instinctual call keeping these factors in mind.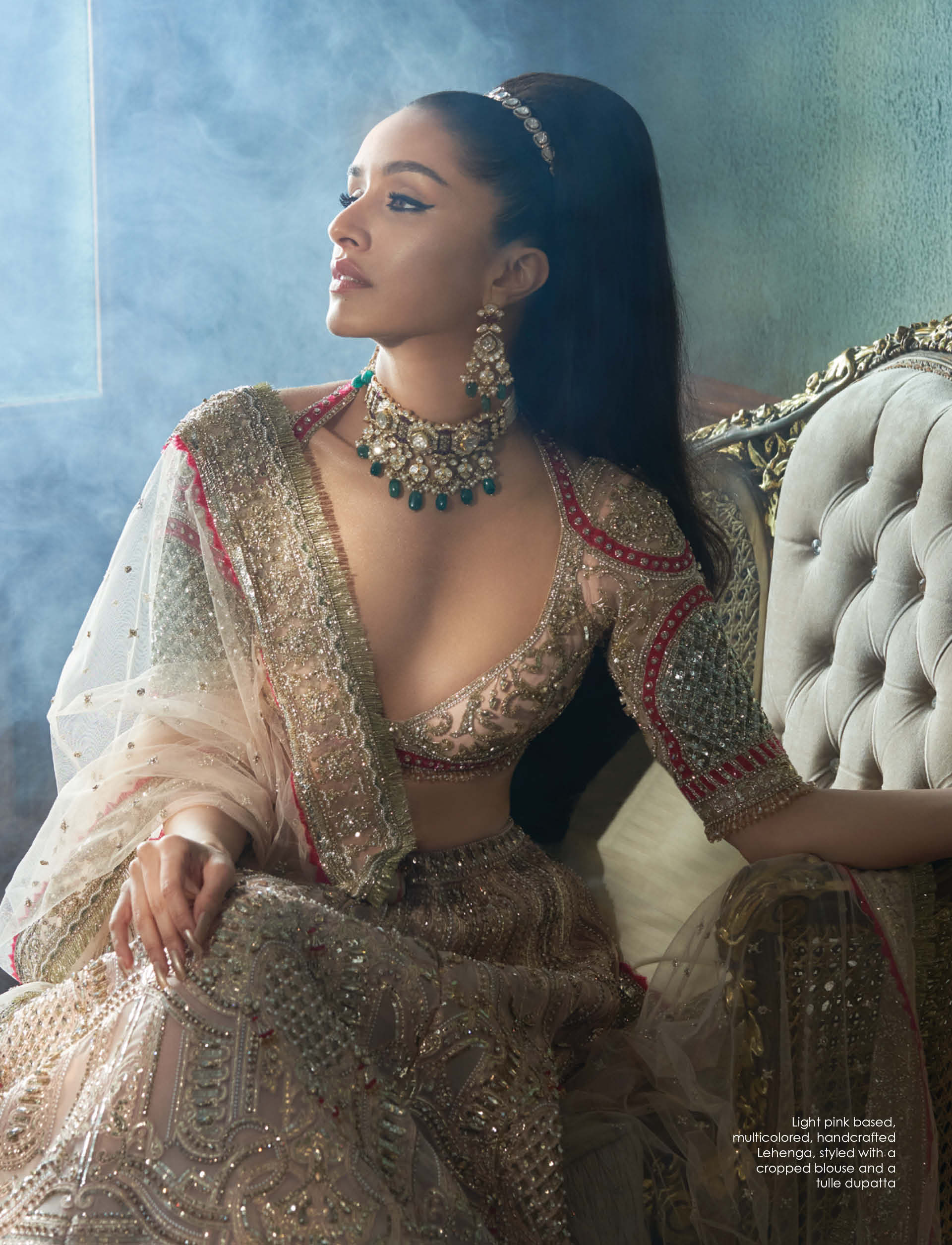 Q) How do you go about channelling emotions for the variety of roles that you've played?
I think when you decide to become an actor, the emotions are always at the surface and you decide which one of those to bring to your character. I always try to get into the headspace of my characters, understand their psyche and then channel those emotions and bring them to the surface.
Q) What's the biggest risk you've taken for a film?
I don't think I can narrow it down to a single risk. Every script you pick is a risk, every character you take on is a risk. I also took a risk when I decided to sing for a few of my films and then took one when I decided to sign dance films that pushed me out of my comfort zone.
Q) Would you say that you grew as an actor with every project?
Definitely! I've always taken something from every character I've played and it has shaped me as an actor. Every film comes with learning and in turn growth. So yes, I've grown as an actor with every project.
Q) How often do you turn down roles because they stereotype you?
More than stereotypes, if a film doesn't align with my creative instincts as an artist, I would probably turn it down. There is no way of knowing whether a film would work on not, so I only have my instincts and creative sensibilities to rely on and take a call based on that. As an actor, I would want to work in all kinds of genres and take up different kind of roles but above all — the role and script should excite me.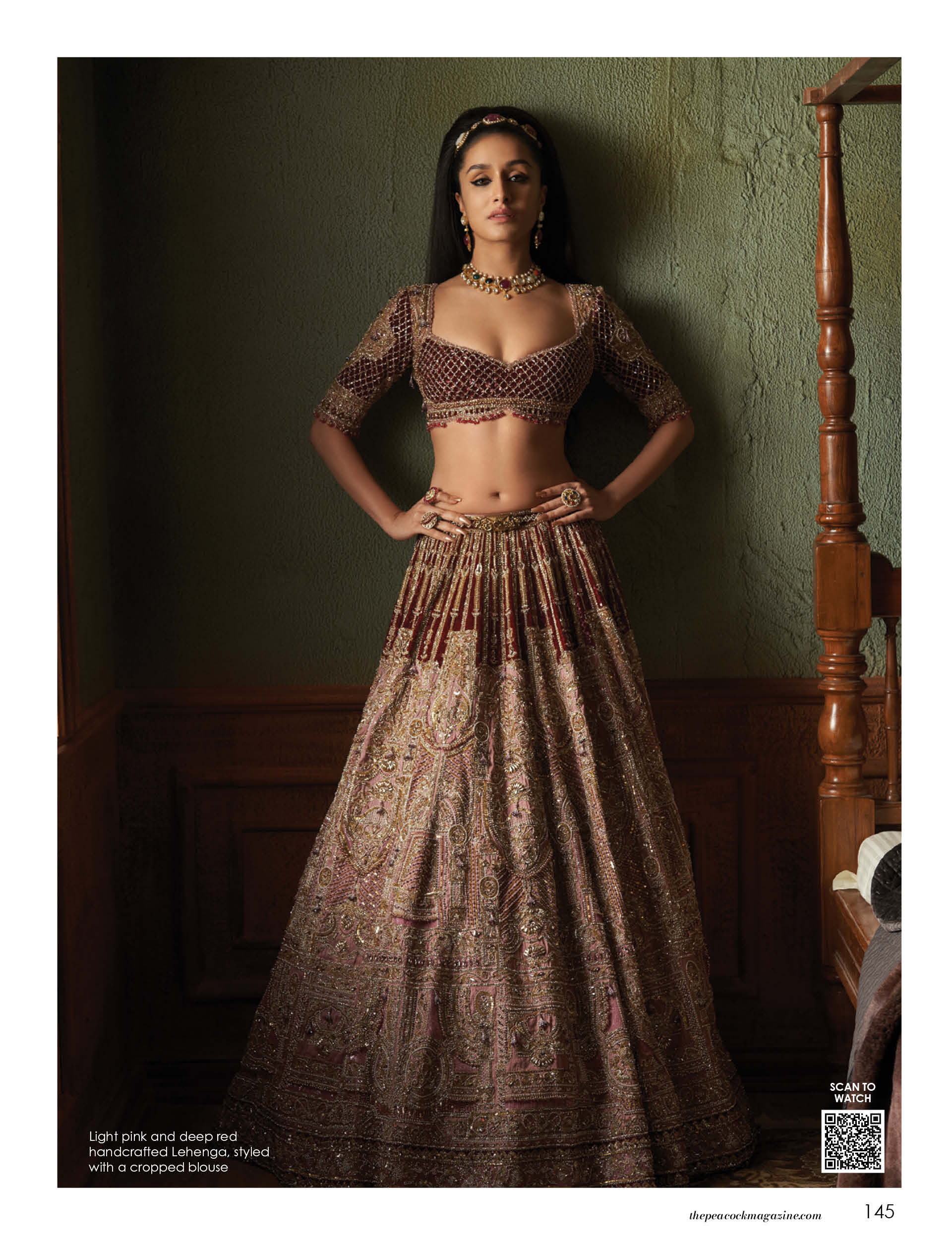 Q) What mistakes would you make as an actor if you were allowed, to grow?
I wouldn't call them 'mistakes' because even those mistakes are stepping stones! There is always something to learn from every mistake and every failure. A critique shows you areas of improvement. Everything is uncertain and constantly in a state of change, so it would be impossible for one not to make mistakes and they aren't a bad thing because eventually you learn and improve with them over time.
Q) Has being an actor ever gotten to be too much or overwhelmed you? How do you deal with it?
I was always aware that being an actor would mean having your life in the spotlight and the public eye. It's something you sign up for as an actor and it's inevitable. Sometimes it does get overwhelming because you are human after all but then again, I'm doing what I love the most, having the love and support from fans and the positives of it outweigh the negatives. I've accepted its part and parcel of this occupation and made my peace with it. It's about enjoying the good moments and taking the bad ones with a pinch of salt.
Q) What is important in terms of really loving your job?
It gives me something to be excited about every day. Good films, good roles, and surrounding yourself with creative minds and extremely talented people — that's what I love about the job and these are the things that are important to me. It gives me the opportunity to live different lives and experience them from the lens of different characters.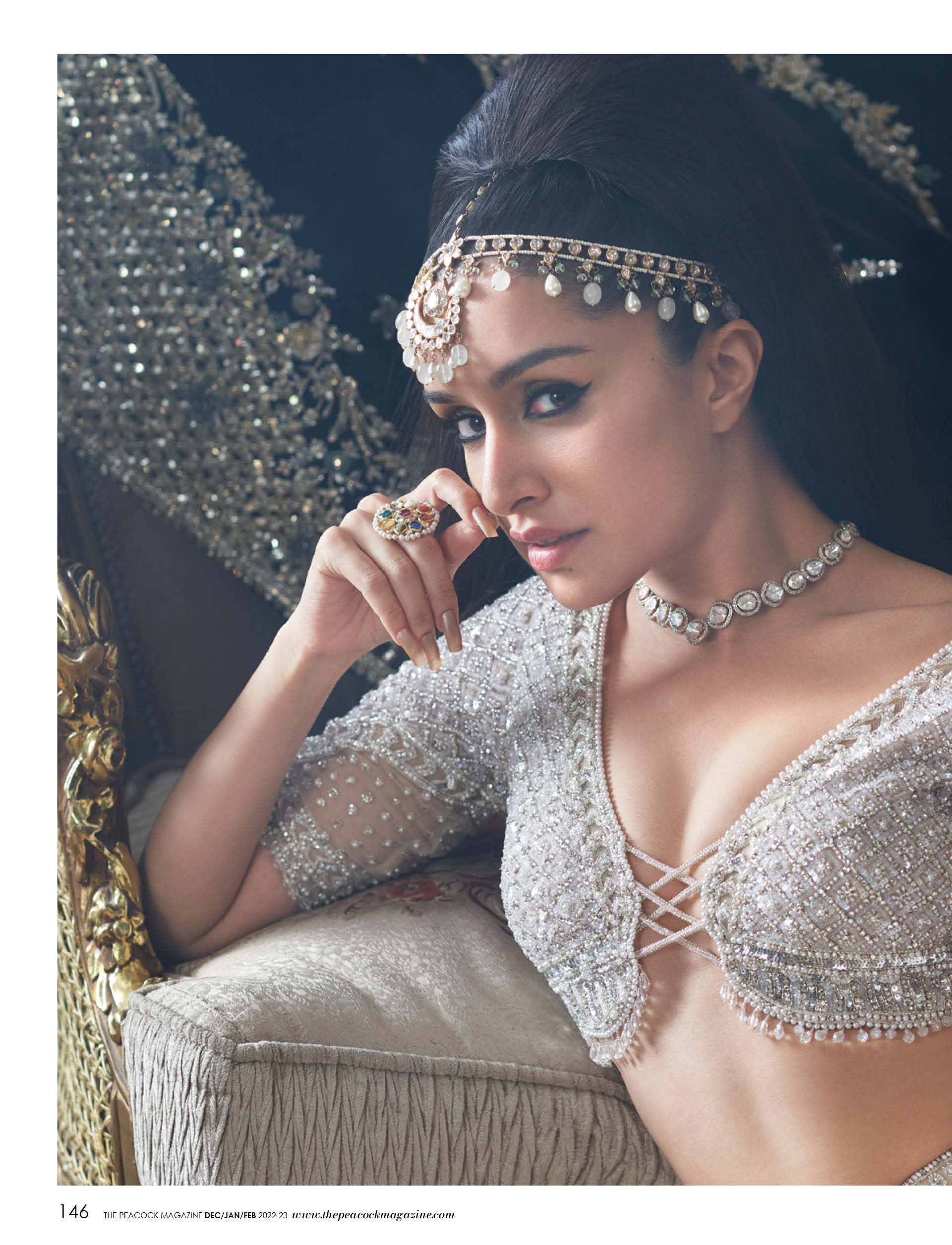 Q) Who have you learned a lot from recently? In what ways?
I think it would be Rakesh Jhunjhunwala. We already know he's a stock market genius but I had the opportunity to interact with him and what struck me was this mantra that he stands by – 'one should always put in the effort without worrying about the end result' and that applies even to us actors, as well. There is no guarantee of success and we have no control over the outcome, but what we can master is the input and the degree of effort.
Q) What kind of films would you like to do in future? What genres do you want to explore?
I would simply like to be a part of great content. Something that I would like to watch as an audience, as well. Stories that will leave a mark in the history of cinema.
Q) How did you get around to becoming an investor? What made you invest in startups?
I stumbled into the world of startups quite by chance. The thought started at home when my parents taught me about investing. That thought extended to wanting to have ownership of brands that align with my personal beliefs. I've currently invested in the beauty and cosmetic brand MyGlamm with innovation-for-ease being at the heart of their products, and the luxury furnishing brand BellaCasa, Shunya — which brings the age-old goodness of Ayurveda into modern-day life via their FMCG products and the cruelty-free healthcare brand Power Gummies.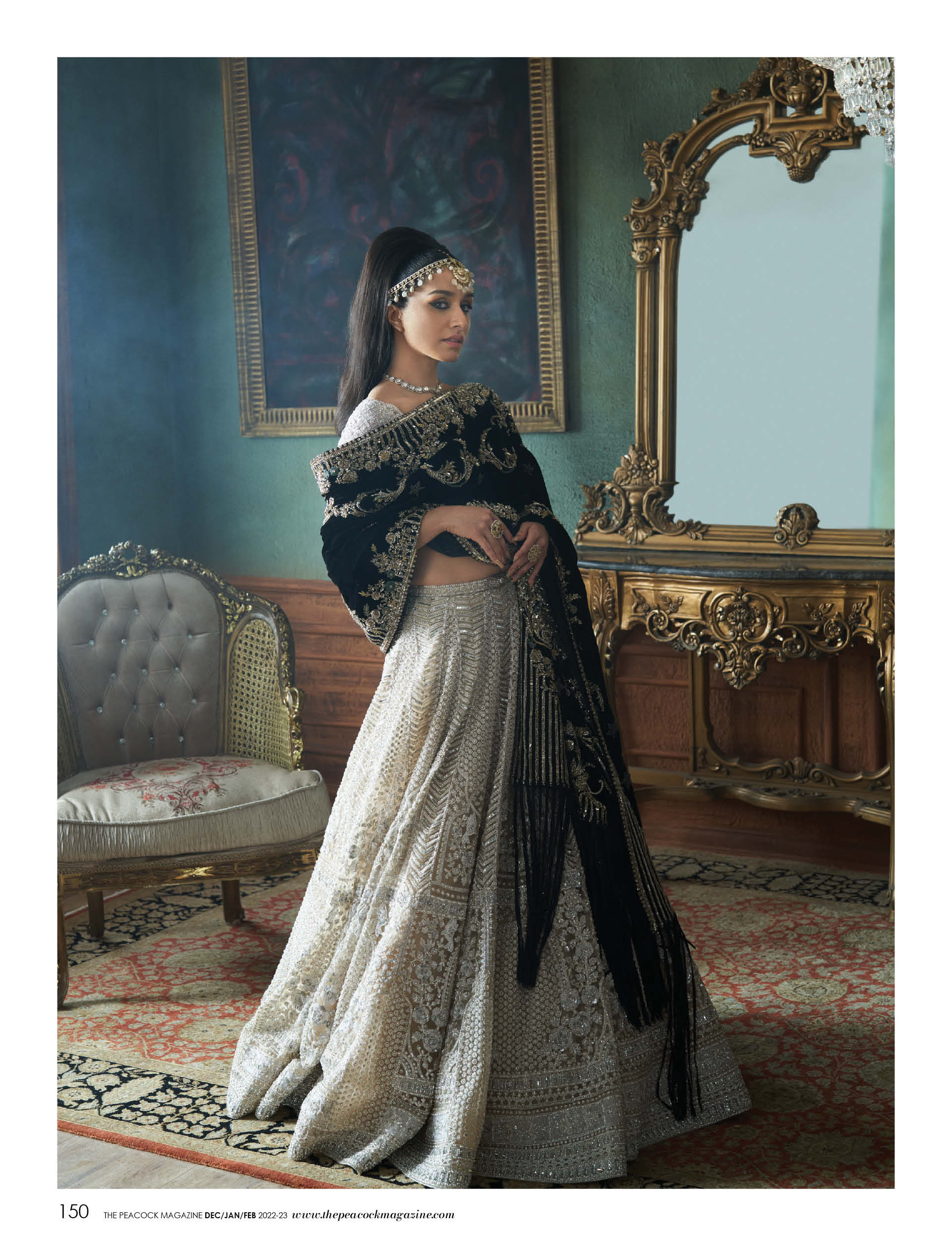 Q) How many investments have you made so far?
Like I said, there are four so far – MyGlamm, BellaCasa, Shunya and Power Gummies.
Q) Why did you choose a D2C beauty venture as your first investment?
As an entrepreneur with an interest in the industry, I have carefully been studying the D2C beauty market and it is growing rapidly. I believe it is the future. I deeply resonate with the MyGlamm's clean beauty formulations and the cruelty-free promise as that is something I feel passionately about.
Q) How much is your involvement in the nitty-gritty of the operations like product development, branding, etc?
I'm involved in the brand's creative decisions but I leave the operations to the experts. Being an entrepreneur involves putting faith in your team. I'm always there to share my thoughts and opinions, however, my partners and their fabulous teams do the heavy-lifting and I completely trust their judgement and decisions. It's always about the team, whether in films or business.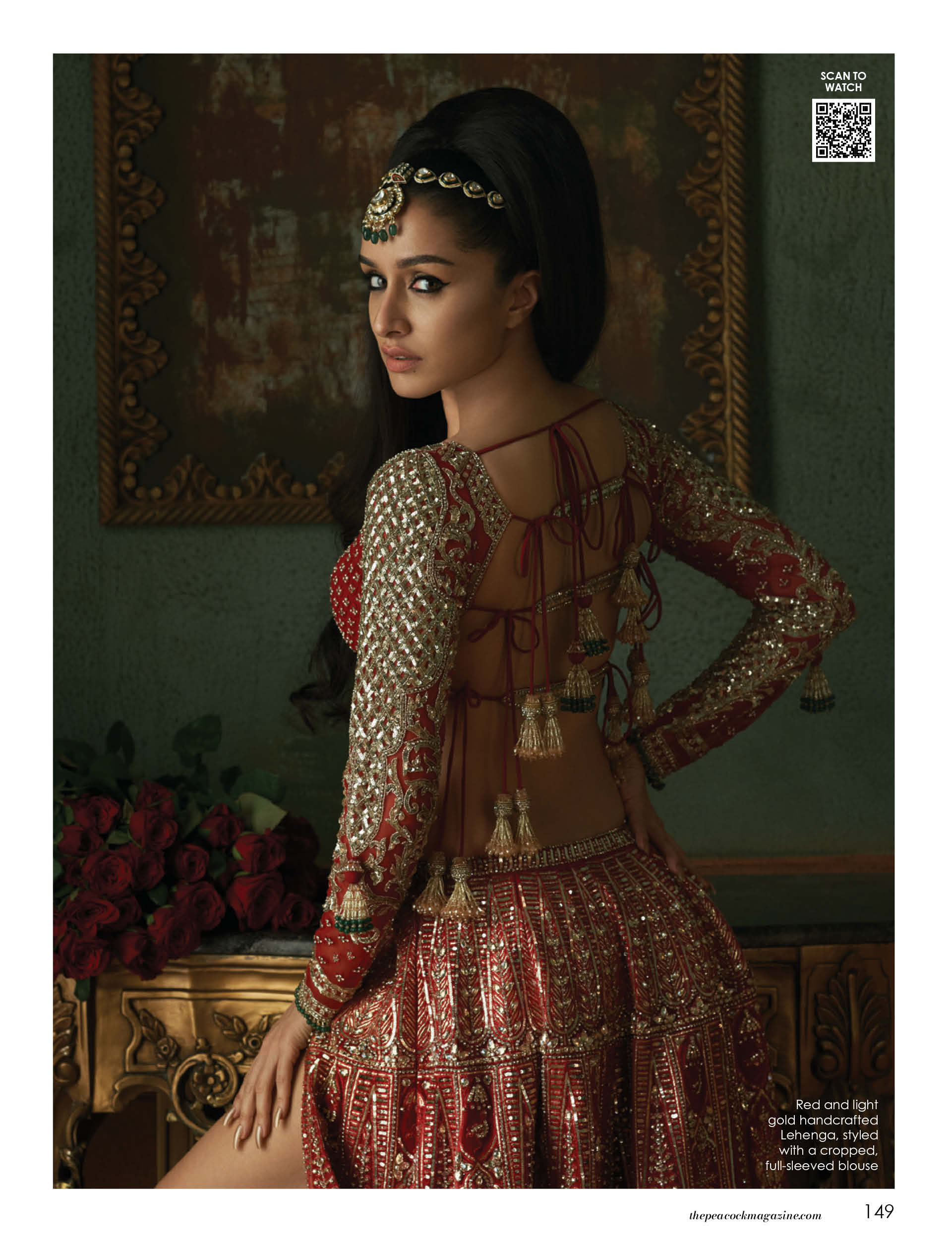 Q) Would we see you start your beauty line soon?
Never say never. The beauty industry definitely interests me and is closely knit with my line of work – so we'll have to wait and watch!
Q) What are the factors that get your attention to invest? Are there any particular qualities that you look for in your business partners as well?
I'm treading the investment and start-up world in a manner that aligns with my personal values. I've been zeroing in on brands that I believe in and am familiar with. As an investor, I'm on the lookout for businesses that help consumers redefine their lifestyles and live better lives.
Q) Since you've not studied finance, is there a financial advisor or someone who works out the numbers for you?
I have a team who looks into the finance and monetary structures. They work out the numbers for me and we take a collective call on any financial decisions that need to be made.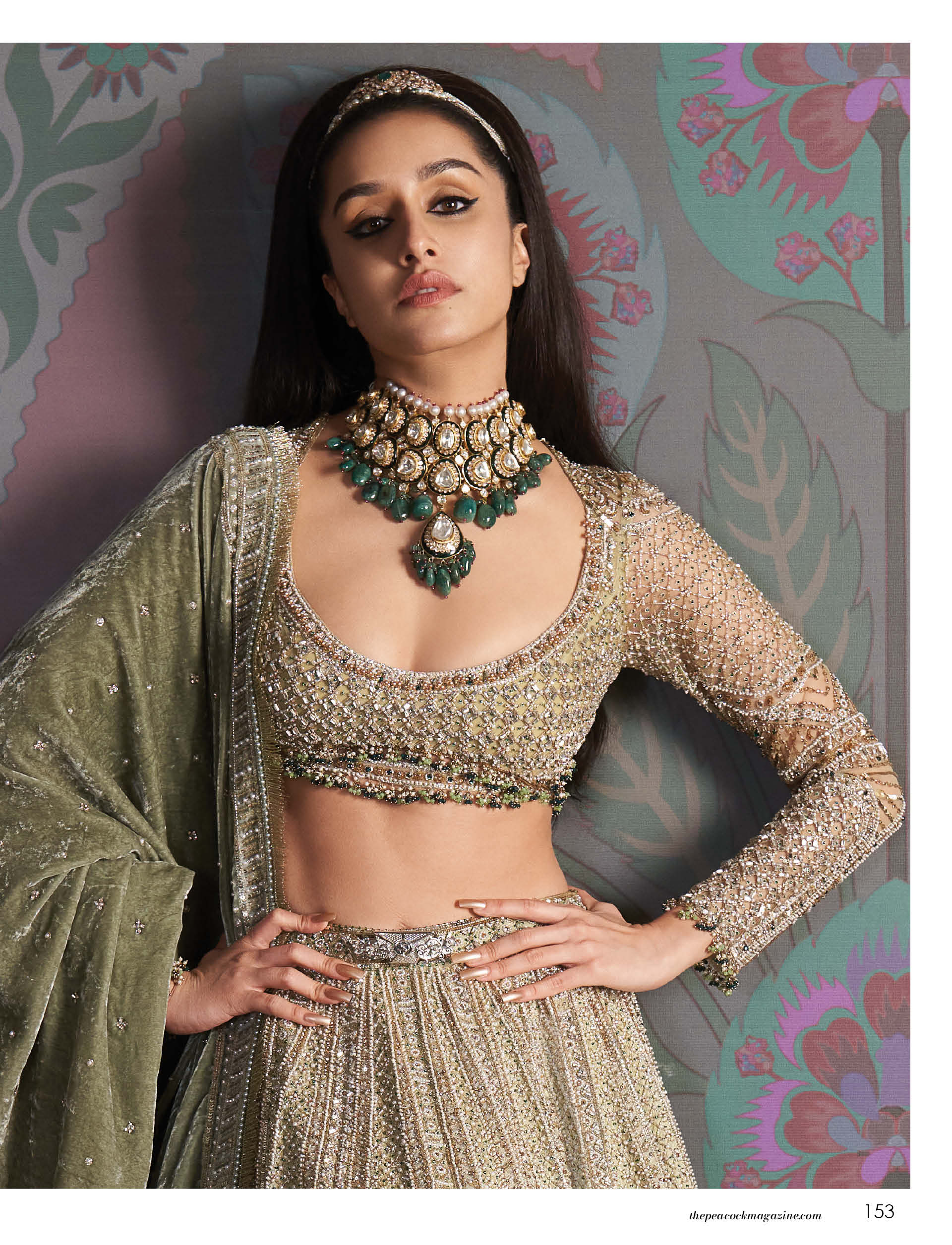 Q) What are your learnings and takeaways as an investor?
Taking calculated risks is the safest bet for an investor. However, sometimes one may be excited about an investment which may not be completely fruitful. But either way, it's a learning curve and I'm relatively new to this. My strongest trait is that I'm able to walk the fine line between what I believe in and what shows potential – I follow my gut, but I'm not impulsive and do my homework before getting into a partnership.
Q) Which other industries would we see you investing in, in future?
Health and wellness are something that will always have my support because it aligns with my beliefs. But the world has gone digital and I'd love to explore a business in the digital ecosystem that caters to young India.
Q) How would you now describe your style in just 3 words?
Casual, chic and relaxed.
Q) What's the importance of fashion and being fashionable in your life?
I think fashion is a form of expression, it reflects how you feel and the mood you are in. Putting on something great can immediately put you in a great mood. I think the pandemic has reaffirmed my approach of minimalism and simplicity towards fashion and beauty. I try and keep it real, simple and comfortable.
Q) Who is your forever-favourite style icon?
My mother – for her forever simple way of life.
Q) What are some of the timeless wardrobe staples, according to you?
The staples would be a great white T-shirt, a well-fitted pair of denim, a go-to LBD and an heirloom saree. Since we are overall turning to comfort, I would also add a summer dress, quirky print T-shirts and sweatshirts.