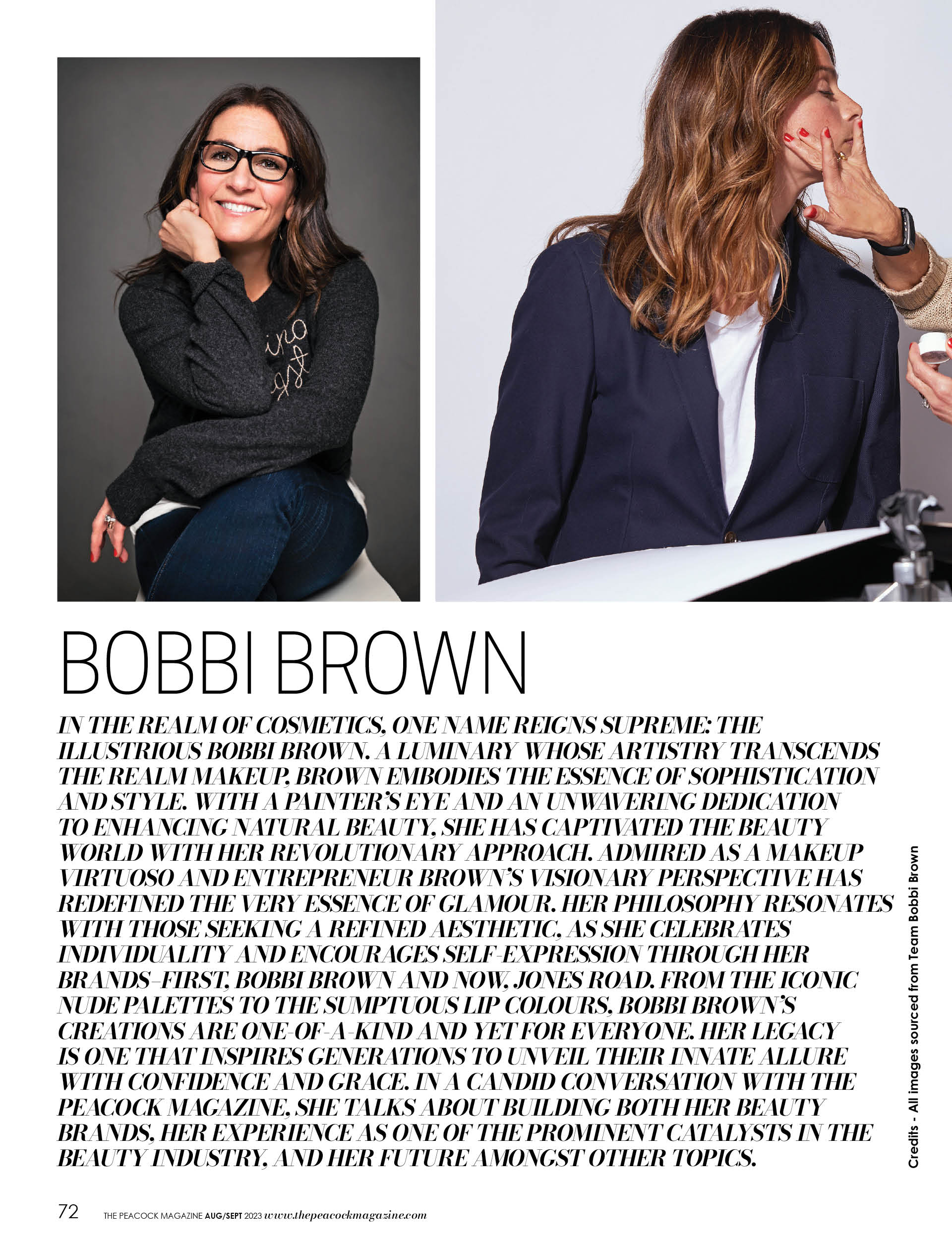 CREDITS – All images sourced from Team Bobbi Brown
In the realm of cosmetics, one name reigns supreme: the illustrious Bobbi Brown. A luminary whose artistry transcends the realm makeup, Brown embodies the essence of sophistication and style. With a painter's eye and an unwavering dedication to enhancing natural beauty, she has captivated the beauty world with her revolutionary approach. Admired as a makeup virtuoso, entrepreneur, and author, Brown's visionary perspective has redefined the very essence of glamour. Her philosophy resonates with those seeking a refined aesthetic, as she celebrates individuality and encourages self-expression through her brands—first, Bobbi Brown and now, Jones Road. From the iconic nude palettes to the sumptuous lip colours, Bobbi Brown's creations are one-of-a-kind and yet for everyone. Bobbi Brown's legacy is one of unbridled sophistication, inspiring generations to unveil their innate allure with confidence and grace. In a candid conversation with The Peacock Magazine, she talks about building both her beauty brands, her experience as one of the prominent catalysts in the beauty industry, and her future amongst other topics.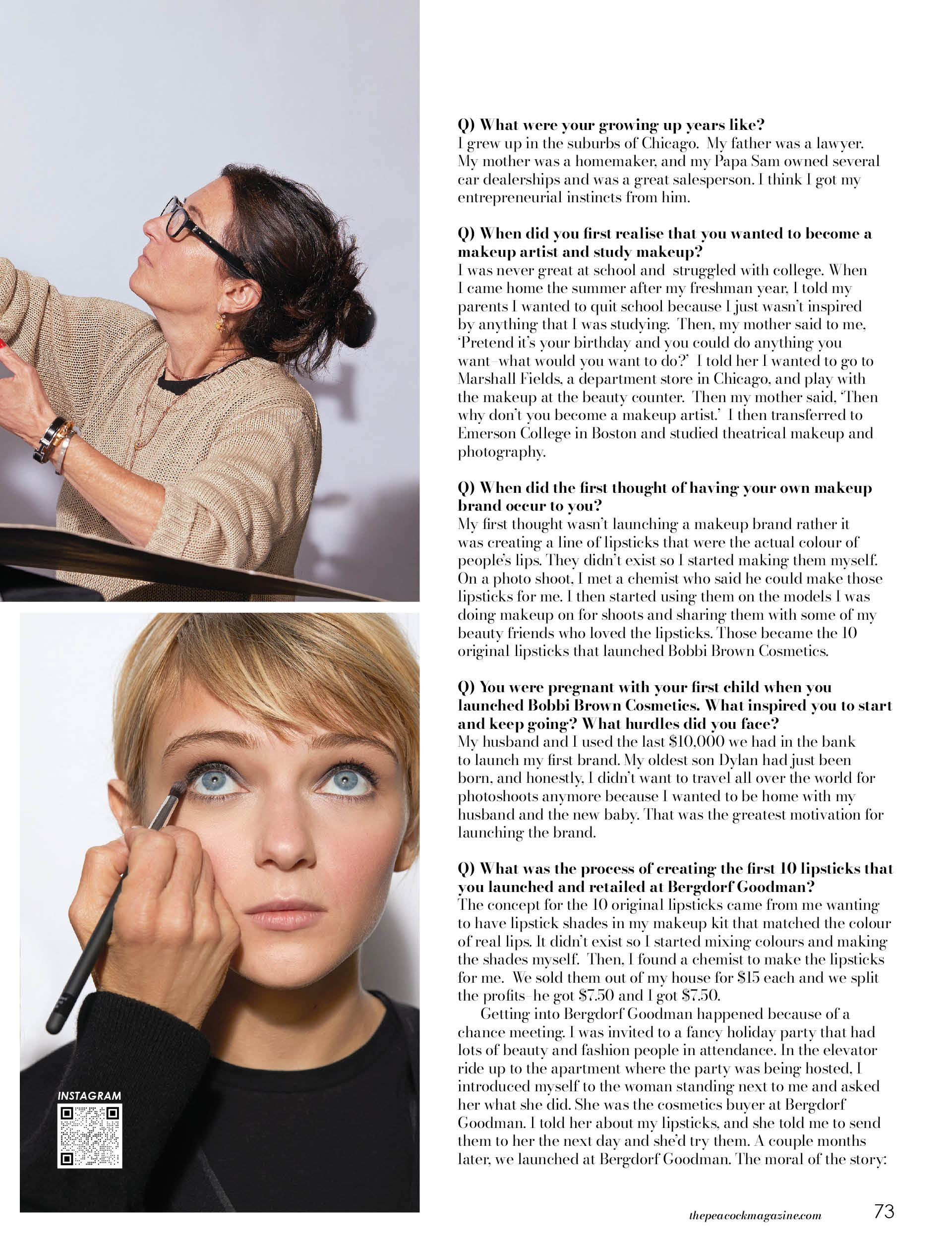 Q) What were your growing up years like?
I grew up in the suburbs of Chicago. My father was a lawyer. My mother was a homemaker, and my Papa Sam owned several car dealerships and was a great salesperson. I think I got my entrepreneurial instincts from him.
Q) When did you first realise that you wanted to become a makeup artist and study makeup?
I was never great at school and struggled with college. When I came home the summer after my freshman year, I told my parents I wanted to quit school because I just wasn't inspired by anything that I was studying. Then, my mother said to me, 'Pretend it's your birthday and you could do anything you want—what would you want to do?' I told her I wanted to go to Marshall Fields, a department store in Chicago, and play with the makeup at the beauty counter. Then my mother said, 'Then why don't you become a makeup artist.' I then transferred to Emerson College in Boston and studied theatrical makeup and photography.
Q) When did the first thought of having your own makeup brand occur to you?
My first thought wasn't launching a makeup brand rather it was creating a line of lipsticks that were the actual colour of people's lips. They didn't exist so I started making them myself. On a photo shoot, I met a chemist who said he could make those lipsticks for me. I then started using them on the models I was doing makeup on for shoots and sharing them with some of my beauty friends who loved the lipsticks. Those became the 10 original lipsticks that launched Bobbi Brown Cosmetics.
Q) You were pregnant with your first child when you launched Bobbi Brown Cosmetics. What inspired you to start and keep going? What hurdles did you face?
My husband and I used the last $10,000 we had in the bank to launch my first brand. My oldest son Dylan had just been born, and honestly, I didn't want to travel all over the world for photoshoots anymore because I wanted to be home with my husband and the new baby. That was the greatest motivation for launching the brand.
Q) What was the process of creating the first 10 lipsticks that you launched and retailed at Bergdorf Goodman?
The concept for the 10 original lipsticks came from me wanting to have lipstick shades in my makeup kit that matched the colour of real lips. It didn't exist so I started mixing colours and making the shades myself. Then, I found a chemist to make the lipsticks for me. We sold them out of my house for $15 each and we split the profits—he got $7.50 and I got $7.50.
Getting into Bergdorf Goodman happened because of a chance meeting. I was invited to a fancy holiday party that had lots of beauty and fashion people in attendance. In the elevator ride up to the apartment where the party was being hosted, I introduced myself to the woman standing next to me and asked her what she did. She was the cosmetics buyer at Bergdorf Goodman. I told her about my lipsticks, and she told me to send them to her the next day and she'd try them. A couple months later, we launched at Bergdorf Goodman. The moral of the story: talk to everyone and be nice. You never know who you will meet in an elevator!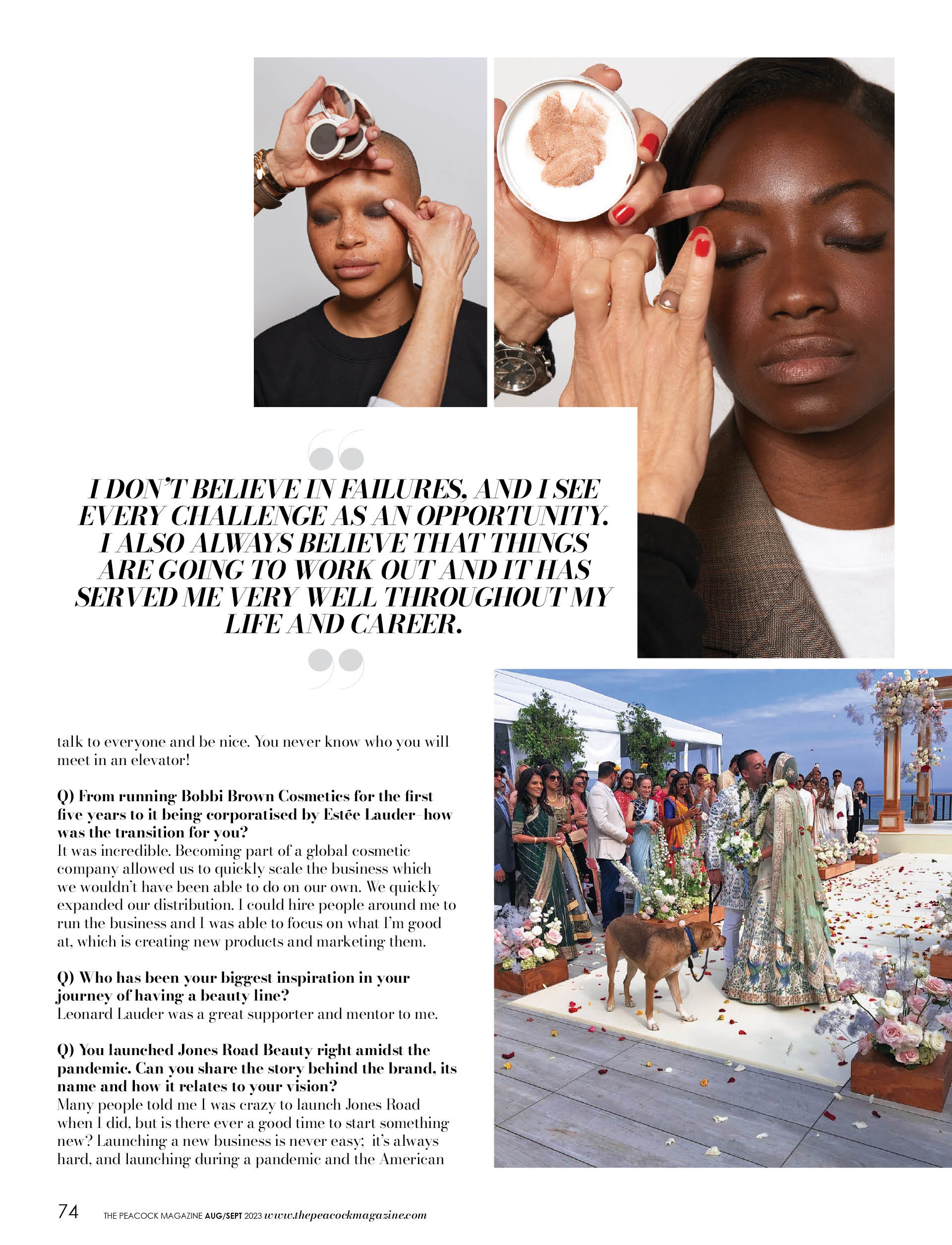 Q) From running Bobbi Brown Cosmetics for the first five years to it being corporatised by Estée Lauder—how was the transition for you?
It was incredible. Becoming part of a global cosmetic company allowed us to quickly scale the business which we wouldn't have been able to do on our own. We quickly expanded our distribution. I could hire people around me to run the business and I was able to focus on what I'm good at, which is creating new products and marketing them.
Q) Who has been your biggest inspiration in your journey of having a beauty line?
Leonard Lauder was a great supporter and mentor to me.
Q) You launched Jones Road Beauty right amidst the pandemic. Can you share the story behind the brand, its name and how it relates to your vision?
Many people told me I was crazy to launch Jones Road when I did, but is there ever a good time to start something new? Launching a new business is never easy; it's always hard, and launching during a pandemic and the American Presidential election season sounded crazy. But one lesson I've learned as an entrepreneur is that if you wait for the "perfect time" to do anything, nothing happens. I don't wait. I create. Ironically, Jones Road seemed appropriate during a time when we were all learning to live with less and to accept things as they are, including the way we looked. Honestly, if you're eating well and taking care of yourself, you don't need a lot of makeup to look and feel good. That's always been my philosophy and Jones Road celebrates that. It's the ultimate no-makeup makeup and that's consistently been my vision for over the last 30 years.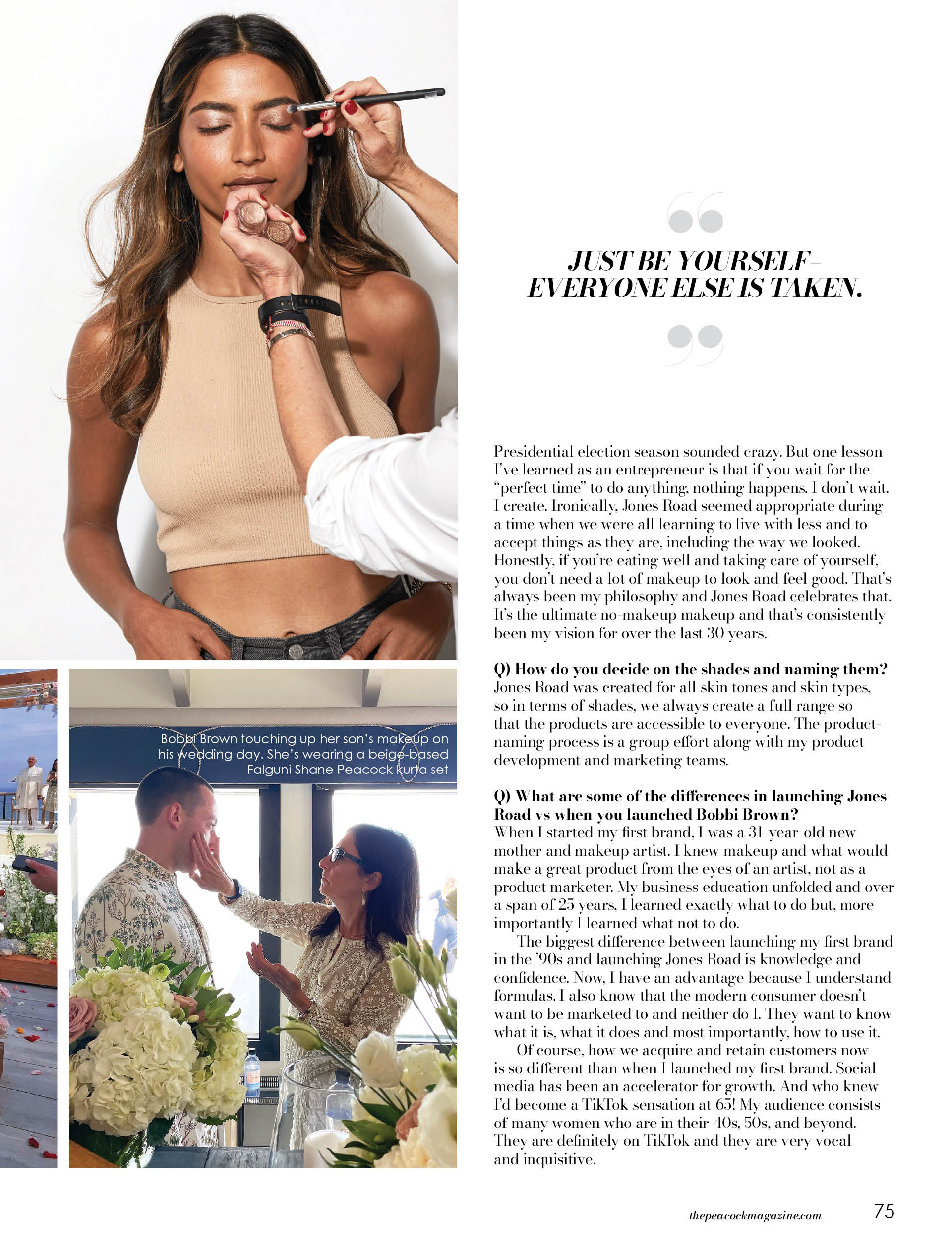 Q) How do you decide on the shades and naming them?
Jones Road was created for all skin tones and skin types, so in terms of shades, we always create a full range so that the products are accessible to everyone. The product-naming process is a group effort along with my product development and marketing teams.
Q) What are some of the differences in launching Jones Road vs when you launched Bobbi Brown?
When I started my first brand, I was a 31-year-old new mother and makeup artist. I knew makeup and what would make a great product from the eyes of an artist, not as a product marketer. My business education unfolded and over a span of 25 years, I learned exactly what to do but, more importantly I learned what not to do.
The biggest difference between launching my first brand in the '90s and launching Jones Road is knowledge and confidence. Now, I have an advantage because I understand formulas. I also know that the modern consumer doesn't want to be marketed to and neither do I. They want to know what it is, what it does and most importantly, how to use it.
Of course, how we acquire and retain customers now is so different than when I launched my first brand. Social media has been an accelerator for growth. And who knew I'd become a TikTok sensation at 65! My audience consists of many women who are in their 40s, 50s, and beyond. They are definitely on TikTok and they are very vocal and inquisitive.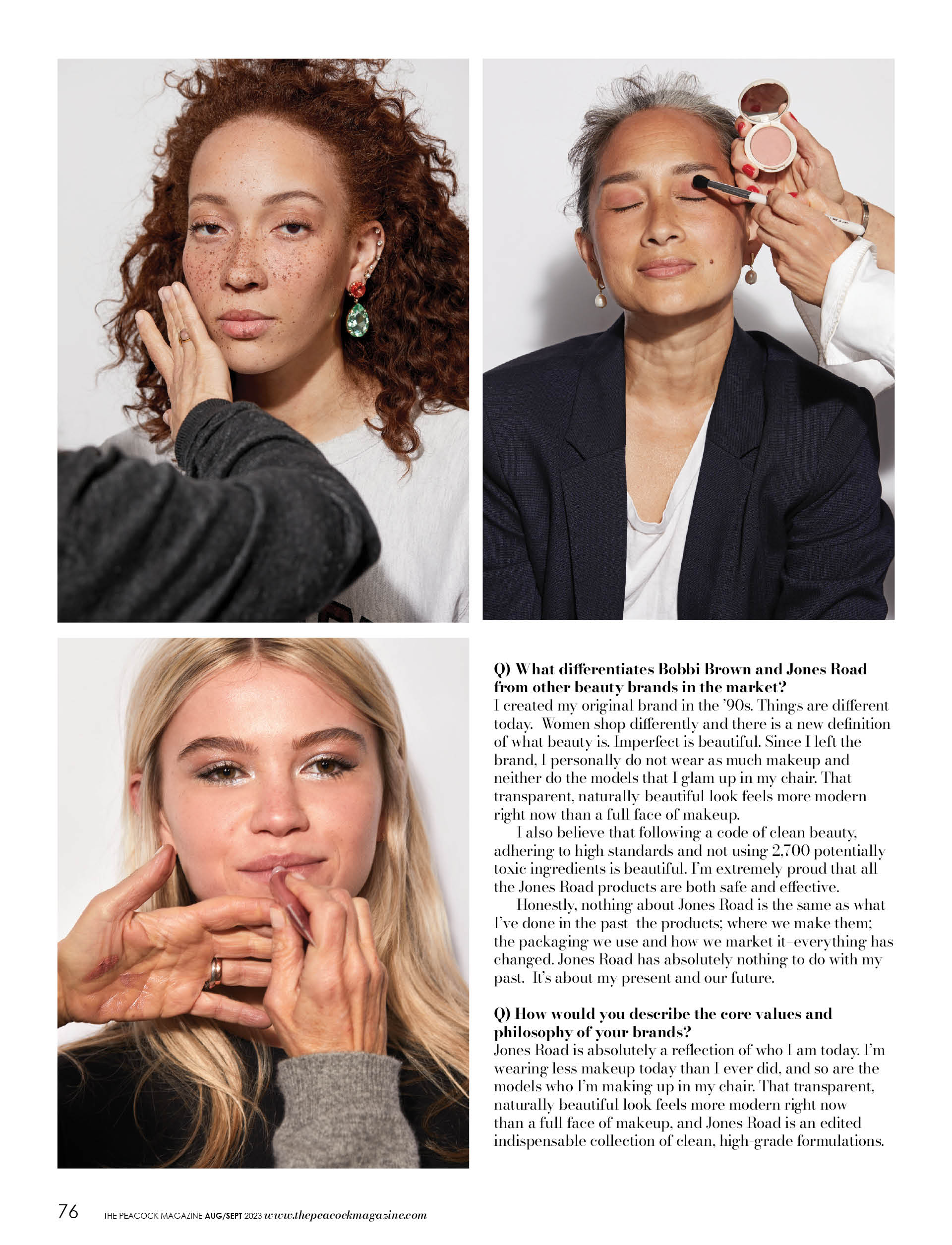 Q) What differentiates Bobbi Brown and Jones Road from other beauty brands in the market?
I created my original brand in the '90s. Things are different today. Women shop differently and there is a new definition of what beauty is. Imperfect is beautiful. Since I left the brand, I personally do not wear as much makeup and neither do the models that I glam up in my chair. That transparent, naturally-beautiful look feels more modern right now than a full face of makeup.
I also believe that following a code of clean beauty, adhering to high standards and not using 2,700 potentially toxic ingredients is beautiful. I'm extremely proud that all the Jones Road products are both safe and effective.
Honestly, nothing about Jones Road is the same as what I've done in the past—the products; where we make them; the packaging we use and how we market it—everything has changed. Jones Road has absolutely nothing to do with my past. It's about my present and our future.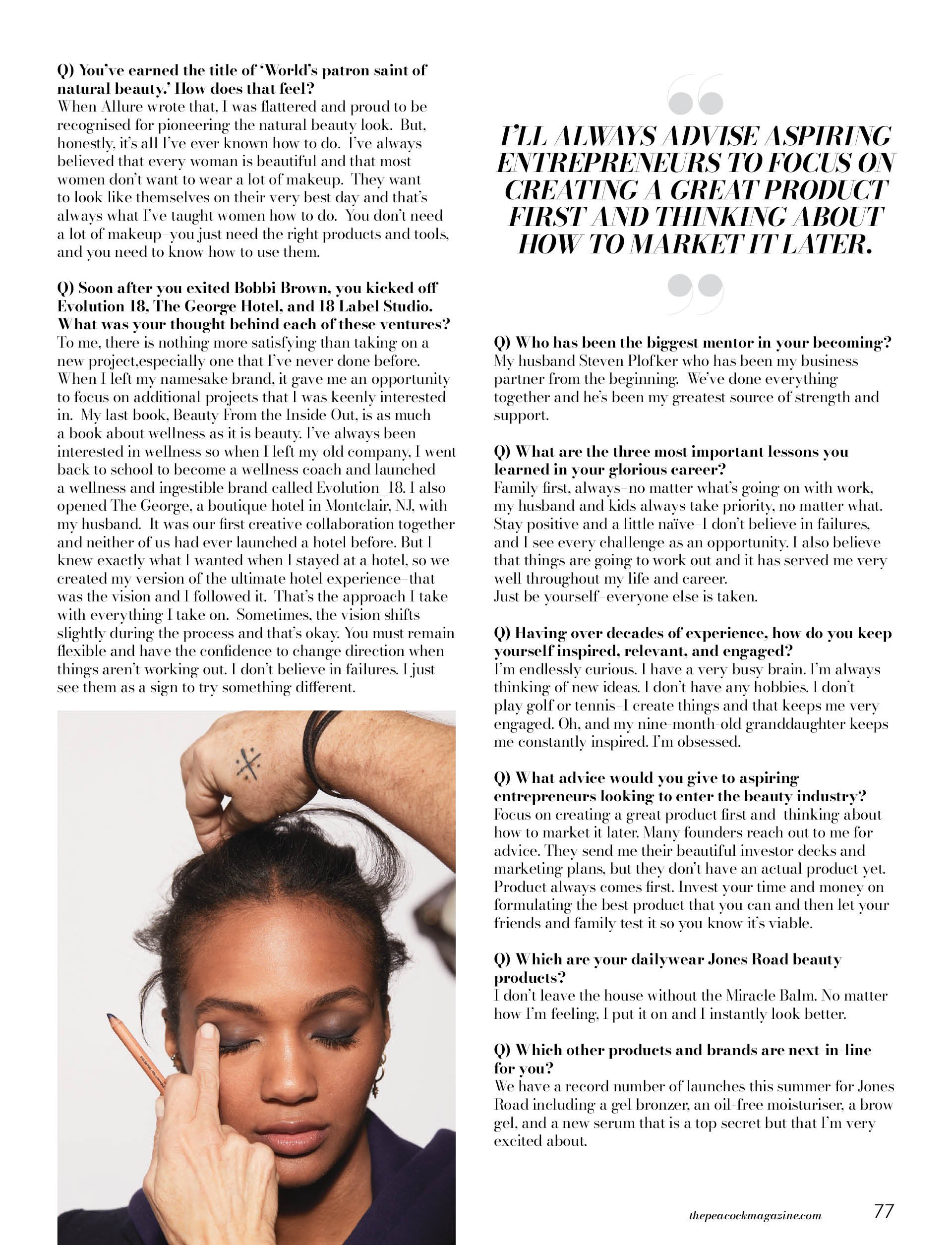 Q) How would you describe the core values and philosophy of your brands?
Jones Road is absolutely a reflection of who I am today. I'm wearing less makeup today than I ever did, and so are the models who I'm making up in my chair. That transparent, naturally beautiful look feels more modern right now than a full face of makeup, and Jones Road is an edited indispensable collection of clean, high-grade formulations.
Q) You've earned the title of 'World's patron saint of natural beauty.' How does that feel?
When Allure wrote that, I was flattered and proud to be recognised for pioneering the natural beauty look. But, honestly, it's all I've ever known how to do. I've always believed that every woman is beautiful and that most women don't want to wear a lot of makeup. They want to look like themselves on their very best day and that's always what I've taught women how to do. You don't need a lot of makeup—you just need the right products and tools, and you need to know how to use them.
Q) Soon after you exited Bobbi Brown, you kicked off Evolution 18, The George Hotel, and 18 Label Studio. What was your thought behind each of these ventures?
To me, there is nothing more satisfying than taking on a new project,especially one that I've never done before. When I left my namesake brand, it gave me an opportunity to focus on additional projects that I was keenly interested in. My last book, Beauty From the Inside Out, is as much a book about wellness as it is beauty. I've always been interested in wellness so when I left my old company, I went back to school to become a wellness coach and launched a wellness and ingestible brand called Evolution_18. I also opened The George, a boutique hotel in Montclair, NJ, with my husband. It was our first creative collaboration together and neither of us had ever launched a hotel before. But I knew exactly what I wanted when I stayed at a hotel, so we created my version of the ultimate hotel experience—that was the vision and I followed it. That's the approach I take with everything I take on. Sometimes, the vision shifts slightly during the process and that's okay. You must remain flexible and have the confidence to change direction when things aren't working out. I don't believe in failures. I just see them as a sign to try something different.
Q) Who has been the biggest mentor in your becoming?
My husband Steven Plofker who has been my business partner from the beginning. We've done everything together and he's been my greatest source of strength and support.
Q) What are the three most important lessons you learned in your glorious career?
Family first, always—no matter what's going on with work, my husband and kids always take priority, no matter what.
Stay positive and a little naïve—I don't believe in failures, and I see every challenge as an opportunity. I also believe that things are going to work out and it has served me very well throughout my life and career.
Just be yourself—everyone else is taken.
Q) Having over decades of experience, how do you keep yourself inspired, relevant, and engaged?
I'm endlessly curious. I have a very busy brain. I'm always thinking of new ideas. I don't have any hobbies. I don't play golf or tennis—I create things and that keeps me very engaged. Oh, and my nine-month-old granddaughter keeps me constantly inspired. I'm obsessed.
Q) What advice would you give to aspiring entrepreneurs looking to enter the beauty industry?
Focus on creating a great product first and thinking about how to market it later. Many founders reach out to me for advice. They send me their beautiful investor decks and marketing plans, but they don't have an actual product yet. Product always comes first. Invest your time and money on formulating the best product that you can and then let your friends and family test it so you know it's viable.
Q) Which are your dailywear Jones Road beauty products?
I don't leave the house without the Miracle Balm. No matter how I'm feeling, I put it on and I instantly look better.
Q) Which other products and brands are next-in-line for you?
We have a record number of launches this summer for Jones Road including a gel bronzer, an oil-free moisturiser, a brow gel, and a new serum that is a top secret but that I'm very excited about.