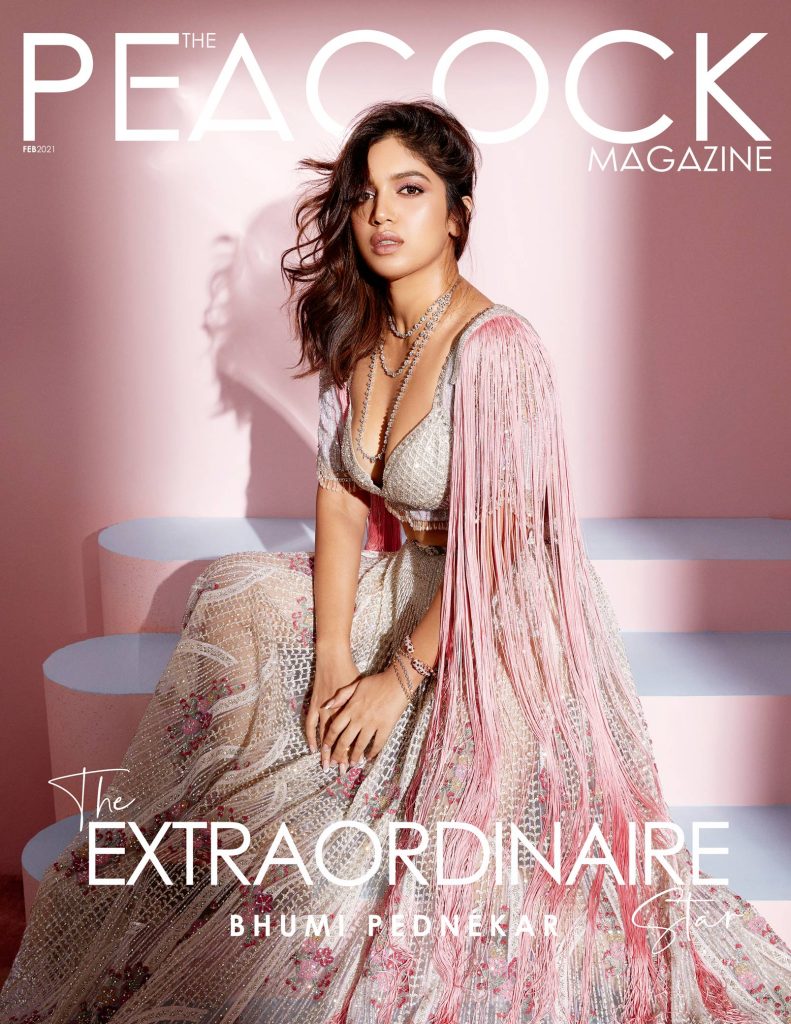 CREDITS-
PHOTOGRAPHER – TARAS TARAPOREWALA
STYLING – WHO WORE WHAT WHEN
MAKEUP – SONIC SARWATE
HAIR – GABRIEL GEORGIOU
PRODUCTION – NIHARIKA PRODUCTIONS
JEWELLERY – HAZOORILAL JEWELLERS
WARDROBE – FALGUNI SHANE PEACOCK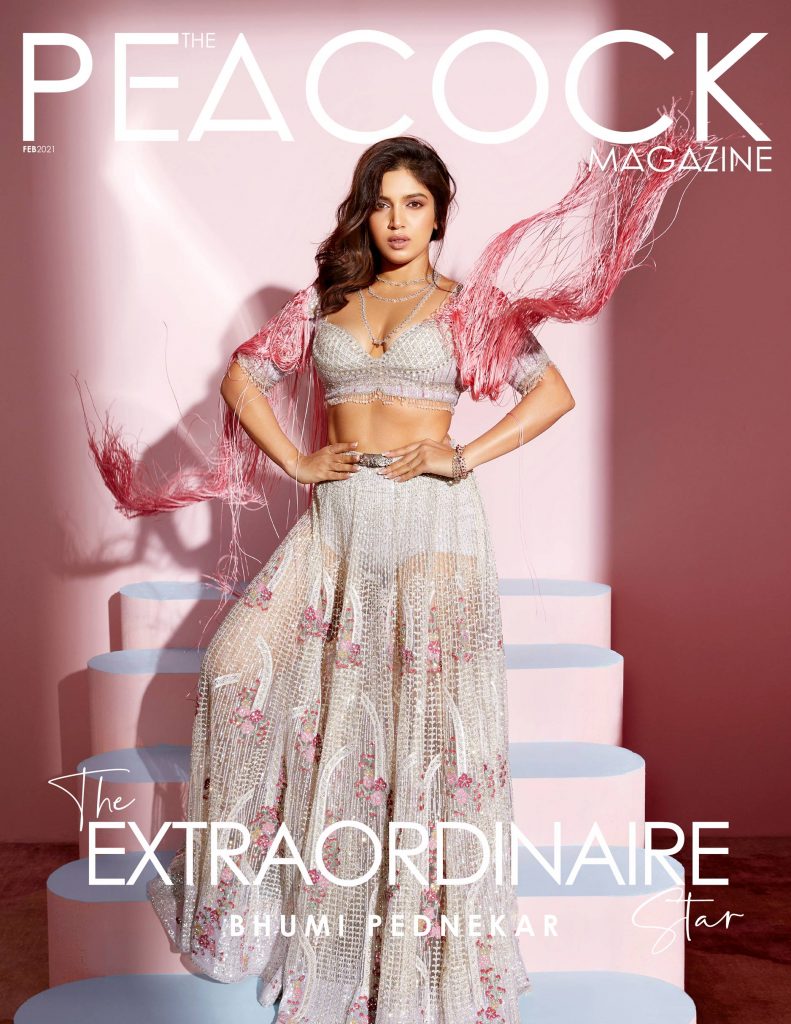 It's 9 pm, quite the time for most of us to call it a day. As I hear the phone ring to the other end of the line, I assume Bhumi Pednekar to be exhausted like most of us after a long day at the shoot. The Bollywood actor is currently shooting for her upcoming film 'Badhai Do' with Rajkumar Rao in Uttarakhand. But the moment the line connects, I'm proven wrong for Bhumi chirps in her 'Hi' and enquires about my wellbeing with much gusto. Her spunky, spirited self got me sitting up and listening to every word of hers with utmost attention and interest.
The 31-year-old modestly brushes me off when I ask her to talk about her acting career until now. 'It hasn't been a long one,' she says. But remind her that her not-so-long stint has been a powerful one, she gracefully accepts it and regales stories about all the characters she has essayed, which are a fine portrayal of women of fortitude with a strong moral fibre.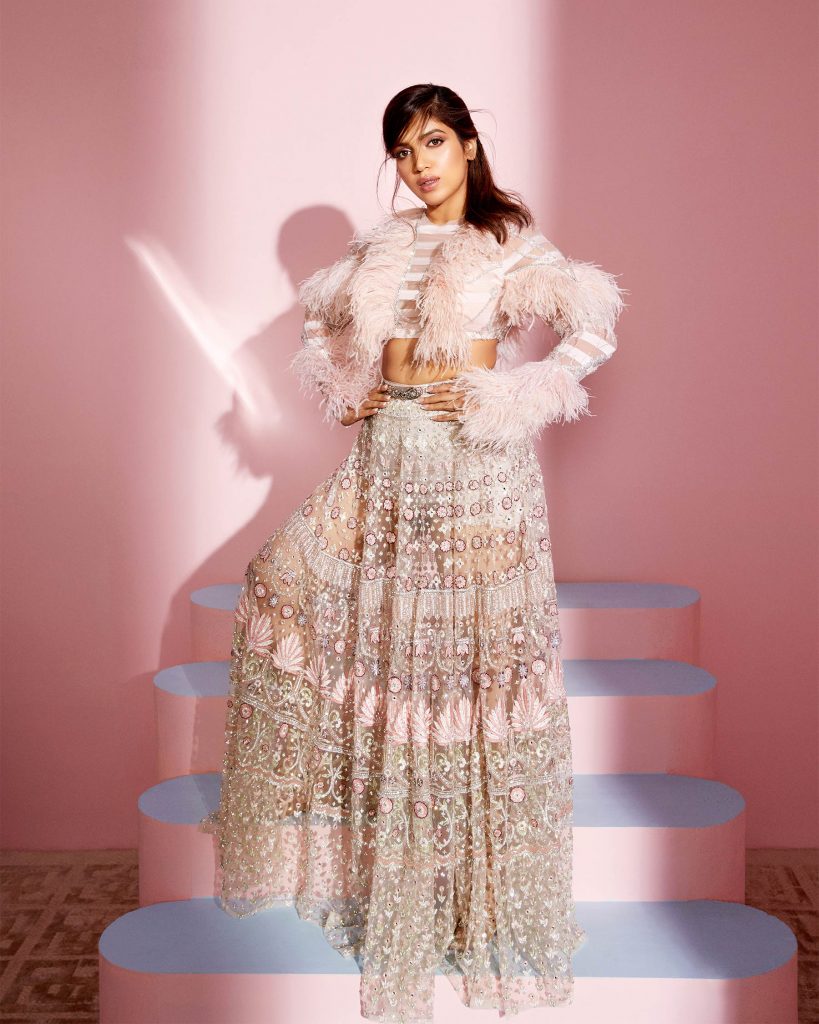 Bhumi made her debut as an actor with an unconventional film 'Dum Laga Ke Haisha' that she agreeably believes set the tone of her career thereafter. She kept raising the bar with movies like 'Toilet – Ek Prem Katha,' 'Shubh Mangal Savdhaan,' and many others. But she believes that her journey has just begun and that there are many more women of grit whose stories need to be brought forth and thrown the spotlight on.
Bhumi speaks about all this and much more in a candid, unvarnished interview to The Peacock Magazine.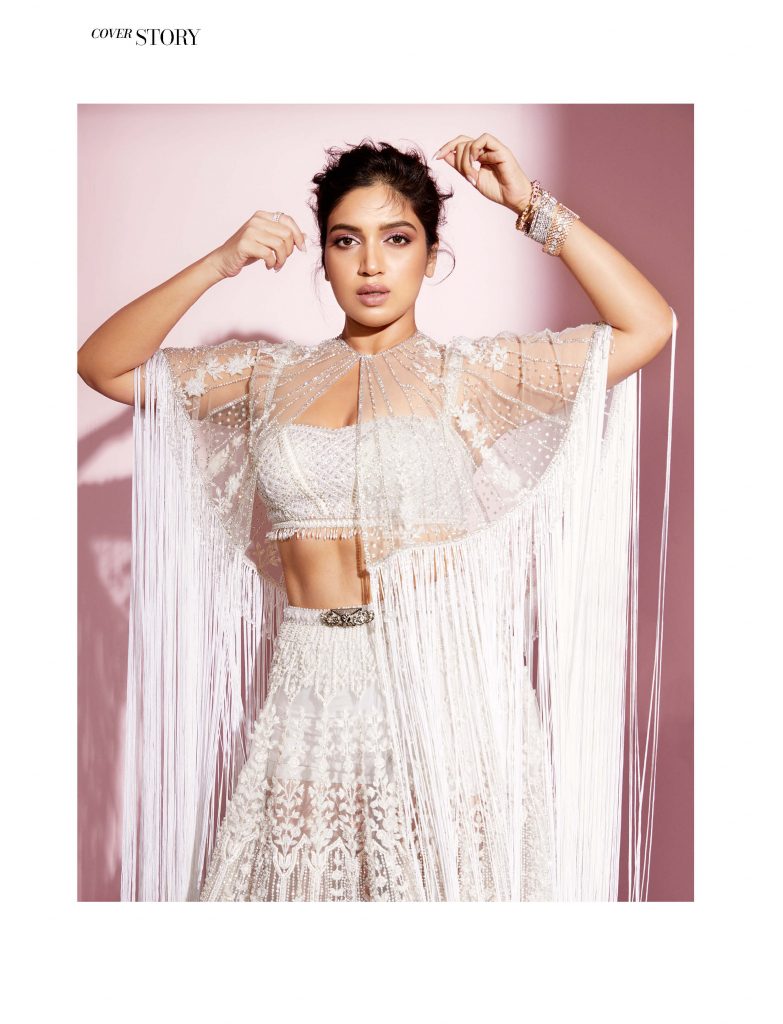 INTERVIEW –
[Q] How were your growing up years like?
I'm from Bombay. I was born and brought up here. My childhood was a healthy mix of traditional-yet-modern values. I was fortunate to be born in a progressive family, where our breakfast conversations centered mostly around world economics, the political conditions and situations across the world, etc. We were always aware of what was happening socio-politically around us. At the same time, we were taught to be always empathetic. We saw a lot of that in our parents. But apart from that, my growing up years were full of happiness and joy as I grew up in a happy, healthy atmosphere. I'm your regular Juhu girl and a true Mumbaikar in every way possible.
[Q] You worked as an assistant casting director with Yashraj Films (YRF) for five years before stepping into the acting arena. What got you transitioning from a casting director to an actor?
I wasn't just a casting director for the five years before I became an actor. Casting was only one of the many things I did while being behind the camera. Rather, it was my last job before I became an actor. But those five years behind the camera did me as good as a film school would do to me. It was where I learned almost everything and did every kind of odd job possible, be it assisting, casting for films, pre-production work, post-production work, writing, and so on. I've done all of it because I've always wanted to be a part of the system. I love the world of cinema. Even though I was behind the camera throughout these five years, I was pretty clear about my goal of becoming an actor. And then eventually, Dum Laga Ke Haisha happened.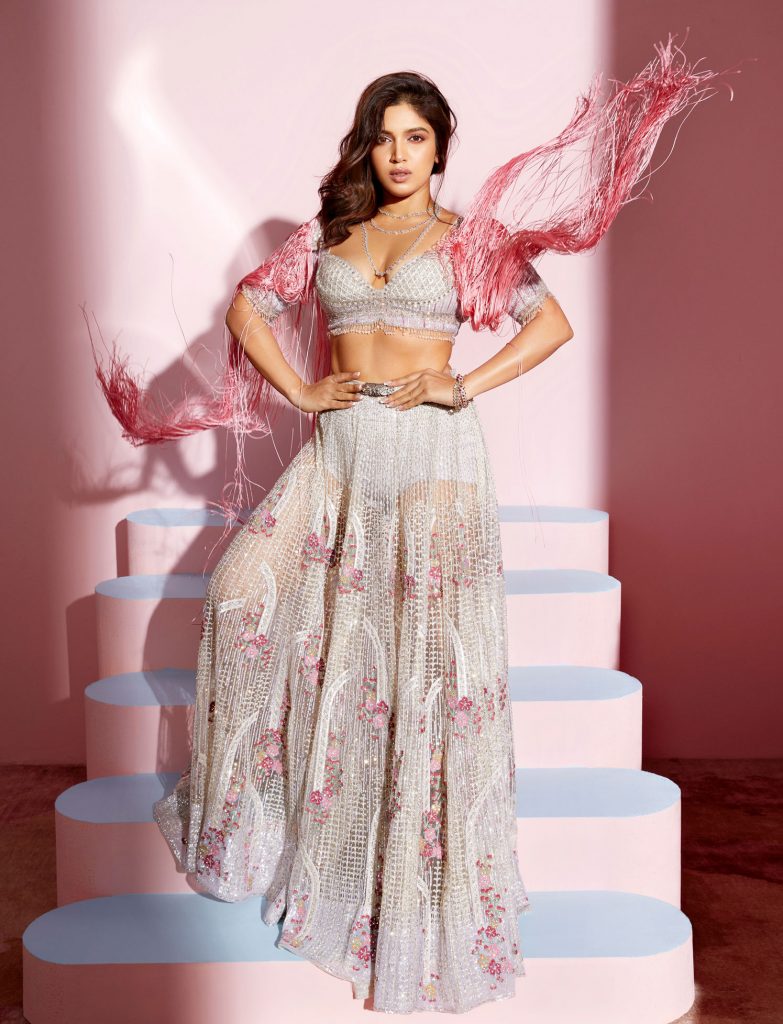 [Q] How did you bag your debut film?
Somewhere deep down, I always knew that I was going to eventually land up doing what I love, which is acting. I knew I would be an actor performing for the camera, but it was just that I didn't know how it would happen. That said, I was fortunate enough to work with Yashraj Films (YRF), who are constantly looking out and launching new talent. Destiny, too, played its role when a script as unconventional as Dum Laga Ke Haisha came in. My seniors i.e., my boss Shanoo Sharma and Adi sir (Aditya Chopra), had seen me conduct auditions plenty of times, so they kind of thought there is an inherent actor in me and got me auditioning for the film. In fact, I auditioned for three months because the director thought I was inherently good for the part. Physically, I wasn't there anywhere close, but I was happy to put on the kilos required for the role. So, there is no one particular moment of transition. I would say it was a mix of my destiny and my hard work. It was a summation of a lot of events that ended up in me being casted in a Yashraj film like Dum Laga Ke Haisha.
[Q] In most of your films, you have portrayed 'women of fortitude with a strong moral fibre.' How do you go about choosing your scripts?
I believe choosing a script has a lot to do with your personal sensibilities. Like I said earlier, I come from an empowered household. I have seen extremely strong women around me, I have seen women who have always stood up for what they feel is right, and I've seen many evolved men around me, as well. We did not have any gender bias in our house. But when I grew up, I realized that the world outside is very different from the world that I grew up in. When you're a child, you live a sheltered life that is your cocoon. But when you're an adult and go out there into the real world, you tend to face a lot of prejudices that you haven't before or aren't used to. I was fortunate enough for Dum Laga Ke Haisha to happen, which set a precedent to what the rest of my career would look like, which was an unconventional path with strong women characters. It set the tone of my career, and I feel like, through my work, I want to comment on certain issues or make a statement about something, and those are the kind of films that I choose. That said, one of the main criteria to choose any film is to entertain the audience, and that will always remain.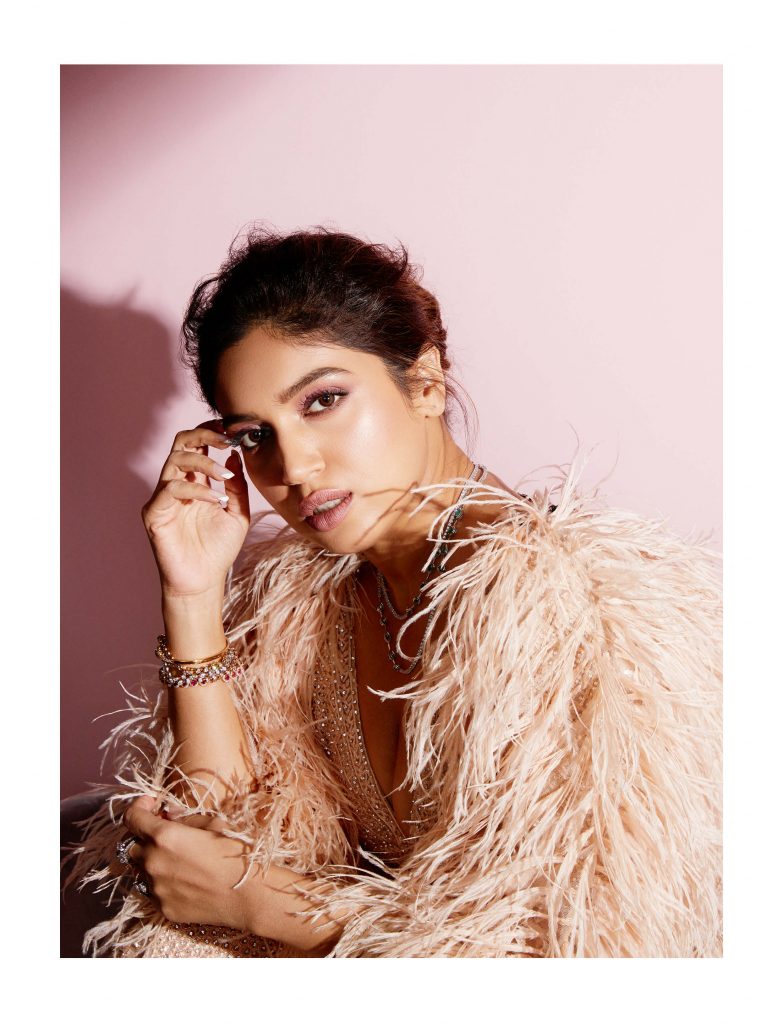 [Q] What aspects does a character need to have for you to find it interesting?
I look at a character like I look at a human being. When I meet somebody for the first time, there are so many aspects of them that strike me. It makes me want to meet them again. And that is precisely what I look for in a character. I like to understand what the character stands for, what their goals are, what their fight is about, what their path is, and what are their struggles, etc. It is only when I can empathize with all of these and more, that I want to play the role of that character.
[Q] Do the characters you essay ever get under your skin?
Oh yes, they do all the time! It takes me a lot of time to detach myself. I wouldn't say all films do that because every film requires a different amount of prep work, and every film has a different impact on you. But yes, it has happened many-a-times where it has taken me a couple of weeks to get out of a character.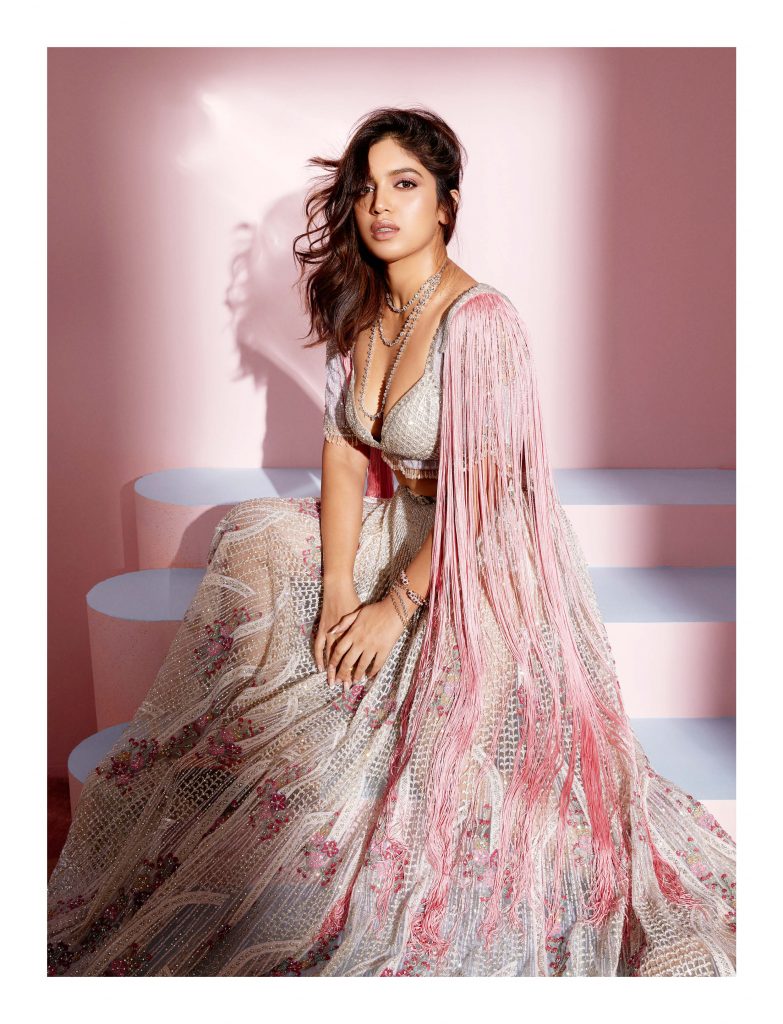 [Q] Do you have any method approach that helps you experience the transitioning from character to character smoothly?
I don't have any particular way of doing it. Every film is different. Certain films require months of preparation, while certain films require none. So, I try not following a set method or a set formula because that gets boring.
[Q] Which movie has been the turning point in life?
I've done about twelve films in a short span of five years, and it is tough for me to pick one movie. Excluding Dum Laga Ke Haisha for obvious reasons, I think Toilet – Ek Prem Katha gave me the reach I was seeking. It was only my second film. It was a film with Akshay sir and a role that was extremely strong and an empowered one. It gave me such a great opportunity to perform. I would also like to add Pati Patni Aur Woh because it showed a different side of my acting chops. Sonchiriya, too, gave me an incredible amount of critical acclaim and brought me onto the radar of so many filmmakers, despite it not being a commercially successful film.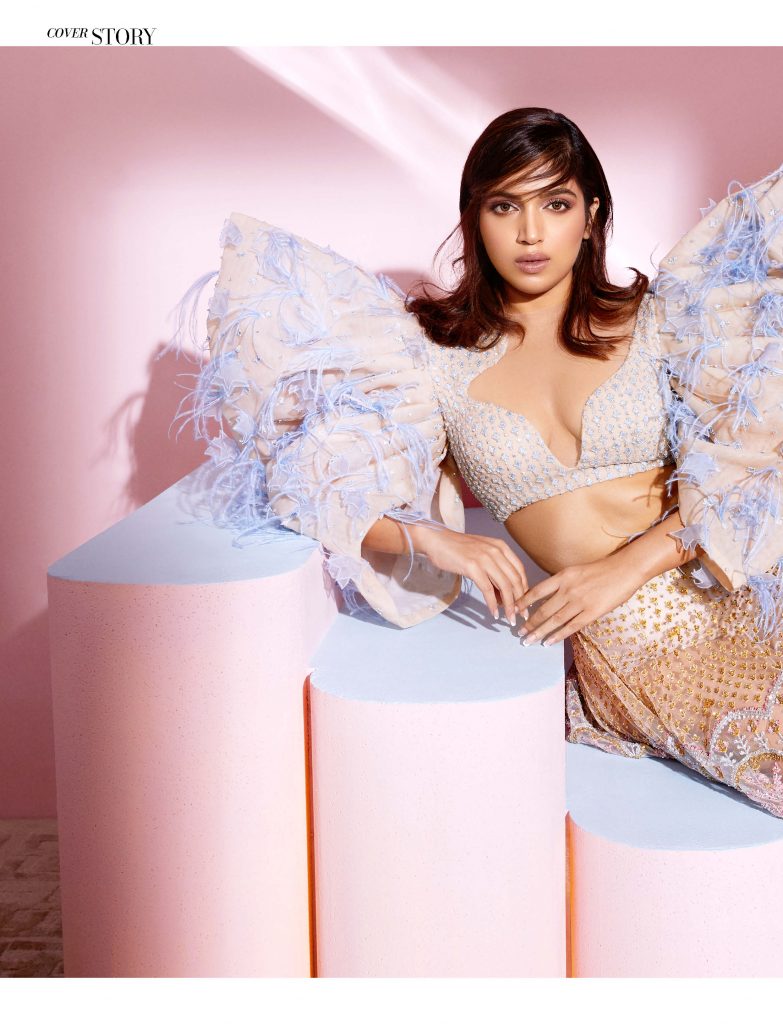 [Q] What is your mindset on the set like?
It has got more to do with the character that I'm playing at that point. I am someone who really gets into a zone. For example, currently, I'm shooting for Badhai Do, which is a super fun film with Raj (Kumar Rao). So, all Raj and I are doing on sets is cracking jokes, laughing, and having a gala time. I'm not a temperamental person because I don't get angry easily. I'm a bit of a control freak because I'm a perfectionist, and I love being in control. As I'm growing older, I'm trying hard to ensure that I'm in a peaceful state of mind most of the time. I've realized it is important for an actor to not have any extra thoughts in your head while performing. All-in-all, I'm a happy, good-vibes-only person.
[Q] Do you think you've gotten better at cutting out the rest of the noise and focusing only on your craft?
I believe, the more you succeed, the noise increases even more. It gets tougher because of the added volume of work. I remember when I started out, I was only shooting films, and there were no extra things to attend to or do. But now there are a lot more commitments and you have so much work apart from the film work that you're doing. It gets a tad bit tough to disconnect, and I'm a person who loves disconnecting. In fact, I'm not even in touch with my family when I'm shooting. It takes a lot for me to stay connected with people or something, but I guess it's a part and parcel of the kind of actor that I want to be. I think if you are the actor who wants a certain amount of social reach, you will have to become a little accepting of the noise and learn your way around it. That said, I still try to cut down as many unnecessary things as possible.
[Q] How important is it for you to challenge yourself even further with every film that you do?
Oh, it's extremely important! The idea is to be better than your last film. When I manage to do that, it's okay. But when I don't, I know I need to recalibrate and work harder. More so because I'm a performance-led actor, and I see people expecting something unconventional and different out of me. It creates a lot of pressure sometimes, but I've managed well with the pressure so far.
[Q] OTT platform content and web series grew manifold in the last couple of years. Would you be interested in debuting on any of the platforms? What kind of roles would you like to essay?
The OTT platforms have been a great disruptive medium where, today, an actor can experiment a lot with their craft and break barriers and boundaries. While I haven't really thought about what kind of roles I would want to do on the OTT platforms, I definitely know it has to be something better than my films.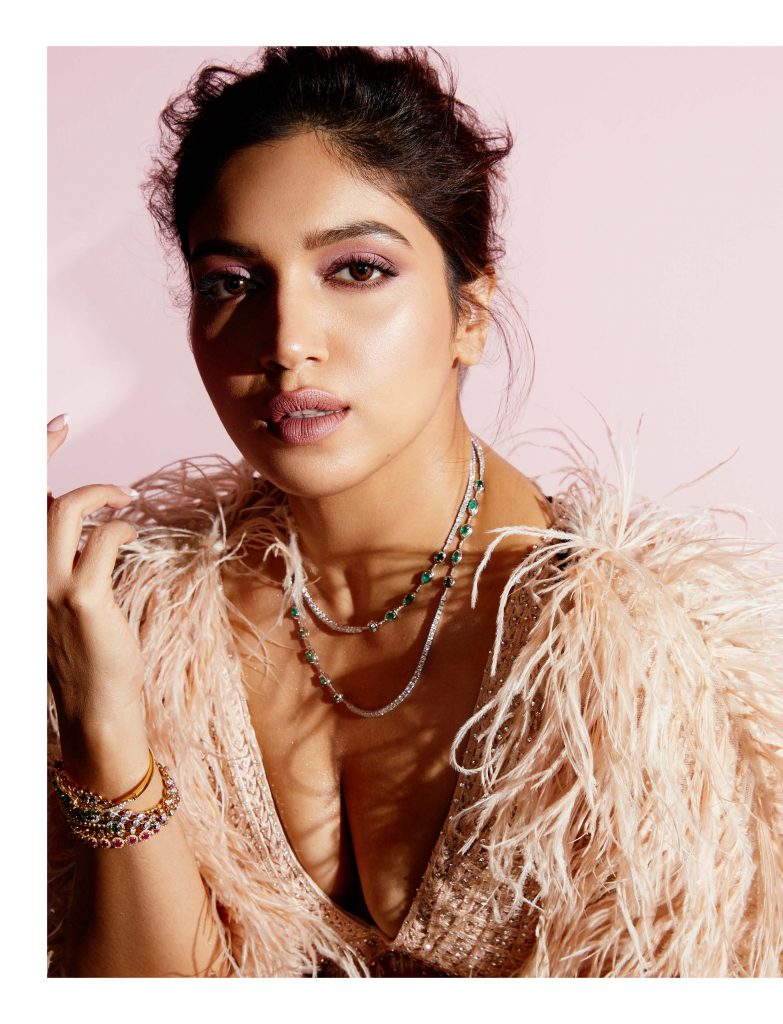 [Q] What is the best advice any director has given you?
The best advice came from Abhishek Chaubey (director of Sonchiriya), which changed my craft. He said, 'As actors, we inherently express way too much through our eyes, and at times that is not really required.' That advice gave me another tool as a performer!
[Q] Who has been inspiring you lately?
Greta Thunberg.
[Q] What are some of the personal beliefs that you firmly stand by professionally?
A few things that are important for me personally and professionally are discipline, good and civil behavior, a good temperament, and self-belief.
[Q] How do you stay grounded?
The fear of losing what I have keeps me grounded.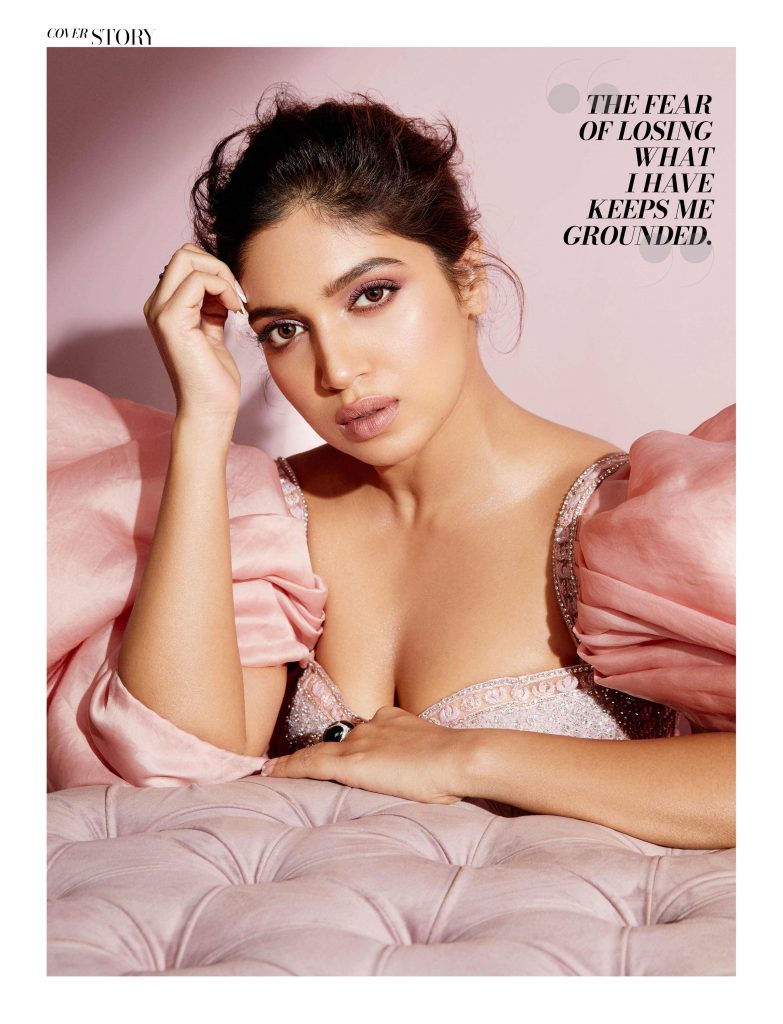 [Q] How do you unwind?
I unwind by sleeping! (laughs) I get no time to sleep, so that is pretty much a luxury for me.
[Q] Who is Bhumi Pednekar when she is off-screen?
I'm nothing like the parts that I play. I'm a simple, fun, and extremely happy person, who is very ambitious and who loves to think about work even when I'm off-screen. (laughs) I'm a homebody and a family person, and whenever I'm home, I'm usually lazing around or sleeping. My only mantra in life is to be happy.
Dazzling the cover story of February issue of the fashion magazine of label Falguni Shane Peacock, The Peacock Magazine, Bhumi Pednekar gets candid about her hustle from behind the reels to being one of the budding versatile actors of the current Bollywood era.
Tending to trend frequently among the celebrity news since a while now, the star reveals about her passion for the craft of cinema, her ever-standing love for the lens and her journey to becoming one of the beloved actors of this generation.
Sporting an ethereal Falguni Shane Peacock ivory lehenga choli decked with floral motifs and tassles, she divulges what keeps her inspired, grounded and focused on her performance amidst the constant competition and criticism.
The objective of publishing a feature story of a person in a fashion magazine is to reveal the raw side of that public personality. It intends towards communicating to the masses the attributes of that individual which makes them loved, as well as to enable them to connect with the same.