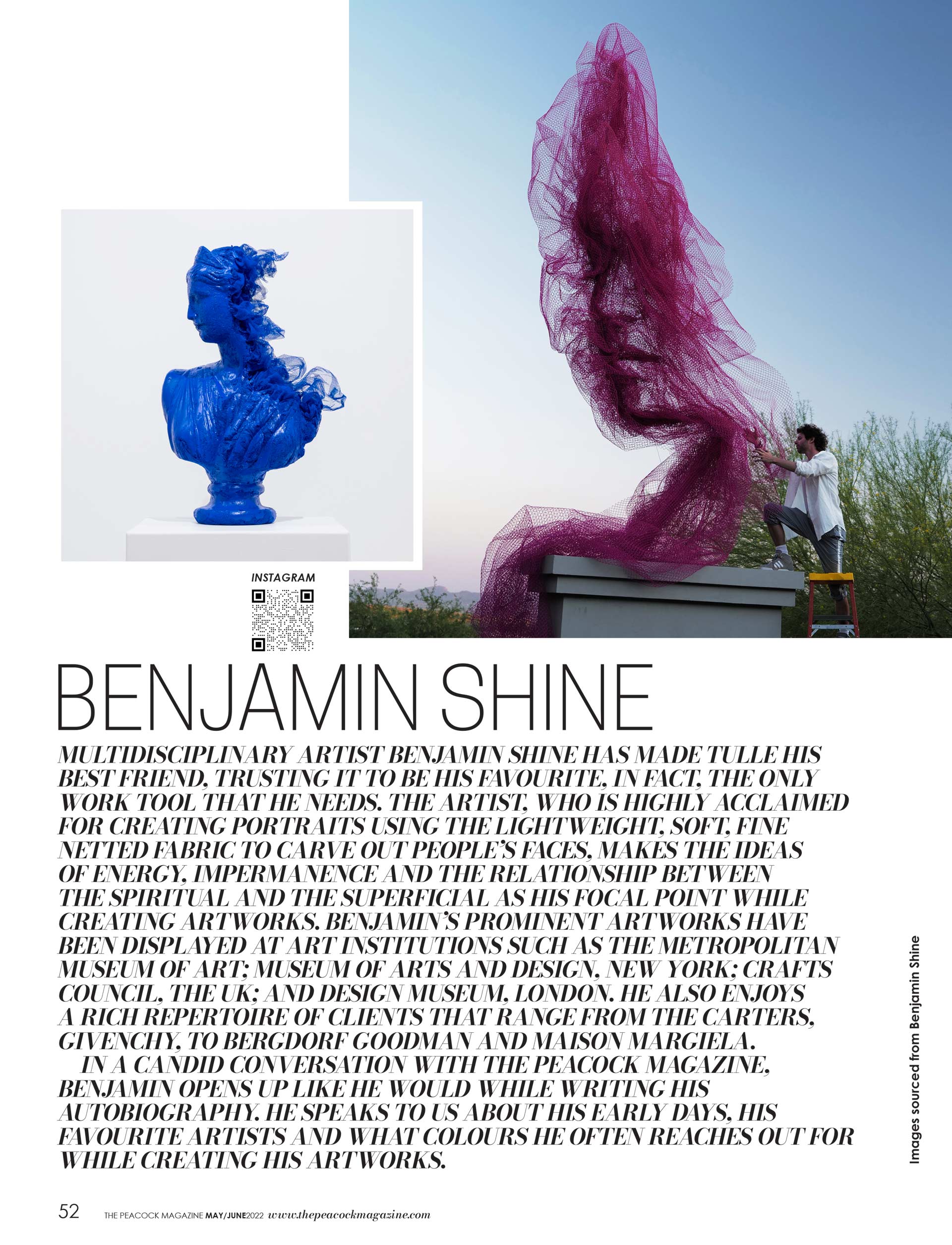 Credits – The artist's own
Multidisciplinary artist Benjamin Shine has made tulle his best friend, trusting it to be his favourite, in fact, the only work tool that he needs. The artist, who is highly acclaimed for creating portraits using the lightweight, soft, fine netted fabric to carve out people's faces, makes the ideas of energy, impermanence and the relationship between the spiritual and the superficial as his focal point while creating artworks. Benjamin's prominent artworks have been displayed at art institutions such as The Metropolitan Museum of Art; Museum of Arts and Design, New York; Crafts Council, the UK; and Design Museum, London. He also enjoys a rich repertoire of clients that range from The Carters, Givenchy, to Bergdorf Goodman and Maison Margiela.

In a candid conversation with The Peacock Magazine, Benjamin opens up like he would while writing his autobiography. He speaks to us about his early days, his favourite artists and what colours he often reaches out for while creating his artworks.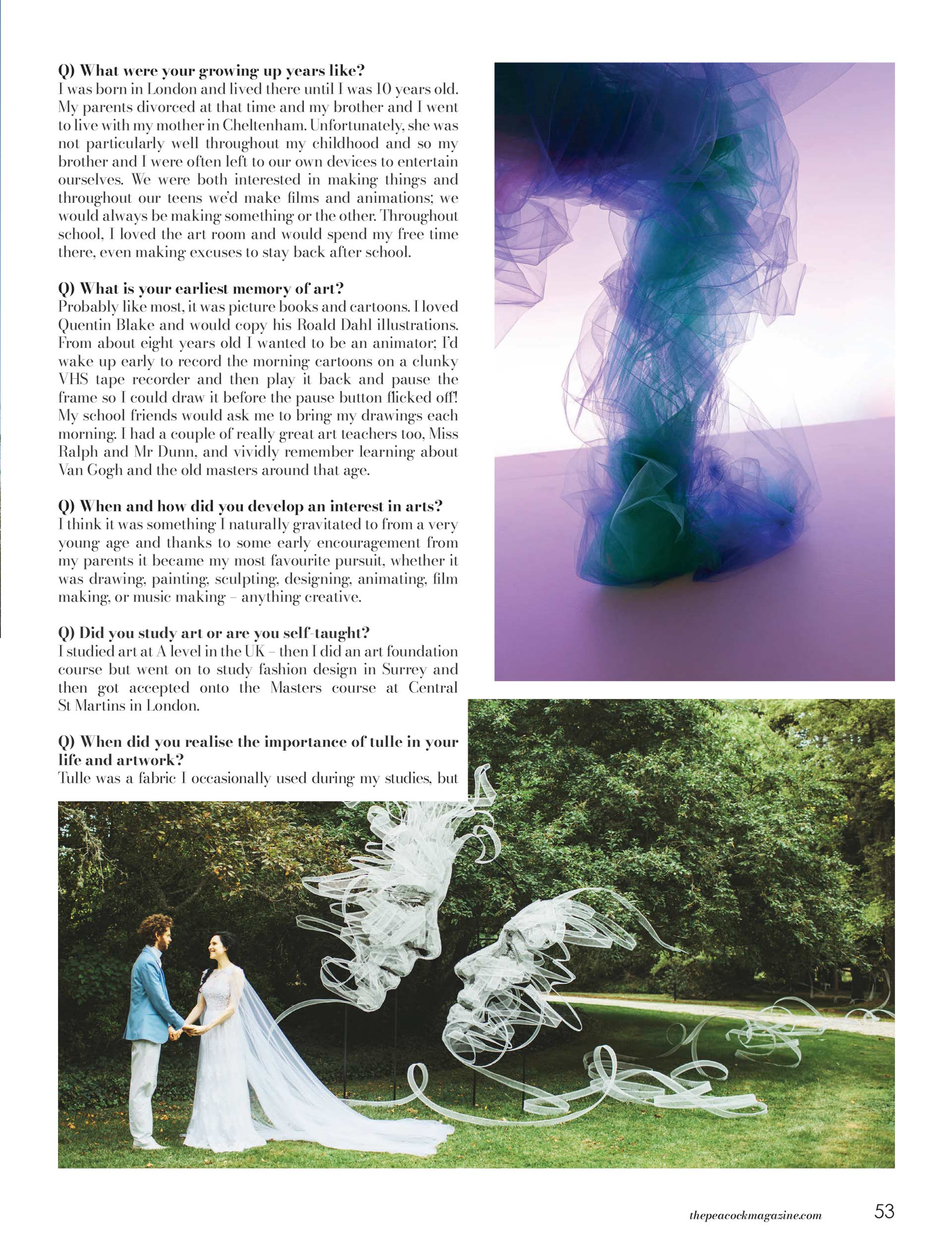 [Q] What were your growing up years like?
I was born in London and lived there until I was 10 years old. My parents divorced at that time and my brother and I went to live with my mother in Cheltenham. Unfortunately, she was not particularly well throughout my childhood and so my brother and I were often left to our own devices to entertain ourselves. We were both interested in making things and throughout our teens we'd make films and animations; we would always be making something or the other. Throughout school, I loved the art room and would spend my free time there, even making excuses to stay back after school.
[Q] What is your earliest memory of art?
Probably like most, it was picture books and cartoons. I loved Quentin Blake and would copy his Roald Dahl illustrations. From about eight years old I wanted to be an animator; I'd wake up early to record the morning cartoons on a clunky VHS tape recorder and then play it back and pause the frame so I could draw it before the pause button flicked off! My school friends would ask me to bring my drawings each morning. I had a couple of really great art teachers too, Miss Ralph and Mr Dunn, and vividly remember learning about Van Gogh and the old masters around that age.
[Q] When and how did you develop an interest in arts?
I think it was something I naturally gravitated to from a very young age and thanks to some early encouragement from my parents it became my most favourite pursuit, whether it was drawing, painting, sculpting, designing, animating, film making, or music making — anything creative.
[Q] Did you study art or are you self-taught?
I studied art at A level in the UK — then I did an art foundation course but went on to study fashion design in Surrey and then got accepted onto the Masters course at Central St Martins in London.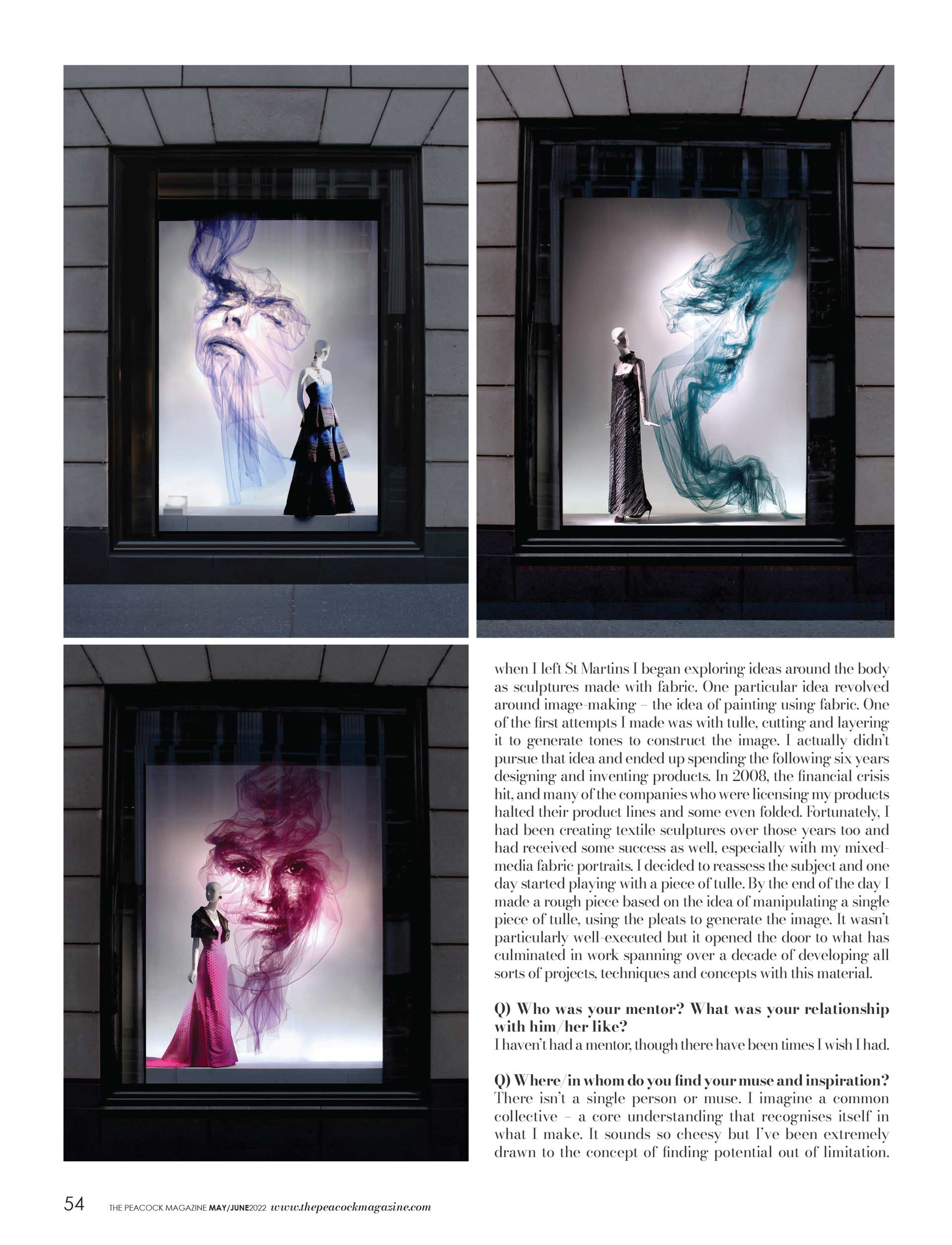 [Q] When did you realise the importance of tulle in your life and artwork?
Tulle was a fabric I occasionally used during my studies, but when I left St Martins I began exploring ideas around the body as sculptures made with fabric. One particular idea revolved around image-making — the idea of painting using fabric. One of the first attempts I made was with tulle, cutting and layering it to generate tones to construct the image. I actually didn't pursue that idea and ended up spending the following six years designing and inventing products. In 2008, the financial crisis hit, and many of the companies who were licensing my products halted their product lines and some even folded. Fortunately, I had been creating textile sculptures over those years too and had received some success as well, especially with my mixed-media fabric portraits. I decided to reassess the subject and one day started playing with a piece of tulle. By the end of the day I made a rough piece based on the idea of manipulating a single piece of tulle, using the pleats to generate the image. It wasn't particularly well-executed but it opened the door to what has culminated in work spanning over a decade of developing all sorts of projects, techniques and concepts with this material.
[Q] Who was your mentor? What was your relationship with him/her like?
I haven't had a mentor, though there have been times I wish I had.
[Q] Where/in whom do you find your muse and inspiration?
There isn't a single person or muse. I imagine a common collective — a core understanding that recognises itself in what I make. It sounds so cheesy but I've been extremely drawn to the concept of finding potential out of limitation. That's really where all my work stems from… the idea of displaying pure potential so the viewer might sense that within themselves.
[Q] Who are your biggest influences?
In 1988, aged 10 years old I went to see Michael Jackson in a concert and at that age, his incredible creativity and seemingly other-worldy abilities was hugely influential in igniting my own desire to discover what I could do. In 2002, I was lucky enough to meet and thank him personally while presenting a portrait I had painted of him… he very kindly signed it; it still hangs on my wall at home. Mostly it's been musical artists who have influenced me — Stevie Wonder being another huge influence. He really astounds me for so many reasons and epitomises brilliance and a seemingly staggering channel to that mysterious creative source. When I studied fashion, Hussein Chalayan was emerging and I felt a kindred connection to his approach and looked up to his wonderful execution of ideas — he seemed to express ideas extremely clearly and with a freshness that cut through and above all contemporaries. Beyond specific artists, I've been attracted to the unknown, especially the mysteries of creativity, imagination — and the more esoteric and paranormal things that remain unexplainable that suggest a far more fascinating world than we can see with our limited senses. I try to allude to that in work.
[Q] What sets your mood for painting?
The process of making work varies — sometimes I'm experimenting or thinking conceptually, other times I'm immersed in making repetitive, time-consuming details and other times it's an intense process requiring a level of high attention. I often play music or listen to thought-provoking podcasts.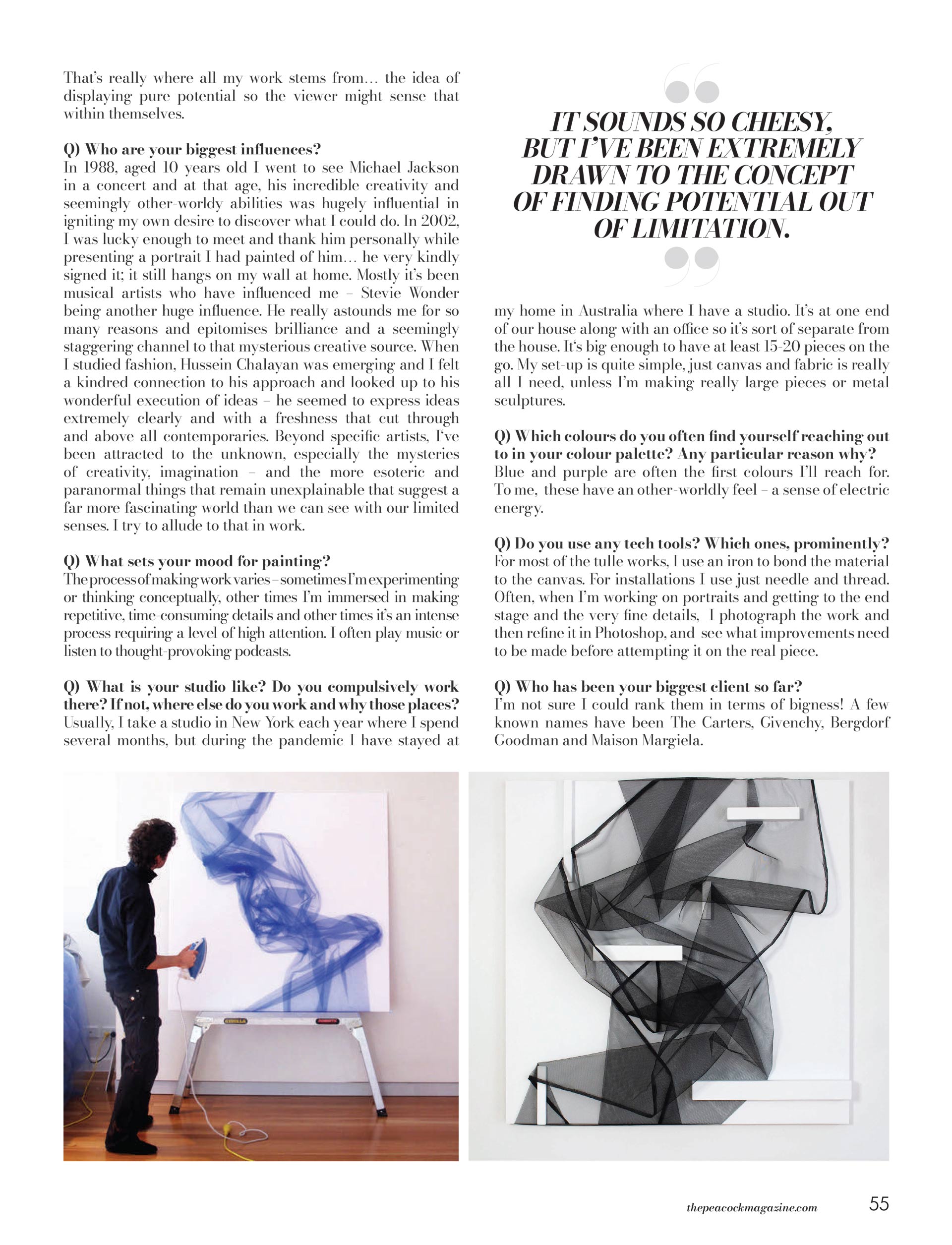 [Q] What is your studio like? Do you compulsively work there? If not, where else do you work and why those places?
Usually, I take a studio in New York each year where I spend several months, but during the pandemic I have stayed at my home in Australia where I have a studio. It's at one end of our house along with an office so it's sort of separate from the house. It's big enough to have at least 15-20 pieces on the go. My set-up is quite simple, just canvas and fabric is really all I need, unless I'm making really large pieces or metal sculptures.
[Q] Which colours do you often find yourself reaching out to in your colour palette? Any particular reason why?
Blue and purple are often the first colours I'll reach for. To me, these have an other-worldly feel — a sense of electric energy.
[Q] Do you use any tech tools? Which ones, prominently?
For most of the tulle works, I use an iron to bond the material to the canvas. For installations I use just needle and thread. Often, when I'm working on portraits and getting to the end stage and the very fine details, I photograph the work and then refine it in Photoshop, and see what improvements need to be made before attempting it on the real piece.
[Q] Who has been your biggest client so far?
I'm not sure I could rank them in terms of bigness! A few known names have been The Carters, Givenchy, Bergdorf Goodman and Maison Margiela.
[Q] Without being unbiased, which artwork of yours are your personal favourites?
I'd say the pieces that overcame the biggest challenges are the ones that spring to mind. These would include the 'Sky Flow' sculpture, which was an idea I'd been wanting to do for years — to make a free-standing version of my tulle flows, but as a much bigger rigid sculpture. The couture piece with John Galliano for Margiela, had the underlying technical challenge of having to float over the body. That piece received a reaction that was far beyond anything we anticipated, and was also purchased by the MET (Metropolitan Museum of Art). It was also a real joy working with John too. The revolving sculpture 'Harmony' in collaboration with Chloe and Halle was another technical challenge and an amazing experience working with such talent. My most recent 'Flux' series transforms tulle into solid sculptures that seem to dissipate into thin air —- and these are probably my favourites for the time being.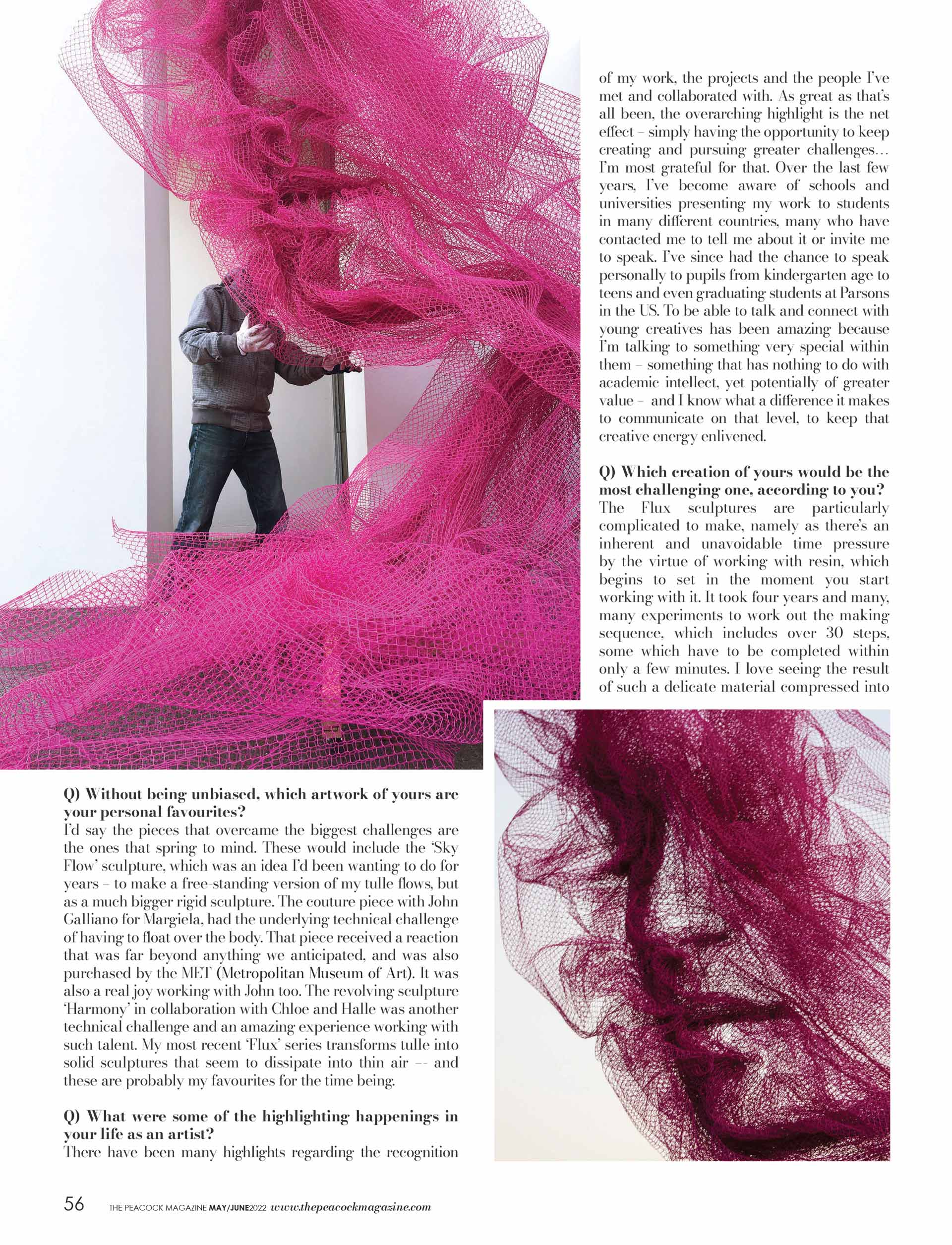 [Q] What were some of the highlighting happenings in your life as an artist?
There have been many highlights regarding the recognition of my work, the projects and the people I've met and collaborated with. As great as that's all been, the overarching highlight is the net effect — simply having the opportunity to keep creating and pursuing greater challenges… I'm most grateful for that. Over the last few years, I've become aware of schools and universities presenting my work to students in many different countries, many who have contacted me to tell me about it or invite me to speak. I've since had the chance to speak personally to pupils from kindergarten age to teens and even graduating students at Parsons in the US. To be able to talk and connect with young creatives has been amazing because I'm talking to something very special within them — something that has nothing to do with academic intellect, yet potentially of greater value — and I know what a difference it makes to communicate on that level, to keep that creative energy enlivened.
[Q] Which creation of yours would be the most challenging one, according to you?
The Flux sculptures are particularly complicated to make, namely as there's an inherent and unavoidable time pressure by the virtue of working with resin, which begins to set in the moment you start working with it. It took four years and many, many experiments to work out the making sequence, which includes over 30 steps, some which have to be completed within only a few minutes. I love seeing the result of such a delicate material compressed into solid/hard-edged form only to dissipate into nothingness. I'm most proud of these mainly because I actually quit twice over those four years. Fortunately, I went back and figured out those last few steps, but this technique has been one of the most challenging to date.
[Q] Who are your favourite artists? Why?
Some long-time favourites include Thomas Heatherwick, Ai WeiWei, Tony Cragg, Tara Donavon, Simone Pheulpin, Issey Miyake, Hussein Chalayan, Iris Van Herpen, John Galliano, also my dear friend Professor Max Frieder of Artolution, and the inspiring work they are doing with refugees around the world; it's super inspiring. The incredible work of Paul Hawken whose books Drawdown and Regeneration are the best resources for understanding where we are and what needs to be done regarding environmental and climate issues.
[Q] What is the first thing you notice when you see other artists' work?
I'm most drawn to visually striking works, where great craftsmanship or unusual or ingenious techniques are employed. Like anyone, I love to be inspired and impressed, so seeing something that's really different is brilliant. Of course, some work can be more conceptual and sometimes the story behind a piece and the way it's been created as an experience, installation or sculpture is equally interesting.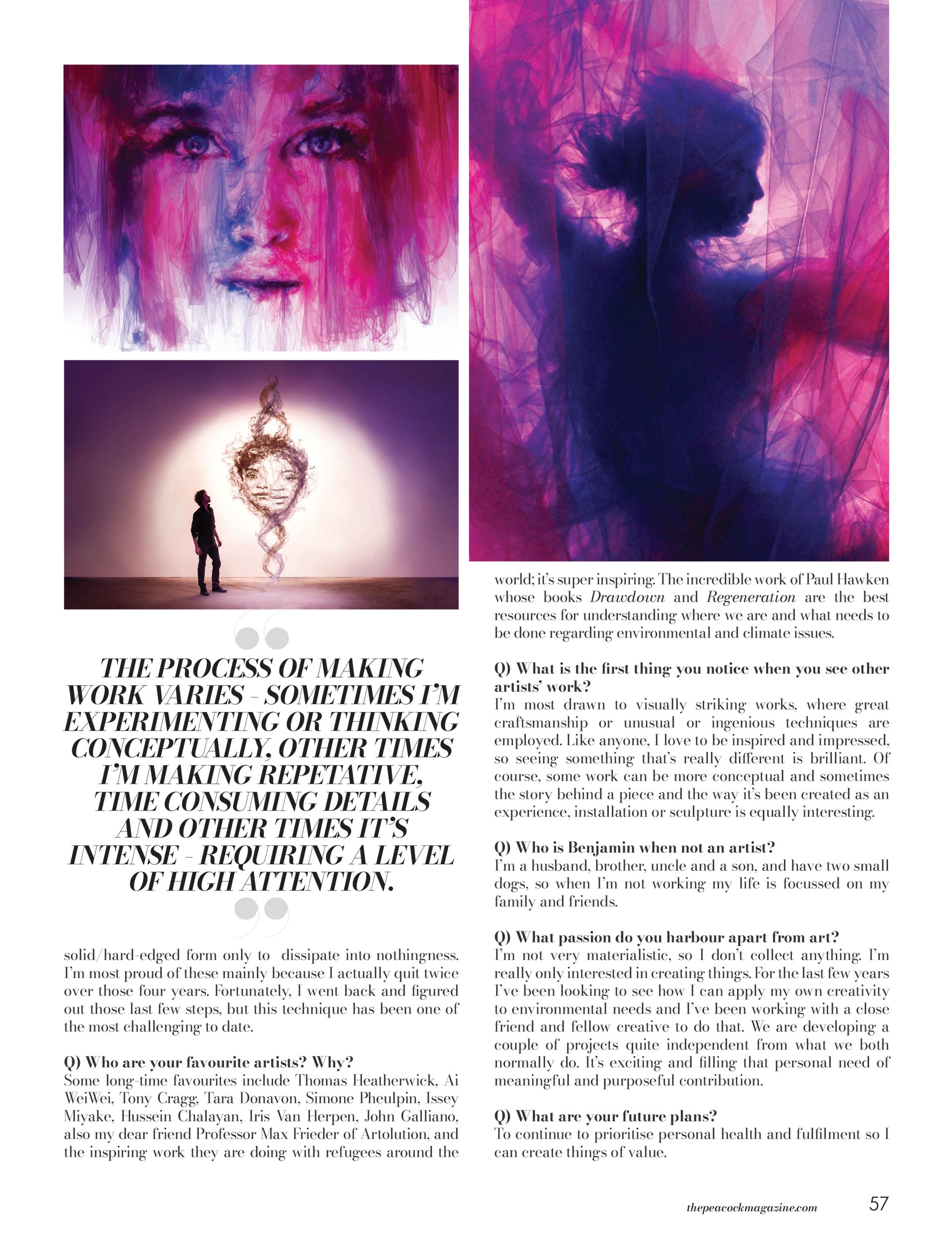 [Q] Who is Benjamin when not an artist?
I'm a husband, brother, uncle and a son, and have two small dogs, so when I'm not working my life is focussed on my family and friends.
[Q] What passion do you harbour apart from art?
I'm not very materialistic, so I don't collect anything. I'm really only interested in creating things. For the last few years I've been looking to see how I can apply my own creativity to environmental needs and I've been working with a close friend and fellow creative to do that. We are developing a couple of projects quite independent from what we both normally do. It's exciting and filling that personal need of meaningful and purposeful contribution.
[Q] What are your future plans?
To continue to prioritise personal health and fulfilment so I can create things of value.