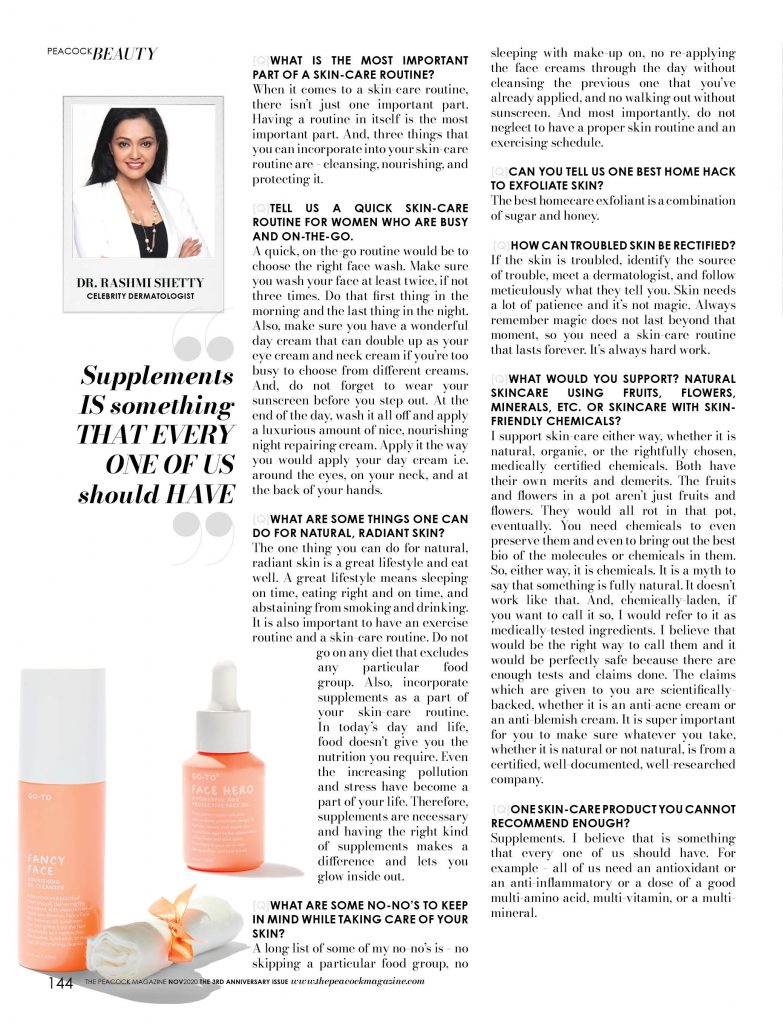 [Q] What is the most important part of a skin-care routine?
When it comes to a skin-care routine, there isn't just one important part. Having a routine in itself is the most important part. And, three things that you can incorporate into your skin-care routine are – cleansing, nourishing, and protecting it.
[Q] Tell us a quick skin-care routine for women who are busy and on-the-go.
A quick, on-the-go routine would be to choose the right face wash. Make sure you wash your face at least twice, if not three times. Do that first thing in the morning and the last thing in the night. Also, make sure you have a wonderful day cream that can double up as your eye cream and neck cream if you're too busy to choose from different creams. And, do not forget to wear your sunscreen before you step out. At the end of the day, wash it all off and apply a luxurious amount of nice, nourishing night repairing cream. Apply it the way you would apply your day cream i.e. around the eyes, on your neck, and at the back of your hands.
[Q] What are some things one can do for natural, radiant skin?
The one thing you can do for natural, radiant skin is to have a great lifestyle and eat well. A great lifestyle means sleeping on time, waking up on time, eating right and on time, and abstaining from smoking and drinking. It is also important to have an exercise routine and a skin-care routine. Do not go on any diet that excludes any particular food group. Also, incorporate supplements as a part of your skin-care routine. In today's day and life, food doesn't give you the nutrition you require. Even the increasing pollution and stress have become a part of your life. Therefore, supplements are necessary and having the right kind of supplements makes a difference and makes you glow inside out.
[Q] What are some no-no's to keep in mind while taking care of your skin?
A long list of some of my 'no-noes' is – No skipping a particular food group, no sleeping with make-up on, no re-applying the face creams through the day without cleansing the previous one that you've already applied, and no walking out without sunscreen. And most importantly, do not neglect to have a proper skin routine and an exercising schedule.
[Q] Can you tell us one best home hack to exfoliate skin?
The best homecare exfoliant is a combination of sugar and honey.
[Q] How can troubled skin be rectified?
If the skin is troubled, identify the source of trouble, meet a dermatologist, and follow meticulously what they tell you. Skin needs a lot of patience and it's not magic. Always remember magic does not last beyond that moment, so you need a skin-care routine that lasts forever. It's always hard work.
[Q] What would you support? Natural skincare using fruits, flowers, minerals, etc. OR skincare with skin-friendly chemicals?
I support skin-care either way, whether it is natural, organic, or the rightfully chosen, medically certified chemicals. Both have their own merits and demerits. The fruits and flowers in a pot aren't just fruits and flowers. They would all rot in that pot, eventually. You need chemicals to even preserve them and even to bring out the best bio of the molecules or chemicals in them. So, either way, it is chemicals. It is a myth to say that something is fully natural. It doesn't work like that. And, chemically-laden – if you want to call it so – I would refer to it as medically-tested ingredients. I believe that would be the right way to call them and it would be perfectly safe because there are enough tests and claims done. The claims which are given to you are scientifically-backed, whether it is an anti-acne cream or an anti-blemish cream. It is super important for you to make sure whatever you take, whether it is natural or not natural, is from a certified, well-documented, well-researched company.
[Q] One skin-care product you cannot recommend enough?
Supplements. I believe that is something that every one of us should have. For example – all of us need an antioxidant or an anti-inflammatory or a dose of a good multi-amino acid, multi-vitamin, or a multi-mineral.