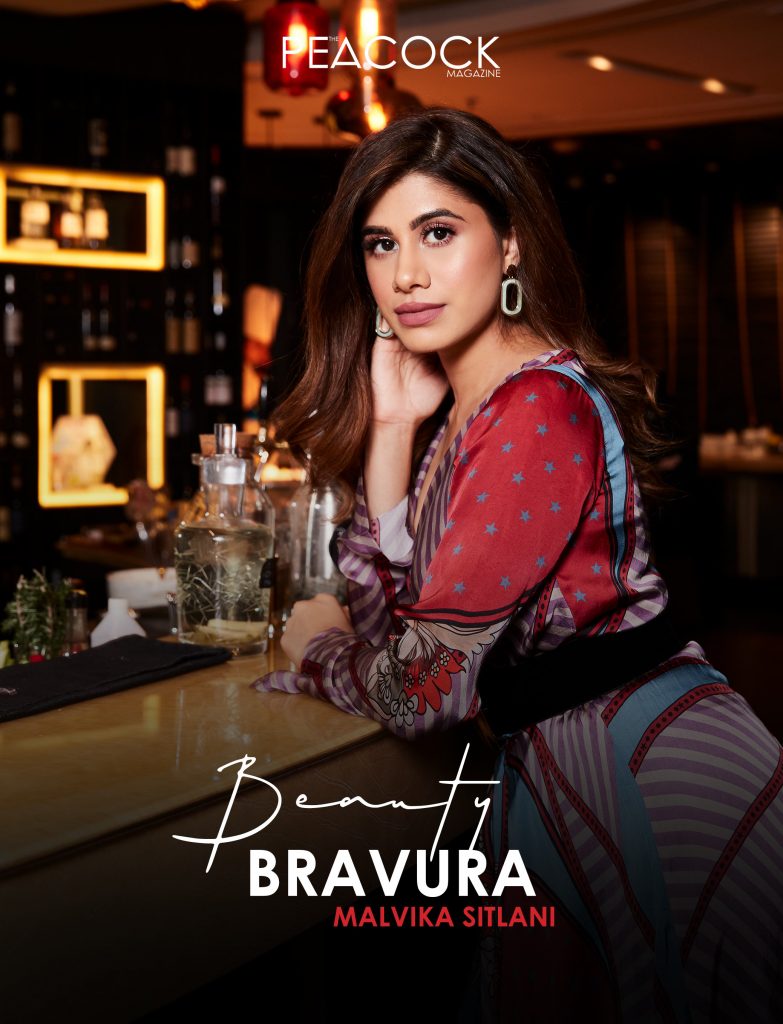 CREDITS-
PHOTOGRAPHY – ABHEET GIDWANI
CLOTHING – FALGUNI SHANE PEACOCK

She's a simpleton with oodles of talent and glamour, and that is what does most of the talking for Malvika Sitlani. After rising to fame for being a YouTube sensation owing to her cool make-up videos and beauty hacks, Malvika has not looked back. She went on to become a contestant in the first run of India's Next Top Model and wowed the audience with her multiple talents and her flair. Having everything needed for becoming a digital influencer, Malvika made her Instagram debut and was soon a fashion influencer and one of India's best ones. Her stronghold on the make-up, skin-care, hair, and all-things-beauty makes her one of the most sought-after bloggers. Detailed tutorial videos, daily hacks and tips, numerous quick-fix tricks, and simplifying complex make-up routine into simple, step-by-step guides, Malvika's Instagram page is now a handbook for all make-up junkies.
Malvika got into a candid mode as she spoke to us for the September issue of the magazine. We caught up with the beauty blogger about the person that she is, about her beliefs that she stands by firmly, and her relationship with social media, amongst many other things.
Here's an excerpt –
[Q] Did you get professional training as a makeup artist? When did you start taking interest in beauty and makeup?
I received absolutely no professional training. I watched too many Youtube videos and taught myself make-up with lots of trial and error. YouTube was my personal make-up academy. I've always been fascinated with make-up but 2016 is when I began taking a keen interest because I was enchanted with the transformation that make-up could do on people and that piqued a curiosity in me to explore it further and once I started, there was no stopping me!
[Q] How did you decide to start your make-up vlog?
I loved watching make-up tutorials, not only were they informative but therapeutic in some sense. These videos had become and escape land for me and there came a point where I believed that all that I know about make-up would benefit a lot of people and the best way to teach make-up was through videos. It didn't hurt that I absolutely loved the camera and filming myself!
[Q] What has been your career-defining moment so far?
I'm very grateful to have had multiple career-defining moments but recently hitting 500K subscribers on Youtube and being the first Indian Influencer to be the face of the Smashbox lip kits for the "Pink Friday" sales in India.
[Q] How do you stay relevant in an industry where the dynamics of beauty and content change so often?
Trends are a very popular part of any society but are equally short-lasting. While I do consider trends while creating content, my primary goal is to listen to what my audience wants irrespective of the trends and prioritize their wishes and needs.
[Q] Tell us a bit more about your creative process.
I watch a lot of videos and Instagram tutorials, to gain inspiration and reflect upon how those tutorials could be better executed with me, how could I make them useable by my audience, how I can use inexpensive products to ensure that my audience doesn't have to spend a lot, etc., these are all very important factors I analyze for all my videos.
[Q] You are known for your fun and engaging beauty content. What else would you like to venture out in?
I would love to undertake more travel and food-related collaborations and explore.
[Q] What would be your dream collaboration?
While I am very realistic, I also have big dreams I plan to fulfill. Having Mario Dedivanovic or any a Bollywood/Hollywood actress on my channel is a particular dream collaboration of mine if I had to specify. I have a long list of people and brands I want to collaborate with, in 2020.
[Q] Who has been the biggest influence in your career?
Watching multiple Youtubers such as Carli Bybel, Casie Holmes, Kathleen Lights, Mario Dedivanovic, Jaclyn Hill, Patrick Ta, etc, watching them reach from where they were to where they are now has influenced me highly. It's constant proof and makes me believe that it's all possible if you just keep pushing and work hard.
[Q] Who do you think is your biggest competition? Are you the kind to thrive on healthy competition, or do you simply ignore it and focus on yourself?
I love a good competition, it's healthy and motivating but at this point in my life, I'm very happy with where I am. I just focus on my growth, the quality of my content, and keep posting videos. I always try to be the best I am at what I'm doing. I don't let competition take over my life but I make sure to make the best efforts I possibly can to be on top of my game at all times.
[Q] What was something that you did not expect, in terms of change, after your blog took off?
A lot has changed, most of it being unexpected. But there's nothing specific I could truly point out. One thing that I have realized is that as I moved forward professionally, during the way some people fizzled out, maybe because it was too much and they couldn't/didn't want to keep up.
[Q] Is there a pressure to come up with novel content very frequently? And if so, how did you cope with it?
I've never felt any pressure. My job is my biggest passion and there's never any pressure when following your passion. I always have something to film. I've been blessed to have such an approachable and friendly relationship with my audience and that keeps me going. I ensure my videos are entertaining, informative which includes sharing about my life and addressing taboo topics.
[Q] What is the one thing that the beauty and the blogging industry has taught you?
There are thousands of people trying to be the next big influencer and you can't stop it. I've learned that in the chaos of it all, all you need to do is be your best self, keep working hard, and make sure you never lose yourself in the numbers game. I focus on constantly creating content, staying grounded, and being 100% honest with my audience. I've learned that my authenticity will take me places. Never stop uploading!
[Q] What is the one thing in the beauty and blogging industry that you think people are doing wrong or getting it wrong?
I can't speak for the entire industry but based on what I've noticed, in my opinion, people are more focused on releasing videos regularly instead of making the effort to connect with their audience, for them, it's simply "work". But my ultimate selling point has been my connection with my audience. I believe that people would be much more successful if they just built a rapport with their audience.
[Q] Living in a world where you are subjected to constant scrutiny, what is social media pressure according to you?
I've never experienced any social media pressure. By nature, I'm a very peaceful and mellow person. I just focus on my work, make sure I deliver and never disappoint my audience. At the end of the day, regardless of where you come from, your audience makes you who you are, and making them happy is my highest priority.
[Q] How do you deal with your vulnerabilities? Do you often put up a strong-front?
I don't believe in putting up a strong front, it makes you less human. People connect when they understand that someone else has had similar experiences, insecurities, and vulnerabilities and that's the goal when I approach my audience. I'm very transparent with them; to me, it's all about the connection.
[Q] How do you deal with a day gone bad?
I am so grateful to not have experienced many bad days. Do I have them? Yes, but not too often. I'm very honest and transparent about how I feel. I'll stay in bed, allow myself to feel all my emotions distract myself by watching FRIENDS or makeup tutorials, and just try to overcome my feeling. But I ensure that I accept how I feel. Acceptance is key to moving on and growing in life and as an individual.
[Q] What is your golden rule when it comes to crisis management?
Always look for a solution/process to get out of the crisis and try your level best not panic. I can react very quickly but in such situations, I ask for opinions of trustworthy people who are well versed with the issue I'm facing. Having a good, strong team is an additional incentive for dealing with crisis management.
[Q] What are some of your personal beliefs you stand by firmly?
Be nice and kind to people, be humble and grounded, these are my inner core values. The more I grow, the more humility I gain. I believe that letting people live the way they wish to and not meddle in their lives is very key to a happy and positive future.
[Q] What are some of the personal beliefs that you firmly stand by professionally?
Be authentic. Being real will pave your way to success, it will transform your channel in a positive direction. The moment you display any pretense, it becomes a long journey having to keep up with that pretense and over time, it becomes difficult and mentally draining to keep up. Be who you are even when the camera is pointing at you and you'll feel satisfied, confident, and happy.
[Q] What is that one advice or suggestion from someone that you still apply in your life?
My parents always taught me to be humble and it's one of my deeply valued qualities. Whenever people meet me, they instantly express about how down to earth and approachable I seem to them. Regardless of where life takes you, you got to remember your roots and your journey and work hard. Never show pride. Every single day of my life, the good and bad, has shaped me into who I am today. While I may have a journey to accomplish, I believe that I am that place in my life where I feel and exude positivity more often than not.
[Q] Who is Malvika Sitlani when not creating content?
Malvika Sitlani is your next-door neighbor who binge-watches Netflix, spends time with family and close friends, and is always "chilling" with her favorite person, her mother.
[Q] What are your upcoming projects?
What's the fun in revealing?! I have a lot coming up, especially with my channel growing but I promise, it's worth the wait and curiosity!