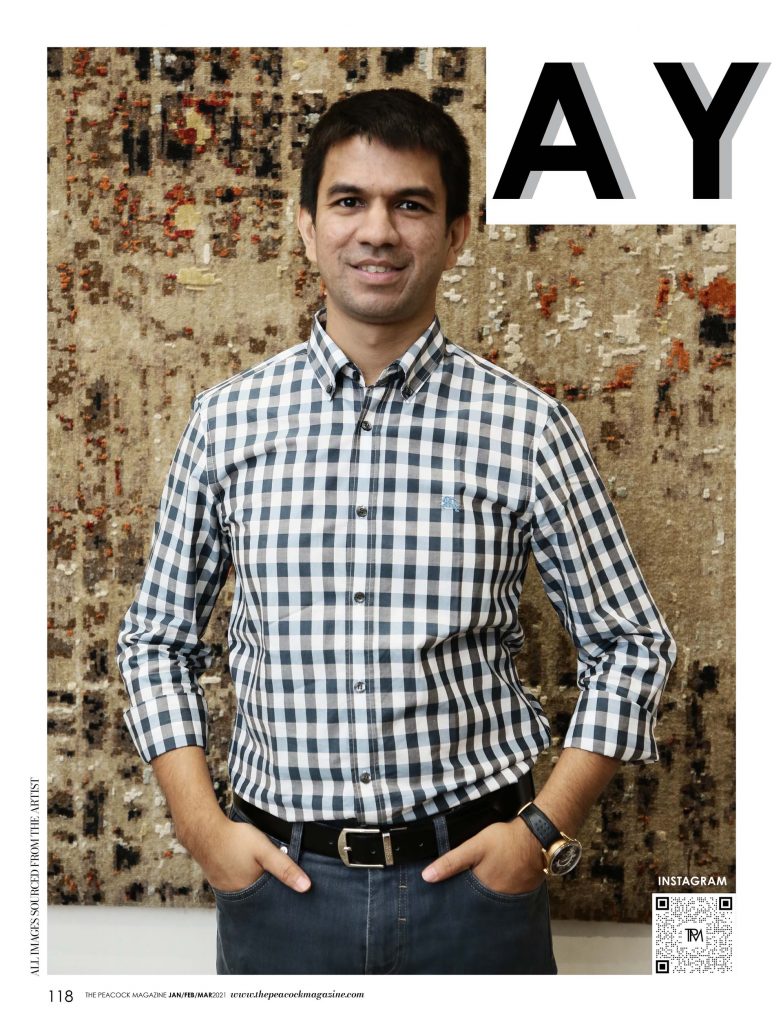 IT TAKES A FINE EYE TO TURN A BASIC, FUNCTIONAL ITEM SUCH AS A 'CARPET' AND TURN IT INTO A PIECE OF ART THAT IS ONE-OF-A-KIND. AYUSH CHOUDHARY'S FINE EYE, HIS MIDAS TOUCH, AND HIS FARSIGHTEDNESS GOT HIM TURNING HIS FATHER'S EXPORT-FOCUSED CARPET BUSINESS INTO INDIA'S LEADING A-LA-MODE LUXURY CARPET BRAND 'COCOON FINE RUGS.' THE PEACOCK MAGAZINE GOT AYUSH TO TALK ABOUT HOW HE BUILT HIS BRAND AND HOW 'SUSTAINABILITY' IS ONE OF THE CORE VALUES OF 'COCOON FINE RUGS.'

CREDITS-
Images artist's own.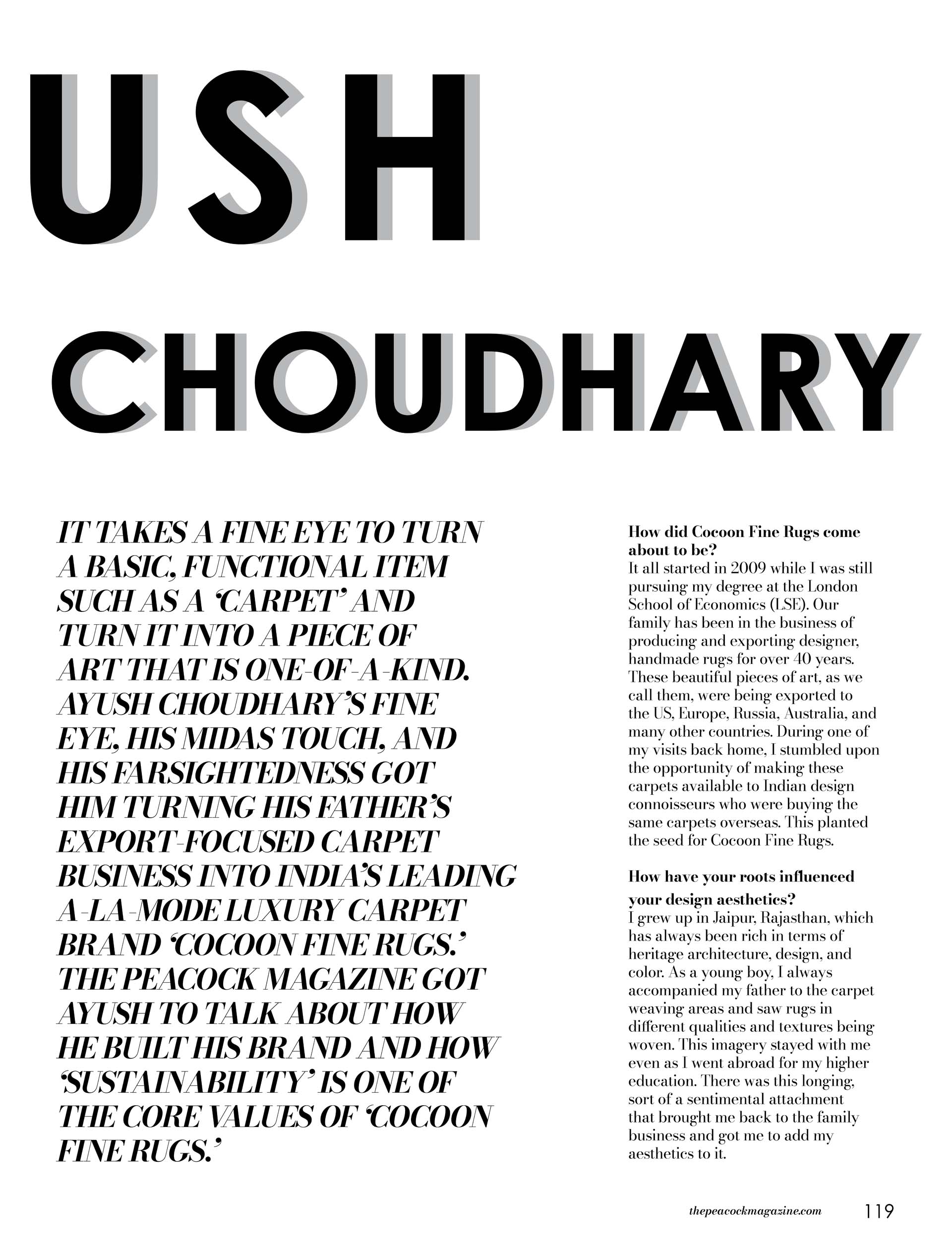 [Q] How did Cocoon Fine Rugs come about to be?
It all started in 2009 while I was still pursuing my degree at the London School of Economics. Our family has been in the business of producing and exporting designer, handmade rugs for over 40 years. These beautiful pieces of art, as we call them, were being exported to the US, Europe, Russia, Australia, and many other countries. During one of my visits back home, I stumbled upon the opportunity of making these carpets available to Indian design connoisseurs who were buying the same carpets overseas. This planted the seed for Cocoon Fine Rugs.
[Q] How have your roots influenced your design aesthetics?
I grew up in Jaipur, Rajasthan, which has always been rich in terms of heritage architecture, design, and color. As a young boy, I always accompanied my father to the carpet weaving areas and saw rugs in different qualities and textures being woven. This imagery stayed with me even as I went abroad for my higher education. There was this longing sort of a sentimental attachment that brought me back to the family business and got me to add my aesthetics to it.
[Q] What was that one turning point that had you getting into the carpet retail business while on one of your trips back home during your education at LSE?
During one of my trips back home, I realized that the Indian consumers were getting more and more conscious about design and home aesthetics. Home interiors were beginning to get better planned, and people were investing a lot more time, energy, and resources on doing them up. A lot of consumers would be visiting international trade fairs like Salone del Mobile in Milan for their home shopping and would end up buying carpets overseas when a lot of them were being manufactured here in India. It struck us that why don't we make these available back home and allow the consumers to even customize their designs. This idea led us to start Cocoon Fine Rugs, the first luxury brand in India for bespoke rugs.
[Q] How has your journey with Cocoon Fine Rugs been in the last decade?
It has been wonderful! 'Learning on the go' is something I have always believed in. Every year has brought some brilliant opportunities our way, and of course, some challenges too. Emphasis on design and quality has always been our main focus at Cocoon, and we have ensured that we stay true to that. Over the years, we have received prestigious design awards like the EDIDA, German Design Award for our collections. We have also been fortunate enough to work with some of the finest design talents in India as well as internationally, which makes us realize that we have come a long way from where we started, with the understanding that we still have a fair bit of distance to go!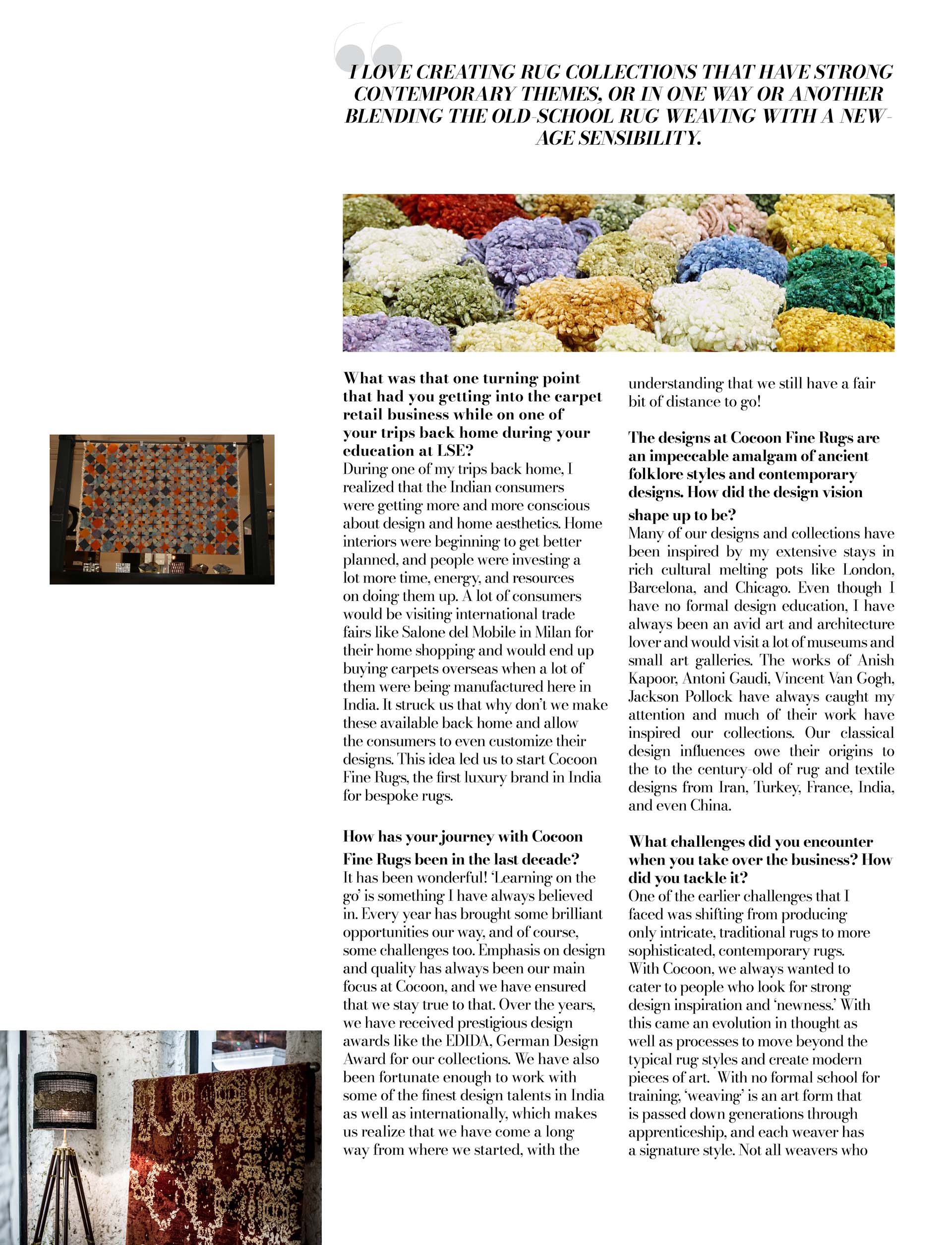 [Q] The designs at Cocoon Fine Rugs are an impeccable amalgam of ancient folklore styles and contemporary designs. How did the design vision shape up to be?
Many of our designs and collections have been inspired by my extensive stays in rich cultural melting pots like London, Barcelona, and Chicago. Even though I have no formal design education, I have always been an avid art and architecture lover and would visit a lot of museums and small art galleries. The works of Anish Kapoor, Antoni Gaudi, Vincent Van Gogh, Jackson Pollock have always caught my attention and much of their work has inspired our collections. Our classical design influences owe their origins to the centuries of rug and textile designs from Iran, Turkey, France, India, and even China.
[Q] What challenges did you encounter when you took over the business? How did you tackle it?
One of the earlier challenges that I faced was shifting from producing only intricate, traditional rugs to more sophisticated, contemporary rugs. With Cocoon, we always wanted to cater to people who looked for strong design inspiration and 'newness.' With this came an evolution in thought as well as processes to move beyond the typical rug styles and create modern pieces of art.
With no formal school for training, 'weaving' is an art form that is passed down generations through apprenticeship, and each weaver has a signature style. Not all weavers who make classical patterns can weave modern styles. A lot of the same families who were weaving rugs for us in the early 1980s are still with us. So when we were amidst introducing new carpet styles, we had to personally sit down with our different weavers' families and see who could relate to and understand contemporary designs. Since then, there has been no looking back when it comes to design evolution, and our wonderful team has managed to keep up-to-date with changing trends.
[Q] What lessons have you learned from your father, who was the first-gen in rug manufacturing and design company?
Like in any family business, my father has been a huge source of inspiration. The two biggest lessons for me have been – a) follow your passion and b) have a vision so that you can think and plan for the big picture. These lessons continue to be relevant every day.
[Q] How would you define your design aesthetic?
I love creating rug collections that have strong contemporary themes, or in one way or another blending the old-school rug weaving with a new-age sensibility. This reflects in our collections such as Alchemy, Colors of Life, and even Bauhaus. I see inspiration in almost everything around me, especially when I travel. My travels have been the biggest source of inspiration. The time I spend traveling helps me visualize and free my mind to think about distinctive designs, aesthetics, and play with a variety of colors that can be incorporated in making a rug.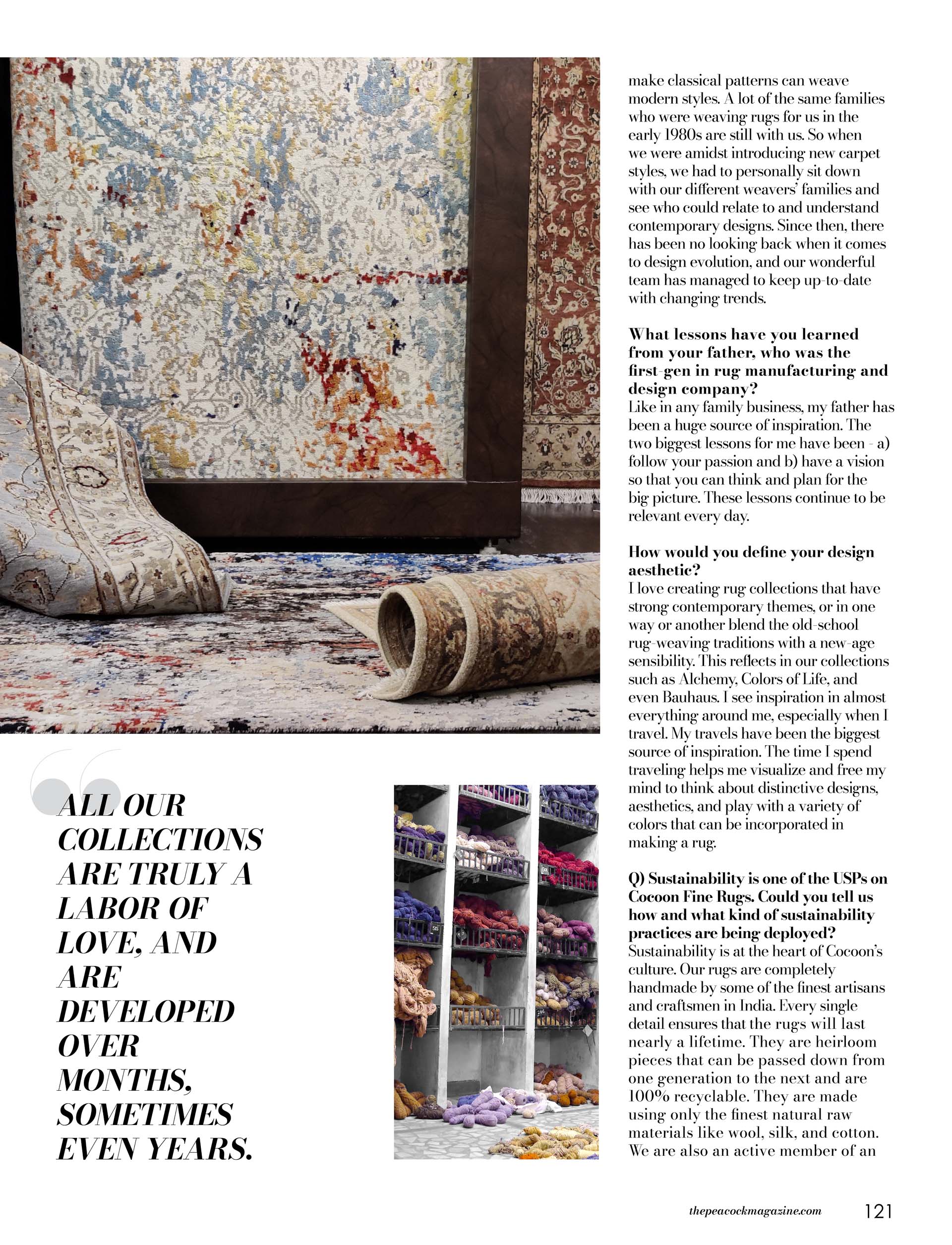 [Q] 'Sustainability' is one of the USPs on Cocoon Fine Rugs. Could you tell us how and what kind of sustainability practices are being deployed?
'Sustainability' is at the heart of Cocoon's culture. Our rugs are completely handmade by some of the finest artisans and craftsmen in India. Every single detail ensures that the rugs will last nearly a lifetime. They are heirloom pieces that can be passed down from one generation to the next and are 100% recyclable. They are made using only the finest natural raw materials like wool, silk, and cotton. We are also an active member of an international organization called 'GoodWeave,' through which a part of all our sale proceeds goes towards improving the quality of lives in our weaving areas.
[Q] In the wake of the pandemic, how is Cocoon Fine Rugs providing for its artisans and other skilled and unskilled labor?
Our weavers are an extremely important part of the Cocoon family. We actively engage a lot with our team leaders to understand and address any challenges or difficulties being faced by them. 'GoodWeave', as I explained earlier, is, of course, an important partner that helps us address this in an organized, professional, and transparent manner. We also have our family's foundation through which we do a lot of work for our team.
[Q] Were there any highlighting happenings/aspects of your career that nobody knows about?
My first job out of college was with Motorola in Chicago. This is when the company was making the famed Moto Razr cell phones and Bluetooth headsets. It was a wonderful time to be working there as it gave me a lot of insights on product design, international business as well as planning for the future. It provided me with a strong foundation right out of college.
[Q] What are the three most important lessons you learned while building 'Cocoon Fine Rugs' to where it is today?
Each day has something new to teach us. Consumers' needs and design trends are constantly changing. To know our customer needs is the key. Adapting to these changes quickly has been one of my key learnings. For instance, over the years there has been a big shift of demand towards contemporary rugs over traditional ones.
The second key learning has been that while creating a brand, one needs to be patient and be true to their brand vision, year after year. As you go forward, a lot of opportunities come your way. The key is to not get carried away and stick to only the ones that tie-in with your brand's sensibility. Don't try to be everything to everyone.
The third key learning I must say is to always have a big vision and goal. When we started Cocoon in 2009, we had a single gallery in Mumbai. We have slowly and gradually added stores in Bangalore, Kolkata, and Jaipur, and we also cater to customers through our beautifully curated website. This has all happened because we had the vision to be a pan India brand that caters to the design community.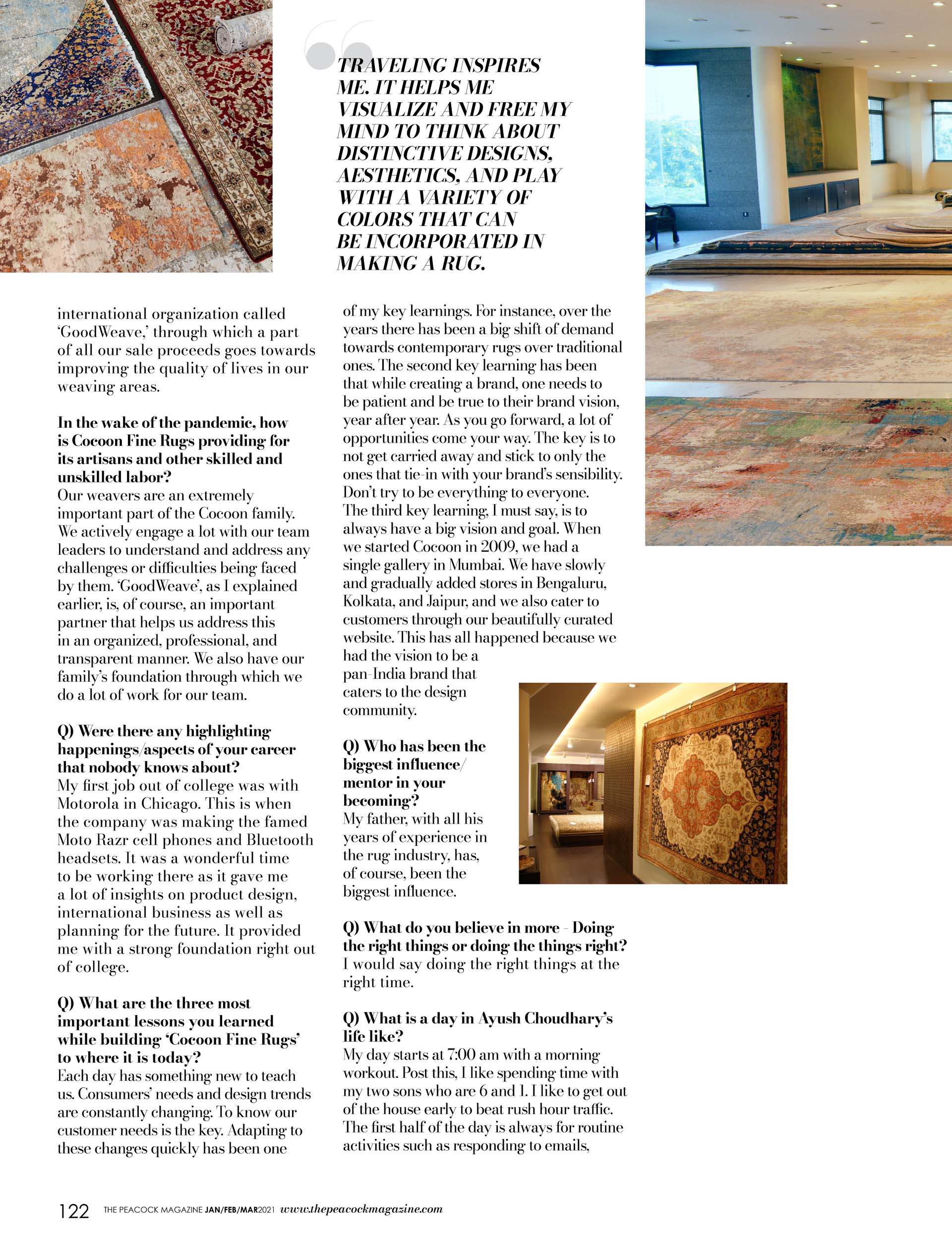 [Q] Who has been the biggest influence/mentor in your becoming?
My father, with all his years of experience in the rug industry, has, of course, been the biggest influence.
[Q] What do you believe in more – Doing the right things or doing the things right?
I would say doing the right things at the right time.
[Q] What is a day in Ayush Choudhary's life like?
My day starts at 7:00 am with a morning workout. Post this, I like spending time with my two sons who are 6 and 1. I like to get out of the house early to beat rush hour traffic. The first half of the day is always for routine activities such as responding to emails, review of accounts, review of sales, etc. I tend to have a quick and small lunch, and then the second half is about innovations, new ideas, and any personal appointments. In the evenings I sometimes end up playing squash or catching up with a few close friends or family. Netflix typically caps the day!
[Q] What synergies do you factor in before getting into any collaboration?
Collaborations are extremely important to us as a brand. We enjoy working with designers who have a design sensibility that is different from ours and yet is complementary to our rug collections. This allows us to continually push the envelope in terms of what Cocoon has to offer to its design customers. We are proud to have worked with some of the best design talents, both in India as well as abroad, including architects, artists, and of course the fashion royalty.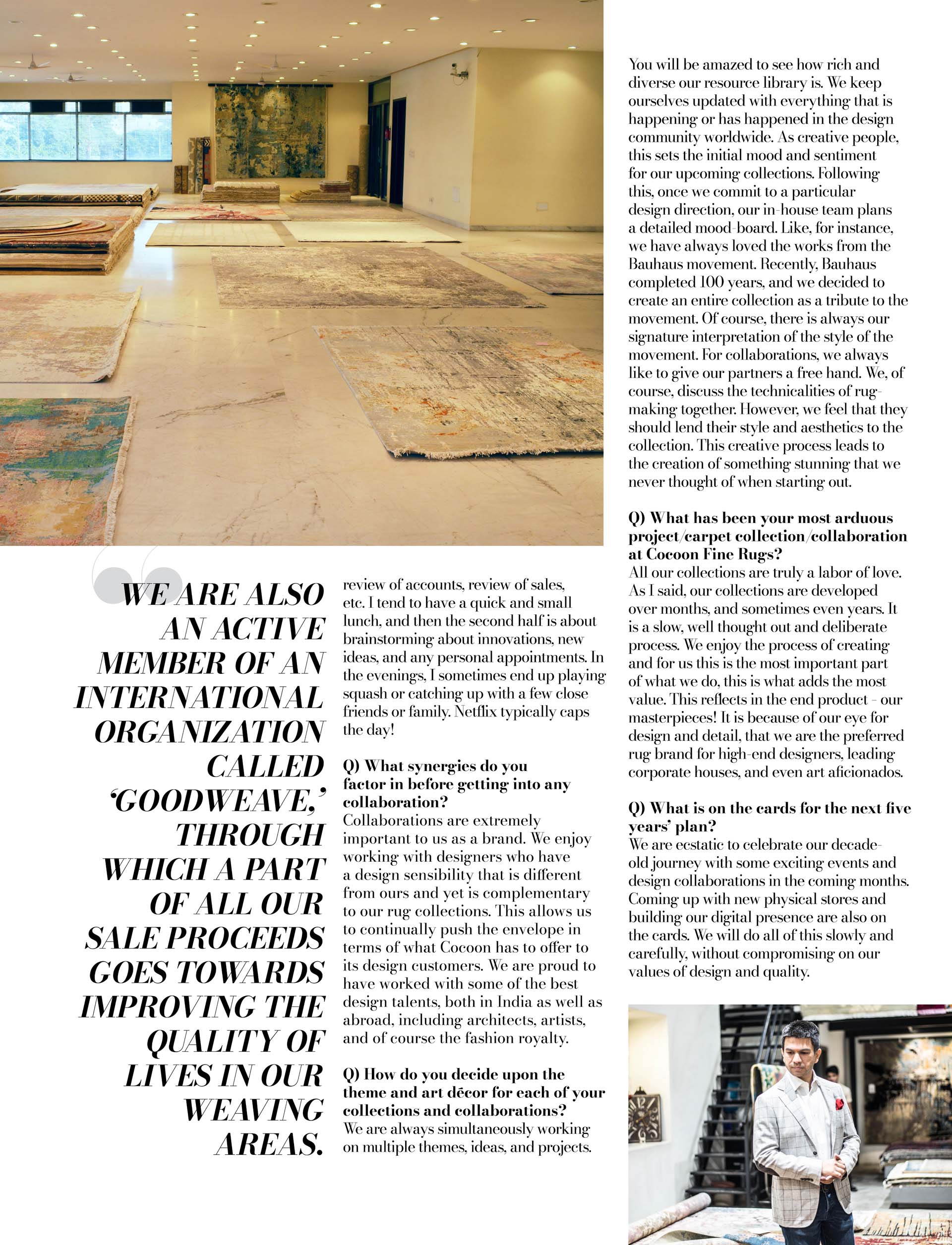 [Q] How do you decide upon the theme and art décor for each of your collections and collaborations?
We are always simultaneously working on multiple themes, ideas, and projects. You will be amazed to see how rich and diverse our resource library is. We keep ourselves updated with everything that is happening or has happened in the design community worldwide. As creative people, this sets the initial mood and sentiment for our upcoming collections. Following this, once we commit to a particular design direction, our in-house team plans a detailed mood-board. Like for instance, we have always loved the works from the Bauhaus movement. Recently, Bauhaus completed 100 years, and we decided to create an entire collection as a tribute to the movement. Of course, there is always our signature interpretation of the style of the movement.
For collaborations, we always like to give our partners a free hand. We, of course, discuss the technicalities of rug-making together. However, we feel that they should lend their style and aesthetics to the collection. This creative process leads to the creation of something stunning that we never thought of when starting out.
[Q] What has been your most arduous project/carpet collection/collaboration at Cocoon Fine Rugs?
All our collections are truly a labor of love. As I said, our collections are developed over months, and sometimes even years. It is a slow, well thought out and deliberate process. We enjoy the process of creating and this to us is the most important part of what we do, this is what adds the most value. This reflects in the end product – our masterpieces! It is because of our eye for design and detail, that we are the preferred rug brand for high-end designers, leading corporate houses, and even art aficionados.
[Q] What is on the cards for the next five years' plan?
We are ecstatic to celebrate our decade-old journey with some exciting events and design collaborations in the coming months. Also on the cards are new physical stores and increased digital presence. We will do all of this slowly and carefully, without compromising on our values of design and quality.