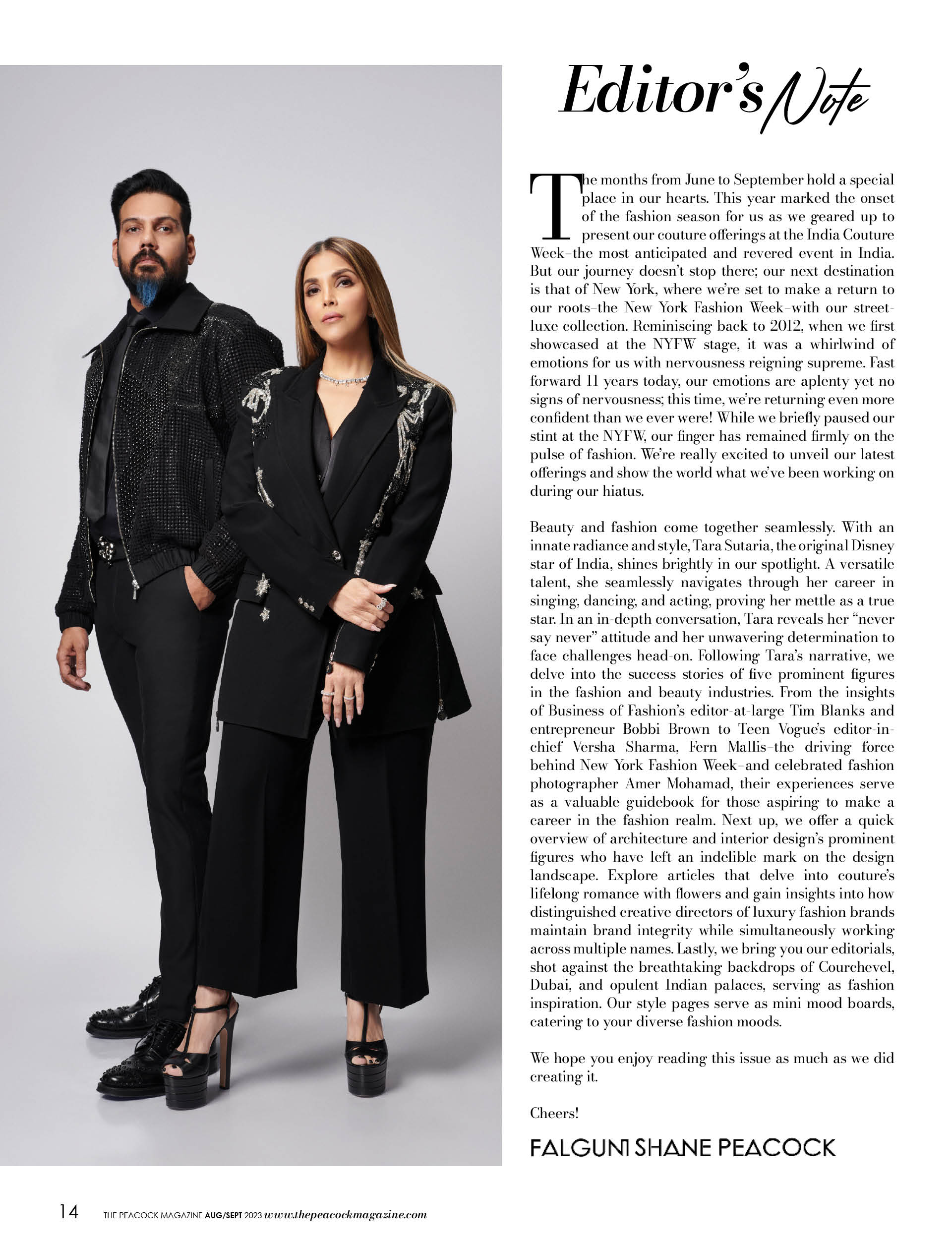 AUG/ SEP 2023 | EDITORS NOTE
The months from June to September hold a special place in our hearts. This year marked the onset of the fashion season for us as we geared up to present our couture offerings at the India Couture Week—the most anticipated and revered event in India. But our journey doesn't stop there; our next destination is that of New York, where we're set to make a return to our roots—the New York Fashion Week—with our street-luxe collection. Reminiscing back to 2012, when we first showcased at the NYFW stage, it was a whirlwind of emotions for us with nervousness reigning supreme. Fast forward 11 years today, our emotions are aplenty yet no signs of nervousness; this time, we're returning even more confident than we ever were! While we briefly paused our stint at the NYFW, our finger has remained firmly on the pulse of fashion. We're really excited to unveil our latest offerings and show the world what we've been working on during our hiatus.
Beauty and fashion come together seamlessly. With an innate radiance and style, Tara Sutaria, the original Disney star of India, shines brightly in our spotlight. A versatile talent, she seamlessly navigates through her career in singing, dancing, and acting, proving her mettle as a true star. In an in-depth conversation, Tara reveals her "never say never" attitude and her unwavering determination to face challenges head-on. Following Tara's narrative, we delve into the success stories of five prominent figures in the fashion and beauty industries. From the insights of Business of Fashion's editor-at-large Tim Blanks and entrepreneur Bobbi Brown to Teen Vogue's editor-in-chief Versha Sharma, Fern Mallis—the driving force behind New York Fashion Week—and celebrated fashion photographer Amer Mohamad, their experiences serve as a valuable guidebook for those aspiring to make a career in the fashion realm. Next up, we offer a quick overview of architecture and interior design's prominent figures who have left an indelible mark on the design landscape. Explore articles that delve into couture's lifelong romance with flowers and gain insights into how distinguished creative directors of luxury fashion brands maintain brand integrity while simultaneously working across multiple names. Lastly, we bring you our editorials, shot against the breathtaking backdrops of Courchevel, Dubai, and opulent Indian palaces, serving as fashion inspiration. Our style pages serve as mini mood boards, catering to your diverse fashion moods.
We hope you enjoy reading this issue as much as we did creating it.
Cheers!