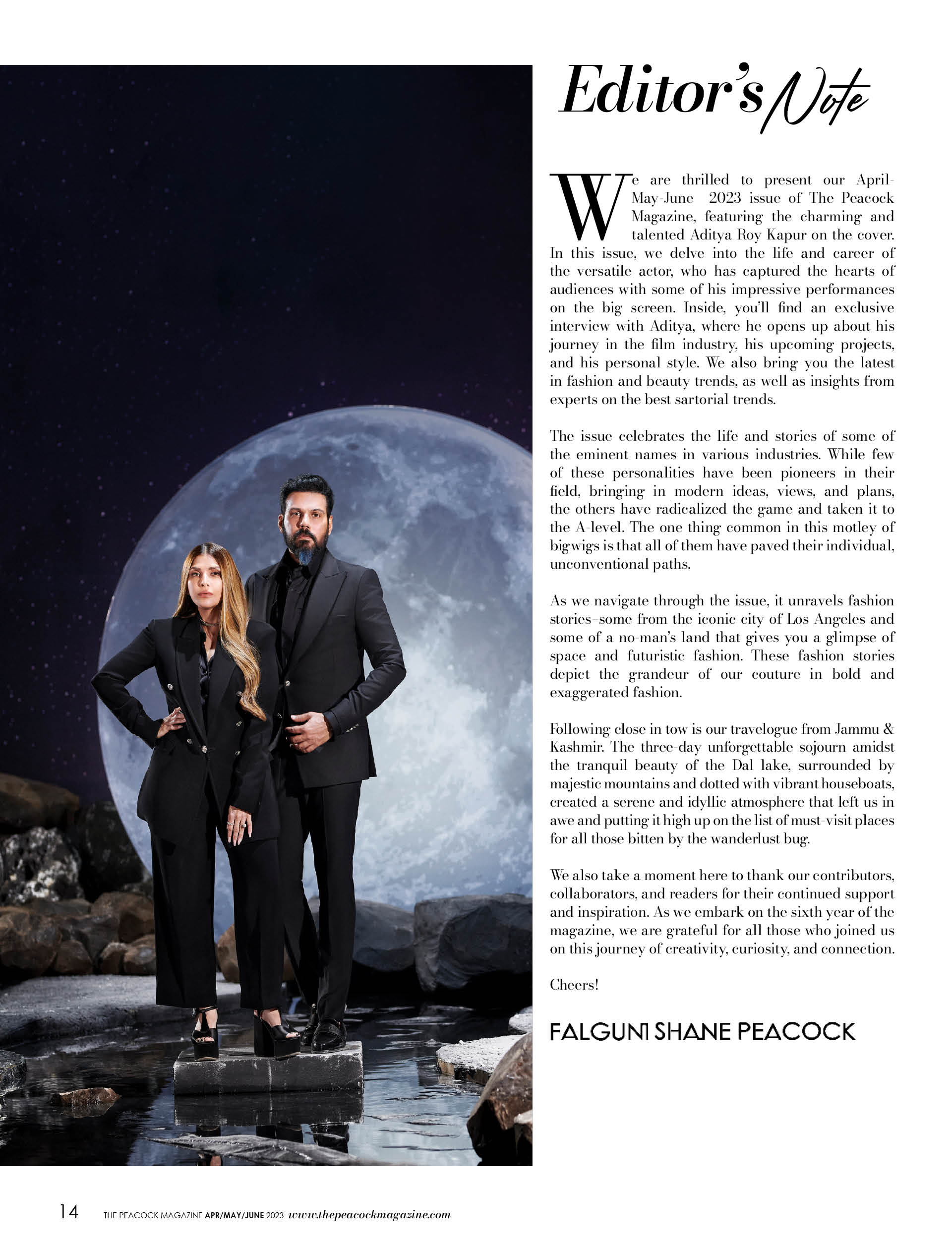 APR / MAY /JUN 2023 | EDITORS NOTE
We are thrilled to present our April-May 2023 issue of The Peacock Magazine featuring the charming and talented Aditya Roy Kapur on the cover. In this issue, we delve into the life and career of the versatile actor, who has captured the hearts of audiences with some of his impressive performances on the big screen. Inside, you'll find an exclusive interview with Aditya, where he opens up about his journey in the film industry, his upcoming projects and his personal style. We also bring you the latest in fashion and beauty trends, as well as insights from experts on the best ways to stay healthy and happy.
The issue celebrates the life and stories of some of the eminent names in various industries. While few of these personalities have been pioneers in their respective fields, bringing in modern ideas, views, and plans, the others have radicalised the game altogether. The one thing common in this motley of bigwigs is that all of them have charted their individual, unconventional paths.
As we navigate the issue, it unravels fashion stories—some from the iconic city of Los Angeles and some from an unclaimed or no-man's-land that gives you a glimpse of space and futuristic fashion. These sartorial stories depict the grandeur of couture in bold and exaggerated streaks.
Following close in tow is FSP's travelogue from Jammu and Kashmir. The three-day unforgettable sojourn amidst the tranquil beauty of the Dal lake, surrounded by majestic mountains and dotted with vibrant houseboats, created a serene and idyllic atmosphere that left us in awe and putting it high up on the list of must-visit places for all those bitten by the wanderlust bug.
We also take a moment here to thank our contributors, collaborators, and readers for their continued support and inspiration. As we embark on the sixth year of the magazine, we are grateful for all those who joined us on this journey of creativity, curiosity, and connection.
Cheers!