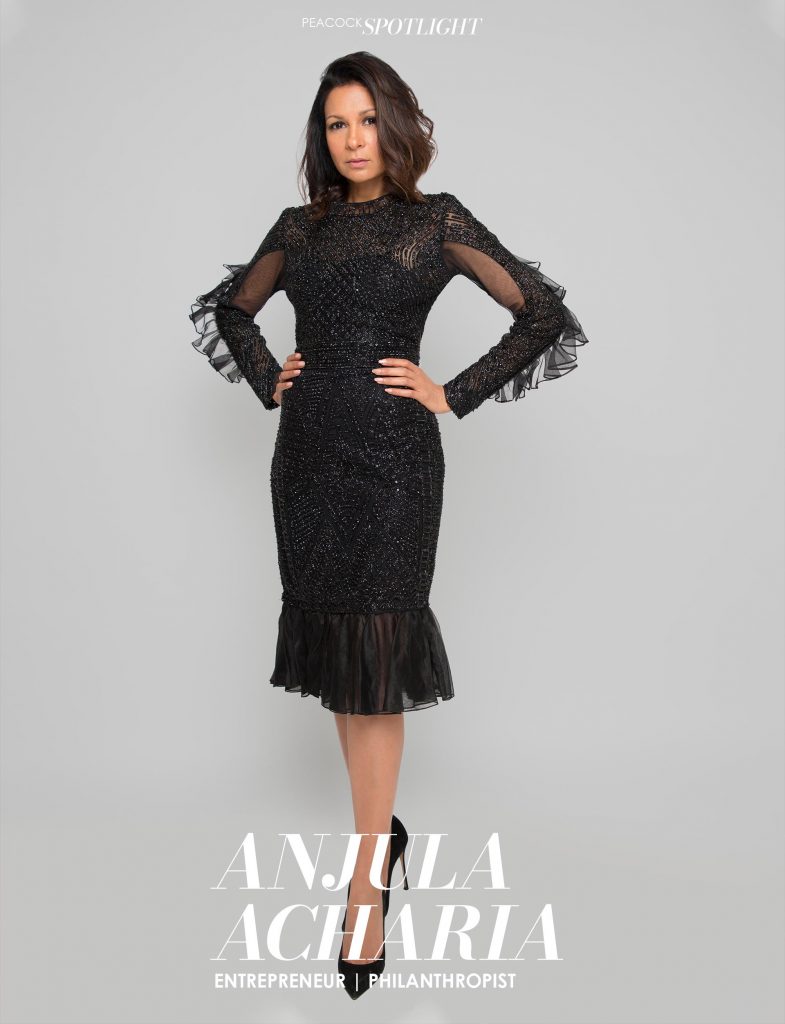 "I love the duality of my work flirting between Hollywood and Silicon Valley. For me, it's all about finding talent (whether that's a rock star or a "tech star" ) helping to grow a seed to allow that talent to shine!"

If you thought, Anjula Acharia's introduction will sum up to just being global icon, Priyanka Chopra's manager, think again! She is an entrepreneur, philanthropist, pop-culture investor and has ranked a spot in Billboard's 'Power Player' list of 2014 and was recently named as AdWeeks Disruptor in Tech and Advertising, 2017. Acharia has worked with music mega names like Lady Gaga, Britney Spears, Enrique Iglesias and 50 Cent. The boss even brought Lady Gaga to India. On one such outing, she stumbled upon Priyanka Chopra's music tape, through music producers Salim and Sulaiman and she instantly knew that the former Miss World was made for world domination. It's safe to say, that Anjula was the flight under Priyanka's wings that broke the glass ceiling.
The lady meant business and it's evident in the actress's graph. Not only did she sign and launch Priyanka Chopra's music career (with partner Jimmy Iovine, founder of Beatsbydre and Interscope Records) with her first single alongside Pitbull but also managed to score her the dream American debut with ABC. Before Chopra played the character of an FBI agent on a prime time American television show, 'Quantico', Indians had been stereotyped to curry eating, oddly-speaking beings from another land – think Apu on the Simpsons ! Apart from playing the modern version of a fairy godmother to Priyanka, Anjula Acharia has empowered women entrepreneurs in their startups by being often the very first investor. Her vision for the star comes from wanting inclusivity and acknowledgement for South Asian women across the globe.
1) INVESTOR
"Having spent most of her growing up years in the U.K, Acharia had seen the pattern, in which Asians weren't represented in mainstream entertainment business globally and if at all they were, the images were stereotypical and derogatory. In a quest to change that, in the year 2000, she co-founded her first venture, 'Desi Hits' – a podcast that was a raging success instantly. It was later developed into an online platform, curating a middle-ground to showcase talent from both Hollywood and Bollywood."
2) MANAGER
"When Anjula spotted Priyanka Chopra, she saw her as more than just a Bollywood movie star. Priyanka's early life in the United States and her affinity with American pop culture reflected in her dynamic personality, which helped Anjula portray her as the global icon that she is now referred to as. From her music collaboration with Will.i.Am of the Black Eyed Peas and Pitbull, to becoming the prime time American television and movie star, Priyanka Chopra officially blurred the line between the two continents, crediting it to her visionary manager who pulled all the big stops from her arsenal."
3) BOSS LADY
"Anjula Acharia who wears multiple feathers on her proverbial hat, is one of America's most prominent early stage female investors as noted by Forbes and Vanity Fair. She has championed and funded over 15 highly noted female founders and was the first advisor to Payal Kadakia – founder of ClassPass, which just closed a whopping 85 million dollars round of financing. Anjula was also named as ELLE Magazine's top 8 "Women In Tech" along side the likes of Bumble Founder, Whitney Wolfe Herd. As a partner at Trinity Ventures – an early stage Venture Capital investment firm, which has invested in companies like Starbucks Corp, Bulletproof Coffee and FitBit Inc; the multi-faceted woman has endless accomplishments to her name. Her representation of South Asian woman, especially Priyanka Chopra has put India on the global map, is a matter she takes pride in."