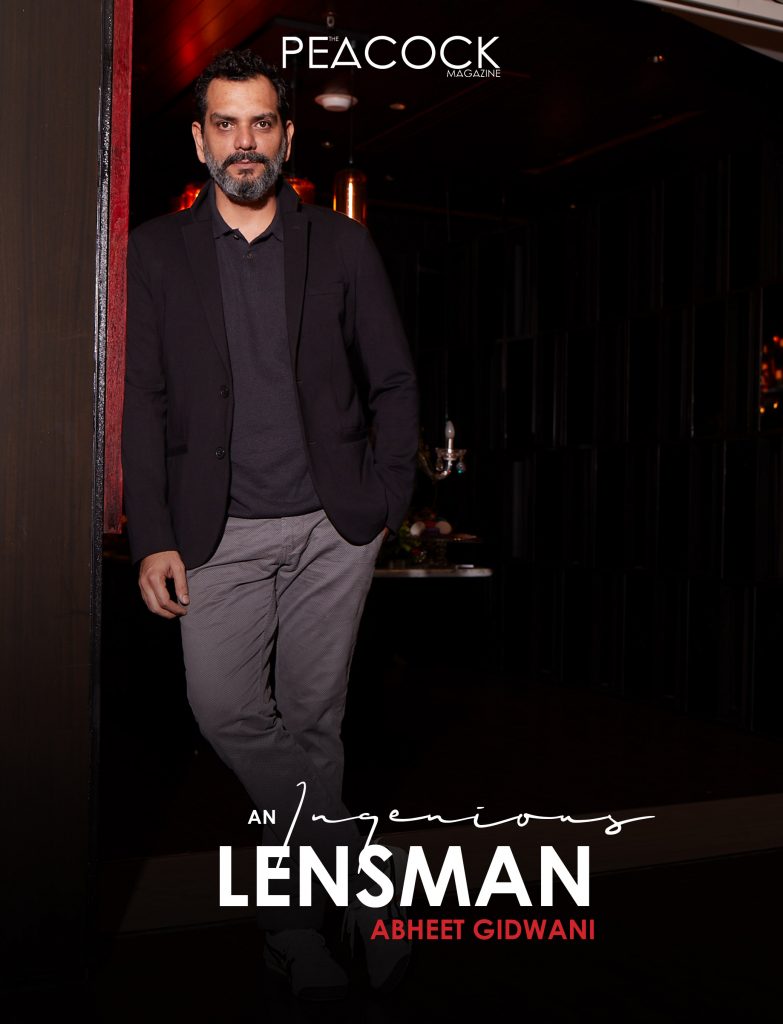 What started out as a passion for Abheet Gidwani, soon charted into a full-fledged career. Gidwani, a noted photographer of the fashion industry and Bollywood, holds his own for shooting some of the best faces in his signature style. Photography, for him, has always been more than just capturing his muse. It's about getting a glimpse into their soul. With names like Amanda Cerny, Priyanka Chopra and Katrina Kaif in his repertoire, Abheet also extends his craft to shooting for magazine editorials and brand campaigns. In a fun interview with The Peacock Magazine, he talks about his favorite photographers, his wish list of celebrities to shoot with and what makes an image a photo. Read on.
[Q] What were your growing up years like?
I was raised in a home with 5 women, so I was pampered and bullied equally. It was fun!
[Q] When did you first realize your passion for photography?
When my cousin had joined Sydenham College's 'Photo Co-op Society', she used to show me prints of what she had shot. I used to get so fascinated. That's when I was drawn to the medium of photography.
[Q] Where/in whom do you find your muse?
I find people fascinating. Everybody is special.
[Q] What sets your mood for photographing?
Good music and great light.
[Q] How do you prepare yourself before any shoot?
I make sure I'm carrying my gear and the batteries are charged.
[Q] Do you always stick to the concept you have had in your mind or do you tend to improvise?
The concept is the germ of the idea improvising is the process. So, I guess I improvise a lot.
[Q] Which has been your most coveted project so far?
I can't put a finger on only one. There are many!
[Q] Which of your personal shoots was challenging?
The shoot is not challenging, it's the prep which can get tedious.
[Q] Which photograph of yours is your personal favorite?
The picture of Parcs des Buttes-Chaumont, a picture I took as my project for my school in Paris.
[Q] Which was your favorite celebrity shoot?
Amanda Cerny, Katrina Kaif, Priyanka Chopra and the list goes on.
[Q] One person who is on the top of your list to shoot?
Gal Gadot, Jennifer Lawrence, Rihanna, Javier Bardem and many, many more.
[Q] Who are your biggest influences/mentors?
Paolo Roversi.
[Q] What is the first thing you notice when you see other artists' work?
It's what it makes me feel.
[Q] Who are your favorite artists? Why?
Paolo Roversi, Sarah Moon. It is their approach and the uniqueness of their imagery.
[Q] What makes an image a photograph?
One's personal touch.
[Q] What is your favorite photographing style?
Portraiture is my approach. I love blurred images. It gives me a sense of motion.
[Q] What are somethings you are obsessed about as a photographer?
The consistency of their work.
[Q] What are your future plans?
Continue and try to do good work!