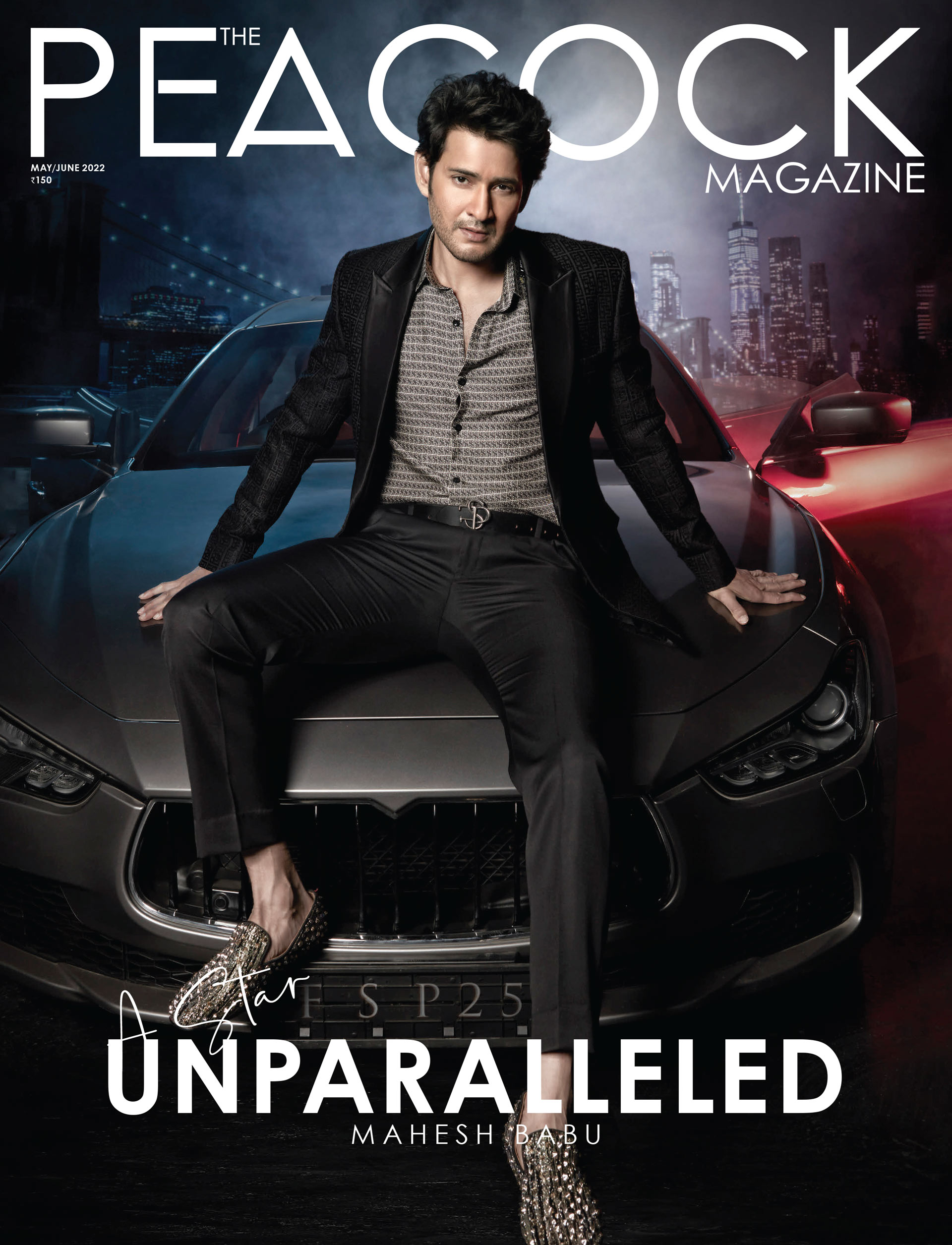 CREDITS –
PHOTOGRAPHER – JATIN KAMPANIFALGUNI
WARDROBE – SHANE PEACOCK
STYLING – RAJU
MAKEUP – PATTABHI GARU
HAIR STYLIST – RIZAWAN ALI
PRODUCTION – 9669 PRODUCTION HOUSE
SHOES – CHRISTIAN LOUBOUTIN AND FALGUNI SHANE PEACOCK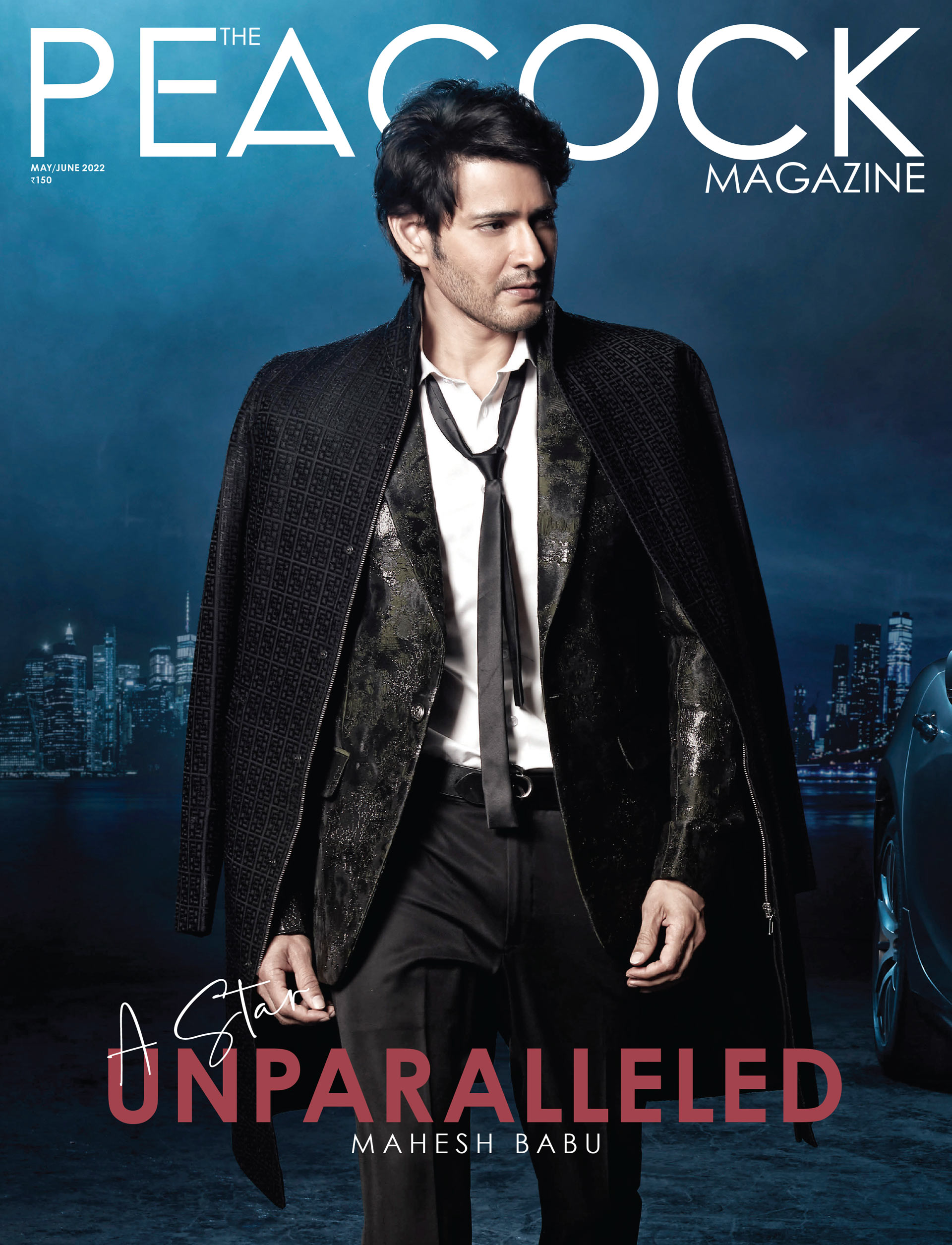 Waxing poetic eloquence isn't just a way of introducing superstar Mahesh Babu. The noted actor is a man of few, selectively important words and mostly lets his films and actions do all the talking. And yet, for the May-June issue of The Peacock Magazine, we get Mahesh Babu in a candid mode and speak his heart out. He talks about what genre of films are his favourite and why, how the perfectionist in him doesn't let him settle for even an iota less, and why his next film is one of the most special ones in his career.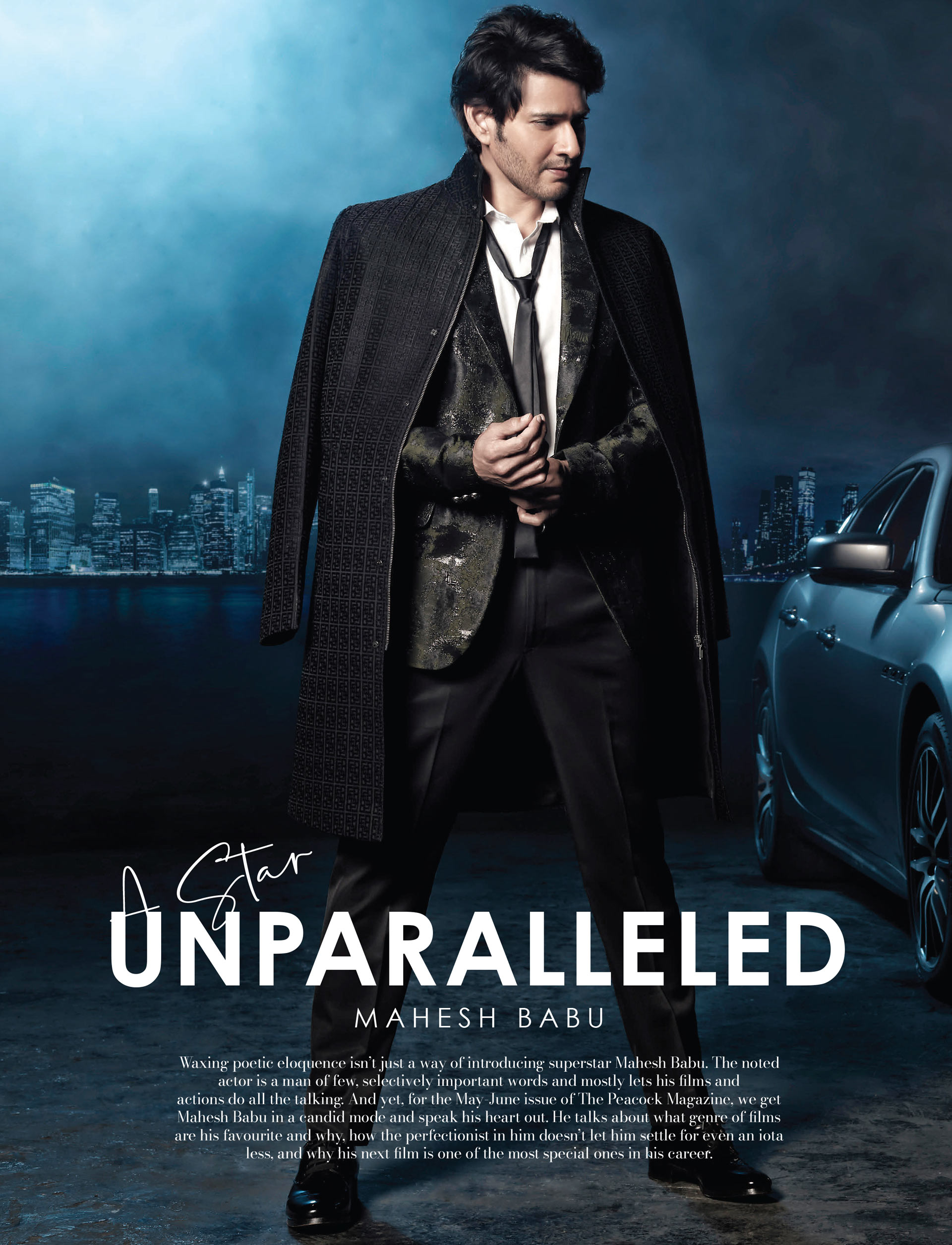 [Q] What were your growing up years like?
We grew up in Chennai. At that time the film industry was based in Chennai, and not in Hyderabad. We lived a modest life there. I didn't tell my friends that I belonged to an actor's family. It was all very simple and grounded, and for that I have to give credit to my parents. They raised us like any other kid with a normal childhood, and I think that was beautiful. We were never treated as children of a successful actor.
[Q] But, you've grown up in a family of some of the great actors, producers and performers.
Yeah, but they never made us feel like that. They ensured that we had a normal upbringing. So, even though we knew my father was a superstar, we were treated like any other child out there. Looking back, I think that was important. And now we even try to raise our children in the same way that I grew up. We make sure that they too have a normal childhood.
[Q] At what age did you take interest in becoming an actor?
It was all very seamless for me. I did a lot of films as a child actor and I think most of the films did well. I was very young. I think I missed a year of school, which is when my parents realised that they've had enough of it. They advised me to finish my education and then pursue acting. I followed that, but it (my career) was all pre-planned. I have to credit my father for that it was all beautifully set up for me. I think it was amazing how my career shaped up and what happened to me on the journey of becoming an actor when I look back.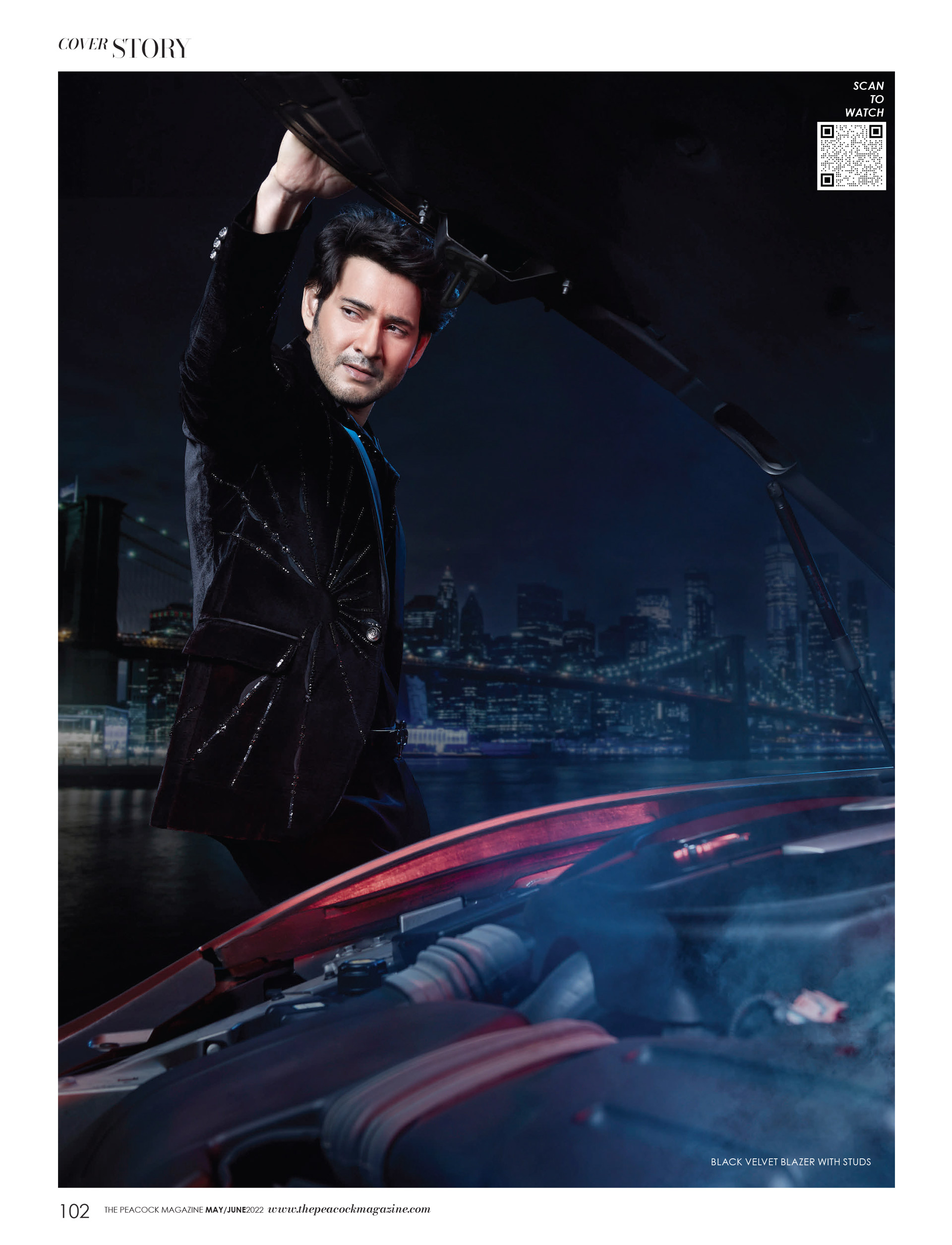 [Q] What kind of movies did you grow up watching?
Like I said in Chennai, people around me were watching all kinds of movies. So Tamil, Telugu, Hindi, English — I watched them all. And my favourites, of course, were my father's films.
[Q] Can you tell us your first experience as an actor/performer when you were a child? How did it leave you feeling?
I thought it was fun. I was very young, I guess about eight-nine years old and the shoot was in Ooty. I was asked if I would like to act in a film and I said 'why not'. So, I went to the location but I wasn't tensed about it because my father was the director of the film. What unfolded was a beautiful experience that I vividly remember. It was all amazing. I didn't feel that there was a camera and I had to act. I credit all of this to my father.
[Q] How did your father guide and mentor you on the first day of your shoot?
As I said, it was all fun. It was like how he would be at home. He would say, 'okay now you have to do this and say this line,' and he would smile. I would smile back and follow his instructions. Even before I could know, he would say 'very good' and move on to the next shot. It was seamlessly beautiful. He just made it simple for me.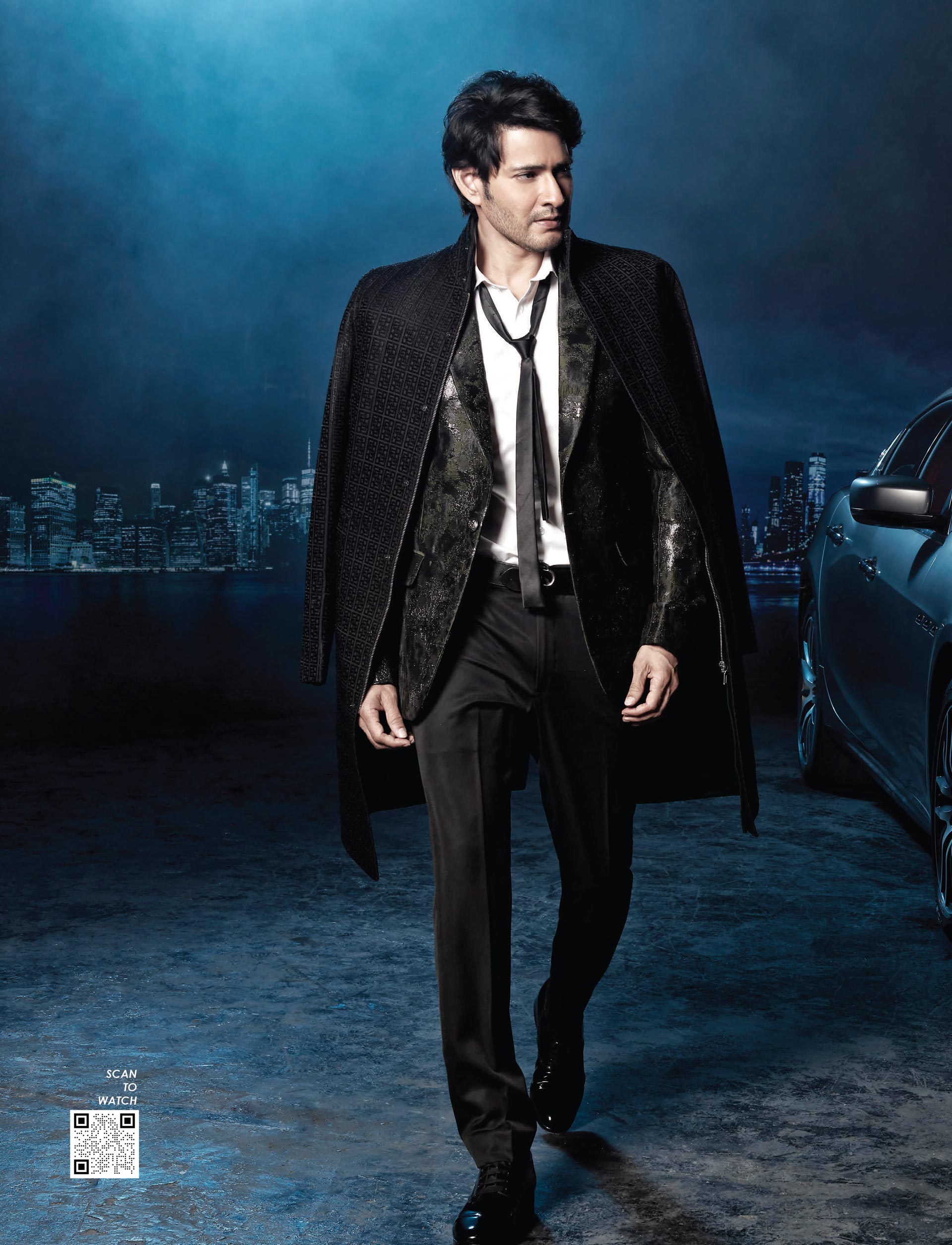 [Q] What is your favourite genre of movies as an audience?
Action. It was always my favourite genre as an audience while I was growing up, and even now when I'm an actor myself.
[Q] What attracts you to the action genre?
I can't pinpoint one thing exactly but it's the heroism, the stunts, the massive scale of production amongst many other things, that when you watch it on the screen you get goosebumps. So, everything that goes into making a power-packed action film is what lures me to it. Especially, these days with SS Rajamouli taking the genre on an altogether new level. It makes me immensely proud that I'm a part of a film fraternity where such films are being made. It's a very exciting phase to be in, where my favourite genre is coming into focus like never before.
[Q] What characteristics do you think are necessary to be a good actor in today's time?
I believe you need to adapt quickly. In today's time when you're dealing with an entire generation who is constantly on social media, you need to adapt quickly and that's the key to staying relevant.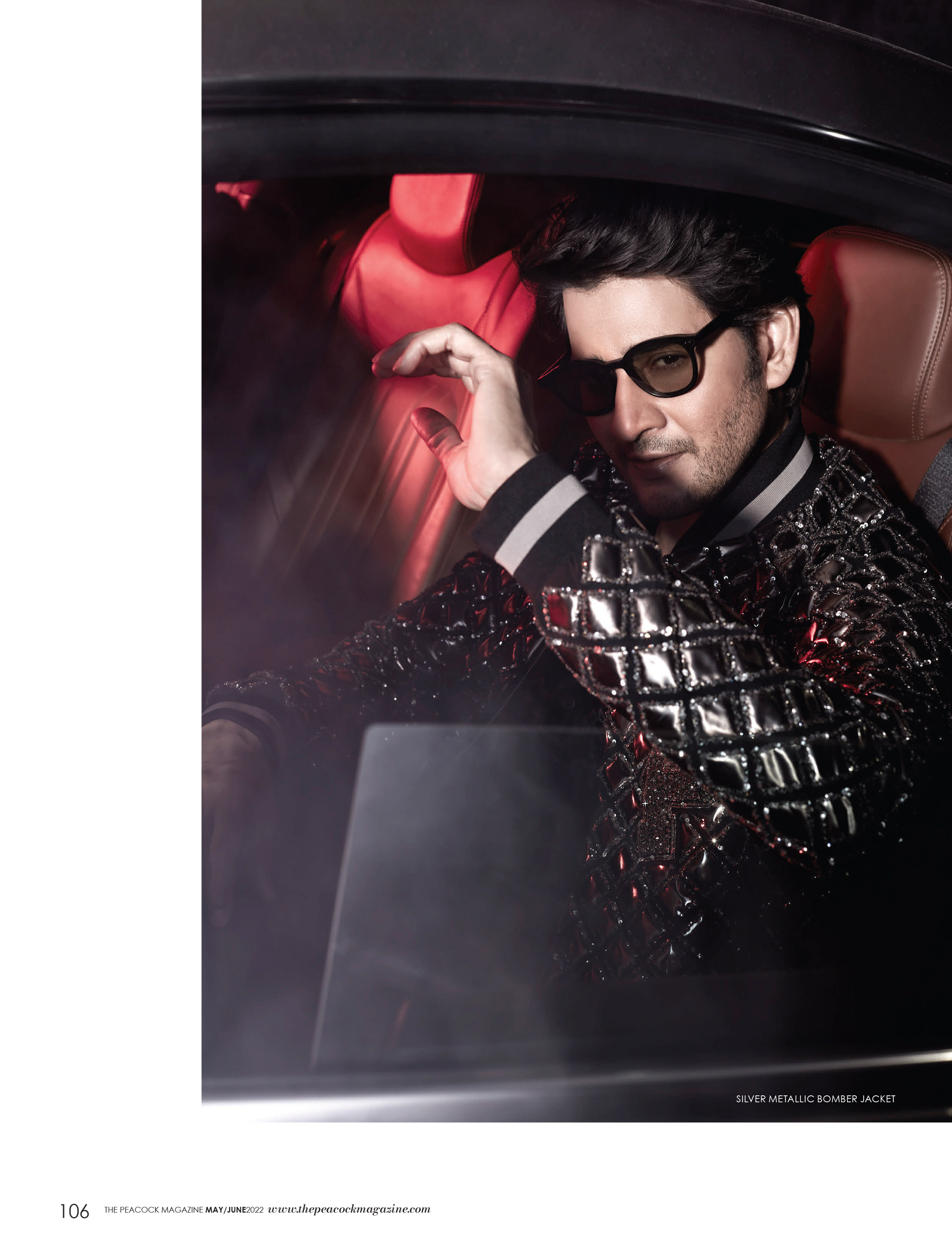 [Q] From Needa to Sarkaru Vaari Paata, how have you grown as an actor?
I think with every film, I just try to unlearn myself. I think that's a process I choose to go through because I don't want to repeat myself. Whenever I finish a film and I'm set to start working on my next film, I try to do something very different and attempt or experiment with something I've never done before. It's that unlearning process that helps me do so. I don't like the term 'grown as an actor,' because it is a different approach for everyone, and for me, it's all about learning-unlearning with each film that I do.
[Q] Your body of work is prolific. Do you think you're in the best phase in your career right now?
I feel it's yet to come, to be honest. There's always a sense of insecurity amongst actors — so we're always trying to give our best, and always striving to make the best of every opportunity. The best is yet to come — and I think that's how the approach should be.
[Q] How do you want your audience to feel after they've left the theatre watching your movies?
Satisfied.
[Q] What, according to you, is the highest form of recognition or appreciation as an actor?
If the film is a commercial blockbuster and it ends up getting an award — that's a great form of recognition, according to me.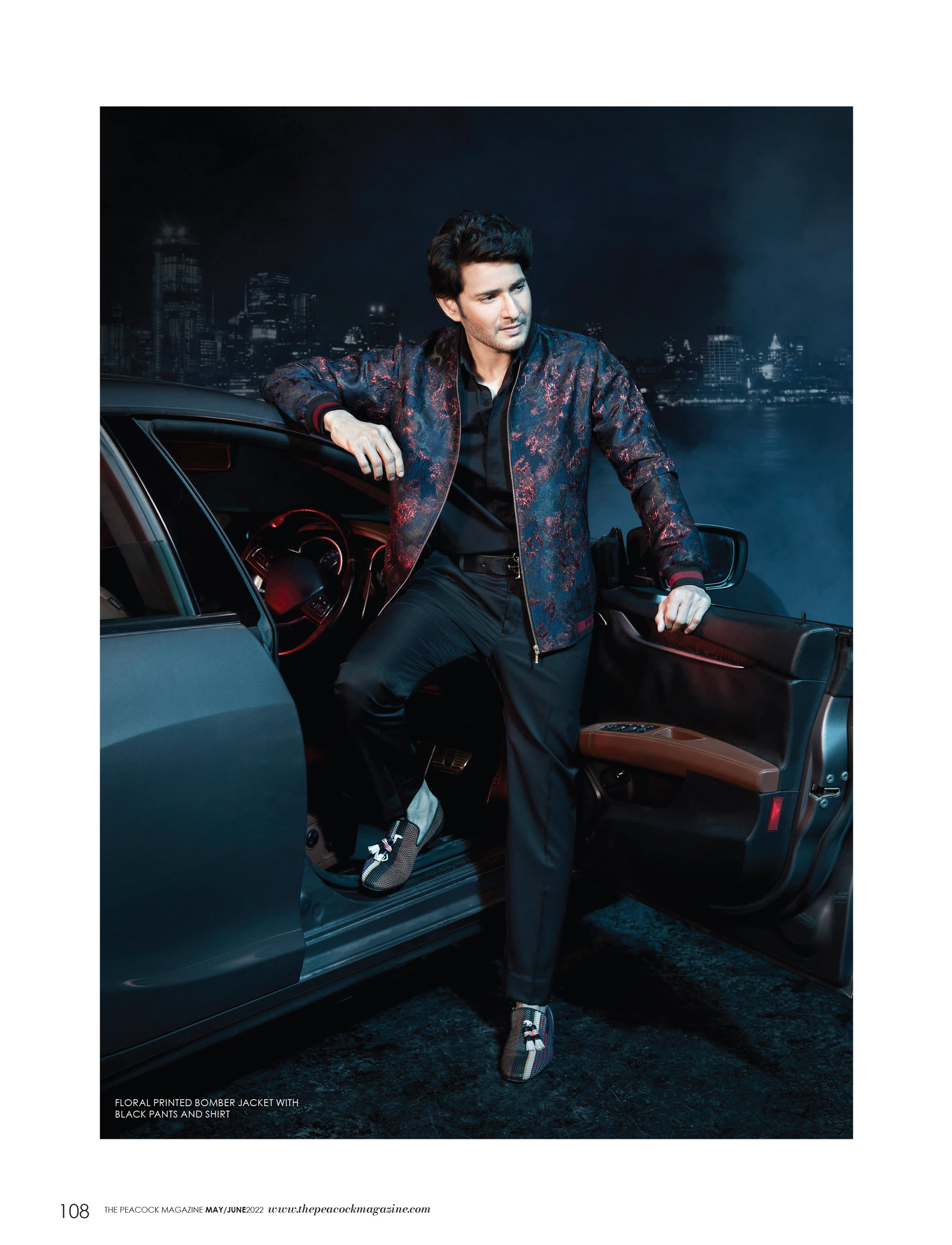 [Q] What is the one thing a crazy fan has done to get your attention?
I really can't remember, honestly. Here in the South (India), we are used to this kind of fanfare. I won't call it 'crazy' because it's their immense love for me. It's really heart-touching.
[Q] Are you working towards creating or leaving behind a legacy, or are you taking one day/film at a time?
I'm taking it one day at a time, one film at a time.
[Q] But has there been any time when you're doing multiple films at the same time?
I've never done that. I've never worked on multiple films simultaneously. I may have done it in my initial days but after that, I've only focused on one film at one time.
[Q] How do you transition from one character to the other after you've completed a film and moved to the next one? How much is your input in building a character?
I don't think too much, to be honest. I don't get into the process of method acting. After I finish a film, I usually take a month's break where I go on a holiday with my family and leave the character behind. But somewhere deep down, I do ponder upon my character in the next film. I have conversations with my character and think about all that I have to do to prepare for the character. That's sort of the beginning of getting into the process of owning up the character.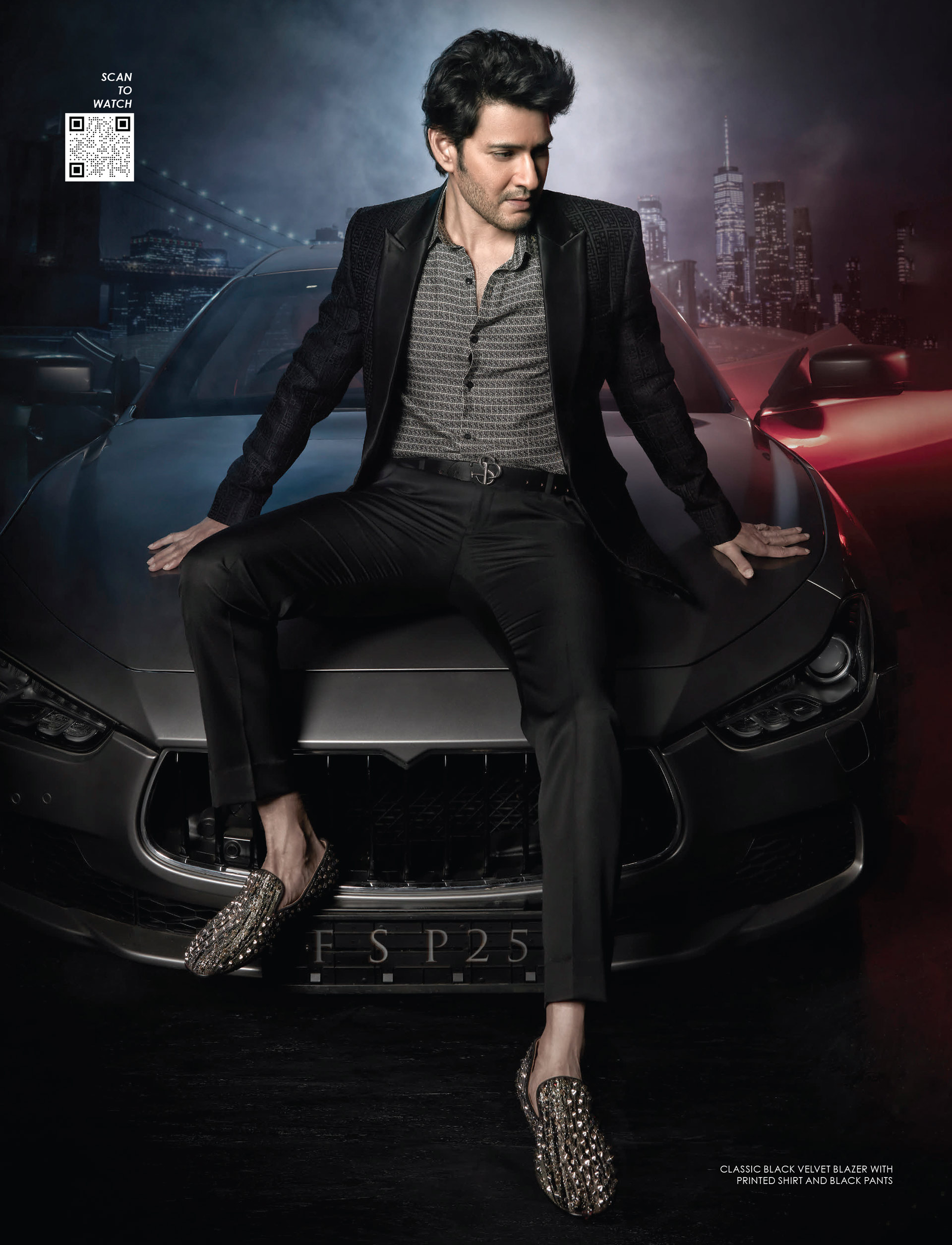 [Q] How important is it for you that your work be global?
It is extremely important. What the Bahubali series of films did was just sensational! When we assessed the reaction the film garnered, it was like a dream for all of us actors to witness and hope for working in such films. We all are trying hard to have our films get a similar kind of global appeal and receive the same kind of reaction, love and appreciation.
[Q] One film that is close to your heart. Why?
Pokiri. That film changed my entire career. It made me the superstar that I am and it is extremely close to my heart.
[Q] Do you feel you're being too hard on yourself some days when you're trying to give your best?
I tend to be very hard on myself on most days. I suffer from something that I call the 'perfectionist trait.' That's when my family comes into the picture to bring a balance. I'm really thankful to my wife and my children for that.
[Q] How do you deal with your moments of doubt and vulnerabilities?
In such moments, I turn to my family — my wife, who is such a support and even my children, with whom I just unwind when I'm stuck with such moments. Sometimes, you need to steer yourself off such thoughts and find reassurances from your loved ones. Sometimes these doubts might mean nothing at all, especially in my case, because I'm extremely critical of myself.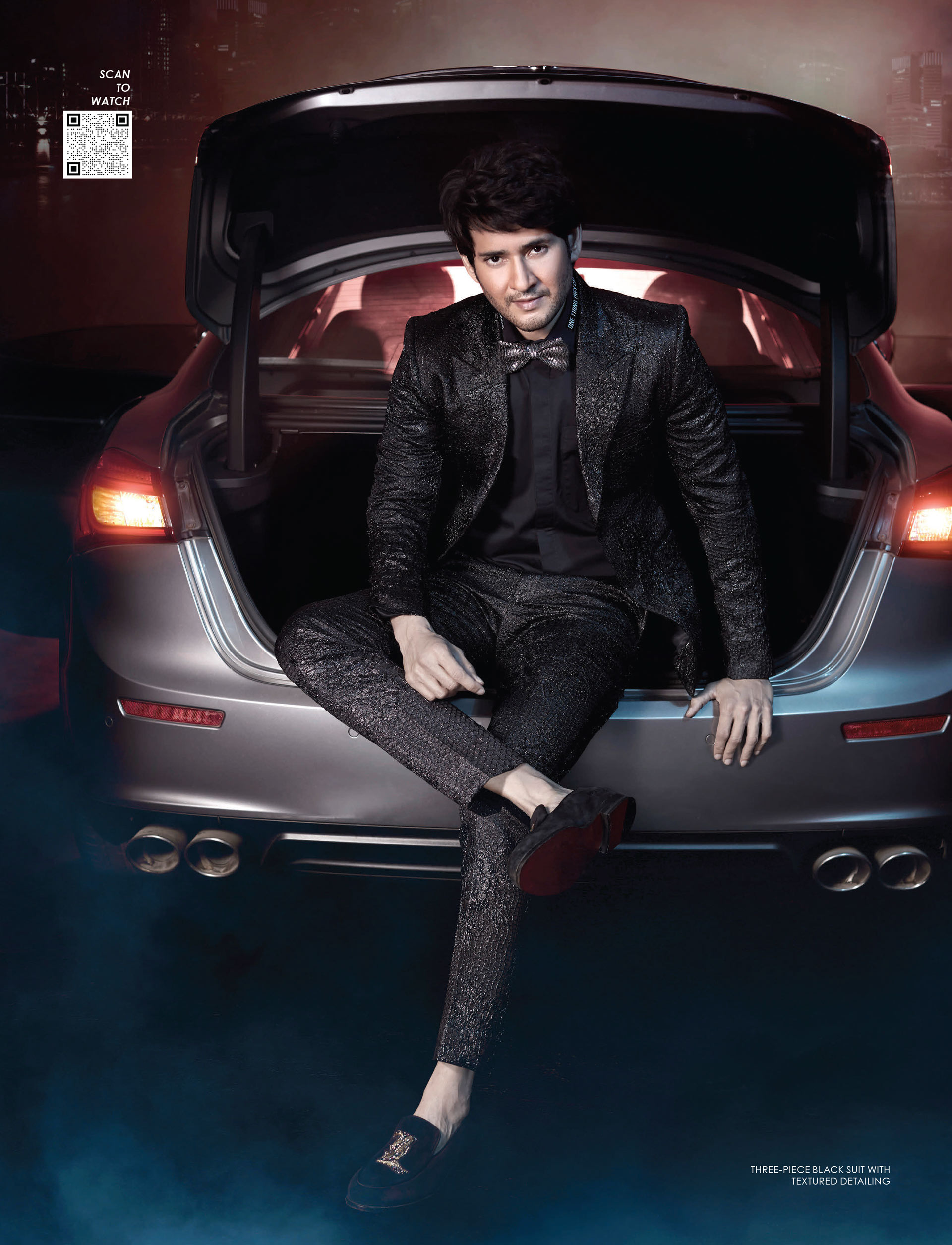 [Q] How does your father, who is a noted persona in the Telugu film industry, motivate you to be better at your craft?
It's quite stressful to be an actor in today's times. The way you approach your work, it's quite intense. But when I look back at the way my father dealt with it, it was all very simple. He always had that huge smile on his face. He had an extremely simple approach, where in fact, he used to do 10-12 films a year and worked three shifts a day, almost all 365 days a year. But he would make it seem so effortless. He would always have a smile on his face. I tried to imbibe the same but it's quite difficult in today's times. But that's certainly something I would eventually want to be like. I want to try to make it look simple and at the same time, give my best.
[Q] You come from a family with a film background. How involved are they in your professional life? Do you seek their advice or suggestions or discuss your scripts with them?
They've always been a huge support system since my first film, but they've never spoken about my choice of films and given me suggestions. I'm strongly of the opinion that I should do it all by myself. So, I've never discussed my scripts with anybody. Whether it's the right decision or wrong, I should be responsible for it. That said, they're a huge support in every way possible.
[Q] As an actor, what has been a pleasant surprise for you concerning the film industry?
As I come from the South Indian film fraternity, the kind of films that are being made here are doing unbelievably well and entertaining the entire country. When I see films like RRR, KGF, etc. doing immensely well, sometimes even leaving behind the blockbuster kind of films, it gives me a sense of pride.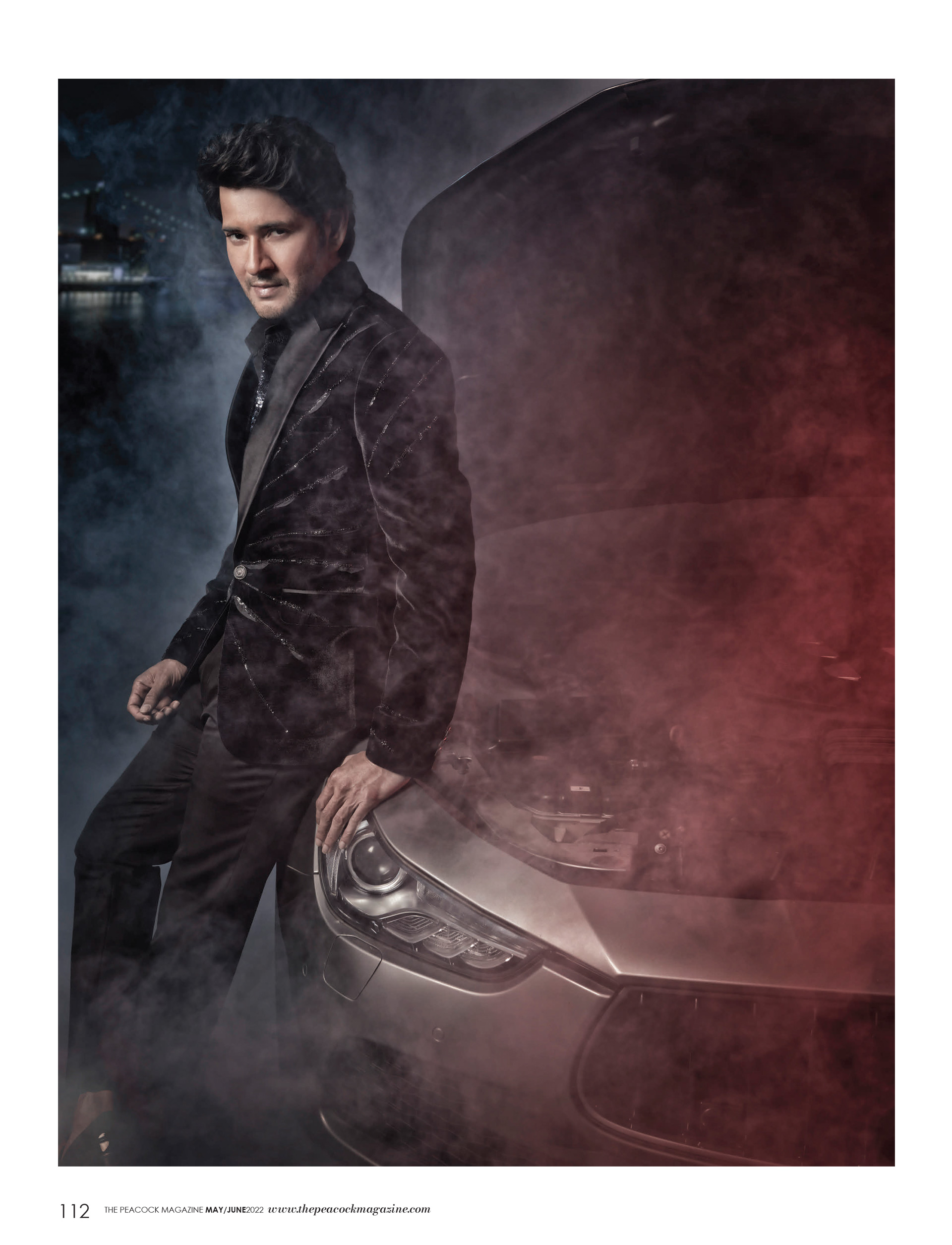 [Q] How can a successful actor like you make a difference in the film industry?
I do one film at a time. But I'm also at the forefront of bringing other successful stories, producing and making other films with other people, and telling important stories. I believe that is one of the ways in which one can make a difference. Right now I'm a part of a project called Major — which we are immensely proud of. It's an important film, which is going to come out in May, and I'm happy with the way it has turned out to be.
[Q] At the 'Mahesh Babu Foundation,' what social causes do you champion?
Children hold a very special place in my heart. So, we've tied up with some of the Hyderabad hospitals with Rainbow Children's Heart Institute. Every year we help as many children as possible under the programme. The foundation is taking off and hopefully, in the coming years, we will be able to save many more children in need. The cause is very close to my heart.
[Q] What are your future plans as an actor and as an entrepreneur?
Right now, my focus is this big film that's coming up with SS Rajamouli — that's where all my attention and energies will be. It's a dream come true for me. We've been trying to collaborate for a long time and it's finally happening. Right now, that's my only goal. I will give all that I have to it and I'm very excited about it.
[Q] Have there been any films in the past that you passed on but regretted later?
Never. Once I've said 'no' from my heart, I've never really gone back to give it a thought.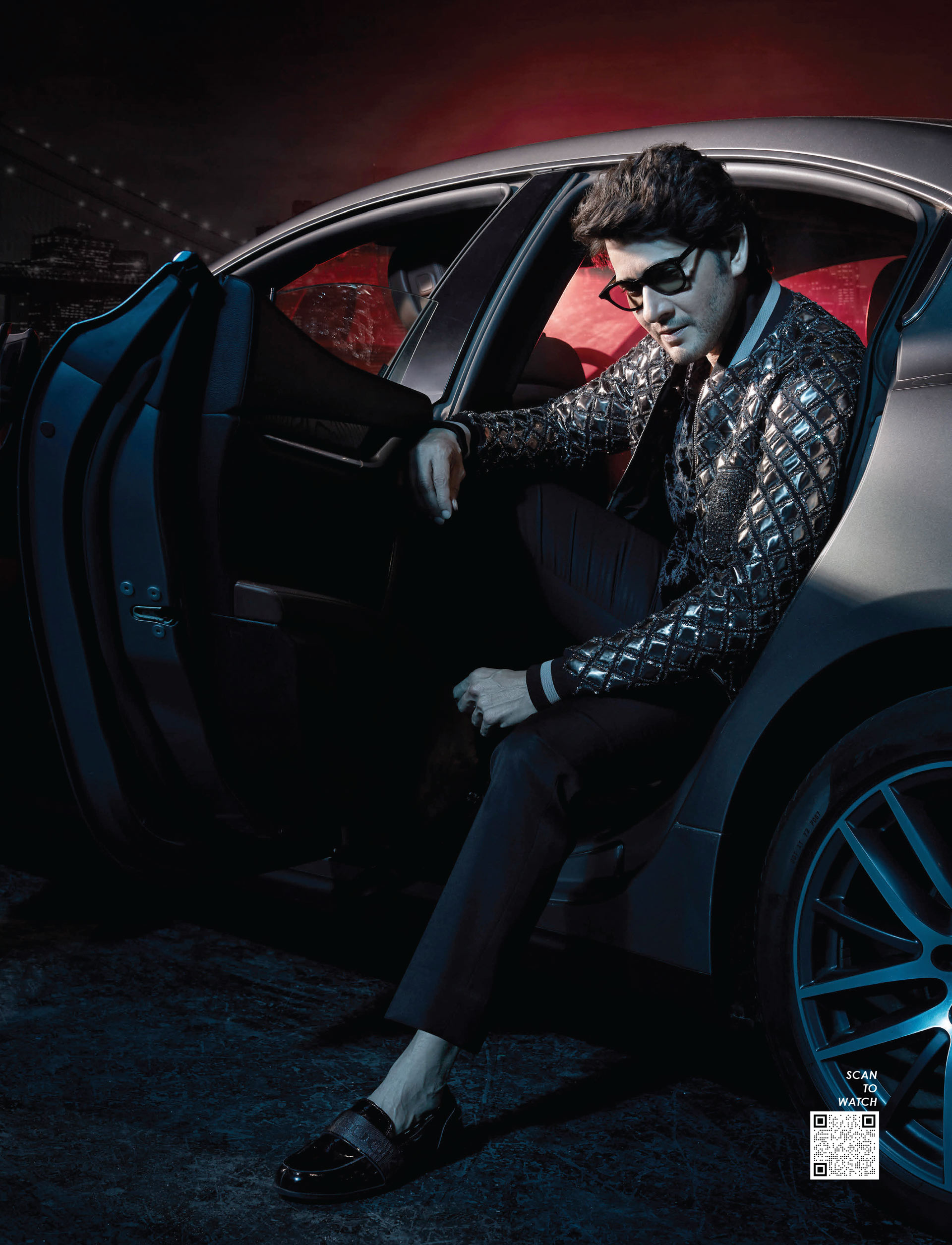 [Q] You're a style icon. How important is your look every time you step out?
To be honest, I just leave it to my stylist and they take care of it. All I need is to be comfortable — that's my style.
[Q] Any advice to young actors who look up to you?
Just trust and love the process of acting rather than concentrating on the results. Great results will come out automatically.
[Q] Your daughter Sitara Ghattamaneni is already on her pathway to stardom. How much of a mentor will you be to her, just like your father was to you?
(laughs) Yes, she is a star in her own way. Also, today's generation has a mind of its own. I don't think anything needs to be said to these kids, you just need to be their support system just like how my father was [to me]. They know what to do. I cannot plan Sitara's pathway into the industry and navigate her journey, but I surely know that whatever will happen, it will be seamless. She is very popular on Instagram, she knows what to do and she will go about it.
[Q] Any Hollywood films you'd be interested in?
If you had asked me this question a couple of years ago I would have said 'no', but with Netflix and other OTT platforms making it big, you never know what will work out. If I get an opportunity and it is exciting, for sure, but it has to be exciting.