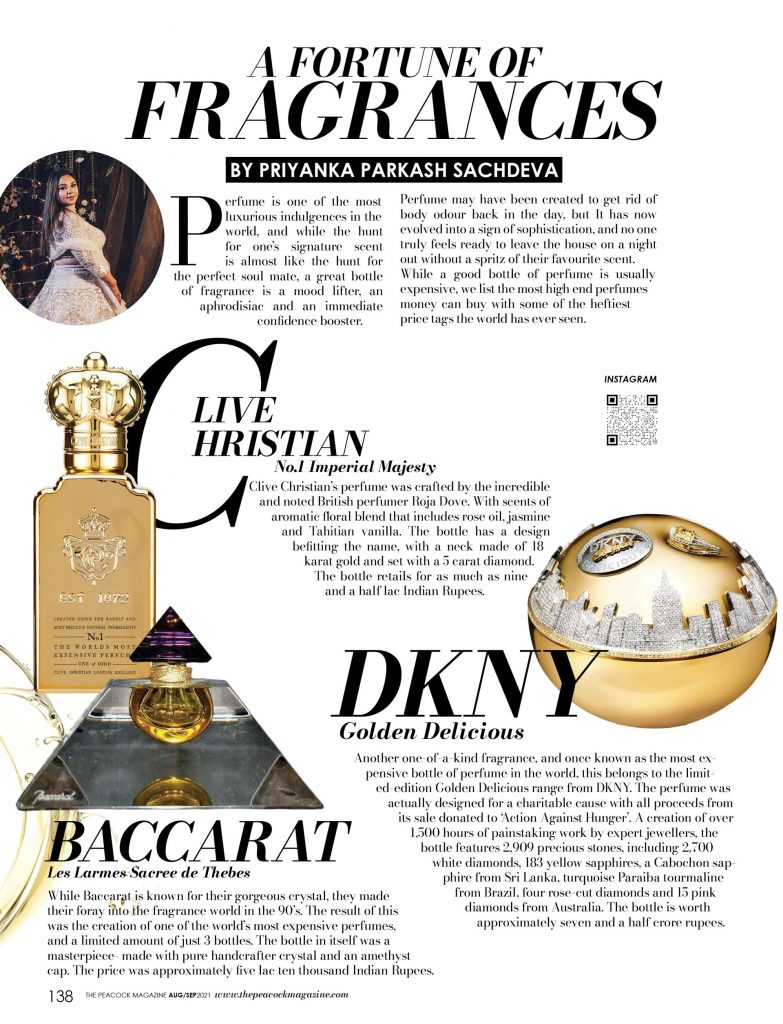 Perfume is one of the most luxurious indulgences in the world. And while the hunt for one's signature scent is almost like the hunt for the perfect soulmate, a great bottle of fragrance is a mood lifter, an aphrodisiac and an immediate confidence booster.
Perfumes may have been created to get rid of body odour back in the day, but It has now evolved into a sign of sophistication, and no one truly feels ready to leave the house on a night out without a spritz of their favourite scent.
While a good bottle of perfume is usually expensive, we list the most high-end perfumes with some of the heftiest price tags the world has ever seen.
JAR Bolt of Lightning
JAR is the creation of Joseph Arthur Rosenthal, an American jeweller based in Paris. Known for exceptional fragrances, his brand houses some of the most expensive and popular ones including the 'Bolt of Lightning'. With a beautiful handcut bottle, the fragrance has a strong floral overtone, and the other ingredients include Oriental flowers and tuberose. The perfume is priced at INR 57,000 per ounce.
Shumukh
This exquisite fragrance was unveiled at the Armani ballroom of the Burj Khalifa, which perhaps hints towards how high-end this scent truly is. Designed by Dubai-based master perfumer Asghar Adam Ali, many of Shumukh's ingredients have not been disclosed yet. The ones that are known include sandalwood, musk and Indian agarwood. The tricky part of getting your hands on this perfume is that there is only one in existence. The other speed bump in acquiring this fragrance might just be its whopping price tag of approximately nine and a half crore rupees.
DKNY Golden Delicious
Another one-of-a-kind fragrance, and once known as the most expensive bottle of perfume in the world, this belongs to the limited-edition Golden Delicious range from DKNY. The perfume was actually designed for a charitable cause with all proceeds from its sale donated to 'Action Against Hunger'. A creation of over 1,500 hours of painstaking work by expert jewellers, the bottle features 2,909 precious stones, including 2,700 white diamonds, 183 yellow sapphires, a Cabochon sapphire from Sri Lanka, turquoise Paraiba tourmaline from Brazil, four rose-cut diamonds and 15 pink diamonds from Australia. The bottle is worth approximately seven and a half crore rupees.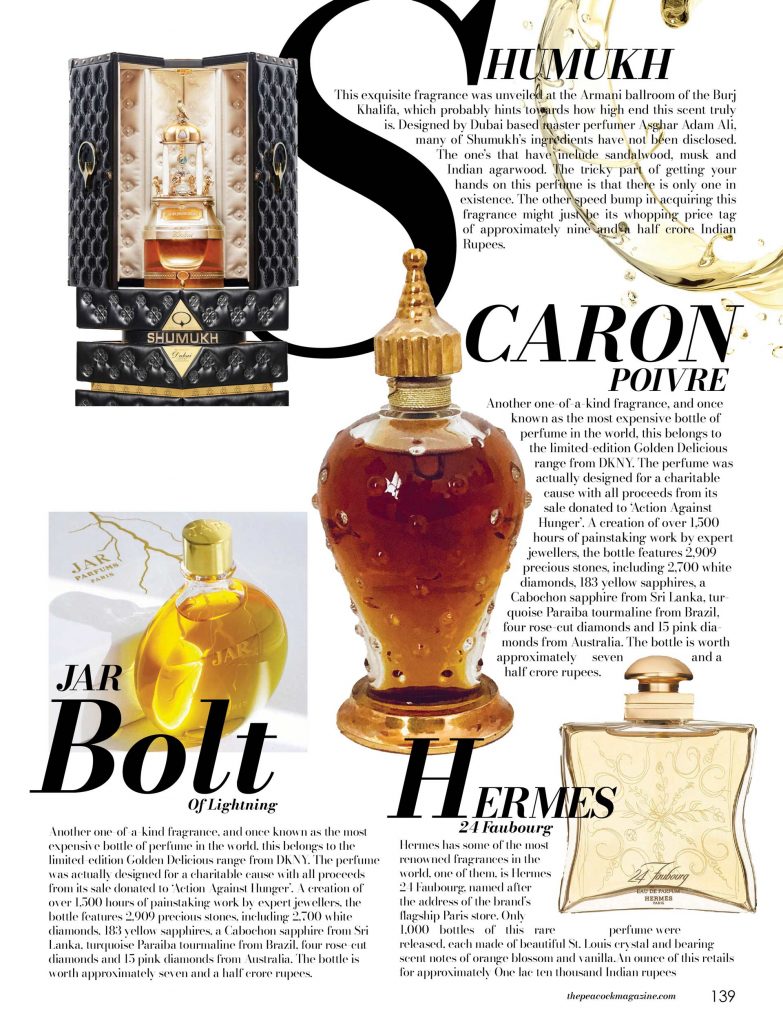 Clive Christian No.1 Imperial Majesty
Clive Christian's perfume was crafted by the incredible and noted British perfumer Roja Dove. This scent packs in aromatic floral blends of rose oil, jasmine and Tahitian vanilla. The bottle has a design befitting the name, with a neck made of 18 karat gold and set with a 5 carat diamond. The bottle retails for as much as nine and a half lakh rupees.
Caron Poivre
The house of Parfums Caron is one the oldest and most prestigious French perfumeries. In the '50s, it produced what would be known as its signature fragrance — Caron Poivre. The bottle of this particular fragrance has been created by Baccarat. It has an unmistakable scent and is available in very limited stores around the world. The price of one ounce is approximately INR 75,000.
Hermès 24 Faubourg
Hermès has some of the most renowned fragrances in the world and Hermès 24 Faubourg, named after the address of the brand's flagship Paris store, is one among the illustrious list Only 1,000 bottles of this rare perfume have been released so far, each made of beautiful St. Louis crystals and bearing notes of orange blossom and vanilla. An ounce of this retails for approximately INR 1,10,000.
Baccarat Les Larmes Sacree de Thebes
While Baccarat is known for their gorgeous crystal, they made their foray into the fragrance world in the '90s. It resulted in the creation of one of the world's most expensive perfumes in a limited offering of just three bottles. The bottle in itself was a masterpiece — made with pure handcrafted crystals and an amethyst cap. The price was approximately INR 5,10,000.