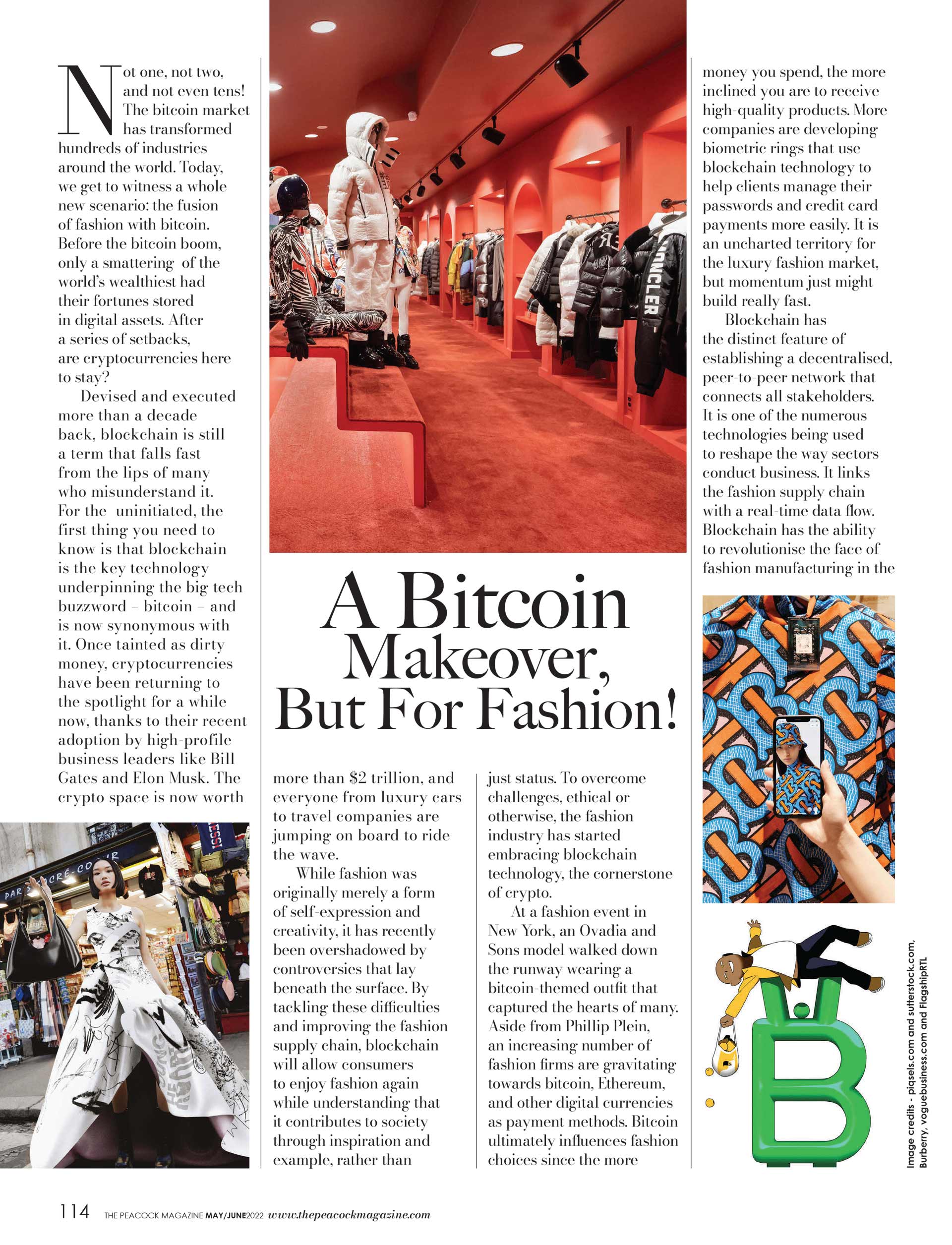 Not one, not two, and not even tens! The bitcoin market has transformed hundreds of industries around the world. Today, we get to witness a whole new scenario: the fusion of fashion with bitcoin. Before the bitcoin boom, only a smattering of the world's wealthiest had their fortunes stored in digital assets. After a series of setbacks, are cryptocurrencies here to stay?
Devised and executed more than a decade back, blockchain is still a term that falls fast from the lips of many who misunderstand it. For the uninitiated, the first thing you need to know is that blockchain is the key technology underpinning the big tech buzzword — bitcoin — and is now synonymous with it. Once tainted as dirty money, cryptocurrencies have been returning to the spotlight for a while now, thanks to their recent adoption by high-profile business leaders like Bill Gates and Elon Musk. The crypto space is now worth more than $2 trillion, and everyone from luxury cars to travel companies are jumping on board to ride the wave.
While fashion was originally merely a form of self-expression and creativity, it has recently been overshadowed by controversies that lay beneath the surface. By tackling these difficulties and improving the fashion supply chain, blockchain will allow consumers to enjoy fashion again while understanding that it contributes to society through inspiration and example, rather than just status. To overcome challenges, ethical or otherwise, the fashion industry has started embracing blockchain technology, the cornerstone of crypto.
At a fashion event in New York, an Ovadia and Sons model walked down the runway wearing a bitcoin-themed outfit that captured the hearts of many. Aside from Phillip Plein, an increasing number of fashion firms are gravitating towards bitcoin, Ethereum, and other digital currencies as payment methods. Bitcoin ultimately influences fashion choices since the more money you spend, the more inclined you are to receive high-quality products. More companies are developing biometric rings that use blockchain technology to help clients manage their passwords and credit card payments more easily. It is an uncharted territory for the luxury fashion market, but momentum just might build really fast.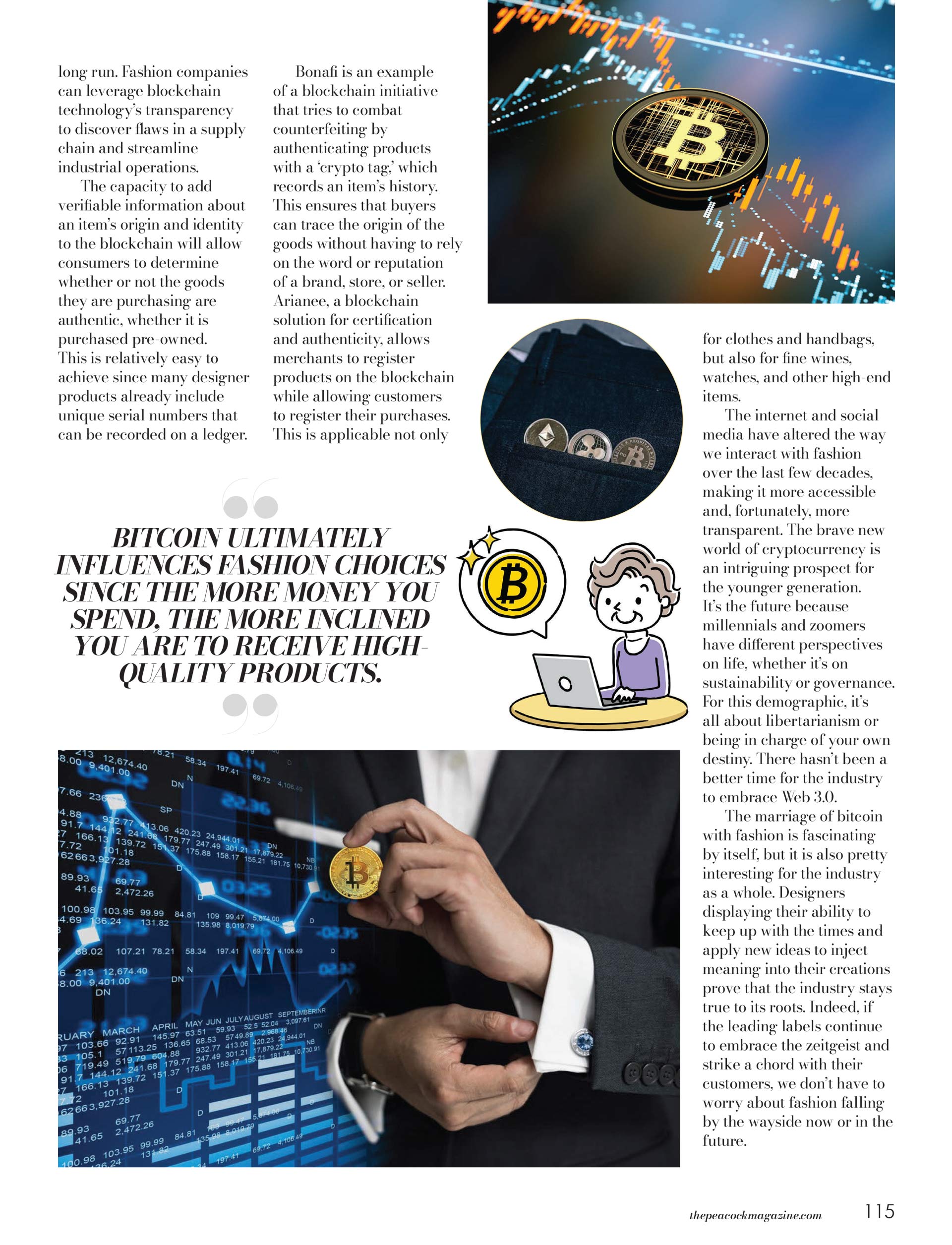 Blockchain has the distinct feature of establishing a decentralised, peer-to-peer network that connects all stakeholders. It is one of the numerous technologies being used to reshape the way sectors conduct business. It links the fashion supply chain with a real-time data flow. Blockchain has the ability to revolutionise the face of fashion manufacturing in the long run. Fashion companies can leverage blockchain technology's transparency to discover flaws in a supply chain and streamline industrial operations.
The capacity to add verifiable information about an item's origin and identity to the blockchain will allow consumers to determine whether or not the goods they are purchasing are authentic, whether it is purchased pre-owned. This is relatively easy to achieve since many designer products already include unique serial numbers that can be recorded on a ledger.
Bonafi is an example of a blockchain initiative that tries to combat counterfeiting by authenticating products with a 'crypto tag,' which records an item's history. This ensures that buyers can trace the origin of the goods without having to rely on the word or reputation of a brand, store, or seller. Arianee, a blockchain solution for certification and authenticity, allows merchants to register products on the blockchain while allowing customers to register their purchases. This is applicable not only for clothes and handbags, but also for fine wines, watches, and other high-end items.
The internet and social media have altered the way we interact with fashion over the last few decades, making it more accessible and, fortunately, more transparent. The brave new world of cryptocurrency is an intriguing prospect for the younger generation. It's the future because millennials and zoomers have different perspectives on life, whether it's on sustainability or governance. For this demographic, it's all about libertarianism or being in charge of your own destiny. There hasn't been a better time for the industry to embrace Web 3.0.
The marriage of bitcoin with fashion is fascinating by itself, but it is also pretty interesting for the industry as a whole. Designers displaying their ability to keep up with the times and apply new ideas to inject meaning into their creations prove that the industry stays true to its roots. Indeed, if the leading labels continue to embrace the zeitgeist and strike a chord with their customers, we don't have to worry about fashion falling by the wayside now or in the future.