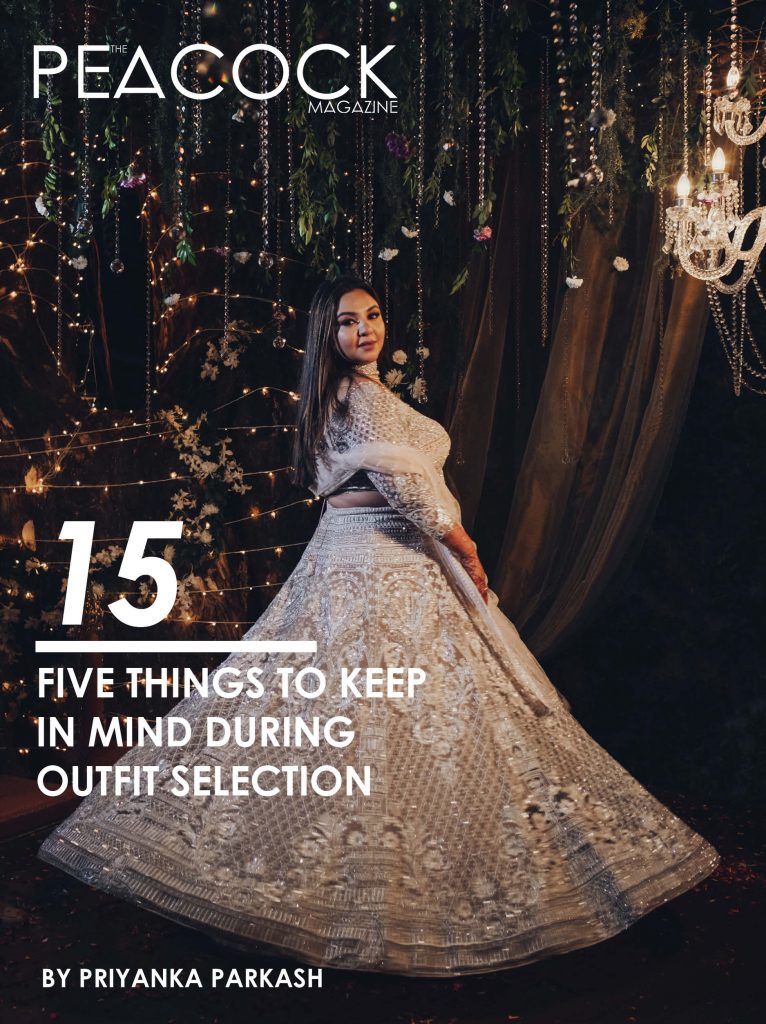 The most important part of choosing any look for any of your wedding functions is to not try to suddenly opt for a new trend or be someone you are not. Experimenting on your wedding day should never be an option. Try and go alone the first time you go lehenga shopping, it will give you an opportunity to know what you really love without the influence of family and friends filtering your opinion. This is the most important factor because you'll feel and look amazing in an outfit that you truly love.
Colour is everything! When you're picking your lehenga, think of the occasion and also the decor at the event. This is your event so you have the luxury of knowing how it's going to look. The pictures of your outfit are as important as how you look on the actual day. So, when picking a color – keep the decor and event in mind. For example, if it's your Pheras and your decor is pastel – pick an ivory, or a baby blue, or a lilac which look stunning while walking to the Mandap as well as in the photos against the decor. If it's a Mehendi with brighter decor – try to pick mustards, rusts and even pastel green.
While classics like ivory, pastel pink and red are bridal go-to's when it comes to a bridal outfit, it will never fail you. The only place you can actually experiment and try something unique is with the colors such as lilac, mint green, aubergine, all-over-gold, nudes and beiges, as they are all stunning wedding colors but aren't worn as often. It is a great way to be the unique bride.
Silhouette comes next and comfort is everything! People might say fashion before comfort, but if you want to be in a good mood on the day – you have to feel comfortable. A bridal lehenga, by its very nature, is heavy – as it needs to be to get the full effect. But if you have to deal with it being heavy and the blouse slipping from places and the lehenga a bit too long, the discomfort will show. At your fitting, make sure the neckline is something you're comfortable with, bend forward, sit down, look in the mirror and make sure you look effortless in it. Walk around in it to ensure the lehenga fastens well on your waist and the sleeves don't slip down or the blouse isn't digging in.
Never ever go to a bridal fitting without the heels you will wear on your main day. The length of your lehenga needs to be perfectly matched to the shoes, so that you aren't tripping over it on the main day. PS: Always wear a wedge! The shoes aren't going to show and the pain just isn't worth it.
For the Pheras, always opt for a double dupatta as it gives the bridal look that extra ethereal vibe. But for the Mehendi and Sangeet, try to do an outfit with a pre-attached dupatta to be hands free.