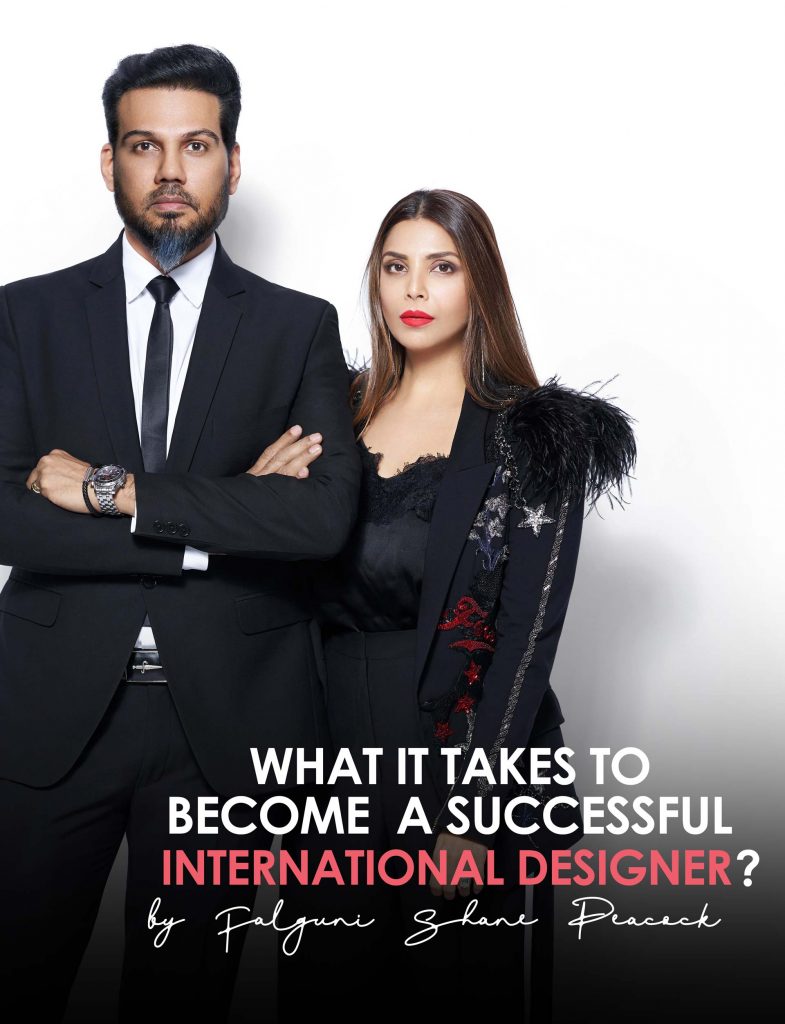 Success is often measured on its peak, but the real assessment of it can only be estimated through the journey. The world of fashion is vast, competitive and constantly evolving. Amidst the chaos, creating a brand with a unique identity and sustaining it in the long run, is an important principle you need to instil early on. Consistent innovation, experimentation and faith in your design ideology are certain traits our Creative Directors, Falguni Peacock and Shane Peacock place their bets on. They have been playing a substantial role in moulding the face of fashion over the last decade, and have also successfully placed Indian fashion on the global map. From being one of the first Indian designers to dress International celebrities like Jennifer Lopez, Mariah Carrey and Fergie to showcasing collections on International runways and retail stores, label Falguni Shane Peacock has been paving the way to global success.
In a detailed dialogue, the creative visionaries shared their inputs for beginners who are trying to make it big in the glossy world of fashion. "The first thing to lay emphasis on is a vision, you need to have a great vision, if you are not clear on that, you cannot reach anywhere. When I say vision, what I mean is that you need to be crystal clear on the look, pay attention to the details like the makeup, the hair, the technical and the backdrop. When I think about showcasing internationally, my first thought is that, does my collection fit there? Will it make the noise there? Will a certain audience identify with it? So the vision has to be extremely spotless." To which Falguni added, "When we launched our career in 2004, with the FDCI, where we showcased within a four designer show, and even though we didn't have a solo spot, we knew we wanted to create something that stands out, so we delivered a collection with Animal prints. Contrary to the popular belief, even though it was a Monday morning 11:00 am show, it was a packed show and it impressed the popular U.K retail store Harrods so much, that ours was the only collection they bought that season. In order to make a statement, you need to be ahead of the curve and make creative choices that you believe in, even if they are risqué."
"If you want to make your designs work internationally, you need to shift your perspective according to the clientele there, which is very different from what we have here. When our first collection had a 99% per cent sell out at Harrods, we knew we found our market and that's when we decided that we wanted to present our collections internationally. We started with Miami Fashion Week, and then moved onto L.A Fashion Week, where we thought all the glamour was, but only after we did shows in London and New York we realized, how dominating world fashion capitals are. So it is very important to not get too comfortable, and constantly challenge yourself to grow bigger and reach further, pushing your limit is necessary for every creative field, Shane." "Of course you need to build the right connections along the way to move to places, at various stages we had PR representative (Fusion 360) who enabled us to extend our horizon, and that's how ended up doing 9 back-to-back seasons at the London Fashion Week, quoted Falguni."
"It is important to have a receptive mind. When we were in London, it actually shaped our aesthetic to be more edgy and grungy, we found our style and then we added our own spin to it. So from flowing resort wear, we moved on to structured edginess. Our design sensibilities were changed and that's how we coined the identity of our brand, said Shane".
"For a brand to grow from strength to strength, the individuals behind it have to work towards it with a collective mindset, and a unanimous vision, which was exactly what led to Falguni Shane Peacock's international growth. After garnering international success, we worked towards firming our feet in our soil, by venturing into the diverse Indian bridal market. Although India had it's set of perception about bridal wear, we decided to upscale it by adding a plethora of new-age designs with unconventional elements, colours and cuts to give the millennial bride a chance to look modern-chic while paying homage to her traditions and culture, said Falguni".
There is no secret or a well-mapped plan to international success, but what you can do is, trial and error. Make mistakes, learn from them and then try harder. Find your USP and do not trade it for any amount of short term success. Grow with every situation you go through, grasp every opportunity that comes your way, only when you think big, you can achieve bigger. Do not just plan, execute it with complete precision and constantly learn, no matter how accomplished you think you are.