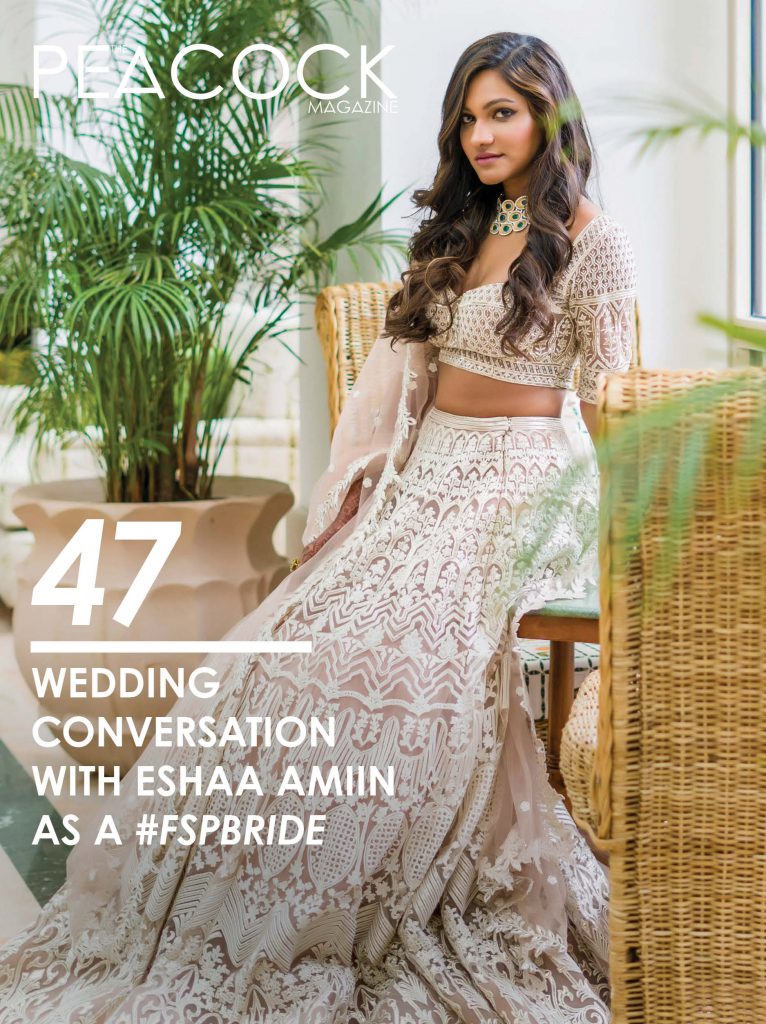 Q1) Why did you choose Falguni Shane Peacock for your pre wedding ceremony?
Ans : I've always love Falguni Shane Peacock and they've been my top favorite designers in the country. Not only are they my good friends, but I truly love their work too. I'd always imagined myself wearing one of their looks for one of my wedding ceremonies. So yes, they were the perfect choice for my pre-wedding ceremony!
Q2) Describe the moment when you saw yourself in a FSP lehenga.
Ans : The first time I saw this silver lehenga that Falguni and Shane sent me a picture of, I immediately knew this was something I want to see myself in. And the minute I stepped into it, I felt like a complete princess. I knew that this would be the perfect picture that I'm going to cherish for the rest of my life as a memory from my pre-wedding. It was surreal, it was dreamy and what can I say for the picture says it all!
Q3) How did you style your look to make it work for you?
Ans : This elaborate lehenga has something glamorous about it. It's conservative yet very, very sexy, I must say. The sleeves, the beautiful, low neckline and all just make it look beautiful. I definitely knew I wanted voluminous, sexy hair, which was glam but not too set and slightly effortless. With my make-up, I wanted to keep it minimal glam and not too over-the-top. I wanted the whole vibe to be effortless and not trying-too-hard because the outfit itself was such a beauty. In terms of jewellery, I played the outfit up with a contrasting yellow sapphire and emerald neckpiece by Anmol jewellers. I think the whole look was very well put together. Even the location at which we shot at, ITC Grand Maratha, added to the surreal look.
Q4) Tell us about your wedding ceremony and the functions/festivities in brief.
Ans : My wedding ceremony was a little different from what I'd initially planned, because we had no idea about how this pandemic would strike us. It was supposed to be a 5-day ceremony with lots and lots of guests traveling from all over the world. Given the current situation, we had to downsize it. We had all the ceremonies packed up in two days. We started the festivities in the morning with our pre-wedding photoshoot, followed by a ring ceremony and then a Mehendi function at home. The next we had our Haldi at our respective homes which was a short, intimate ceremony. The following day, as a tradition I first got ready in this outfit and then got dressed in the Phera outfit which came as a part of the ritual from my mother. All and all, I think it was really a blessing in disguise that we had an intimate wedding with just the most special people of our lives to be with us on that day. It was absolutely stress-free. We did not have to worry about taking care of 500 guests and everyone was home, enjoying and we were able to maintain all the safety protocols that we had to in order to successfully conduct a lockdown wedding. I would say it was an excellent decision Siddarth and I made to not postpone the wedding until things got normal, which we don't know when it will happen, and get married when we did.