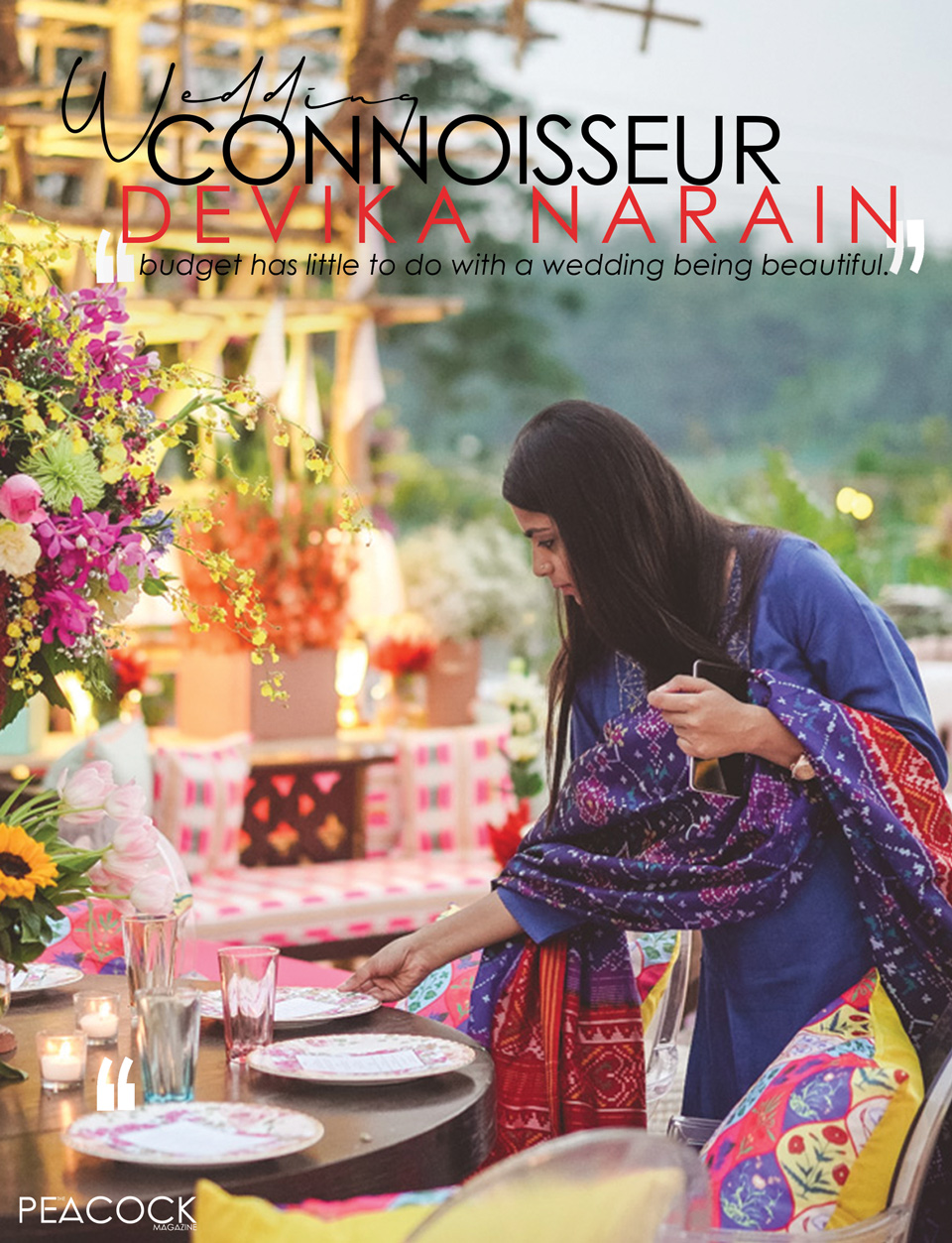 Devika Narain was the creative visionary behind the high-profile wedding of Virat Kohli and Anushka Sharma. In a detailed interview, the wedding designer took us through the process of wedding designing and what all goes down behind orchestrating the perfect wedding.
[Q] FOR A LAYMAN, HOW WOULD YOU DESCRIBE THE PROCESS OF WEDDING PLANNING FROM INCEPTION TO EXECUTION?
"Since we are designers, I'll outline the designing perspective.
The first thing to do once you get engaged is to identify a date and a venue. Once you have that, and a broad outline of what functions you're planning to have, start your research on designers. The actual process of designing takes anything from three months to a year, so find one in advance.
Look at designer portfolios, their website and Instagram account to find one that matches your aesthetic. This is possibly the most important thing and half a battle won if you're able to put together a team that understands your vision.
Reach out to them. Meet them ideally. I always feel it's very important to get along with the people you're working. So only close the person you trust to take the important decisions on your big day.
Post that the actual process starts, the design process starts with images and mood boards, that outline a palette and style- followed by a floor plan of what goes where. A series of design tweaks and revisions later, you would have your wedding design that manifests in samples, fabrics and a graphical representation of what space will look like on that day. We always do this so that there is no shock when you enter your wedding venue- you know what to expect in there.
Once you've closed on designs and budgets, hand over everything to the design team and enjoy your wedding.
A small word of advice here, it helps to share a broad outline of the amount you're looking to spend. I believe space can look beautiful in a little as well as a lot. So share a ballpark earlier on to manage expectations."
[Q] HOW DO YOU PLAN AN AESTHETICALLY PLEASANT WEDDING WITHOUT GOING OVER THE TOP WITH THE BUDGET?
"I believe a budget has little to do with a wedding being beautiful. To be the one-rupee Indian marigold is as beautiful as the five hundred rupee hydrangea.
If you have a beautiful venue, that's half the battle won. Work with what is locally available; add details that are personal, make allowances for your guests to be comfortable and you'll have a beautiful wedding at the end of it all."
[Q] HOW DIFFICULT IS IT TO ORCHESTRATE A DESTINATION WEDDING WITH INDIAN ARTISANS/ CHEFS/ VENDORS?
"It is literally like putting on a show. The most important part is the planning and logistics, once that is sorted the rest is not too difficult. The tricky bit is to understand the rules of the other country. Europe is very particular about fire safety and you can use only certain fabrics there and allocate safety measures."
[Q] AFTER THE ANUSHKA – VIRAT WEDDING, HOW DO YOU GO ABOUT HAND PICKING THE COUPLES YOU WANT TO WORK WITH?
"We don't choose the couples we work with! As a design company, every wedding we create takes a lot of time- fleshing out each detail and micromanaging every small element, which is why we only design ten weddings a year. The truth is our clients don't come to us because we design the best weddings in the country – they hire us because we believe in the same principles- of sustainability, authenticity, being personal and true to yourself."
[Q] HOW MUCH OF IT IS YOUR INPUT VS. THE COUPLE'S VISION WHEN IT COMES TO PLANNING THE WEDDING?
"For us, each wedding starts with a strategy. It starts with us understanding families- via questions and this itself forms such a powerful narrative sometimes. At other times, it's like a treasure hunt- getting to understand what's special and important to them. But at the end of the day, designing a wedding is a creative process between us and the families we work with. It is foremost about respecting and understanding that it is someone specials day and while it is our responsibility to make it special for them, it will only be so if it has meaning for them.
[Q] WHAT IS YOUR IDEA OF A PERFECTLY PLANNED WEDDING? WHAT DO YOU GIVE MOST IMPORTANCE TO WHILE PLANNING?
"I think the most important part is that everyone has fun. Very often we get so involved in planning the micro details that we miss that this is a celebration. The most important thing is for the family to hand over everything before the wedding and truly enjoy themselves. A close second would be to account for what the guests need, ensuring that they are comfortable and game for all that you have planned for them. "
[Q] A WEDDING YOU DIDN'T PLAN BUT THE THOUGHT WAS ABSOLUTELY FANTASTIC ?
"My own! Joe and I both wanted to enjoy our own wedding and we drove every single detail around that. There was almost no décor (our wedding table centrepieces were bought on the morning of our ceremony!), I wore my mother's wedding lehenga and all our heirloom jewellery. A friend officiated us and it was followed by a laid back picnic lunch at my uncles' farm (in the middle of mustard fields). We had the most brilliant photographers down from Canada that gave us the most interesting perspective of our own wedding.
As a bride who plans for a living, I learnt the importance of delegating. My aunts, cousins and friends were the greatest help and having them help me plan, gave me an excuse to spend more time with them – which was awesome! Joe and I planned all the details and then handed them over so that we could make the most of our day."
[Q] WHERE DO YOU THINK COUPLES CAN POSSIBLY GO WRONG WHILE PLANNING THEIR WEDDING ON THEIR OWN?
"If you keep your wedding personal and create it around things you and your family like, instead of following "trends" you can never go wrong!
Also, Indian weddings are about families and I see couples discount their parents' opinions a lot at a wedding. The truth is that most often 50% of the guest list is your parents' friends and family that we forget to account for that. So, listen to your parents, that extra chair and shade they ask for is important. And you do need a stage for your 5000 guest sangeet because while no one wants to stand on one, it is inconvenient for your guests to find you if you don't have one."
[Q] WHAT HAVE BEEN SOME OF YOUR FAVOURITE MOMENTS PLANNED BY YOU AT YOUR CLIENT'S WEDDING?
"This is a tough one!
Somewhere in the summer of 2015, I get a call from San Francisco, with a certain Sylvia on the line telling me that she's getting married in December (She's telugu- he's American- already sounds like a dream wedding!) and that she's getting married in Kumarkom; asking if I will help! While I am on the phone, I google the venue and see the most stunning photos of backwaters- without thinking twice I say yes! Till then, I had never worked in Kerala and the last memory I had of the backwaters was of when I was seven.
Six months in, we design what is one of the most beautiful weddings I have ever had the privilege to create. The greatest honour you can have as a designer is to be granted infinite creative freedom and that's just what I got! Sylvie and Aaron had a beautiful story and their families were extremely special- with one meeting and literally two phone calls as conversations- I was able to create something that made all of us so happy. To me, that's what wedding spaces should do, remind us of where we come from and be able to make the people we love most, happy. Sylvie taught me that!
Below is a link to their wedding story- you must read it if you have the time!
http://www.devikanarain.com/blog/sylvie-aaron-inception?rq=sylvie
http://www.devikanarain.com/blog/sylvie-aaron-before-the-big-day
http://www.devikanarain.com/blog/sylvie-aarons-big-day-part-three-finale
[Q] HOW LONG BEFORE DO YOU TYPICALLY START PLANNING A WEDDING? WHAT ALL DEPARTMENTS DO YOU LOOK INTO AND WHAT ARE SOME THINGS THAT YOU DON'T CONTROL?
– Three to five months minimum.
– We take care of designing the aesthetics + wedding consultancy.
– We don't take care of guest logistics and management + entertainment. "
[Q] FOR COUPLES WHO WANT TO PLAN THEIR WEDDING ON THEIR OWN, WHAT WOULD BE SOME PRO TIPS?
– Make sure you find your suppliers ahead of time.
– Find local elements and work your décor around that.
– Imagine how you would like your guests to feel and then design around that! I see couples plan back to back functions that give guests truly no time to lie back and enjoy.
– Communicate your expectations right at the beginning of all your suppliers.
– Create a different ambience for every function.
– Make sure you hand over all responsibilities a week before the wedding, so you can have fun!"