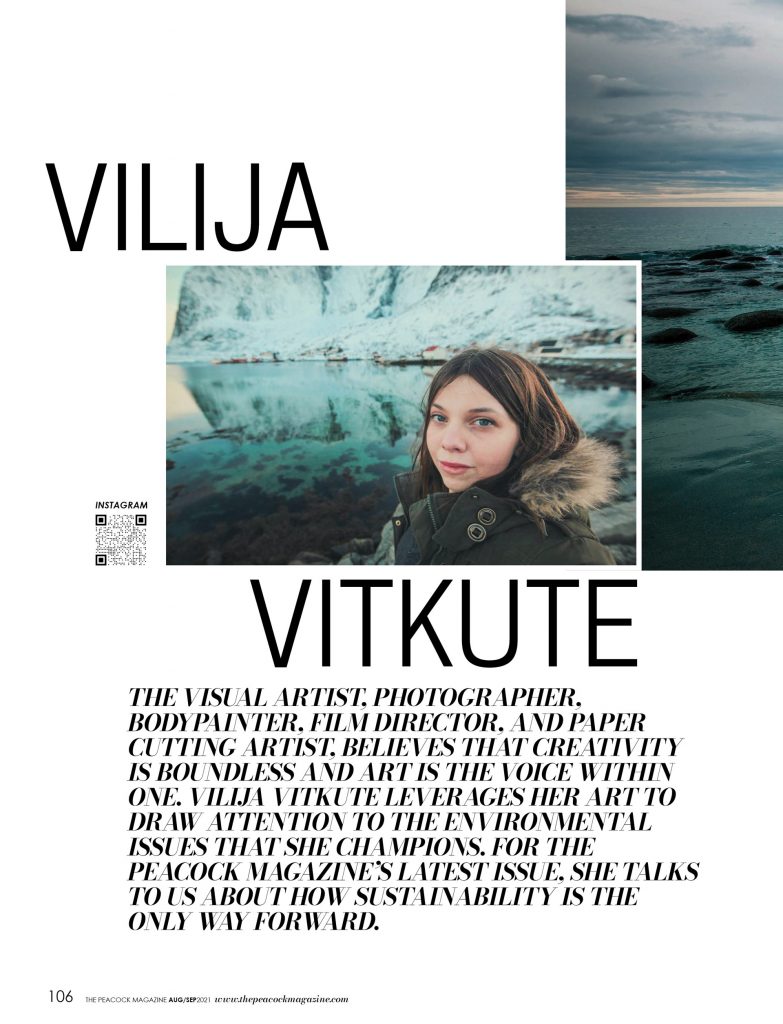 Vilija Vitkute's list of talents is as impressive as it gets. The visual artist, photographer, bodypainter, film director, and paper cutting artist, believes that creativity is boundless and art is the voice within one. Vitkute leverages her art to draw attention to the environmental issues that she champions. Today, she is a proud owner of multiple artwork and films that have won several prestigious awards and recognition. For The Peacock Magazine's latest issue, she talks to us about why her international project 'The Memory of Water' is so close to her heart and how sustainability is the only way forward.
[Q] When did you develop interest in art?
I developed my interest in art at a very early stage of my life. As far as I can remember I was a creative child, making art, performing, dancing, singing, acting and painting from the age of four and I decided at the age of six to be a 'true artist' and dedicate my life to it. And, I never stopped dreaming, believing and working for it to come true.
[Q] Did you study any form of art or are you self-taught?
While growing up in arts school I studied different art forms (traditional arts — sculpture, painting, drawing, textile design, costume design, architecture, graphic design). After the arts school, I moved to Sweden when I was a teenager, and there I decided to study on my own something new like filmmaking, bodypainting, paper craft and enter into the directing part of films and performances. Today, I'm a multidisciplinary artist bodypainting, couture designing, photographing, filming, directing films and performances and always learning something new.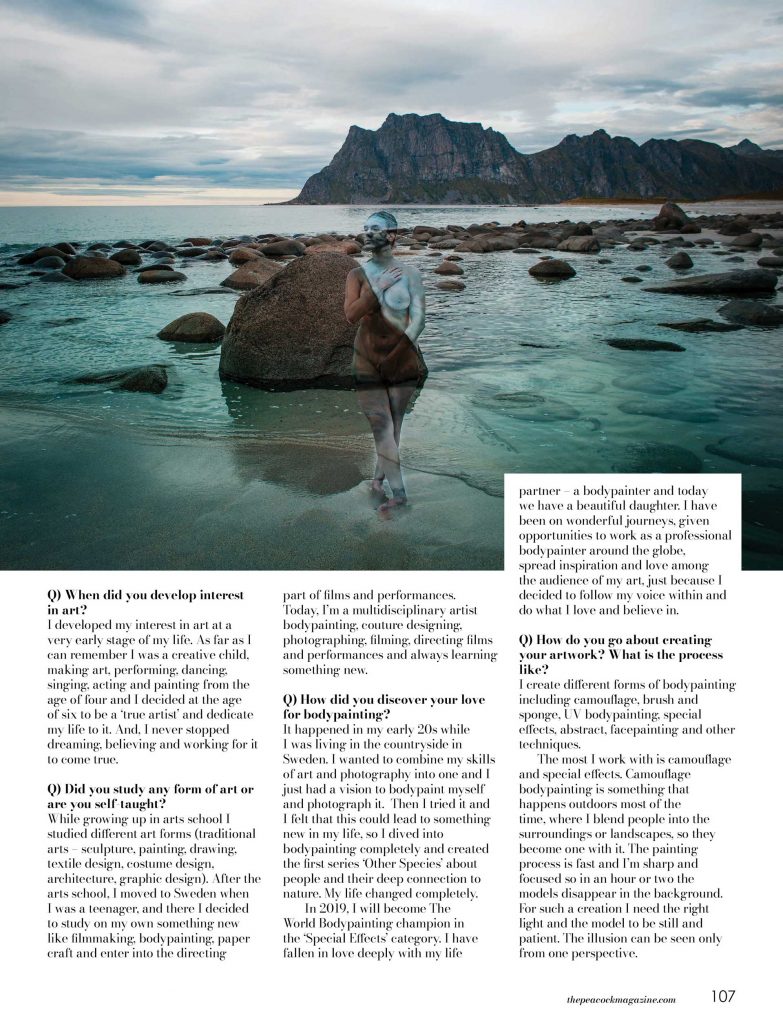 [Q] How did you discover your love for bodypainting?
It happened in my early 20s while I was living in the countryside in Sweden. I wanted to combine my skills of art and photography into one and I just had a vision to bodypaint myself and photograph it. Then I tried it and I felt that this could lead to something new in my life, so I dived into bodypainting completely and created the first series 'Other Species' about people and their deep connection to nature. My life changed completely.
In 2019, I will become The World Bodypainting champion in the 'Special Effects' category. I have fallen in love deeply with my life partner — a bodypainter and today we have a beautiful daughter. I have been on wonderful journeys, given opportunities to work as a professional bodypainter around the globe, spread inspiration and love among the audience of my art, just because I decided to follow my voice within and do what I love and believe in.
[Q] How do you go about creating your artwork? What is the process like?
I create different forms of bodypainting including camouflage, brush and sponge, UV bodypainting, special effects, abstract, facepainting and other techniques.
The most I work with is camouflage and special effects. Camouflage bodypainting is something that happens outdoors most of the time, where I blend people into the surroundings or landscapes, so they become one with it. The painting process is fast and I'm sharp and focused so in an hour or two the models disappear in the background. For such a creation I need the right light and the model to be still and patient. The illusion can be seen only from one perspective.
The special effects bodypainting takes a long preparation and time for the artwork to be done. I create special effects mostly out of paper (recycled materials) and the full piece takes weeks, sometimes months to design and create. As a result I combine it with bodypainting or costumes.
[Q] Where/in whom do you find your inspiration?
For me the greatest artist is nature and my inspiration comes from there. I want to protect it so I dedicated my art and lifetime to it.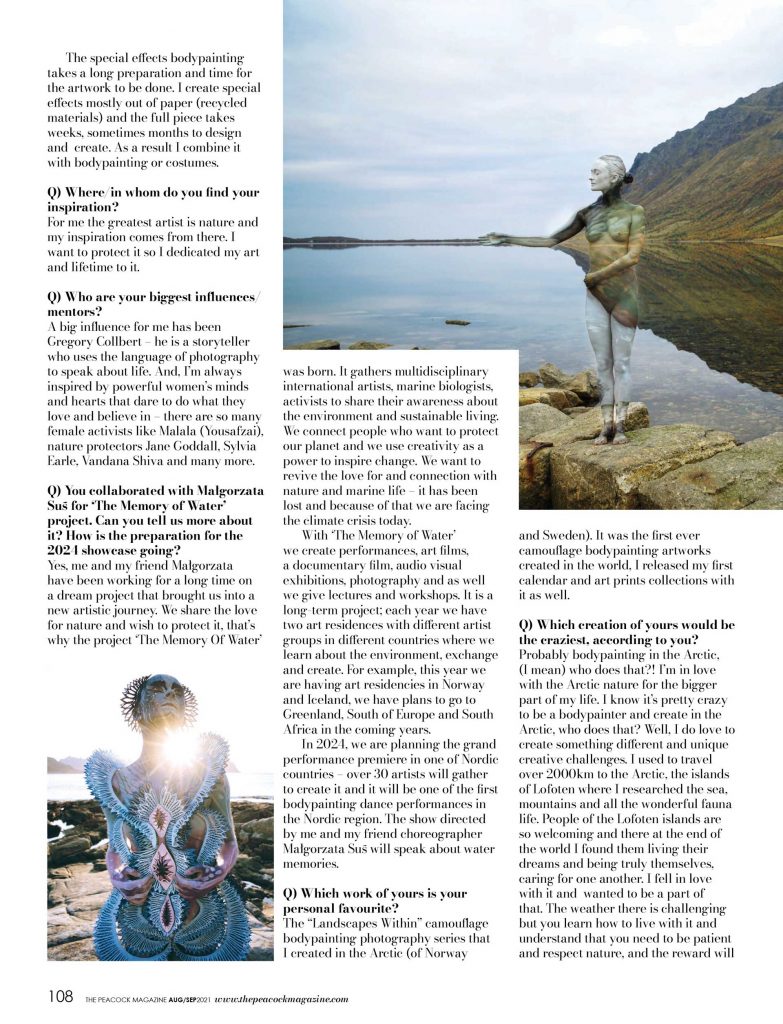 [Q] Who are your biggest influences/mentors?
A big influence for me has been Gregory Collbert — he is a storyteller who uses the language of photography to speak about life. And, I'm always inspired by powerful women's minds and hearts that dare to do what they love and believe in — there are so many female activists like Malala (Yousafzai), nature protectors Jane Goddall, Sylvia Earle, Vandana Shiva and many more.
[Q] You collaborated with Małgorzata Suś for 'The Memory of Water' project. Can you tell us more about it? How is the preparation for the 2024 showcase going?
Yes, me and my friend Małgorzata have been working for a long time on a dream project that brought us into a new artistic journey. We share the love for nature and wish to protect it, that's why the project 'The Memory Of Water' was born. It gathers multidisciplinary international artists, marine biologists, activists to share their awareness about the environment and sustainable living. We connect people who want to protect our planet and we use creativity as a power to inspire change. We want to revive the love for and connection with nature and marine life — it has been lost and because of that we are facing the climate crisis today.
With 'The Memory of Water' we create performances, art films, a documentary film, audio visual exhibitions, photography and as well we give lectures and workshops. It is a long-term project; each year we have two art residences with different artist groups in different countries where we learn about the environment, exchange and create. For example, this year we are having art residencies in Norway and Iceland, we have plans to go to Greenland, South of Europe and South Africa in the coming years.
In 2024, we are planning the grand performance premiere in one of Nordic countries — over 30 artists will gather to create it and it will be one of the first bodypainting dance performances in the Nordic region. The show directed by me and my friend choreographer Małgorzata Suś will speak about water memories.
[Q] Which work of yours is your personal favourite?
The "Landscapes Within" camouflage bodypainting photography series that I created in the Arctic (of Norway and Sweden). It was the first ever camouflage bodypainting artworks created in the world, I released my first calendar and art prints collections with it as well.
[Q] Which creation of yours would be the craziest, according to you?
Probably bodypainting in the Arctic, (I mean) who does that?! I'm in love with the Arctic nature for the bigger part of my life. I know it's pretty crazy to be a bodypainter and create in the Arctic, who does that? Well, I do love to create something different and unique creative challenges. I used to travel over 2000km to the Arctic, the islands of Lofoten where I researched the sea, mountains and all the wonderful fauna life. People of the Lofoten islands are so welcoming and there at the end of the world I found them living their dreams and being truly themselves, caring for one another. I fell in love with it and wanted to be a part of that. The weather there is challenging but you learn how to live with it and understand that you need to be patient and respect nature, and the reward will come. I have seen and painted in the most breathtaking landscapes, with large aurora borealis (Northern Lights) dancing in the sky.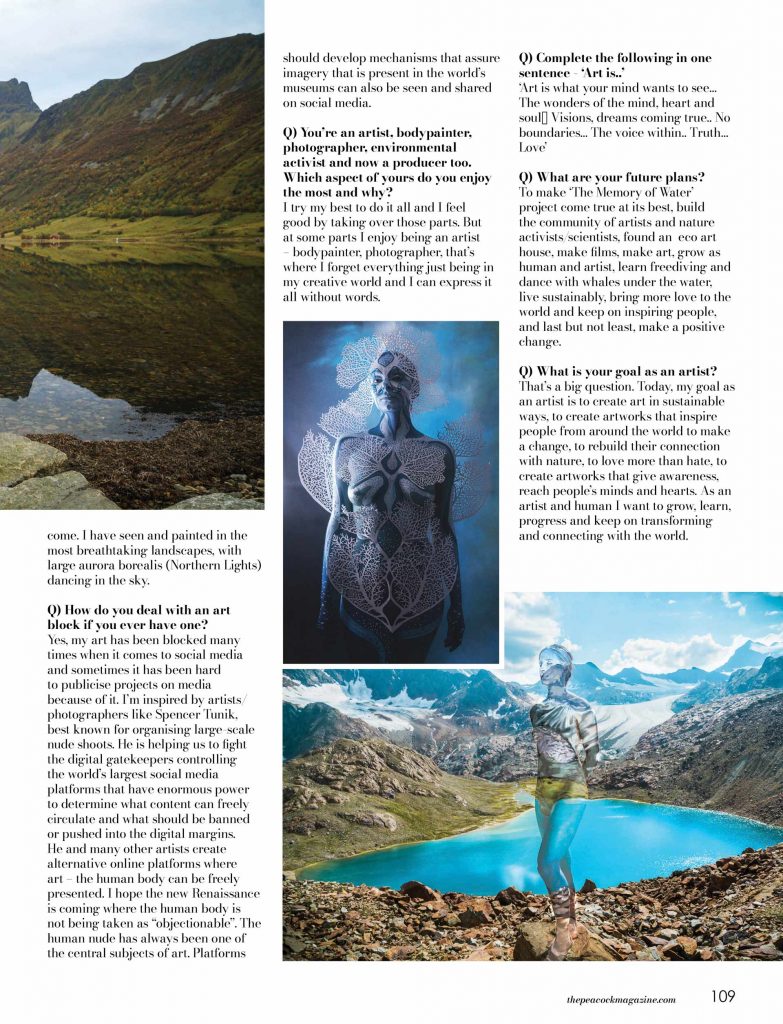 [Q] How do you deal with an art block if you ever have one?
Yes, my art has been blocked many times when it comes to social media and sometimes it has been hard to publicise projects on media because of it. I'm inspired by artists/photographers like Spencer Tunik, best known for organising large-scale nude shoots. He is helping us to fight the digital gatekeepers controlling the world's largest social media platforms that have enormous power to determine what content can freely circulate and what should be banned or pushed into the digital margins. He and many other artists create alternative online platforms where art — the human body can be freely presented. I hope the new Renaissance is coming where the human body is not being taken as "objectionable". The human nude has always been one of the central subjects of art. Platforms should develop mechanisms that assure imagery that is present in the world's museums can also be seen and shared on social media.
[Q] You're an artist, bodypainter, photographer, environmental activist and now a producer too. Which aspect of yours do you enjoy the most and why?
I try my best to do it all and I feel good by taking over those parts. But at some parts I enjoy being an artist — bodypainter, photographer, that's where I forget everything just being in my creative world and I can express it all without words.
[Q] Complete the following in one sentence – 'Art is..'
'Art is what your mind wants to see… The wonders of the mind, heart and soul… Visions, dreams coming true.. No boundaries… The voice within.. Truth… Love'
[Q] What are your future plans?
To make 'The Memory of Water' project come true at its best, build the community of artists and nature activists/scientists, found an eco art house, make films, make art, grow as human and artist, learn freediving and dance with whales under the water, live sustainably, bring more love to the world and keep on inspiring people, and last but not least, make a positive change.
[Q] What is your goal as an artist?
That's a big question. Today, my goal as an artist is to create art in sustainable ways, to create artworks that inspire people from around the world to make a change, to rebuild their connection with nature, to love more than hate, to create artworks that give awareness, reach people's minds and hearts. As an artist and human I want to grow, learn, progress and keep on transforming and connecting with the world.