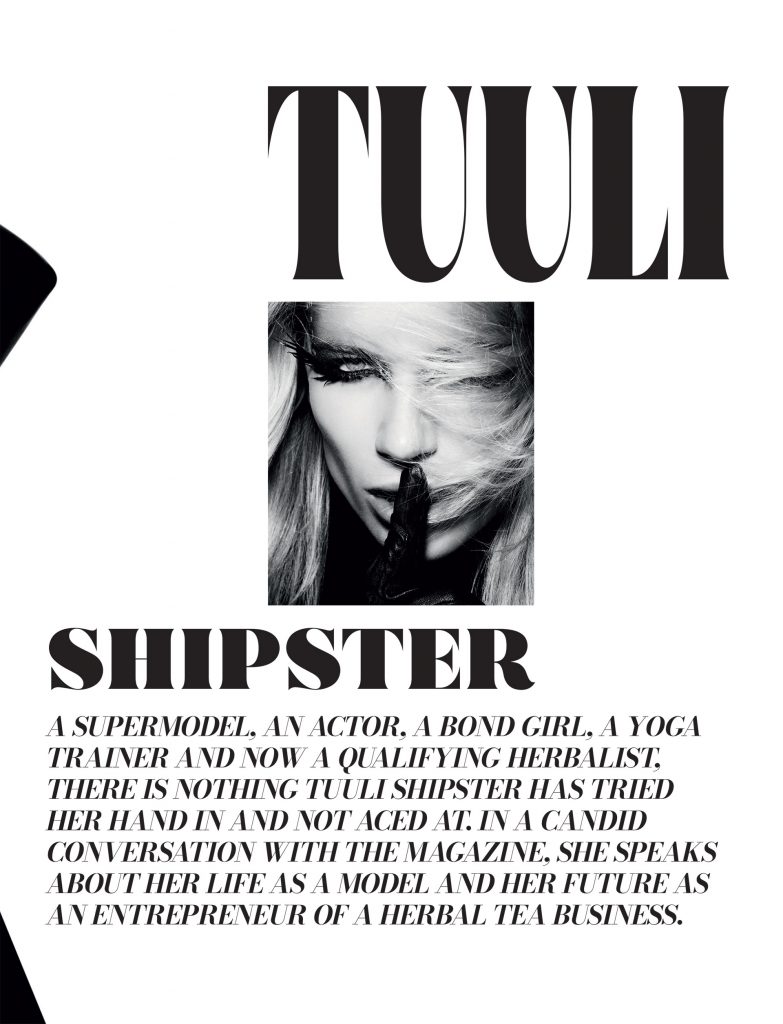 A SUPERMODEL, AN ACTOR, A BOND GIRL, A YOGA TRAINER AND NOW A QUALIFYING HERBALIST, THERE IS NOTHING TUULI SHIPSTER HAS TRIED HER HAND IN AND NOT ACED AT. IN A CANDID CONVERSATION WITH THE MAGAZINE, SHE SPEAKS ABOUT HER LIFE AS A MODEL AND HER FUTURE AS AN ENTREPRENEUR OF A HERBAL TEA BUSINESS.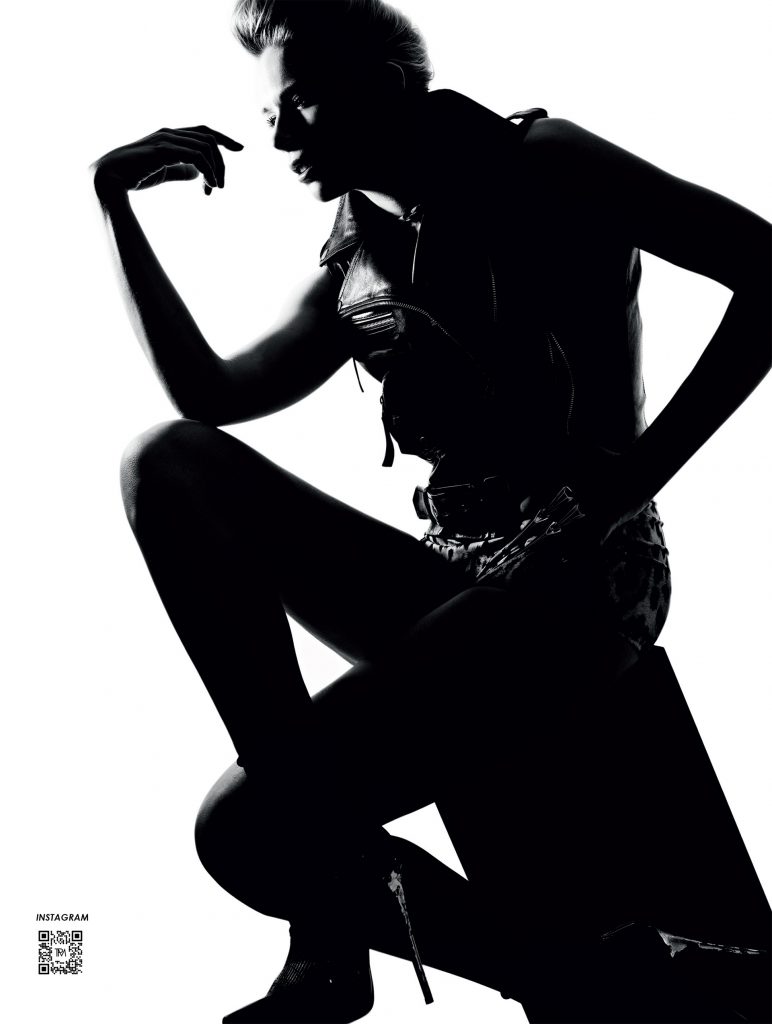 CREDITS-
Images sourced from the artist.

[Q] How were your growing up years like?
My father was a diplomat, so I grew up in many different countries. I was born in Finland, while my parents were living in Moscow. We also lived in India, Zambia, and South Africa.
[Q] How old were you when you realized fashion would be the industry you'd like to work in? Was it always your dream to work in fashion?
It was never my dream to work in fashion. I was signed by Storm when I was 16, and it went from there! I modeled while at school and planned to go to university to study Politics and Economics after a gap year in modeling. But I loved the variety of work and the travel that went with it. So, I continued working and never looked back.
[Q] What attracted you to the fashion industry?
I loved the fact that no two days were the same, and I was being able to go, live and work in different cities. It's also a great industry to be in if you like meeting lots of people.
[Q] What was your first breakthrough modeling assignment?
I've never really broken through as a model, I was always more what you would call a jobbing model. I was optioned for a worldwide lingerie campaign while I was still at school, and my mum turned it down. Who knows what might have happened if I had done it!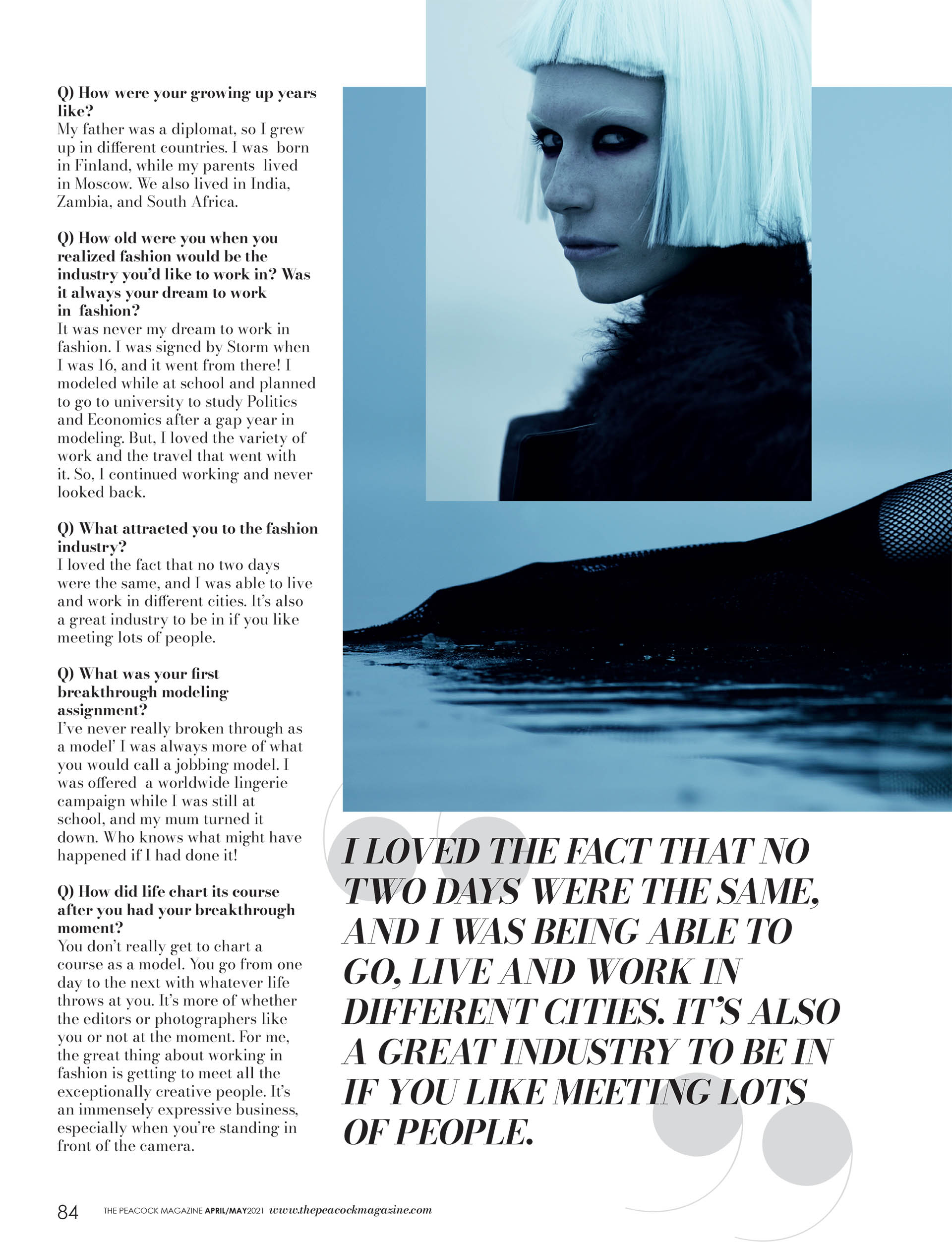 [Q] How did life chart its course after you had your breakthrough moment?
You don't really get to chart a course as a model. You go one day to the next with whatever life throws at you. It's more of whether the editors or photographers like you or not at the moment. For me, the great thing about working in fashion is getting to meet all the exceptionally creative people. It's an immensely expressive business, especially when you're standing in front of the camera.
[Q] What were the challenges that you faced in your career when you started out?
Working in the fashion industry as a woman and starting as a teenager was definitely challenging in many ways. For example, rejection is more normal than success. This makes you very resilient, which is very useful in all aspects of life. I was lucky because my upbringing empowered me to stand up and look out for myself.
[Q] Which has been the turning point in your career until now?
The turning point in my career was when I decided to become a yoga teacher. I had run three marathons and turned to Yoga to fix my knees. I fell in love with it and qualified seven years ago. I have been teaching at Fierce Grace studios in London ever since. Teaching yoga eventually inspired me to go on and study nutrition and then herbal medicine.
[Q] A special mention about you being a 'Bond Girl.' How was it? What did it mean to you at that point in your career/life?
That was definitely one of the most fun jobs I did! After shooting the cover of the book, the launch involved speeding down the Thames in a boat wearing a red catsuit flanked by Royal Marines with helicopters circling overhead. It was very memorable, to say the least! James Bond is legendary and to be associated in some small way with a British icon is fantastic.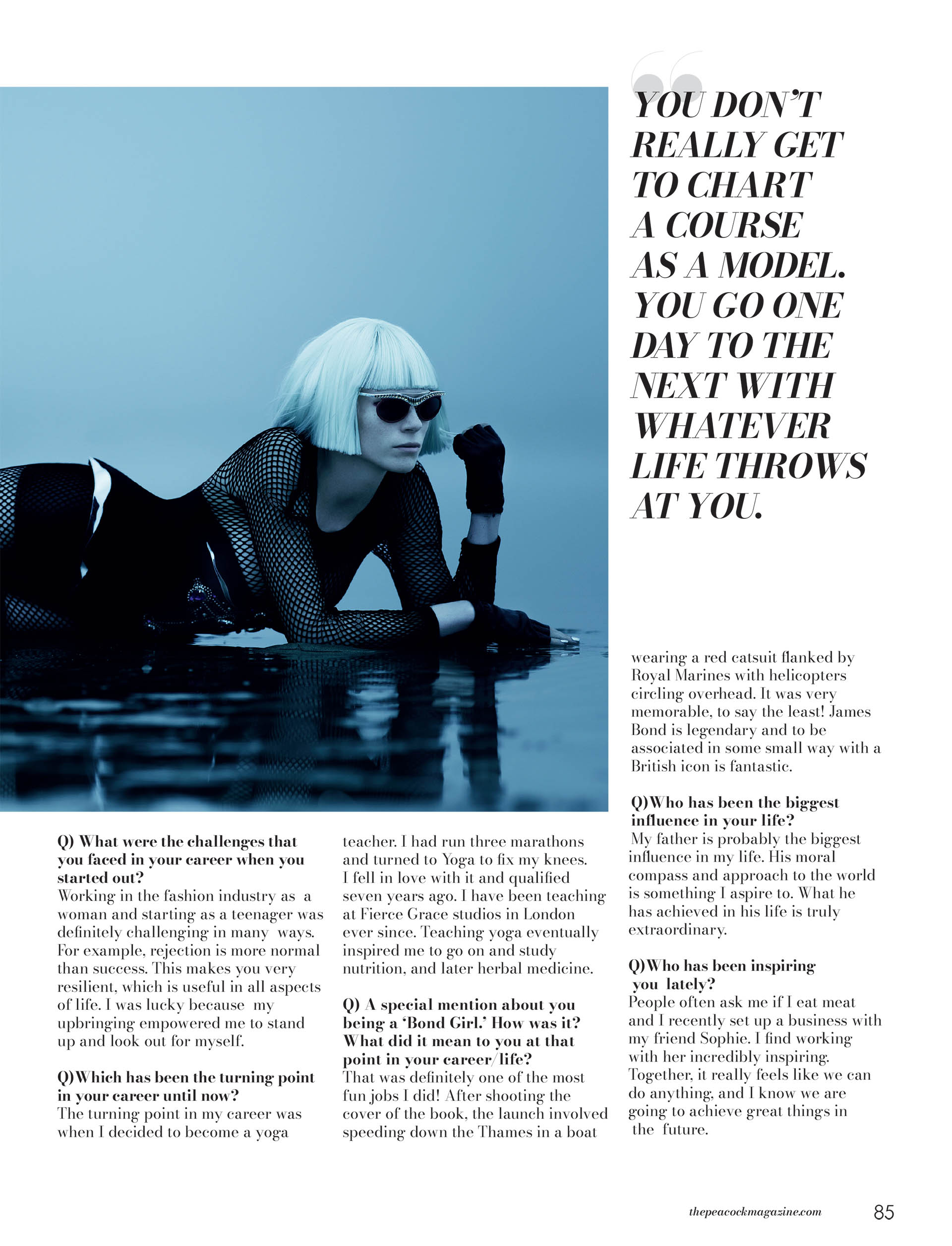 [Q] Who has been the biggest influence in your life?
My father is probably the biggest influence in my life. His moral compass and approach to the world is something I aspire to. What he has achieved in his life is truly extraordinary.
[Q] Who has been inspiring you lately?
I recently set up a business with my friend Sophie. I find working with her incredibly inspiring. Together it really feels like we can do anything, and I know we are going to achieve great things in the future.
[Q] Describe your fashion aesthetic?
My aesthetic is very simple. I wear what I think suits me at the moment. I don't have one color that I wear although I do love black. The cut is important but for me the simpler design, the better. I do love a bit of glitter on a night out though!
[Q] From being a famous fashion photographer and director Rankin's muse to being his wife, what has changed and what remains the same?
I don't see myself as a muse, more as a collaborator. Rankin and I have been shooting together since we met, and it's a very natural thing for us to do. Nothing has really changed, although he currently seems to be more interested in photographing flowers!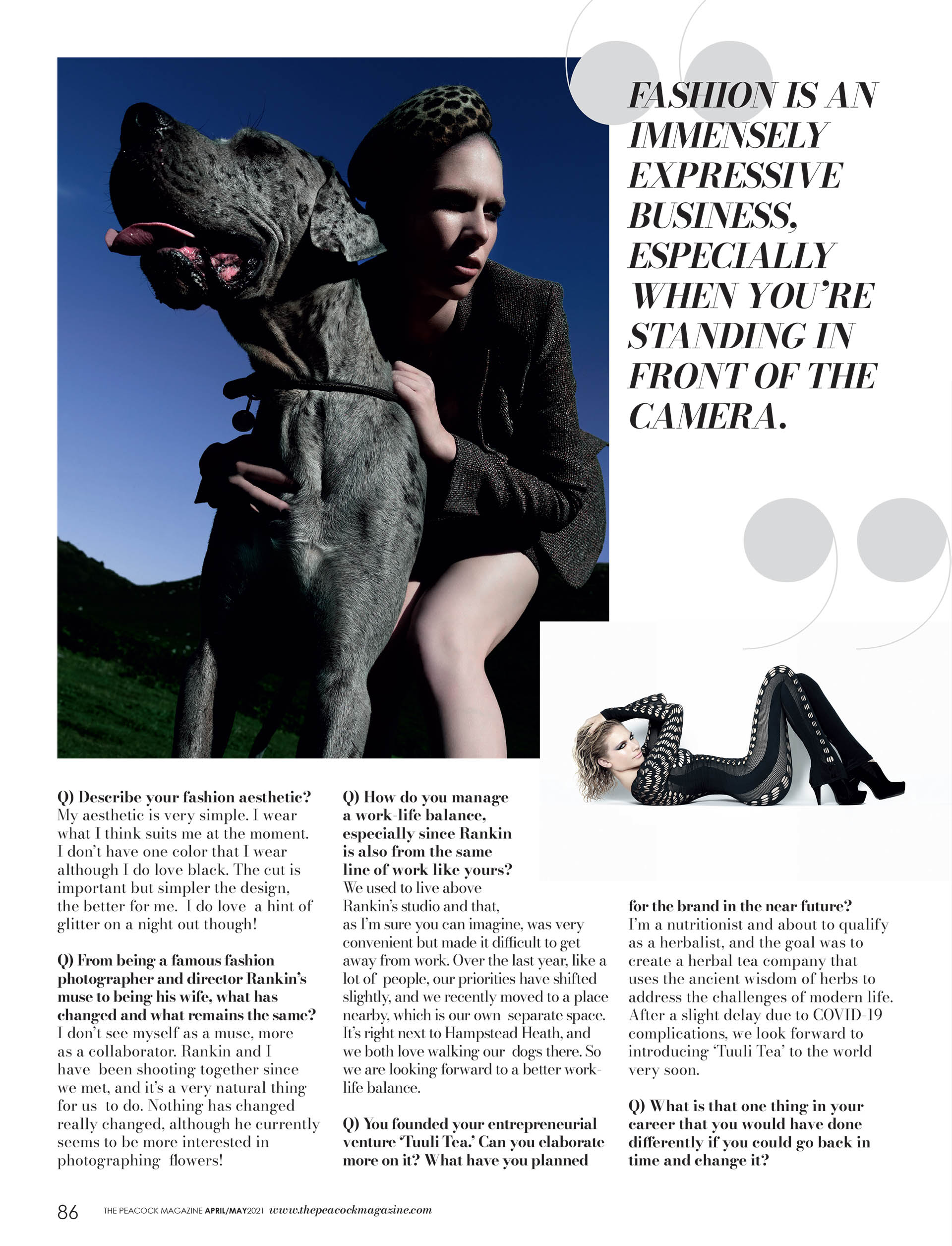 [Q] How do you manage a work-life balance, especially since Rankin is also from the same line of work like yours?
We used to live above Rankin's studio and that, as I'm sure you can imagine, was very convenient but difficult to get away from work. Over the last year, like a lot of people, our priorities have shifted slightly, and we recently moved to a place nearby, but that is very much separate. It's right next to Hampstead Heath, and we both love walking our dogs there. So we are looking forward to a better work-life balance.
[Q] You founded your entrepreneurial venture 'Tuuli Tea.' Can you elaborate more on it? What have you planned for the brand in the near future?
I'm a nutritionist and about to qualify as a herbalist, and the goal was to create a herbal tea company that uses the ancient wisdom of herbs to address the challenges of modern life. After a slight delay due to COVID-19 complications, we look forward to introducing 'Tuuli Tea' to the world very soon.
[Q] What is that one thing in your career that you would have done differently if you could go back in time and change it?
I don't believe in regrets. I feel everything teaches you something valuable and brings you to the point you are now.
[Q] You've lived in many cities across the world. Which city would you call your 'home'? Why?
London has been my home now since I was 18. I have lived in other cities for work but never for longer than a few months and have always had a base here. We live in North London, near the Heath with our four dogs and we love it.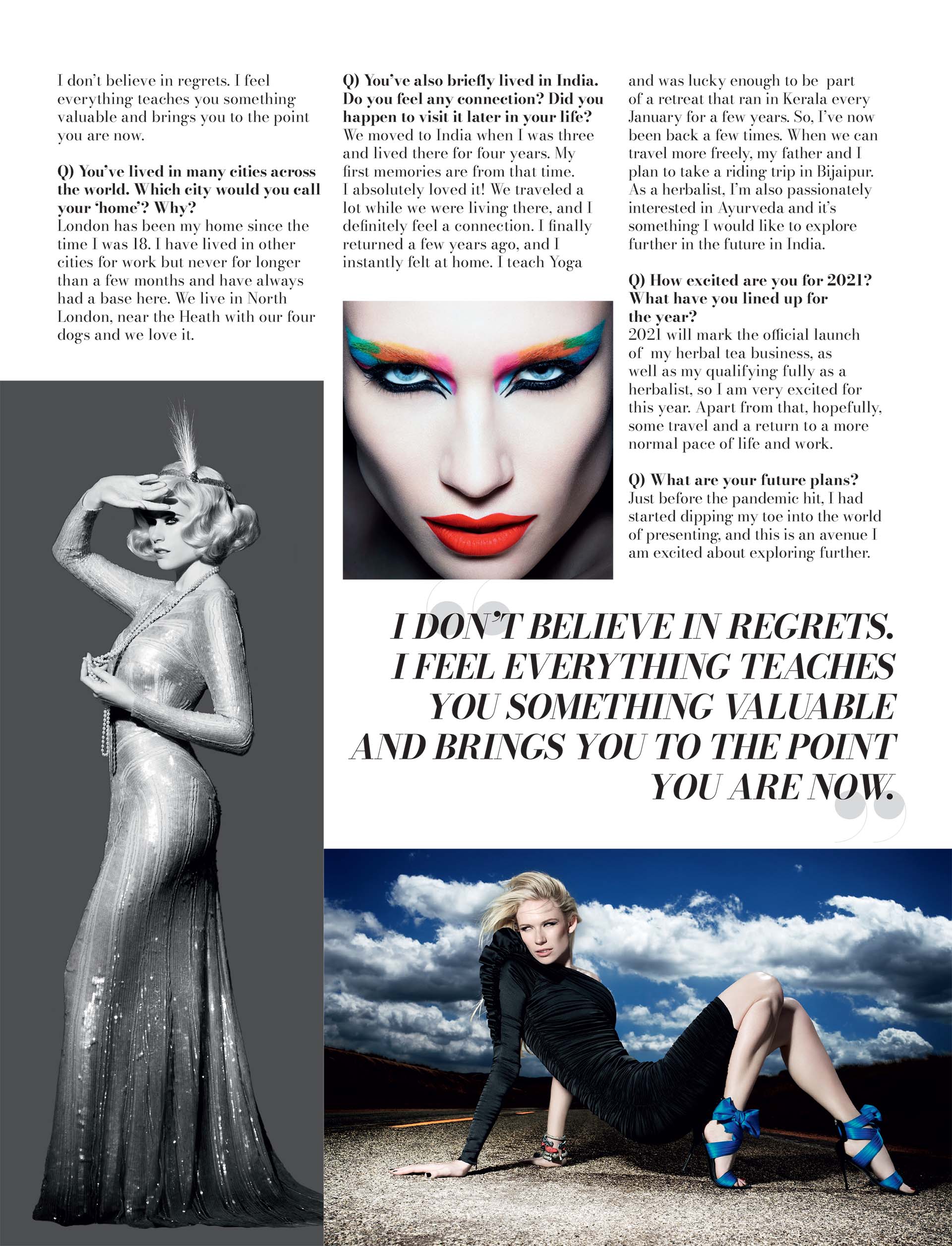 [Q] You've also briefly lived in India. Do you feel any connection? Did you happen to visit it later in your life?
We moved to India when I was 3 and lived there for 4 years. My first memories are from that time. I absolutely loved it! We traveled a lot while we were living there, and I definitely feel a connection. I finally returned a few years ago, and I instantly felt at home. I teach Yoga and was lucky enough to be part of a retreat that ran in Kerala every January for a few years. So I've now been back a few times. When we can travel more freely, my father and I plan to do a riding trip in Bijaipur. As a herbalist, I'm also passionately interested in Ayurveda and it's something I would like to explore further in the future in India.
[Q] How excited are you for 2021? What have you lined up for the year?
2021 will be the official launch of my herbal tea business, as well as qualifying fully as a herbalist, so I am very excited for this year. Apart from that, hopefully, some travel and a return to a more normal pace of life and work.
[Q] What are your future plans?
Just before the pandemic hit, I had started dipping my toe into the world of presenting, and this is an avenue I am excited about exploring further.