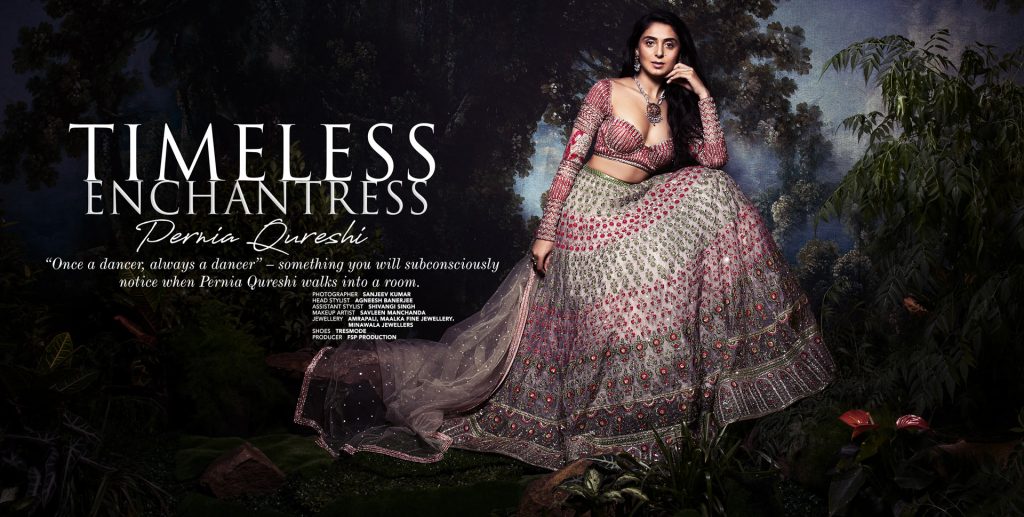 TIMELESS ENCHANTRESS – PERNIA QURESHI
They say, "Once a dancer, always a dancer" – something you will subconsciously notice when Pernia Qureshi walks into a room. Her graceful demeanor and her fluency in front of the camera will affirm her eloquence as a classical dancer for you. Poised and polite, etched with an old world charm and an unsung enticement which she effortlessly anchored for the empyrean shoot. The location mirrored an arcadia of wilderness, replicating the serenity of a primeval boscage overlooking a pond. Something that looked straight out of Tim Burton's pictorial masterpiece Alice in Wonderland. The only deflecting detail was that the illusionistic forest was craftily created in a plush metropolitan city studio.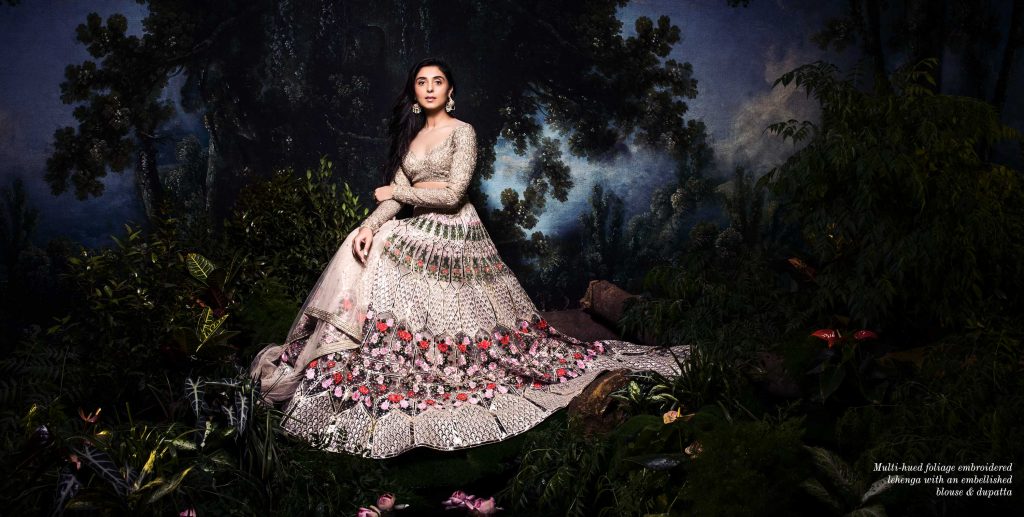 Qureshi stumbled her way into fashion when she was studying law abroad, being an overachiever that she is, she juggled between multiple internships in both streams, only to find her true calling in fashion. Having worked as a stylist with Harper's Bazaar and ELLE in New York, Pernia's first fledged assignment in India was styling for the Sonam Kapoor starring Aisha, which upped the ante for fashion in India. She launched her luxury e-commerce website Pernia's Pop-Up Shop in 2012 and has been expanding her venture ever since. On being asked what inspired her she said, "I saw designer clothing wasn't available online in India, and that gave me the idea to start my website". The online portal sells ensembles of more than 500 designers, with availability worldwide, alongside her eponymous label, where she designs bespoke collections reflecting her personal perspective on fashion, which is feminine chic. Pernia Qureshi has also penned down her personal style bible 'Be Stylish with Pernia Qureshi' creating a roadmap for amateur fashion enthusiasts. In a rather brief conversation, the fashion conglomerate spoke about her propensity towards dance above everything else and then about the absolute must-haves for a girls closet.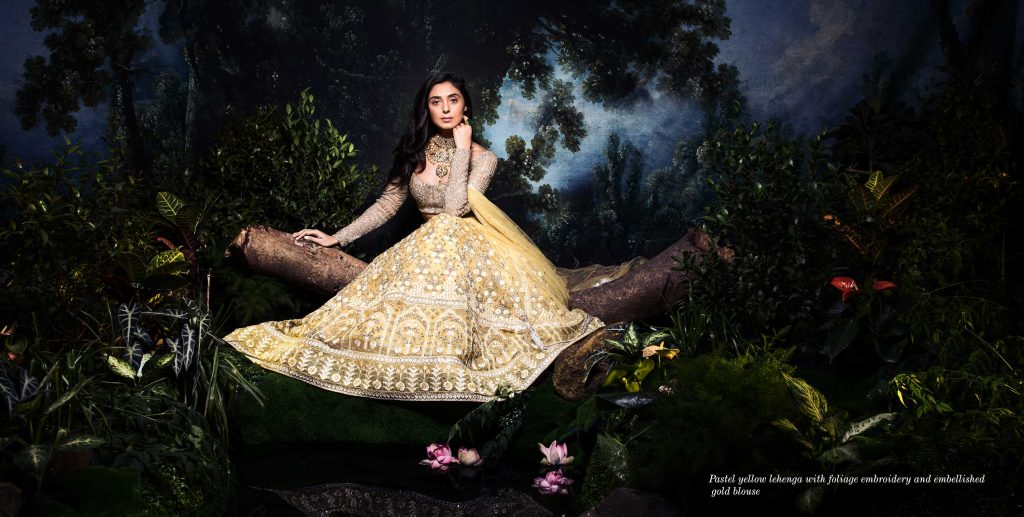 1) APART FROM BEING A STYLE CONNOISSEUR, YOU'RE A TRAINED CLASSICAL DANCER. WHAT INSPIRED YOU TOWARDS THE ART FORM?
"I've been dancing since I was 3 or 4, it's always been a part of my life and I don't know life without it. My initial inspiration as a child was my mother, as she used to conduct classical dance classes and I used to accompany her. I was naturally drawn to it, while I was learning to do other basic things in life I simultaneously learned how to dance and it has always been a part of my life."
2) WAS STYLING FOR AISHA THE CHANGING POINT IN YOUR CAREER?
"It was the first thing in my career that I ever did, Aisha was the first real job I had and it started my career with a bang."
3) WHAT INSTILLED THE IDEA OF LAUNCHING AN E-COMMERCE WEBSITE THAT IS PERNIA'S POP-UP SHOP, WHEN IT WAS A RELATIVELY NEW CONCEPT IN INDIA?
"I launched it after I came back from The U.S and I was an avid online shopper back there in college, as people there had been shopping online for decades. It came as a surprise to me when I found there was no online portal to buy designer clothing in India as I had just finished styling for the movie Aisha and I knew how much Indian talent was out there as we had used a lot of Indian designers for the film. So I just thought there was a dearth in the market, and personally, as a shopper, it felt like the need of the hour and that's how it started."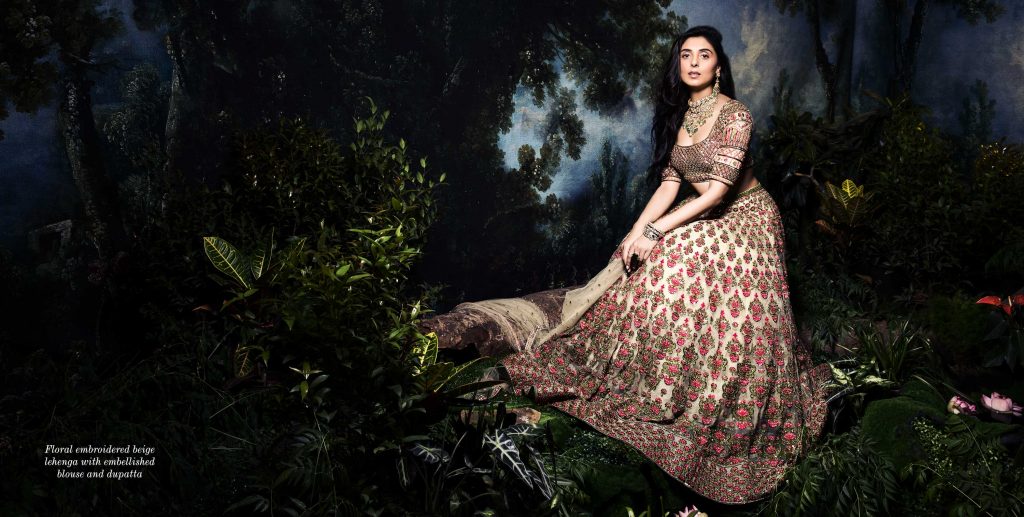 4) YOU'RE KNOWN FOR YOUR DISCRETE SARTORIAL CHOICES, WHAT GOES BEHIND CURATING THOSE LOOKS?
"I don't put in a lot of thought before putting together an outfit, unless, it's a best friend's wedding, which is something special and rare, other than that, I don't plan my looks. I just wear what I feel like at that time. I think the best style comes together when you don't over think your outfit."
5) HAVING STUDIED LAW, WHAT MADE YOU DRIFT TOWARDS FASHION AND HOW DID YOUR JOURNEY BEGIN?
"Growing up I thought I wanted to be a lawyer, as my mother was very particular about having a career and not just relax post-college as many girls in India do, sadly. So I decided I will be a lawyer, that's why I did pre-law in college and while I was in college I started internships in fashion. Which were completely different from what I was studying, although, I was doing law internships simultaneously. But my fashion internships were coming to me more naturally and I was really excelling in them. Everybody I was working for was really happy with my work, so I interned at Harper's Bazaar and ELLE in The U.S. I also interned with a French designer, Catherine Malandrino, as a P.R intern. All the internships I did, I thrived at them, so that's when I realized I belonged in fashion."
6) WHAT IS YOUR BOOK 'BE STYLISH WITH PERNIA QURESHI' ABOUT?
"So basically it was a project I did with Random House publication, we wanted to make a style guide for Indian women or South Asian women because of our bodies and our cultures that are so unique to us that all the style guides from The U.S, even the really good ones like the one by Rachel Zoe won't apply to us. As we don't look like those women, we live in a very different society and culture and we wanted to cater the style guide to the Indian girls. That is what was unique about that book, as there was no other fashion guide specifically for Indian and South Asian Women."
4) YOU'RE KNOWN FOR YOUR DISCRETE SARTORIAL CHOICES, WHAT GOES BEHIND CURATING THOSE LOOKS?
"I don't put in a lot of thought before putting together an outfit, unless, it's a best friend's wedding, which is something special and rare, other than that, I don't plan my looks. I just wear what I feel like at that time. I think the best style comes together when you don't over think your outfit."
5) HAVING STUDIED LAW, WHAT MADE YOU DRIFT TOWARDS FASHION AND HOW DID YOUR JOURNEY BEGIN?
"Growing up I thought I wanted to be a lawyer, as my mother was very particular about having a career and not just relax post-college as many girls in India do, sadly. So I decided I will be a lawyer, that's why I did pre-law in college and while I was in college I started internships in fashion. Which were completely different from what I was studying, although, I was doing law internships simultaneously. But my fashion internships were coming to me more naturally and I was really excelling in them. Everybody I was working for was really happy with my work, so I interned at Harper's Bazaar and ELLE in The U.S. I also interned with a French designer, Catherine Malandrino, as a P.R intern. All the internships I did, I thrived at them, so that's when I realized I belonged in fashion."
6) WHAT IS YOUR BOOK 'BE STYLISH WITH PERNIA QURESHI' ABOUT?
"So basically it was a project I did with Random House publication, we wanted to make a style guide for Indian women or South Asian women because of our bodies and our cultures that are so unique to us that all the style guides from The U.S, even the really good ones like the one by Rachel Zoe won't apply to us. As we don't look like those women, we live in a very different society and culture and we wanted to cater the style guide to the Indian girls. That is what was unique about that book, as there was no other fashion guide specifically for Indian and South Asian Women."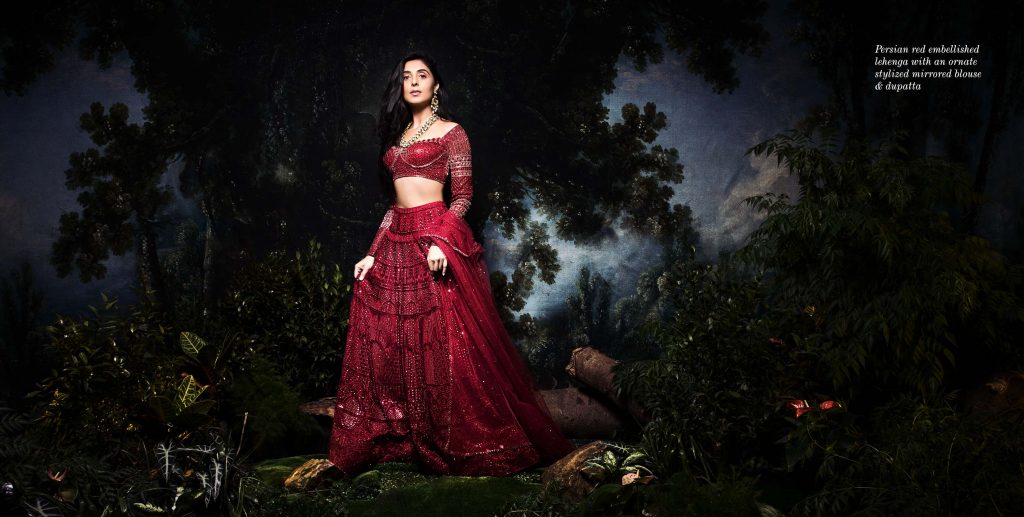 7) WHAT ARE THE UNSEEN CHALLENGES BEHIND A SUCCESSFUL E-COMMERCE VENTURE AND WHAT IS THE KEY BEHIND KEEPING IT CONSTANT?
"The challenges are constant, I mean, any business owner who owns a venture will tell you that it is so difficult because you're working 24×7. There is no such thing as switching off. It is fine, as I enjoy my work but it's a constant struggle. Whether you're on a holiday or you're sleeping it doesn't matter. The work does not stop. Especially when you have an online shop, it's always open; anything can happen at any hour. Something could happen to your server, you prepare and hope for the best but anything can happen. Even other issues like HR, people management is hard when you're running your business in your early twenties, you yourself are not mature enough to handle and take responsibility for other people. That's where I had to grow up and take charge as I was responsible for my employees. Other challenges like the market going up and down, demonetization and external factors that have nothing to do with you doing a good job. Something these eternal factors can disrupt things and you have to learn how to tackle those challenges. All these things have made this a difficult journey but definitely a good one."
8) A STYLIST, ENTREPRENEUR, FASHION DESIGNER, AUTHOR, AND CLASSICAL DANCER – AMONGST THE MULTIPLE ROLES YOU JUGGLE, WHICH IS THE ONE YOU IDENTIFY THE MOST WITH?
"A dancer, as I said, I don't know life without it. I don't know what it's like to not dance just as I don't know what it's like to not walk or speak English or other basic things that we do. From my first ever memory I have been dancing, I don't one without it as I started when I was very young. A lot of people start training their kids young, but the fact that I stuck to it and pursued it was because I was passionate about it. I even did a minor in college and was a part of two different dance groups. So even in college, I didn't let go of it and that is why I identify myself as a dancer first. I do focus on it, but I need to make it a bigger priority in the future."
9) WHAT IS THE ONE SOLID ADVICE YOU'D LIKE TO SHARE WITH UPCOMING FEMALE ENTREPRENEURS?
"I think temperament can be the most important thing, I cannot say that I have been the best at dealing with situations but I've learned. If you have the correct temperament of how you deal with the people you work with and how you deal with unexpected situations, issues, and crisis, your attitude will determine everything. Make sure you have your head on your shoulder, and you're calm, mature and you're able to fix your attitude to own a business."

Credits-
Photographer – Sanjeev Kumar
Head Stylist – Agneesh Banerjee
Assistant stylist – Shivangi Singh
Make Up by-Savleen Manchanda
Jewellery – Amrapali, Maalka fine jewellery, Minawala Jewellers
Shoes – Tresmode
Producer – FSP production