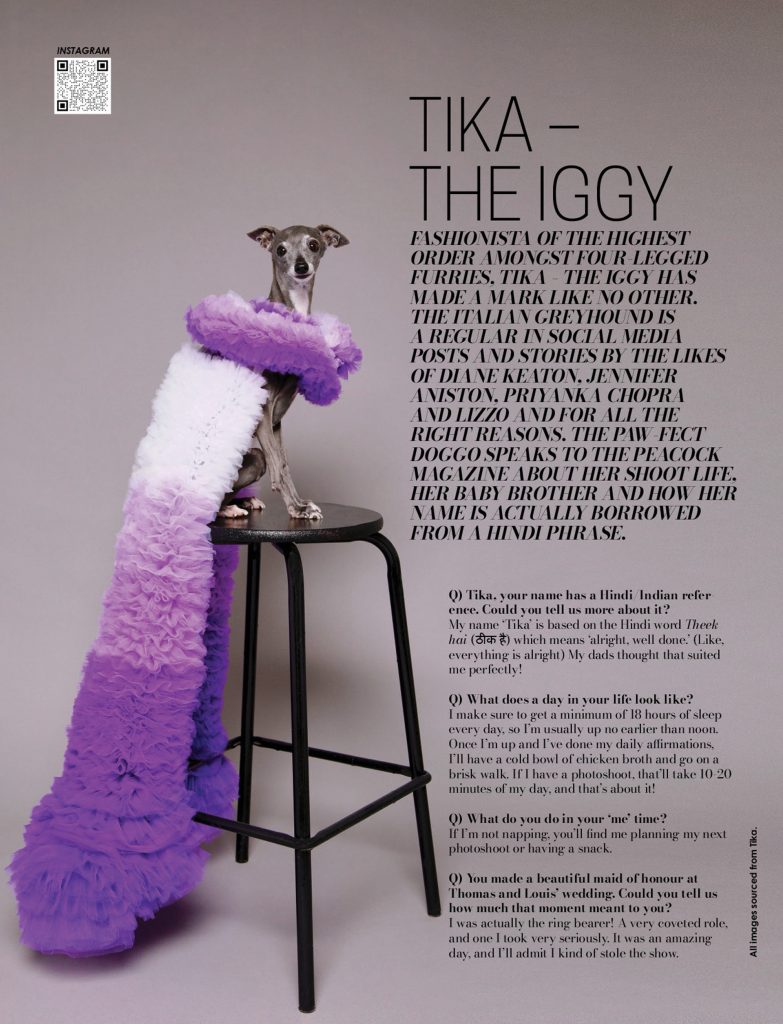 CREDITS: All images sourced from Tika
Fashionista of the highest order amongst four-legged furries, Tika – The Iggy has made a mark like no other. The Italian greyhound is a regular in social media posts and stories by the likes of Diane Keaton, Jennifer Aniston, Priyanka Chopra and Lizzo and for all the right reasons. The paw-fect doggo speaks to The Peacock Magazine about her shoot life, her baby brother and how her name is actually borrowed from a Hindi phrase.
[Q] Tika, your name has a Hindi/Indian reference. Could you tell us more about it?
My name 'Tika' is based on the Hindi word Theek hai (ठीक है) which means 'alright, well done.' (Like, everything is alright) My dads thought that suited me perfectly!
[Q] What does a day in your life look like?
I make sure to get a minimum of 18 hours of sleep every day, so I'm usually up no earlier than noon. Once I'm up and I've done my daily affirmations, I'll have a cold bowl of chicken broth and go on a brisk walk. If I have a photoshoot, that'll take 10-20 minutes of my day, and that's about it!
[Q] What do you do in your 'me' time?
If I'm not napping, you'll find me planning my next photoshoot or having a snack.
[Q] You made a beautiful maid of honour at Thomas and Louis' wedding. Could you tell us how much that moment meant to you?
I was actually the ring bearer! A very coveted role, and one I took very seriously. It was an amazing day, and I'll admit I kind of stole the show.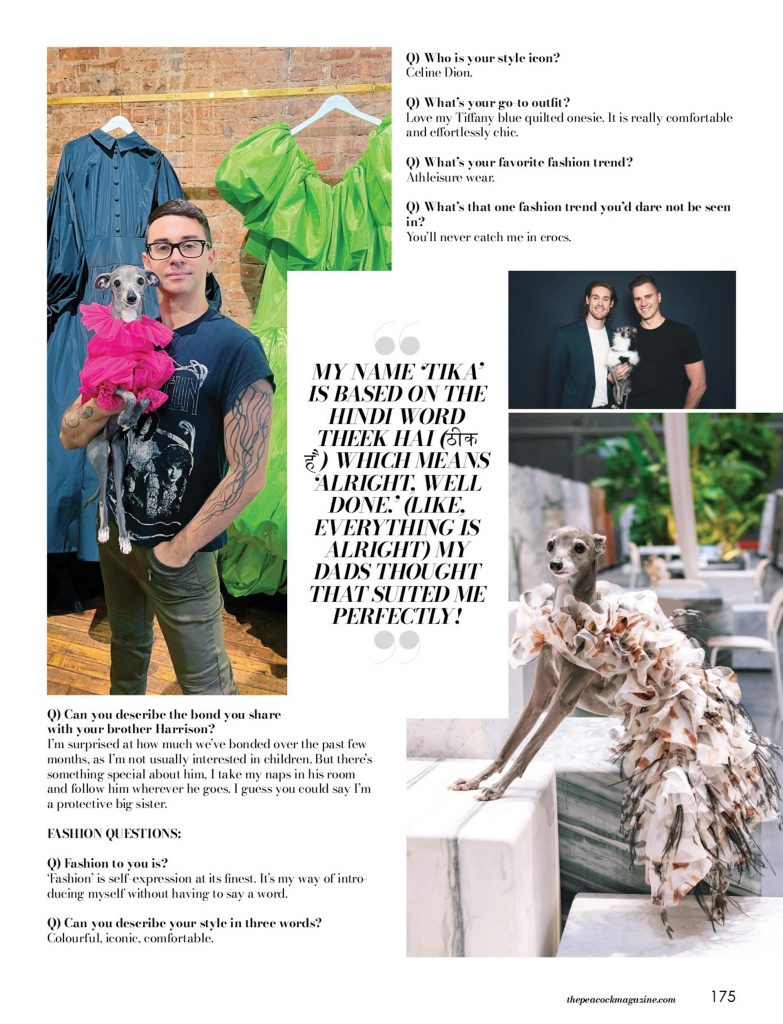 [Q] Can you describe the bond you share with your brother Harrison?
I'm surprised at how much we've bonded over the past few months, as I'm not usually interested in children. But there's something special about him, I take my naps in his room and follow him wherever he goes. I guess you could say I'm a protective big sister.
[Q] Fashion to you is?
'Fashion' is self-expression at its finest. It's my way of introducing myself without having to say a word.
[Q] Can you describe your style in three words?
Colourful, iconic, comfortable.
[Q] Who is your style icon?
Celine Dion.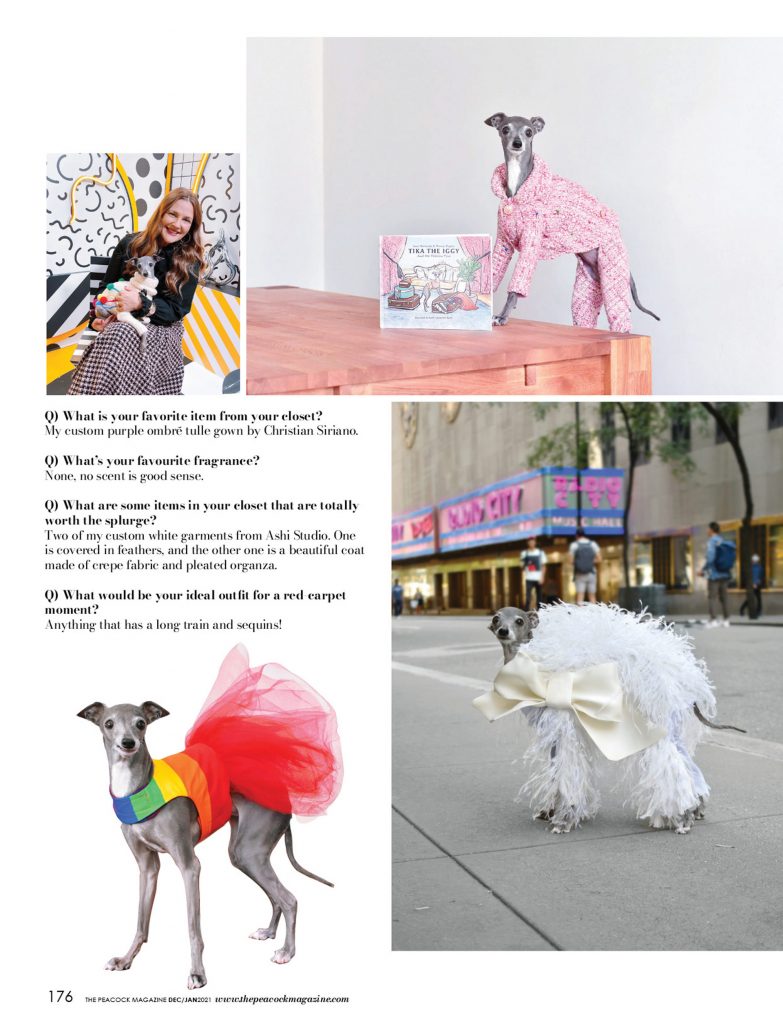 [Q] What's your go-to outfit?
Love my Tiffany blue quilted onesie. It is really comfortable and effortlessly chic.
[Q] What's your favorite fashion trend?
Athleisure wear.
[Q] What's that one fashion trend you'd dare not be seen in?
You'll never catch me in crocs.
[Q] What is your favorite item from your closet?
My custom purple ombré tulle gown by Christian Siriano.
[Q] What's your favourite fragrance?
None, no scent is good sense.
[Q] What are some items in your closet that are totally worth the splurge?
Two of my custom white garments from Ashi Studio. One is covered in feathers, and the other one is a beautiful coat made of crepe fabric and pleated organza.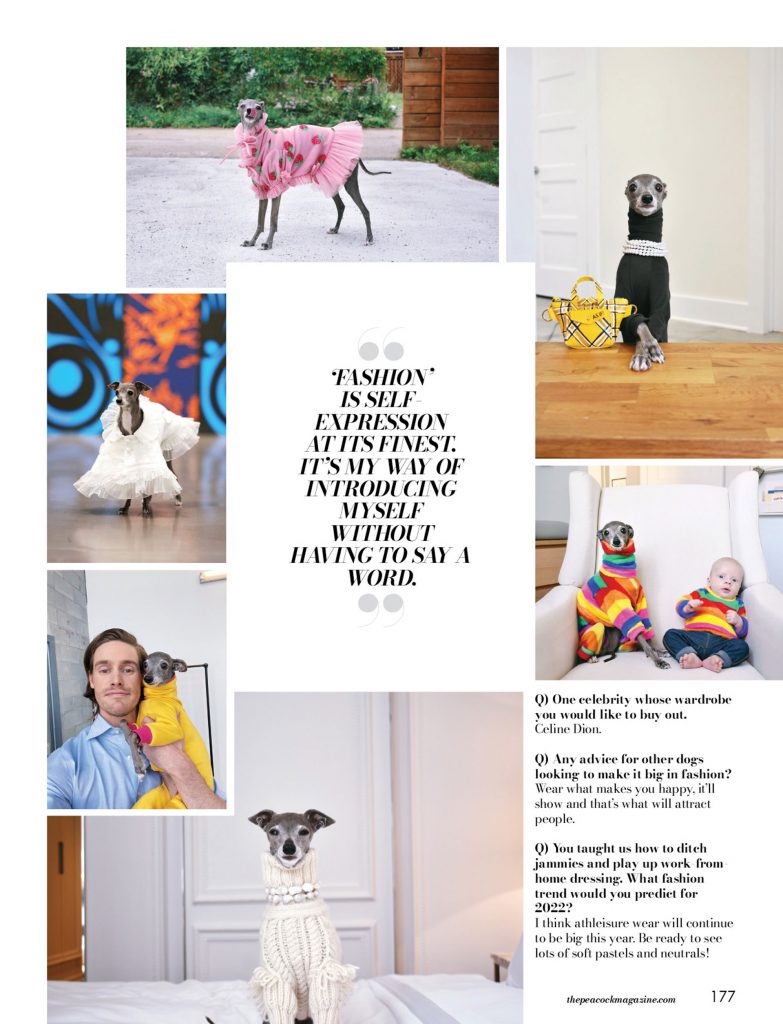 [Q] What would be your ideal outfit for a red-carpet moment?
Anything that has a long train and sequins!
[Q] One celebrity whose wardrobe you would like to buy out.
Celine Dion.
[Q] Any advice for other dogs looking to make it big in fashion?
Wear what makes you happy, it'll show and that's what will attract people.
[Q] You taught us how to ditch jammies and play up work-from-home dressing. What fashion trend would you predict for 2022?
I think athleisure wear will continue to be big this year. Be ready to see lots of soft pastels and neutrals!