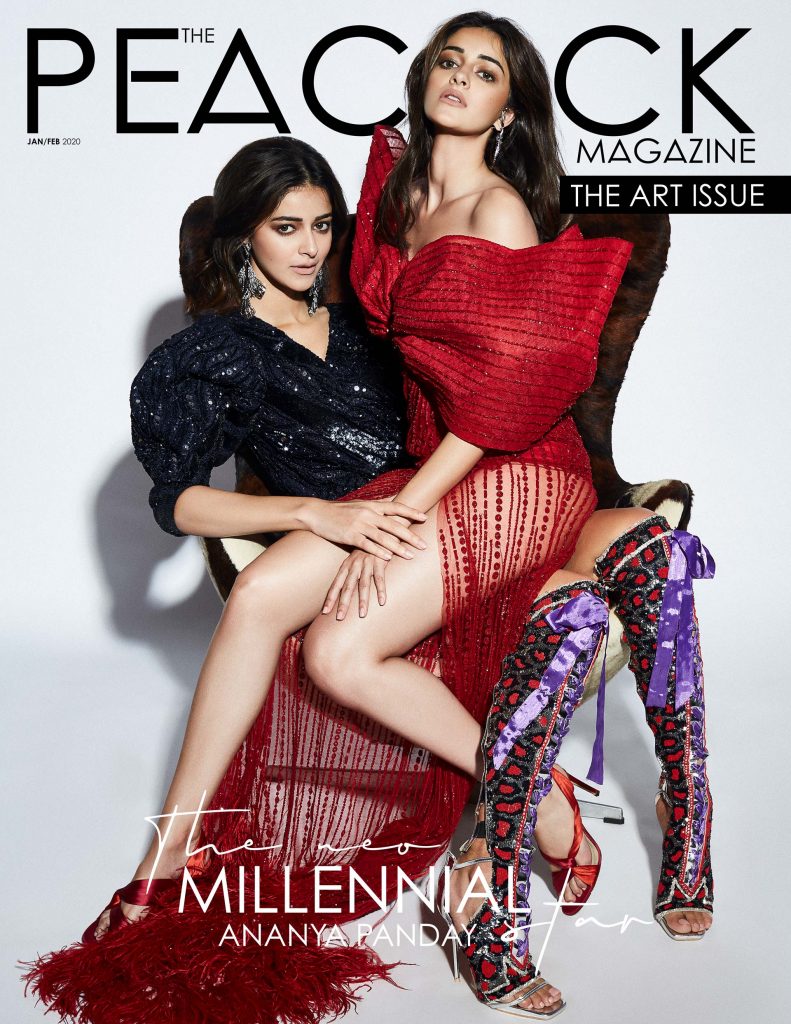 CREDITS-
PHOTOGRAPHY – ARJUN MARK
STYLING – AMI PATEL
MAKE-UP – ANIL
JEWELLERY – OUTHOUSE JEWELLERY, BEG BORROW STEAL STUDIO, THE RED BOX, THE SOURCE
SHOES – JIMMY CHOO, BEG BORROW STEAL STUDIO, PUBLIC DESIRE
HAIR – AKGUN MANISALI
CLOTHING – FALGUNI SHANE PEACOCK

'Ananya Panday' is a name that saw the limelight even before she could make her debut. Born to veteran actor Chunky Panday and Bhavana Panday, Ananya was first seen when she was a kid. Picture of daddy Panday with little Ananya did rounds of the Bollywood magazines and newspaper segments, telling us to watch for the star-in-making.
It comes as no surprise when Ananya tells us that she always wanted to be an actor from the earliest memories that she can remember. That said, she also asserts that her upbringing was just any other kids' and that she was given no special treatment. However, her growing up years were difficult due for she was subjected to bullying by her peers for the way she walked and talked. Body shaming was another menace Panday had to endure at the same time. But it was her undeterred spirit and her grit that made her withstand her bullies and come out strong. Today, she runs a 'Digital social responsibility' called 'So Positive' which is a community to create maximum awareness on social media bullying and guiding how to withstand it.
Ananya's ride thereafter was a dreamy one. Starting from making it to the prestigious 'le Bal des Debutantes 2017' where she was accompanied by her father Chunky Panday and was ushered by her cavalier HSH Prince Philip d'Arenberg, to bagging her debut film 'Student of the Year 2' in 2019. Ananya proved that she's not just a limelight's darling but also a fine actor whose acting chops are on point. She also proved to be quite a risk-taker by signing her second film 'Pati Patni Aur Woh' even before the release of her first film! Newbies tend to shy away from remakes, especially those that are cult classics, but Ananya with her 'Bring it on' attitude not only signs such films but also delivers an impacting performance. Her third film 'Khaali Peeli', which saw an OTT release due to the pandemic-led lockdown, won her many accolades.
On the fashion front, Ananya is certainly one of the best-dressed actors in Bollywood. Her fashion mantra of 'Never say never' saw her experiment with styles and looks rather than sticking to the fashion diktats. Ananya graced the cover of 'The Peacock Magazine' for the January 2020 issue in a unique concept that captured her in one of her most fashionable moments.