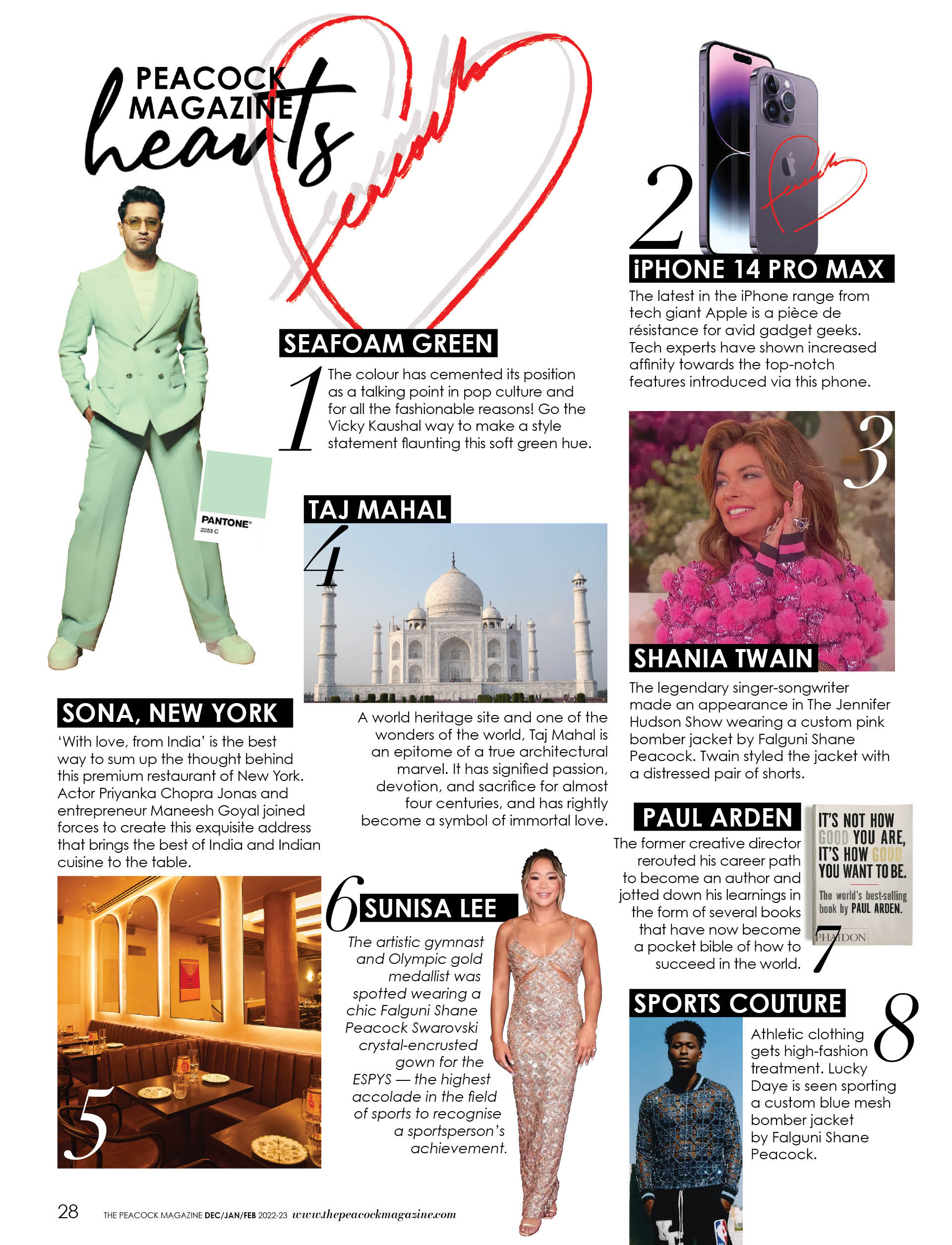 [1] SEAFOAM GREEN
The colour has cemented its position as a talking point in pop culture and for all the fashionable reasons! Go the Vicky Kaushal way to make a style statement flaunting this soft green hue.
[2] iPHONE 14 PRO MAX
The latest in the iPhone range from tech giant Apple is a pièce de résistance for avid gadget geeks. Tech experts have shown increased affinity towards the top-notch features introduced via this phone.
[3] SHANIA TWAIN
The legendary singer-songwriter made an appearance in The Jennifer Hudson Show wearing a custom pink bomber jacket by Falguni Shane Peacock. Twain styled the jacket with a distressed pair of shorts.
[4] TAJ MAHAL
A world heritage site and one of the wonders of the world, Taj Mahal is an epitome of a true architectural marvel. It has signified passion, devotion, and sacrifice for almost four centuries, and has rightly become a symbol of immortal love.
[5] SONA, NEW YORK
'With love, from India' is the best way to sum up the thought behind this premium restaurant of New York. Actor Priyanka Chopra Jonas and entrepreneur Maneesh Goyal joined forces to create this exquisite address that brings the best of India and Indian cuisine to the table.
[6] SUNISA LEE
The artistic gymnast and Olympic gold medallist was spotted wearing a chic Falguni Shane Peacock Swarovski crystal-encrusted gown for the ESPYS — the highest accolade in the field of sports to recognise a sportsperson's achievement.
[7] PAUL ARDEN
The former creative director rerouted his career path to become an author and jotted down his learnings in the form of several books that have now become a pocket bible of how to succeed in the world.
[8] SPORTS COUTURE
Athletic clothing gets high-fashion treatment that has fashion enthusiasts all over the world nodding in approval. Singer-songwriter Lucky Daye is seen sporting a custom blue mesh bomber jacket by Falguni Shane Peacock, validating the fashion trend even more firmly.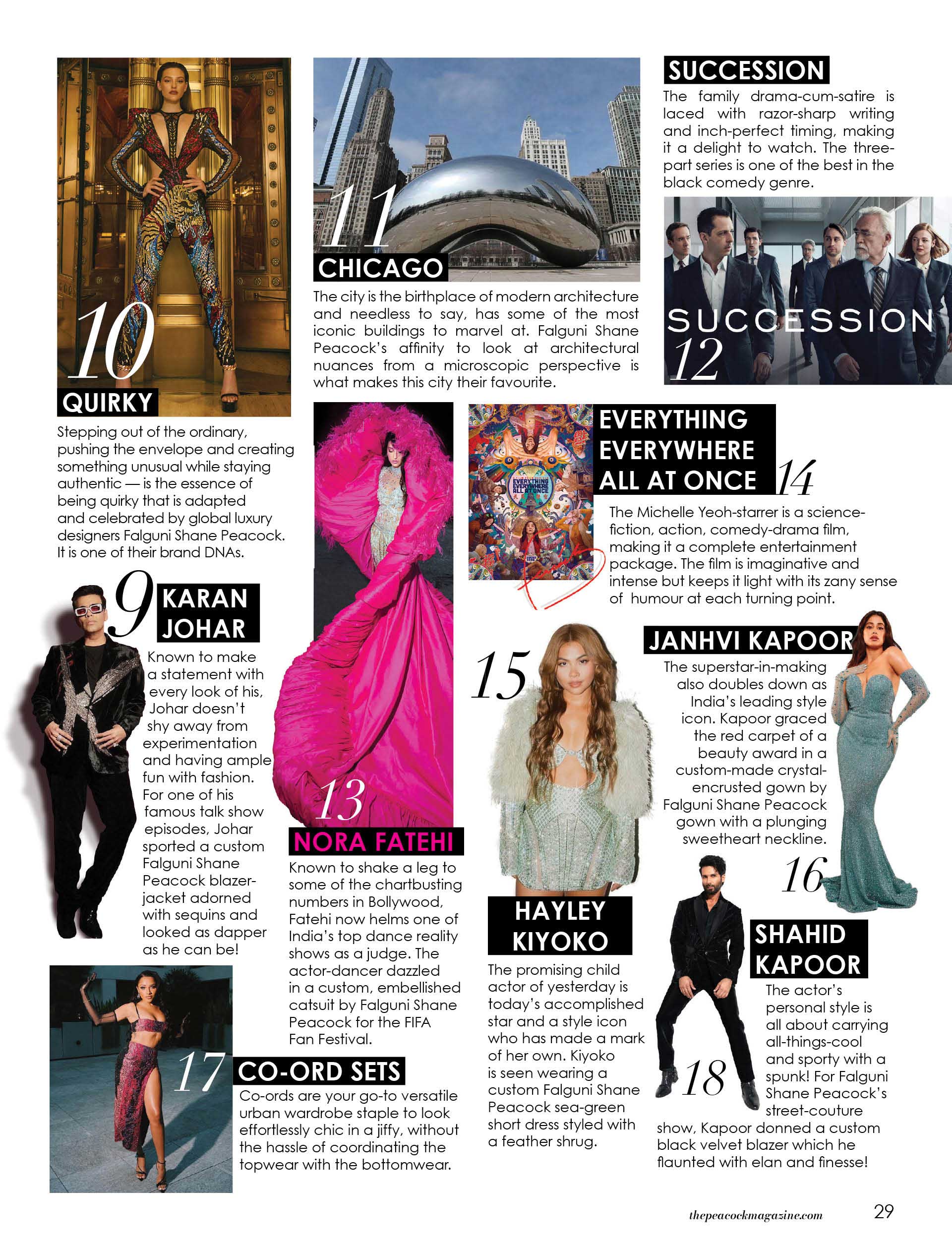 [9] KARAN JOHAR
Known to make a statement with every look of his, Johar doesn't shy away from experimentation and having ample fun with fashion. For one of his famous talk show episodes, Johar sported a custom Falguni Shane Peacock blazer-jacket adorned with sequins and looked as dapper as he can be!
[10] QUIRKY
Stepping out of the ordinary, pushing the envelope and creating something unusual while staying authentic — is the essence of being quirky that is adapted and celebrated by global luxury designers Falguni Shane Peacock. It is one of their brand DNAs.
[11] CHICAGO
The city is the birthplace of modern architecture and needless to say, has some of the most iconic buildings to marvel at. Falguni Shane Peacock's affinity to look at architectural nuances from a microscopic perspective is what makes this city their favourite.
[12] SUCCESSION
Set against the backdrop of the media and entertainment industry, the three-part series is by far one of the best in the black comedy genre. The family drama-cum-satire is laced with razor-sharp writing and inch-perfect timing, making it a delight to watch.
[13] EVERYTHING EVERYWHERE ALL AT ONCE
The Michelle Yeoh-starrer is a science-fiction, action, comedy-drama film, making it a complete entertainment package. The film is imaginative and intense but keeps it light with its zany sense of humour at each turning point.
[14] NORA FATEHI
Known to shake a leg to some of the chartbusting numbers in Bollywood, Fatehi now helms one of India's top dance reality shows as a judge. The actor-dancer dazzled in a custom midnight blue embellished outfit by Falguni Shane Peacock for one of the episodes.
[15] HAYLEY KIYOKO
The promising child actor of yesterday is today's accomplished star and a style icon who has made a mark of her own. Kiyoko is seen wearing a custom Falguni Shane Peacock sea-green short dress styled with a feather shrug.
[16] JANHVI KAPOOR
The superstar-in-making also doubles down as India's leading style icon. Kapoor graced the red carpet of a beauty award in a custom-made crystal-encrusted gown by Falguni Shane Peacock gown with a plunging sweetheart neckline.
[17] JAYLEN BARRON
Trust co-ords to be a versatile urban wardrobe staple to look effortlessly chic in a jiffy, without the hassle of coordinating the topwear with the bottomwear. Making the most of this fit is actor Jaylen Barron who donned a custom Falguni Shane Peacock piece for an event.
[18] SHAHID KAPOOR
The actor's personal style is all about carrying all-things-cool and sporty with a spunk! For Falguni Shane Peacock's street-couture show, Kapoor donned a custom black velvet blazer which he flaunted with elan and finesse!